When you begin a construction project, you create a plan. You decide how aspects of your project are going to be done, what materials you need, and when they will be completed. This plan is how you will go about completing the project.
You follow the same process when you create a lead generation plan. When you create your plan, you need to figure out the best way to get construction leads for your business.
With the digital world constantly evolving, there are so many options for how to get construction leads. How do you know which ones fit your business best?
On this page, we'll take a look at the top five ways to get construction leads. If you want to learn about all your available options or to figure out which options are best for you, call us today at 888-601-5359 to speak with a strategist!
37% of marketers say that generating high-quality leads was one of their biggest challenges.
We want to decrease that percentage.
WebFX can help you generate high-quality leads with a customized marketing strategy.
Learn More About Lead Generation Services
1. Pay-per-click (PPC) advertisements
If you want to get more construction leads, pay-per-click (PPC) advertisements are a great way to reach them. These are paid advertisements that appear at the top of the search results on Google.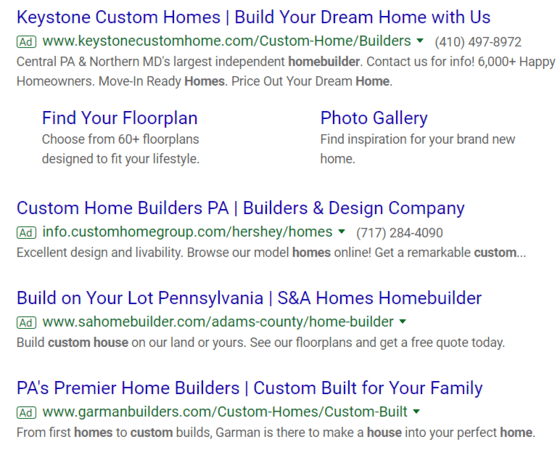 How do these advertisements work?
The bidding system
PPC uses a bidding system. The first step is to do some keyword research to figure out the best keyword options for your advertisement. Your keywords will trigger your advertisements.
Once you have that figured out, you can set you maximum bid. The maximum bid is the amount of money you are willing to pay each time someone clicks on your advertisements, also known as cost-per-click (CPC).
Your maximum bid and your quality score determine your ad placement. Once you have your placement, you'll begin your PPC campaign.
This option is favorable to many businesses because you can control your budget. You never pay more than your maximum bid each time a person clicks on your ad. PPC is a great option for maintaining your budget.
It is also an effective way to reach new leads. In fact, 65% of all high intent searches result in someone clicking on an advertisement. People who search with your keywords are more likely to click on your ad and convert because it fits what they are seeking.
In addition, you can track how people interact with your ad. This enables you to see immediate results.
PPC is one of the best ways to get construction leads. You will obtain more valuable leads and drive better traffic to your website at a cost-effective rate.

Hear What It's Like to Work With WebFX!

"We were looking for a forward-thinking but down to earth SEO company to partner with. Not only were we looking to build a long term business relationship but we needed them to understand our needs as a small company. And WebFX met all of that criteria. Our experience has been unparalleled; from the sales team who made the drive to our office to meet us in person to our Internet Marketer who has been an absolute joy to work with. They are completely transparent about their services and they take the time to explain everything which not only sets them apart from every other SEO company we have worked with but we also feel like we're taking something away from our interactions with the staff at WebFX. We are exited to see where this year will take us knowing that we have such a great support system with their company."
Home Contractor
2. Search engine optimization (SEO)
Search engine optimization (SEO) is one of the best ways to get construction leads. The goal of SEO is to boost your construction business' website to the top of the rankings.
When you site ranks higher, more people will be able to find your business and contact you. It is very important to rank on the first page because 75% of people won't look past the first page of results. If you aren't on the first page, you'll miss valuable leads.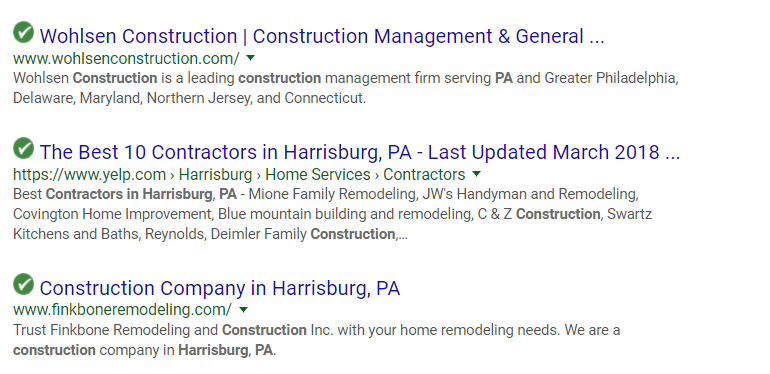 There are many things Google takes into consideration when ranking your website. You need to make sure that your website is as user friendly as possible to get construction leads. These are three things you want to ensure are creating a positive user experience:
Design
Your website's design is the first impression customers will get of your business. If you have an old or unattractive website, it will deter customers.
When users come on your site, they want to see a modern design. You don't want to have an old or unattractive design. It will give users a negative impression of your business.
Users are seeking out businesses that are current and updated. They want the most recent information.
When you design your website, it needs to be attractive. Your design and colors should be consistent throughout your site. You need to refrain from using an array of different colors because users won't find it attractive.
If your design is modern and clean, you will keep users on your site longer.
Navigation
Part of a great design is a functional navigation menu. You want this to be clean and simple. The last thing you want is for users to struggle to find the right information.
Your navigation should have broad headings, so it is easy for users to find different subjects and information beneath them. Keep your navigation organized and group similar topics together. You'll want to make sure that your navigation is easy to use and readable.
Most websites put their navigation across the top of the page. You also have the option to create a vertical navigation. You'll need to decide which format is best for your business.
Your navigation should blend into your site to provide users with a seamless experience. You'll also want to incorporate a responsive design that creates a hamburger menu for mobile visitors. They look like "☰" and contain a drop-down list of the different pages on your website.
When you have clean navigation, users will stay on your page longer. They will spend time reading the information rather than trying to find the information on your site.
Page speed
Your page speed affects your page's ranking. If your page loads too slow, users will leave your page and return to the search results. They don't want to waste time waiting for your page to load.
When people leave your website, it indicates to Google that your website has a poor user experience. Google will rank your website lower and rank your competition higher consumers spend more time on their site.
You can check your page speed through Google PageSpeed Insights or by checking out our page speed services. These services will tell you how well your page is running and where you can make improvements.
A faster website will keep users on your site. This will improve your ranking and help you move towards the first page of results.
By improving these aspects, among other strategies, you will put your website on the path to rank better for SEO. This construction lead generation method takes time, but the time and effort are worth the results.
3. Content marketing
One method that helps your business attract new leads and boosts your SEO ranking is content marketing. Content includes blog posts, videos, infographics, guides, and more.

Consumers are constantly seeking out information and answers to their questions. Content is valuable to them because they can get that information. When you create content, you provide the answers for them.
Content marketing attracts users to your site. After they read your content, they can explore your business and see your services.
You will be an authority in your field. When you share your knowledge, people trust that you are experienced and good at your job. This places a positive impression on your business.
When Google ranks your site, they look at how much time people spend on your website. If people are on your site for a long time, it's a good indicator to Google. It tells them that people find your page helpful, so they will boost it so others can find it.
Content is a great way to keep people on your page longer. They watch videos or read your blog. It keeps them on the page and tells Google your page is valuable.
People may not become construction leads immediately, but they will remember your business. When they decide they need services you offer, they will pick your business over the competition because of the helpful information you provided.
Content marketing is great for driving new leads. It will get people to engage with your page and obtain information in the process. This is an impactful way to build trust with consumers that will lead them to become customers.
4. Email marketing
Email marketing is one of the best ways to get construction leads. With a potential ROI of 4400%, you don't want to forego this method.
The first step to using email marketing is creating your subscriber list. You can garner subscribers by putting an email signup form on your website. This will enable you to get credible leads.
You'll want to refrain from buying email lists because these leads won't be credible. Once you have your list, you can start sending your subscribers emails. These can contain information about sales, coupons, or your content.
To track the success of your emails, use programs like EmailMarketingFX to track your emails. You can see how people interact with your emails and where you need to make improvements on your campaign.
Email marketing is valuable for generating reputable leads. People choose to sign up for your email list because they are interested in your services. You can use email marketing to nurture construction leads and help them convert by sending pertinent emails.
5. Social media
Social media is a great way to connect with your customers. There are many platforms available, such as Facebook, Twitter, Instagram, Pinterest, and LinkedIn.
You need to keep your target market in mind when picking your platforms. You want to use platforms that they are using so you can reach them best.
These platforms are another place for you to list your important business information. You can put your contact information and website link on these pages. This is an opportunity to post your hours of operation, your services, and information about your construction business.
If you create content, you can share it on these pages. This is a great way for you to draw users back to your blog or website. You can increase your website traffic by sharing your content on social media.
When you share your content, your followers can share it with their friends and family. This enables your content to be seen by more people.
It is important to create your social media presence so you can gain new leads. By connecting with your target audience, you can share content information and content with them. These platforms are great to directing leads back to your website.
Our digital marketing campaigns impact the metrics that improve your bottom line.
See More Results

WebFX has driven the following results for clients:

$3 billion
In client revenue

7.8 million
Leads for our clients

5.2 million
Client phone calls
Get more construction leads with WebFX
At WebFX, we're dedicated to building your construction lead generation plan. We are a full- service digital marketing company that specializes in lead generation.
Our focus is on getting to know your business so we can create a unique plan for your business. We know that no two businesses are alike. You'll never see a cookie-cutter plan from us.
We have a team of 500+ experts dedicated to your campaign. Our team is dedicated to your success. To date, we've drive over $3 billion in sales and 7.8 million leads for our clients.
Your budget is important to you. That's why we offer transparent pricing. We tell you our prices up front so you can make the best decision for your business. Plus, we know your industry, even down to the latest construction trends.
Are you ready to learn about how to get more construction leads with WebFX as your partner? Contact us today to see how we can help you start your lead generation plan!
We look forward to hearing from you!
Earn a 20% greater ROI with WebFX