Your clients are the heart and soul of your insurance business, and to ensure business success, you need to be able to attract and sign on new ones.
One of the best ways to attract clients is with digital marketing — the use of digital technologies and online channels to promote your business.
In this guide, we'll discuss how to get insurance clients using digital marketing and go over some top digital marketing channels for insurance agents.
Our digital marketing campaigns impact the metrics that improve your bottom line.
See More Results

WebFX has driven the following results for clients:

$3 billion
In client revenue

7.8 million
Leads for our clients

5.2 million
Client phone calls
1. Search engine optimization (SEO)
One of the most important digital marketing strategies for insurance companies is SEO. This digital marketing method involves creating and optimizing website content to help your site rank well in organic search results and drive qualified traffic to your site via search engine results pages.
Why is SEO so essential for insurance companies? Organic search drives more than half of all website traffic. So, if you're not ranking well in search results, you're missing out on lots of website visitors.
SEO involves many tactics, including:
One type of SEO that's particularly important for insurance agents is local SEO. This type of SEO enables you to reach local users within your geographic area. Targeting potential clients that are physically close to your business is a key part of how to get insurance clients using digital marketing.
Local SEO involves targeting location-based keywords, such as "insurance agents in [your city]" and ensuring your information is correct in online directories like Google Business Profile, Yelp, and Yellow Pages.
SEO Services Local SEO Services
Hear What It's Like to Work With WebFX!

"WebFX provides professional, knowledgeable SEO services that can help any business. They are thorough and always provide detailed responses to help educate you on what they're doing and why. I've learned a lot from WebFX and it helps me do some SEO in-house while continuing to use their services."
Insurance Company
2. Online advertising
Online advertising is an excellent tool for getting insurance clients. Online ads put your name front and center for Internet users, and you can tailor your ads to target the people who are most likely to become clients.
Many online ads run using a pay-per-click (PPC) structure, under which you pay a small amount (that you set) each time someone clicks on your ad. You might also pay according to the number of people who see your ad or per conversion.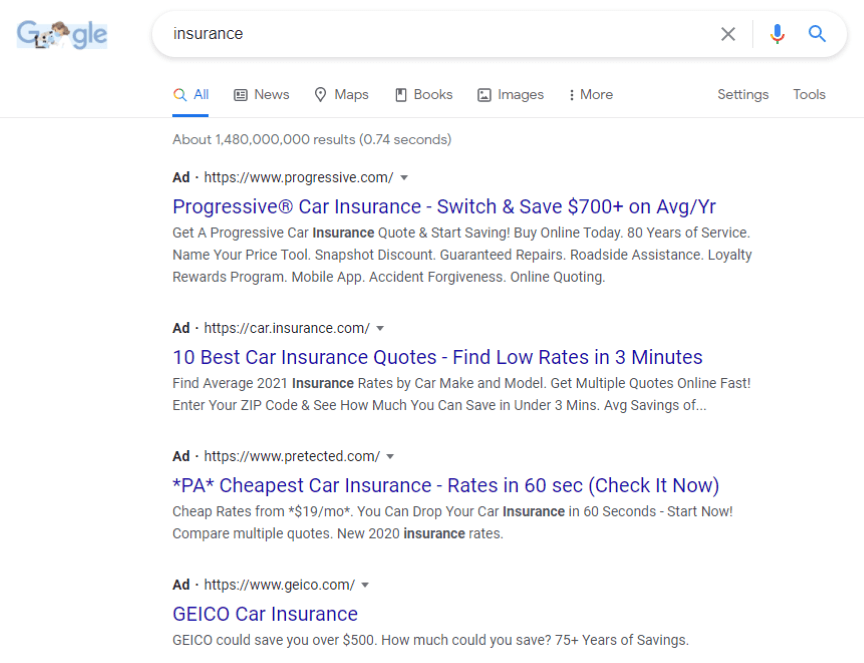 There are several types of ads you can run online, which display in different places. These types include:
3. Social media marketing
In addition to social media advertising, you can also use organic social media posts to get new insurance clients.
Social media marketing involves building a social media audience and posting consistently on the social media sites your target audience uses.
You might occasionally post something encouraging new clients to sign up for your insurance services. More often, though, your posts will be informational. You might, for example, share an article explaining common insurance terms or offer advice that helps people choose the right types of insurance.
These types of posts will help build your brand and establish your insurance agency as a local authority in your industry. Then, when someone needs insurance, your name will be one of the first they think of.
If someone sees an ad or other type of marketing material from you, they'll be more likely to click on it if they already know who you are from your social media content.
4. Web design
An essential part of how to get insurance clients with digital marketing is creating and maintaining a high-quality website since it's where new clients will get contact information and sign up to become clients.
Not to mention, your other digital marketing efforts — like SEO work, online ads, and social media — will direct people to your website, so it's crucial that your site is user-friendly and conversion-friendly.
How can you ensure your website makes your agency look professional and helps with getting new clients? Make sure:
5. Content marketing
Another foundational part of getting new insurance clients using digital marketing is content. Your content marketing strategy can include various types of content, including:
Your content is key to your website, as it gives users reasons to visit your site. It's also essential to various other digital marketing strategies — since it goes hand-in-hand with email marketing, social, and PPC ads. Creating high-quality content helps your site show up in search results, and you can share your content on social media, for instance.
6. Email marketing
Another valuable digital marketing method that can help with how to get new insurance clients is email marketing.
When someone signs up for your email list, they become a lead, as signing up indicates they are interested in what you offer.
Once someone signs up, you can send them regular messages, providing them with helpful information and encouraging them to become clients. This is called lead nurturing, and nurturing leads via email is a great way to convert leads into clients.
Email marketing can also be useful for encouraging current clients to sign up for new types of insurance with your agency.
7. Conversion rate optimization (CRO)
In addition to getting people to visit your website, you can use digital marketing methods to help convert them to a lead or new client once they arrive at your website.
Converting a website visitor to a lead involves having them indicate interest in your services, often by providing contact information. You may also be able to convert someone to a client directly on your website.
CRO is a collection of strategies that increase the percentage of website visitors that convert. This valuable strategy involves testing aspects of your website to see what produces the most conversions and updating your website to maximize conversions.
You can test and update nearly any element of your website as part of your CRO strategy. Some of the most common options include:
You know how to get insurance clients. Now start getting them.
If you want to learn more about how to get new insurance clients using digital marketing, reach out to the experts at WebFX.
We have experience in all the strategies discussed above and more. Our team of more than 500+ digital marketing specialists is ready to plan and implement a custom strategy to help your insurance business get more clients and meet your goals.
Request a free quote online or call us at 888-601-5359 to learn more.
Earn a 20% greater ROI with WebFX