Page speed is one of the most important website factors — especially if you want users to enjoy their experience on your site. A page speed SEO checker can help you understand how fast your site pages load and give you an idea of how much you need to improve to be in Google's good graces.
On this page, we'll talk about the importance of using a page speed SEO checker, what a page speed SEO checker can do, and some page speed best practices to ensure that your site is lightning fast. We'll even provide you with some top website testing tools you can use to improve your website.
If you'd like to speak to a page speed guru at WebFX, feel free to give us a call at 888-601-5359! Otherwise, keep reading!
Bonus reading: On-page SEO checker
What makes using a page speed SEO checker important?
Page speed is a crucial on-page SEO factor that can majorly affect the way that users interact with your website. According to Think with Google, it's best practice for your pages to load in under 1.3 seconds.
With every passing second that it takes for your site to load, you can expect an increased bounce rate which is not only an important metric to the success of your website, but it's important to Google, too.
A page speed SEO checker can help you understand how fast your pages load and what could be causing a slowdown if any. These metrics go a long way in helping you understand your website and any specific backend issues that might be slowing it down. Failing to use a page speed test can be detrimental to your site — likely because you won't know if your site is dangerously slow.
Looking for an all-in-one SEO audit tool? You've found it.
SEO Checker provides data on key metrics to give you:
Complete SEO score

Content Grade

Site Speed Analysis

and more.
What can a page speed SEO checker do?
A page speed test can provide a variety of important information that can help you improve your page speed.

For example, with a website load test like Google's PageSpeed Insights, you'll get an overall score that gives you an idea of your site's page speed.

You'll also have access to field data that outlines your first contentful paint (FCP) and first input delay (FID).
FCP is a metric that measures the time from navigation to a page, to the time when a browser renders the first bit of content.
FID, on the other hand, is a metric that measures the delay between the time a user can attempt to interact with a part of the site, and the time that the interface responds to the interaction.
You'll also get information about which percentile your site shows up in for each metric.

Google also shows you lab data that includes:
FCP, or first meaningful paint, which is when primary site content on a page is visible
Speed index
First CPU idle
Time to interactive
Max potential first input delay
You can learn more about each of these metrics by clicking the "learn more" link provided in your page speed test.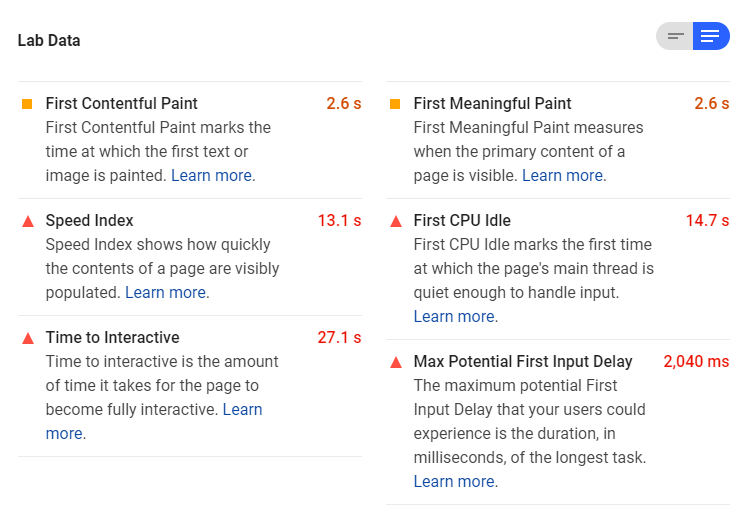 Google's website load test also provides you with opportunities to improve your page load time. With each opportunity, it'll also show you some estimated time savings that you might experience if you follow their suggestions.
Some opportunities for the site we tested include things like deferring off-screen images, serving images in next-gen formats, and enabling text compression.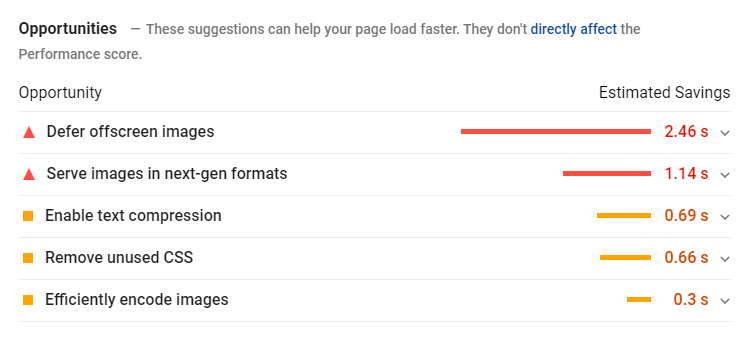 Finally, you'll be able to see a list of diagnostics that provide more information about your site's speed. To learn more about each element, you can click the drop-down arrow to the right of each suggestion.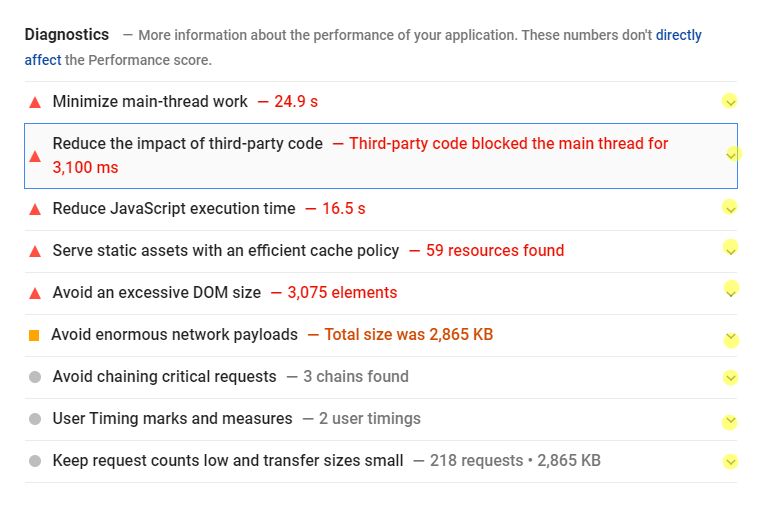 These metrics go a long way in helping you decipher exactly why your site may not load as quickly as you'd like. The SEO advice provided is invaluable in improving your site speed.
BONUS READING: What is the Average Page Load Time?
Page speed best practices for any website
So, how can you implement page speed best practices on your website so that you pass website load tests with flying colors? Keep reading!
1. Minify your site's code
There are a lot of things that end up in your code that you might not necessarily need. Deleting those unnecessary commas, characters, and even spaces can cause your pages to load faster in the long run. You'll also want to minify your CSS and JavaScript as well.
You can eliminate extra milliseconds of load time by simply optimizing your code.
2. Activate browser caching
When you enable browser caching, you allow users to store parts of your website in their cache. What does this mean for page speed? Since some parts of your site are already saved, the next time a user visits your site, it'll load faster!
Not to mention, it's extremely simple to set up in your .htaccess file.
3. Optimize site images
Everyone loves a high-quality image with tons of megapixels — making it hard to believe that you're not looking at the real thing. But there's a real issue when it comes to using high-quality images and having a fast page speed. The two don't mix well, so you'll want to be sure to compress all your site images so that they load faster on your site.
You can use a tool like Kraken to do so.
4. Implement a CDN
A content distribution network, or a CDN, ensures that your website is served from the server closest to a user. Think of it like this — you wouldn't drive across town to a grocery store that offers the same product as the store right by your house. It would take longer to get to the store across town for the product when you could drive just a block or two.
Similarly, when your website is served to users on a server that is far from their geographic location, it can take longer to load. A CDN allows you to have copies of your website in various server locations so that it can provide your site to close-by users more quickly.
5. Cut down on redirects
Redirects are an inevitable part of your website, and there's nothing wrong with having them. However, they can increase your page load time. Try to cut down on redirects by updating links in content that has links that have since been redirected.
Website testing tools to help you improve page load time
Check out some of our favorite website speed testing tools that can help you improve the load time of your sites.
1. Google's PageSpeed Insights

It's no secret that we love Google's PageSpeed Insights. In the last section, we outlined all the incredible metrics you have access to when you use this tool, and how it can help you drastically improve your page speed.
2. Pingdom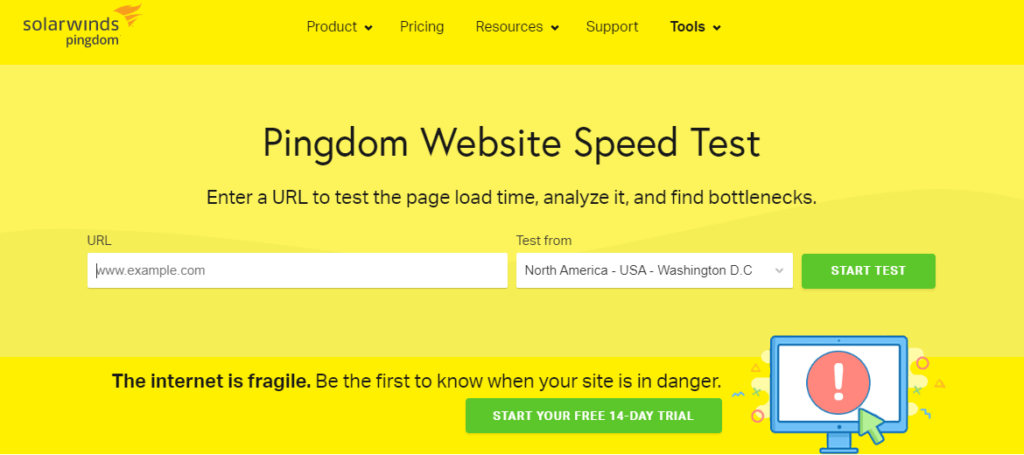 Pingdom is another great page speed test to help you understand how your pages load. It takes a few seconds to get your report, and when you do, you can see metrics like a performance grade, page size, load time, number of requests, and more. You can see:
Specific grades on-site elements
Status of response codes
Content size by content type
Requests by content type
Content size by domain
Requests by domain

3. WebPageTest.org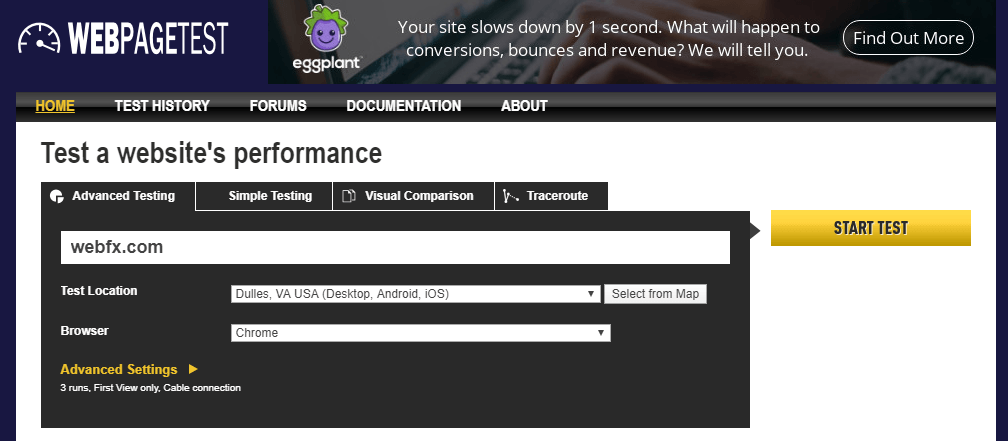 WebPageTest.org is another website load test tool to see how your site is performing in terms of speed. You'll get performance results that range from load time and start render to the FCP and speed index. There are even some content breakdowns that outline requests and bytes, a waterfall of the first view, and screenshots of your homepage.

Unsatisfied with your page speed SEO checker results?
If you're unsatisfied with the results you see after your website load test, you're not alone. That's why WebFX provides page speed optimization services to help improve your site's load speed.

If you want to improve your page speed with an agency that drives real results, contact us online for a free quote, or give us a call at 888-601-5359!
WebFX Careers
Join our mission to provide industry-leading digital marketing services to businesses around the globe - all while building your personal knowledge and growing as an individual.