8 Benefits of Content Marketing You Need to Know
From videos to full-length articles, content is universally available on the Internet. Because of this, the benefits of content marketing for your business are undeniable. On this page, we'll discuss the value of content marketing, what makes a good content marketing strategy, and where you can distribute your content for maximum business impact.
Check out our video on the benefits of content marketing below, then keep reading to learn more.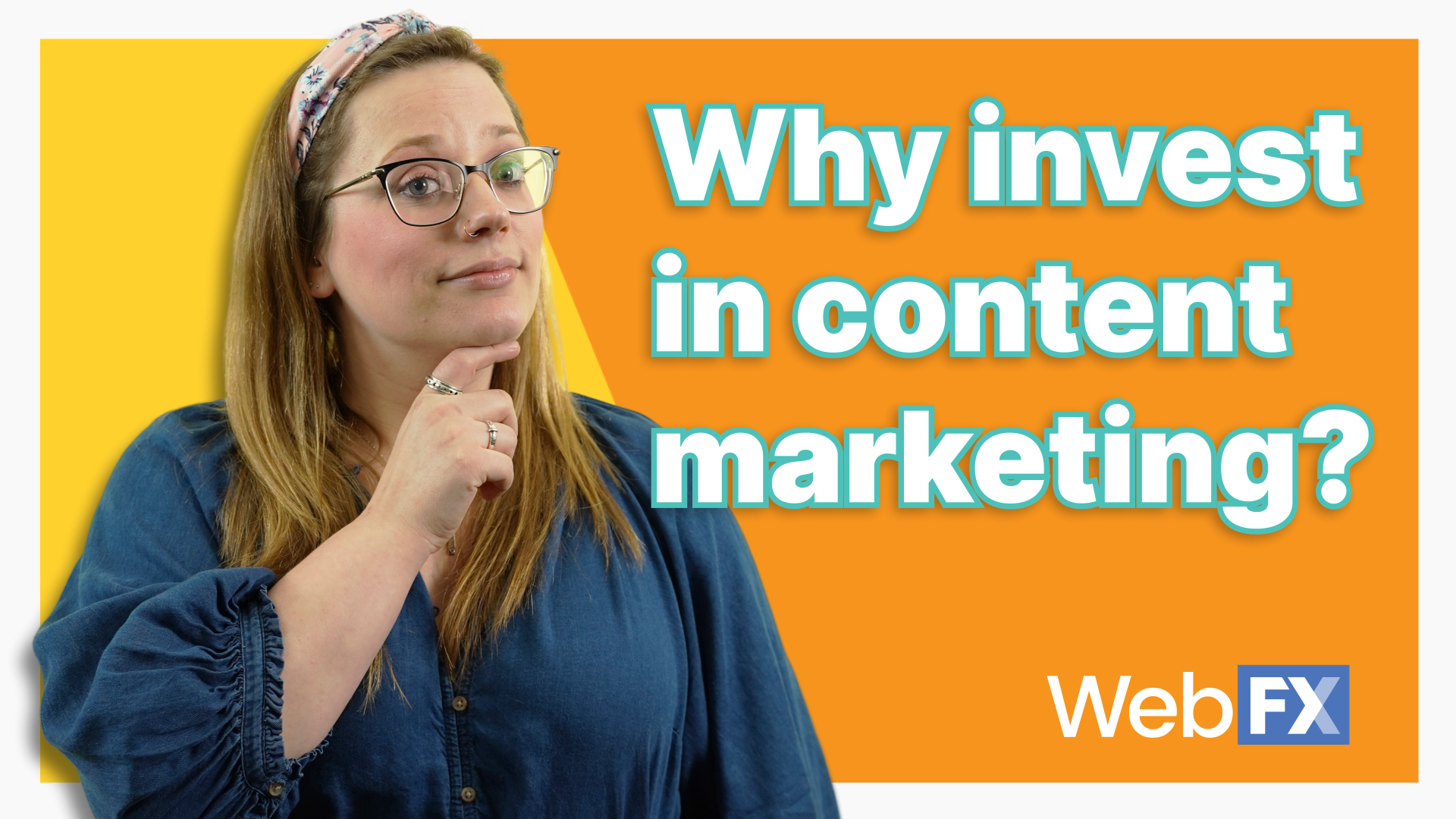 Content marketing is essential to Internet marketing.
In short, the content you create for your content marketing strategy can be used in many other aspects of your Internet marketing.
While we can go on for hours about the importance of content marketing, we know you probably don't have time for that.
Instead, we made a list of eight content marketing benefits for your business.
8 stellar benefits of content marketing
1. You establish yourself as an expert
People trust experts when they need answers.
You might not consider yourself an expert, but information that you think is common knowledge is very likely unknown by people outside of your industry.
If you create content that answers people's questions or gives them important bits of information, they'll see your business as an authority.
While not all people who read your content will become your customers, you can establish yourself as an expert so that if they (or their friends) ever need something your business offers, you'll be the company they trust.
2. You improve your visibility in search engines
The importance of content marketing goes further than establishing expertise.
Creating content with search engine optimization (SEO) in mind can help more people find your business when they're searching online.
Using keywords naturally throughout your content can help search engines understand what your content is about and, as a result, can lead to better positioning in search results related to your target topics.
If you have a page on your website about how to repair an air conditioner and use keywords related to that topic in your content, someone searching with your target keywords can potentially find your business.
If your pages are optimized well, someone who lands on that how-to guide might check out more related pages on your site or contact you for your services.
Earning links is another great benefit of content marketing.
Google and other search engines love to see links to your site from other sites online.
If one of your graphics or videos goes viral, you can get lots of links pointing to your site from others who want to show their readers the same content.
These links tell Google that you're a source of quality content, and they'll help you rank better in search results.
3. You increase brand awareness
No one will buy from your organization if they don't know you exist.
Your content marketing efforts will help tell people you exist and you know what you're doing.
Again, SEO can help with your online visibility.
If you create content that gets links and shares, you also get more eyes on your business without doing a ton of work (besides creating the content).
4. You develop a stronger brand identity and presence
Your brand is the personality of your company, so it's essential that you develop and maintain it.
Another of the content marketing benefits is that you can let your brand identity shine through your content.
Whether you see your brand as serious and professional, or fun and eccentric, you can inject your personality into everything you create.
Share fun videos of events you hold for your team and write about how you established your unique culture.
Start a blog answering common legal questions you get from clients.
Some elements that help communicate your identity are the colors across all of your assets, the words you choose when speaking or writing, and the imagery you share on every platform, so keep those in mind when planning your content.
5. You can create a social media following
Content marketing and social media marketing work very well together.
If you have a social media presence, start sharing the content you create if you aren't doing so already.
As people see that you produce content regularly, they can regularly visit your social pages and, in turn, come to your website.
To grow your social media presence with your content marketing, consistently create content for your site and share it on a regular basis.
With the right strategy, you'll create loyal fans and enjoy more visitors (and customers) than ever before.
6. You get referrals
Referrals tie back to establishing trust and brand identity. If people feel like they know or relate to your business, they'll be more comfortable sharing what they know with other people.
If one of your customers enjoys your content, they'll probably share it on social media and direct some of their followers to your site.
This is a referral, and it's a great way to get new customers who haven't heard of your brand before.
Just like earning links through your SEO efforts, referrals can help you generate more business without having to do much extra work.
7. You generate new lead sources
Every time you add content to the web, you open the doors for leads to come to you.
Don't forget that you can add a direct call to action for readers to get in touch if they have questions or are interested in learning more about your business.
If you publish a guide on how to properly clean a house, and you offer top-notch cleaning services, give people an option to contact you within the content.
Again, the value of content marketing is that you can establish your expertise. If someone sees you're an expert in a certain subject because of your content, that helps them feel more confident in your services when they need them.
8. You can educate your readers
Is your industry misunderstood or riddled with common myths?
Educate the public, and your sales team will appreciate it.
They can even use the content you publish online to inform their prospects and clients of what's really happening in your field.
You can save yourself, and your sales team, a lot of time by eliminating the need to answer frequently asked questions or address myths.
Now that you know the benefits of content marketing, what properties make for good content?
Properties of high-quality content
The trick to a high-quality content marketing strategy is to learn how to differentiate your content from your competitors' content.
A thorough, pragmatic content marketing strategy ensures that all the content you place on the Internet is:
Compelling. Readers have a lot of choices, so you have to quickly be able to capture their attention.
Relevant. If someone goes to a page about running shoe reviews, that's what they want to see. If you don't supply relevant information based on your page's title, you'll lose lots of potential customers.
Well-written. Poorly-written content isn't helpful to readers, and it won't help you get more customers either.
Conversational. A conversational tone makes your readers feel like they're talking right to you, and it also engages them more than unnatural text. Write like you're talking.
Educational. If people want information, they want to find what they want as quickly as possible.
These aren't the only characteristics of great content, but they are some essential elements.
An excellent way to create the best content possible is to research and plan your content ahead of time.
While you're here, check out our video on how to create your own content marketing strategy and plan so you can fully see the benefits of content marketing for yourself.
Now, let's talk about how you can market the content you create.
How to market your content
You won't reap the benefits of content marketing if you don't properly distribute the content you create.
When you're putting effort into producing excellent content, you want to make sure that the content is accessible.
That's where the "marketing" in "content marketing" comes into play.
You can market content through different avenues, including:
Your website: If you have a blog, or if you have space to add articles to your site, you can upload practically any content you want to attract visitors to your site.
Your social media channels: Take the URL to your content and share it with your followers on Twitter, Facebook, LinkedIn, and other social networks.
Your emails: If you have a base of email subscribers, share your content with them. Someone who signed up to receive your emails is likely interested in what you have to say, so they're a perfect audience for your content marketing efforts.
Press releases: You can opt for free press release services or paid press release services. You can also send media releases to local, national, or regional papers or online publishers for potential reprint.
Once you begin to distribute your content through marketing platforms, you can expect to glean the benefits of spreading the word.
You might not instantly see the value of content marketing, but over time, you'll create an audience of interested fans who think of your business first.
You control so much of what is being said about you online when you market content. What are you waiting for? Start writing now! If you need help with your content marketing, you can always call a reputable web marketing firm for counsel.
At WebFX, we have a full team of content marketers who have spent their whole careers writing, editing, and revising their work. We know the best ways to turn visitors on your site into paying customers, and we've done it for dozens of our clients already. Now, we'll get those same results for you!
Contact us today to lay out a content marketing strategy that'll help your company grow!