PPC Company
Tampa
As a Tampa business, you want to earn more qualified leads for your business. Pay-per-click (PPC) advertising is a great strategy to use, especially if you are just starting a digital marketing campaign.
On this page, we'll dive into the benefits of PPC and how WebFX can help you create the perfect PPC campaign to help you grow your business.
If you want to expand your online reach and earn more revenue, we can help. Contact us online or call 727-202-5387 to speak with one of our experts today!
Want to market your Tampa business online?
Our Tampa digital marketing services
At WebFX, we offer a suite of Tampa digital marketing services. Check them out now!
What is PPC?
You may have heard of PPC, but what does it entail? PPC is a paid form of paid advertising. These are advertisements that appear above organic search results in a search engine's sponsored listings.
To get started with PPC, you'll first need to select the keywords and phrases you want to trigger your ads to appear in search results.
PPC operates on a bidding system. Once you select your keywords, you'll set your maximum bid. This is how much you are willing to pay each time someone clicks on your advertisement.
One of the great things about PPC is that you only pay when people click your ads, so you won't waste money trying to reach people who aren't interested in what you offer.
Your maximum bid and quality score determine where your ads appear in relevant search results.
Ready To Grow? Get Your Free Proposal Today:
Take the next step in growing your business using digital marketing. Connect with one of our expert digital strategists to learn how WebFX can help you reach your business goals.
Local Success
WebFX has partnered with numerous local businesses in Tampa to help them grow with digital marketing. We've helped to implement campaigns including SEO, PPC, email marketing, and beyond.
Benefits of Tampa PPC services
PPC has numerous benefits for your Tampa business. These are just a few of the many benefits your business will receive.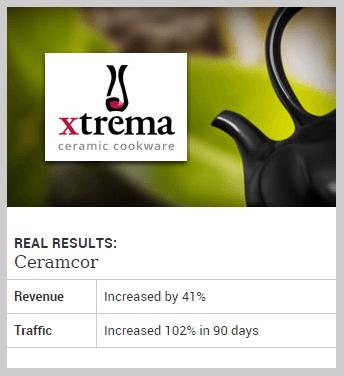 1. You'll earn more qualified leads
PPC drives in more qualified leads for your business. Since PPC ads appear when people search the keywords and phrases you set to trigger your advertisements. This means that the people who view your ads are already interested in your business, products, or services. And only relevant leads will see your ads.
PPC gives you the ability to target a specific audience and draw in more qualified leads.
2. You can make the most of your budget
One of the biggest perks of PPC is the ability to control your budget. When you run a PPC campaign, you set the budget for how much you want to spend.
If you only want to spend $2,000 on a campaign, you will only spend that amount. You will never incur additional costs.
It doesn't cost anything to run a PPC campaign. You only pay when people click your ads. This means that you are paying money to reach qualified leads that are interested in your products or services.
Your budget is important to you, so it is important to make the most of it. With PPC, you'll be putting money towards leads that are most likely to convert into customers. This will enable you get a better return on investment (ROI).
3. You will see immediate results
Strategies like search engine optimization (SEO) take time to show results. With PPC, you can see immediate results. As soon as you begin running your campaign, you can see how it is performing.
PPC enables you to easily monitor and track your campaigns performance. You can see who clicks your ads and if they are converting.
If a campaign isn't successful, you can make necessary changes to reach more people and earn an even higher ROI for your Tampa business. The ability to see immediate results means you can immediate changes. This is a great feature because you can see what works for your campaign and what does not.
4. You can use advanced targeting options
PPC helps you create parameters that allow you to reach a specific audience. You can set your ads to appear to searchers in a specific location at a certain time.
So, what does this mean?
If your target market lives in a specific area, you can tailor the advertisement to fit that location. You can set your ad to only appear between 12-2 p.m. if you know that it is the time when your target market is most likely to be online.
You will gain more traffic and conversions simply by running your advertisement at the right time.
5. You can boost brand awareness
A big part of PPC is building brand recognition. There is a chance that someone will see your advertisement, but they won't convert. It can make you feel as though you missed out on a lead, but that isn't true.
PPC ads are great for building brand recognition. Even if someone clicks on your ad and doesn't convert, they will still become familiar with their brand. People will often take more time to think about buying something before deciding!
This is where you can use remarketing tactics. Remarketed ads are PPC ads that target people who you already know are interested in a specific product. These advertisements enable you to target specific leads and convert them.
With PPC, you can build up your brand. You can help people get familiar with your Tampa business. Then, when it comes time that they decide they need products or services your business offers, they will remember your business and turn back to it.
Ready to get started?
Are you interested in learning more about how your business can use Internet marketing to increase your sales and attract more customers?
Contact us today to speak with a strategist and hear about our custom plans.
Get your FREE Quote now
WebFX is your Tampa PPC management company
PPC has numerous benefits for your business. You can garner more qualified leads and more conversions for your Tampa business. The hardest part is creating a campaign that will be effective.
WebFX has years of experience creating PPC campaigns. We have a team of more than 250 experts that will bring impressive knowledge to your campaigns. Our team knows how to create PPC campaigns that will bring results for your business.
You can trust that our team is qualified to help your business gain new leads. Our PPC management staff is Google Ads Certified, and we know how to create effective campaigns to draw in leads. We have the knowledge and expertise to help you get the most out of your PPC campaign.
Our team believes in building relationships with our clients. Our team takes the time to get to know your business and understand your campaign goals. Then, we create a customized PPC campaign to help you achieve those goals.
As a full-service digital marketing company, we offer SEO, social media marketing, email marketing, and numerous other services. If you decide to expand your digital marketing campaign from PPC, you won't have to go to another company to get those services.
This all sounds great, but how much does it cost? At WebFX, we don't hide our prices. Many other companies will hide their prices from potential clients for various unknown reasons.
We believe in transparency. Our team wants you to have all the information you need to make the best decision for your Tampa business. We provide you with our prices and everything included in your package.
Our PPC services drive impressive results for clients. In fact, we've helped more than 700 clients achieve success online. Check out our 550+ client testimonials (and the video below) to see what they have to say about working with WebFX.
Ready to improve your business with Tampa PPC services?
At WebFX, we know how to bring your campaign success. We can help you create a PPC campaign that will enable you to reach more people in your target market. Whether your business is big or small, PPC can help increase traffic to your website, increase leads, and ultimately, increase overall conversions.
Are you ready to see how PPC can help your Tampa business grow?
Contact us today to see how we can create your ideal PPC campaign.
We look forward to hearing from you!
We're not your typical


Digital Marketing Agency.

Our team is made up of award-winning designers, developers, and Internet marketers. For us, it's not just a job — it's a driving passion. And that passion has led to some of the best work on the web.

Don't take our word for it! We're proud of our many customer testimonials on Clutch. We've earned a 4.9 out of 5 with over 175 ratings.
Driving Digital Revenue For Our 700+ Satisfied Customers