Ever wonder what it takes to work with the #BestCoworkersinPA?
Our awesome talent acquisition (TA) team took the time to answer a few of the most common questions we receive from candidates.
If you want to join our team of top-notch Internet marketers, just keep reading for some exclusive tips!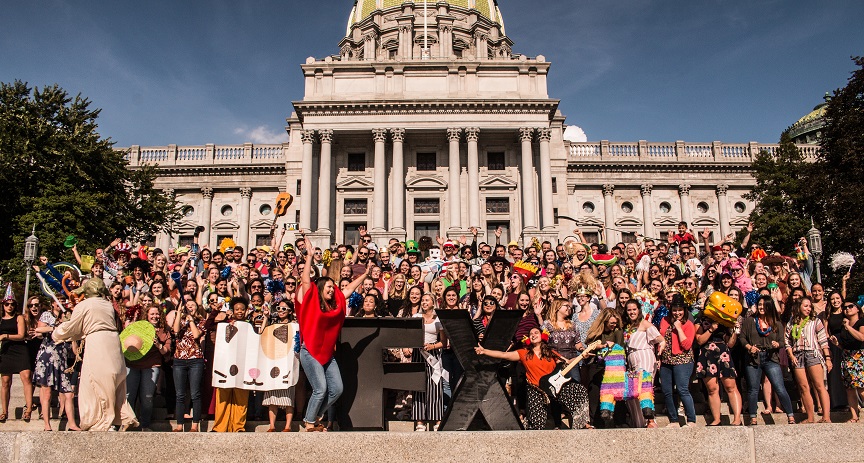 Meet our TA team
First, let's meet our powerhouse TA team.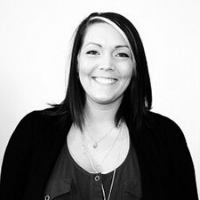 Patty Price – Talent Acquisition and Culture Coordinator Fav FX memory: Being named the Best Place to Work for the 5th year in a row and getting to share it via Facebook Live with the whole FXFamily! Fun facts: My degree is in fashion design, and I'm an avid thrift shopper (a la Macklemore). I have a 10-year-old Chiweenie named Stiggy, and I set a middle school record in shot put (that still stands today)!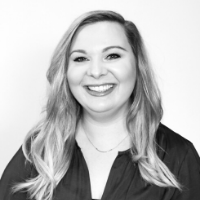 Emily Livingston – Talent Acquisition Specialist Fav FX memory: Being able to attend the BPTW ceremony!
We all know that WebFX has the best coworkers around, but it's such an awesome opportunity to celebrate the FXFamily that we've built and the work that we love to do! Fun facts: I'm a wannabe foodie and bookworm! When I'm at my desk, I'm usually jamming out to oldies.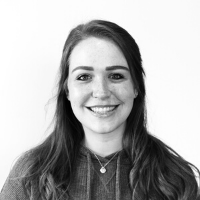 Cat Maniscalco – Talent Acquisition Strategist Fav FX memory: My first big FX party (ScareFX)!
It was such an awesome thing to see that this really is one big FXFamily. We work hard together, and we definitely play hard together as well! Fun facts: I'm a huge animal lover!
I grew up with goats, chickens, ferrets, dogs, cats (basically everything). If you ever need me, find the nearest dog and I'm probably there!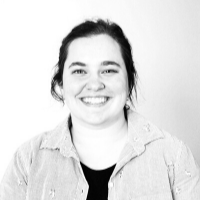 Laura Passmore – Prospective Candidate Researcher Fav FX memory: The day we celebrated our fifth #1 title as the Best Place to Work in PA! It was so cool to be able to celebrate such a team-wide win with such awesome coworkers!
Fun facts: Avid reader, aspiring author, amateur genealogist, cat mom, and lover of long phone conversations with potential future team members!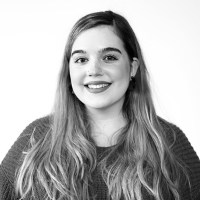 Abby Tiska – Talent Acquisition Strategist Fav FX memory: Attending my first company-wide goals meeting! It's awesome to see everyone celebrate the past month's wins together. Fun facts: I've been to more than 70 concerts, and I've probably seen every episode of The Office three times.
I also worked part-time at a movie theater for six years and collect lapel pins and buttons!
Our hiring process
Now that you met the team, let's get down to business and answer your burning questions!
Q: Can you give an overview of the hiring process at WebFX?
Patty: The hiring process is designed to allow both our candidates and our hiring team to ensure that WebFX is a great match. It has to be a mutually beneficial partnership!
We have several steps in our process because of this, all focused on getting to know our candidates better and giving them the opportunity to do the same with us.
Q: How is our hiring process different from other marketing companies?
Patty: While many companies focus on skills, experience, and accomplishments, we look at intrinsic skills, values, and culture match. We have an incredibly comprehensive training Bootcamp that every FXer completes during their first 120-days on the team, where they are trained on all of the hard skills necessary to be successful in their positions.
Since the hard skills can all be taught, what's most important to us is how closely a candidate mirrors our culture and values.
What makes a successful FXer?
Q: What are some qualities you look for in candidates?
Patty: Attitude, effort, and interest — these are my top 3!
Emily: In interviews, I really look for strong soft skills.
We're looking for a great addition to our team and are happy to teach the right person how to be an industry expert. If a candidate is excited, I'm excited, too!
Cat: Passion, drive, and positivity! We look for candidates with a passion for what they do.
Laura: A genuine passion and excitement for what you do, plus a positive attitude when it comes to approaching challenges!
Abby: I always like to see candidates who are passionate, self-motivated, have a strong desire to learn and try new things, and are overall high achievers.
If you want to learn more about what it takes to succeed in your career at WebFX, check out the video below.
Resume and interview tips
Q: Any tips for creating a stellar resume?
Patty: Build your resume for the position that you want. You should have several versions of your resume in order to show experiences of yours that directly relate to the needs of a position.
Definitely, don't fluff your resume with false information, but rather place your skills, experiences, and interests next to a job description, and ensure that your resume highlights why you would be a great fit.
Emily: Keep it simple. Don't worry about fancy colors or graphics, let your accomplishments take center stage!
Cat: Pay attention to the little details! Taking an extra minute to check over spelling and formatting can go a long way.
Include all of the things you're proud of and that you've accomplished — you've earned them and should definitely show them off. Try to keep your resume to one page and make sure to include all of your most relevant experiences on there!
Laura: If possible, always sleep on it! If you tailor your resume for each new position you apply for, errors will almost always creep in during the edits — from typos, to funky formatting, to information that accidentally gets deleted.
I would always recommend setting an edited resume aside before coming back to it with fresh eyes and making sure everything looks right. Not only can this can cut down on those clerical errors, but it can also help you feel confident that the resume you submitted was the best one possible.
Abby: Keep it clean, organized, and only one page long! You might not be able to fit everything on one page, so be sure to tailor it specifically to the position you're applying for and include only the essentials.
Q: Advice for nailing the interview?
Patty: Cliché answer alert. Be yourself! Most interviewers have been interviewing for a long time, and will be able to tell when you're giving them an answer that you found in a Google search for "best answers to interview questions".
Be honest, be transparent, be positive, and don't be afraid to admit to hiccups that you've had throughout your career. Just be ready to explain how you bounced back from them!
Emily: Be yourself. The interview is all about learning what makes you, you!
If you're nervous, that's okay. We've all been in your shoes before.
Cat: As cliche as it sounds, be yourself! This process is just as much for you as it is for us!
Try your best not to cater your answers to what you think we'd want to hear and be honest. We've all had bumps in our roads, and we really just want to hear how you've overcome them! Be confident and give yourself a little pep talk beforehand!
Laura: It sounds cheesy, but the best advice is always to be yourself.
I think it's really easy to slip into the mindset that interviews require us to "put on a show" and act like a totally different version of ourselves, but the truth is that we usually make a much better impression when we're just being ourselves. Certainly, you want to be polite, look sharp, and probably avoid certain conversation topics, but otherwise, just be yourself! Not only does this make a great impression, but it can also help you feel more at ease during the interview!
Abby: Dress to impress, do some research on the position(s) you applied for and come prepared with questions!
Q: What are some common resume or interview faux pas you see?
Patty: Effective communication is key, so make sure to be prompt and respectful in your responses via phone, text, email, etc! Skip "predictive text" or acronyms, please! (lol)
Emily: It sounds silly, but don't forget to include your phone number and email address on your resume!
You want to make sure an employer can get in touch with you if they want to set up an interview. Also, create a LinkedIn profile if you haven't already! It's a great place to elaborate on your achievements.
Cat: Resume: Every now and then a candidate's contact info will be wrong (there might be a typo in the email address or an extra number in the phone number) and that makes it really hard for us to get in touch to chat further!
Typos and grammatical errors pop up a lot, so taking that extra second to give your resume an extra look or read it aloud can go a long way! Interviews: Underdressing / a messy presentation. First impressions are important, and you don't want to be remembered for your bed head or sweatpants!
If you're interviewing for a company with a relaxed dress code, it's always better to be overdressed than under! Remember to turn your phone on silent- Interviewers want to give you their full, undivided attention, so you don't want anything to accidentally pull away from that!
Laura: For resumes: Font size and formatting! If your text is too small, or if the paragraphs are too crunched together, it can be really difficult to read and doesn't create a great first impression.
Abby: Some people might forget to include a GPA/contact info on a resume or make it longer than one page.
Career starter resources
Q: Do you have any career starter resources for people looking to break into digital marketing?
Patty: Almost too many to count! The beauty of the web is the sheer amount of resources there are out there, but the challenge is to cut through the "noise".
You can't go wrong in following Moz and taking advantage of any free courses, whitepapers, or webinar resources that they have available. Looking into certifications like Google Analytics, Google Ads or Bing Ads are always resume boosters! If you have access to LinkedIn Learning, or can purchase courses through Udemy- literally take every course that they have available on digital marketing!
Codeacademy has a great basic coding course. Follow thought leaders on social media/join their mailing lists- being able to "talk the talk" is hugely influential in the industry! Search Engine Land, Moz, and WebFX of course (shameless plug)!
Emily: Any certifications with Google, Hootsuite or HubSpot are great ways to learn about the industry (and they're an awesome resume booster!).
Moz blog is a great place to start, too!
Cat: Certifications in Google Analytics and Google Ads are always awesome things to have under your belt! HubSpot and Codeacademy have some great beginner courses as well.
Laura: You can't go wrong by exploring industry blogs, podcasts, and more. But on top of that, I would always recommend taking advantage of your own personal network!
Even if you don't personally know anyone who works in digital marketing, try asking around. Maybe your roommate's sibling or your freshman year classmate works in internet marketing. Pick their brain about what it's like to work in the industry, or even ask you could shadow someone in their department!
Talking to someone in the industry is a fantastic way to get a better feel for whether or not it's something that might be a great fit for you!
Abby: The WebFX blog and other industry blogs are a great place to start!
Upcoming events
Q: Any upcoming events for candidates? Catch us at any of the spring 2020 career fairs listed below — we'd love to chat with you!
2/4: PSU Spring Megafair
2/6: Lock Haven Internship & Career Fair
2/12: Elizabethtown College Meet & Greet
2/26: IUP Spring Career Fair
2/27: Grove City College Class Visit & Office Hours
2/28: Juniata College Career Day
3/5: Bloomsburg University Communications, Management, & Marketing Career Expo, Liberty University Spring Career Fair
3/18: York College of PA Career Expo
3/20: Penn State JobExpo.Comm
3/25: Shippensburg University Career CUB Takeover
3/26: Pitt-Johnstown Job Fair
4/1: Kutztown University Job Fair
Where do I apply?!
Want to join the #1 Best Place to Work in PA? You're in luck — we're hiring!
To learn more and apply for an open position, visit our careers page.
If you can't get enough FX, you can visit InsideFX for the latest scoop and give us a follow on Twitter, Facebook, Instagram, and LinkedIn.
We're excited to hear from you and grow our FX fam!