Ever wonder what it takes to work with the #BestCoworkersinPA?
Our awesome talent acquisition strategists took the time to answer a few of the most common questions we receive from candidates.
If you want to join our team of top-notch Internet marketers, just keep reading for some exclusive tips!

Meet our TA team
First, let's meet our powerhouse TA specialists.
Patty Price – Talent Acquisition and Culture Coordinator
Fav FX memory: Our recent rebrand to WebFX! Such an exciting day to be an FXer and to see how far we've come, where we're headed, and how we're all a huge part of that!
Fun facts: Proud dog mom, avid discount shopper, obsessed with resume writing.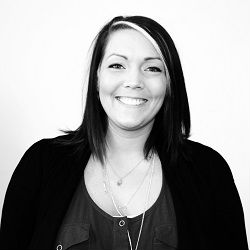 Emily Good – Talent Acquisition & Culture Strategist
Fav FX memory: Winning BPTW '17! As a recent hire, it was a great look into the culture of WebFX.
Fun facts: My hands down favorite part of this position is job fairs! I love meeting students and getting to chat about what they're most passionate about. Also, corgis are amazing.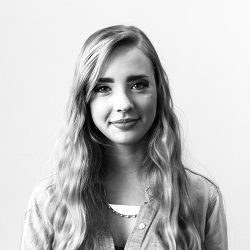 Our hiring process
Now that you met the team, let's get down to business and answer your burning questions!
Q: Can you give an overview of the hiring process at WebFX?
Patty: The hiring process is designed to allow both our candidates and our hiring team to ensure that WebFX is a great match. It has to be a mutually beneficial partnership! We have several steps in our process because of this, all focused on getting to know our candidates better and giving them the opportunity to do the same with us.
Q: How is our hiring process different from other marketing companies?
Patty: While many companies focus on skills, experience, and accomplishments, we look at intrinsic skills, values, and culture match. We have an incredibly comprehensive training Bootcamp that every FXer completes during their first 120-days on the team, where they are trained on all of the hard skills necessary to be successful in their positions. Since the hard skills can all be taught, what's most important to us is how closely a candidate mirrors our culture and values.
What makes a successful FXer?
Q: What are some qualities you look for in candidates?
Emily: Passion, positivity, and the motivation to continue learning!
Patty: Attitude, effort, and interest — these are my top 3!
If you want to learn more about what it takes to succeed in your career at WebFX, check out the video below.
Resume and interview tips
Q: Any tips for creating a stellar resume?
Emily: Stick to one page of content. It may be tempting to spell out every achievement from that fifth-grade spelling bee to highway cleanup last week, but try to highlight your top experiences that showcase the traits you want to convey to the hiring team. Have fun with it, but make sure the document doesn't get wonky after being uploaded – I always suggest saving it as a PDF rather than Word document if you plan on using any graphics or a theme. Include metrics like your GPA and semesters on the Dean's List or any other awards – you earned those numbers, so show them off!
Patty: Build your resume for the position that you want. You should have several versions of your resume (when I graduated, I had 11!) in order to adhere to and show instances of experiences directly related to the needs of a position. Definitely, don't fluff your resume with false information, but rather place your skills, experiences, and interests next to a job description, and ensure that your resume highlights why you would be a great candidate.
Q: Advice for nailing the interview?
Patty: Cliché answer alert. Be yourself! Most interviewers have been interviewing for a long time, and will be able to tell when you're giving them an answer that you found in a google search for "best answers to interview questions". Be honest, be transparent, be positive, and don't be afraid to admit to hiccups that you've had along your career. Just be ready to explain how you bounced back from them!
Q: What are some common resume or interview faux pas you see?
Emily: Interviews: Definitely dress to impress, even if a company has a relaxed culture, you want to be sure the interviewers remember you in your sharpest form! Chewing gum, tapping fingernails, or anything else that creates a repetitive or distracting noise can make it tough to focus on what you're saying – so keep away from fidgeting habits as best you can.
For resumes: Fonts that are incredibly tough to read, or the size is way too big or small. Typos- Be sure to check your resume for errors prior to sending it in. If you have multiple versions of your resume/cover letter, make sure that you're sending the correct one to the correct hiring manager.
Career starter resources
Q: Do you have any career starter resources for people looking to break into digital marketing?
Patty: Almost too many to count! The beauty of the web is the sheer amount of resources there are out there, but the challenge is to cut through the "noise".
You can't go wrong in following Moz and taking advantage of any free courses, whitepapers, or webinar resources that they have available. Looking into certifications like Google Analytics, Google AdWords or Bing Ads are always resume boosters!
If you have access to Lynda.com or Coursera.com- literally take every course that they have available on digital marketing! Codeacademy has a great basic coding course. Follow thought leaders on social media/join their mailing lists- being able to "talk the talk" is hugely influential in the industry! Search Engine Land, Moz, WebFX of course!
Upcoming events
Q: Any upcoming events for candidates?
Emily: Catch us at any of the career fairs listed below, we'd love to chat with you!
9/11: PSU Fall Megafair
10/2: Capitol Region Job Fair
10/3: KU Career & Internship Fair
10/18: Millersville Job Fair
10/23: Liberty University Career Fair
10/24: York Career Tailgate
10/24 Messiah Career Fair
11/2: Elizabethtown Job Fair
11/5: LVC Mock Interviews
In addition, WebFX-U is coming up in October (stay tuned for more info) which is an excellent opportunity for students to experience the FX campus firsthand and hear from our subject matter experts about each department. You won't want to miss it!
Where do I apply?!
Want to join the #1 Best Place to Work in PA? You're in luck — we're hiring!
To learn more and apply for an open position, visit our careers page. If you can't get enough FX, you can visit InsideFX for the latest scoop and give us a follow on Twitter, Facebook, Instagram, and LinkedIn.
We're excited to hear from you and grow our FX fam!
Get posts by email
Be the first to know when we publish a new blog post!