Videos are invaluable tools for increasing conversions, keeping your audience engaged, and helping buyers make a purchase decision. Including a video on your landing pages can drive 80% more conversions, and they play a role in the decision-making process for 90% of buyers.
However, creating videos can prove challenging without the right set of tools. To help you create videos your audience will love to consume, check out these 16 video creation platforms:
Keep reading for an overview of each video creation tool and how it can benefit your business!
And if you want to receive more digital marketing info to elevate your strategy, subscribe to Revenue Weekly! You'll get digital marketing advice delivered straight to your inbox.
16 video creation platforms
The best video creation tools help you create engaging videos that align with your branding and drive business results. You might find software that specializes in creating slideshow-based videos, editing videos you've shot, or creating animated videos.
On this list, you'll find some of each. Check out the video creation platforms to see which will work best for your business!
1. Magisto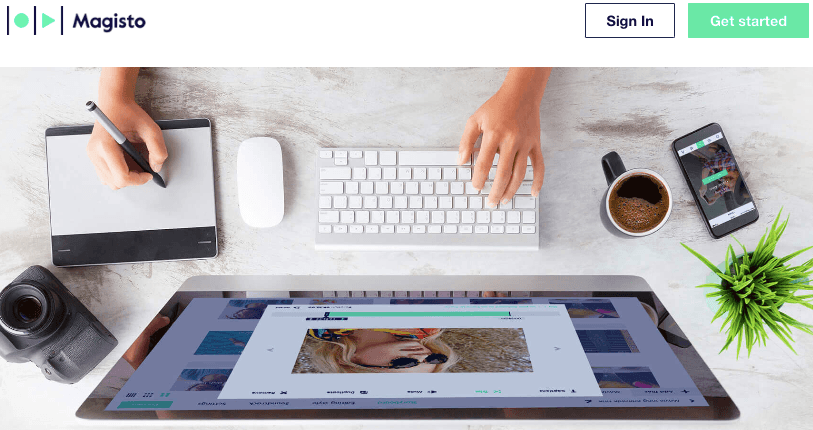 Price: $4.99+ per month
Magisto is an online video maker for businesses that allows you to create, distribute, and view analytics information for your videos. You can use the platform online or download the iOS or Android app.
To use the software, you'll upload your photos or videos and use the tool's built-in features — including automated editing capabilities — to create a story from your content. You can create standard marketing videos or video ads to distribute on social media, YouTube, and elsewhere.
2. Vimeo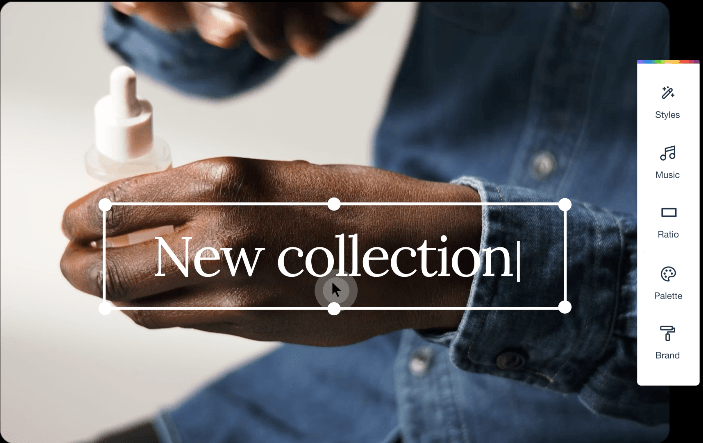 Price: $7+ per month (Free plan available)
Vimeo is a robust video creation tool — and it's the brand behind Magisto. On the Vimeo platform, you'll find features that allow you to create:
Screen recordings
Tutorials
And more
Need some help getting started? Vimeo also provides templates and a marketplace for stock video.
3. Animaker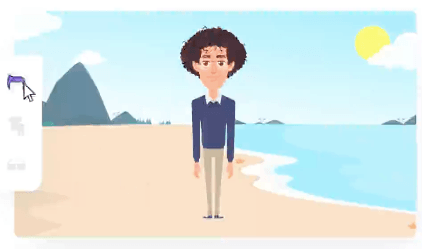 Price: $10+ per month (Free plan available)
As the name suggests, Animaker allows you to create animated videos, but they also provide tools to make live-action videos. The platform includes many features to simplify the creation process, including:
Drag-and-drop builder to add elements to your video
Templates to get you started
Smart Move to help you animate motions more quickly
Stock images and videos
And more
If you're creating an animated video, Animaker includes many animated assets to help you align the video with your vision. You can also create GIFs and resize your final product for posting on social media.
4. Wondershare Filmora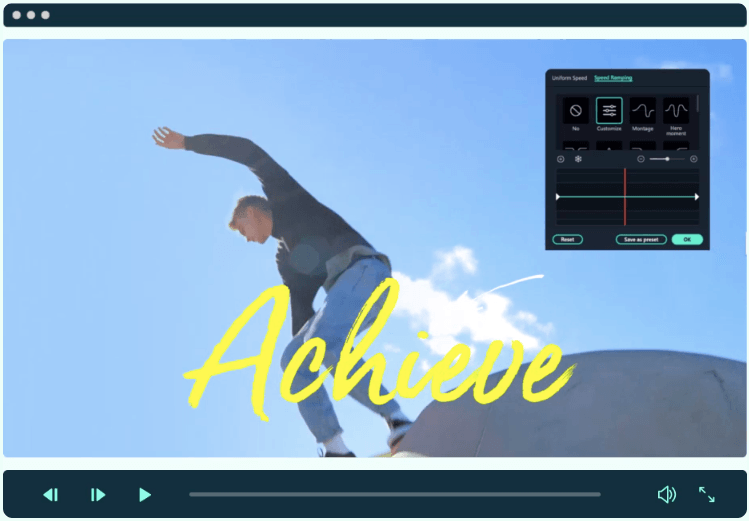 Price: $49.99+
Wondershare Filmora is a video editing platform that allows you to create stunning videos with creative features. For example, you can add on-screen elements or illustrations to your video and use Filmora's smart technology to align them with a moving object on the screen.
You can also use green screen features to swap your background out for a new one. Have a complex filming setup? Sync audio and video from multiple cameras to edit the scene with ease.
5. Videoshop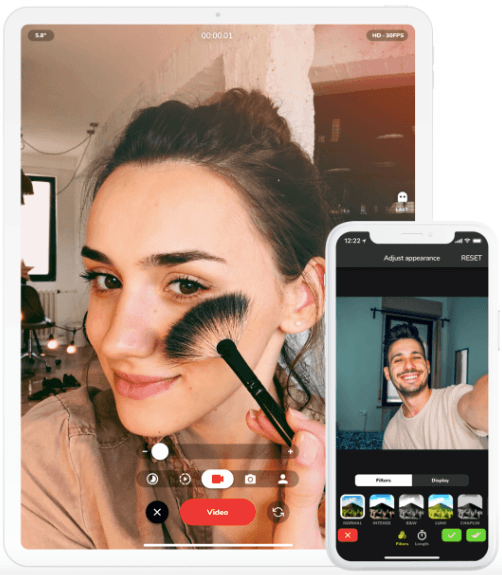 Price: Free
Videoshop is a free video creator that allows you to turn any video you've filmed into well-edited content. Editing features you'll find in the app include:
Splitting and trimming clips
Adding sound and music
Adjusting speed and visuals
Adding text, transitions, stickers, and filters
And more
You can download the platform on the Apple App Store and Google Play Store.
6. Promo
Price: $25+ per month
For one of the best video creation tools for marketing, look no further than Promo. Promo includes an enormous library of video templates for many business uses, including:
You'll also find templates for various themes and business types, such as retail and restaurants. Need content for your video? Promo also includes access to stock media libraries to find the images or video clips you need.
7. Vidyard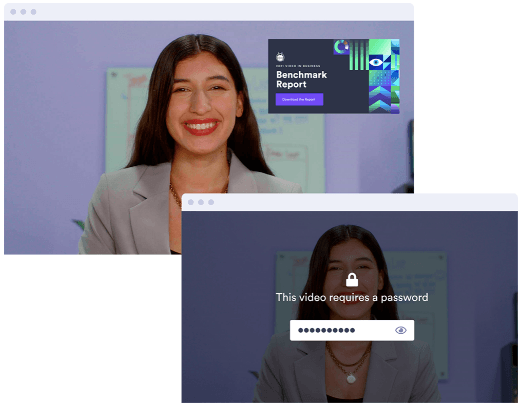 Price: $19 per month (Free plan available)
Vidyard is a Chrome extension that allows you to record videos to communicate more personally with leads and customers. With Vidyard, you can record video messages and capture your screen while you speak if needed.
Once you've created your videos, you can send them to your prospects or embed them on your site and landing pages. The platform also provides analytics information to measure critical metrics about when people view your videos.
8. Adobe Express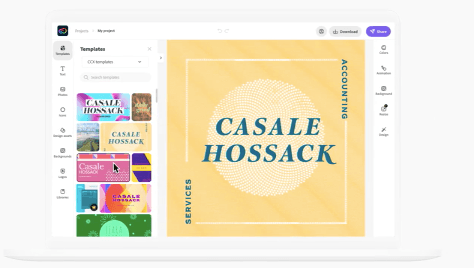 Price: Free
For a free video creator, check out Adobe Express. This online tool from the multimedia software giant allows you to create graphics and videos using premade templates and Adobe stock media. Available templates include formats for social media posts and ads, banners, and more.
You can either upload existing videos to trim and resize as needed or add animation to your graphics to make them more engaging.
9. Vyond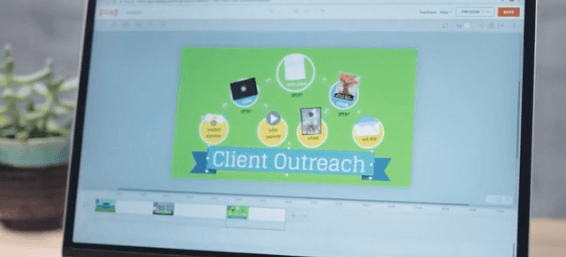 Price: $49+ per month
If you need to create animated videos, Vyond is another excellent option. This cloud-based tool allows you to create GIFs and videos from scratch or using a template. Likewise, you can use their library of animated assets and create custom characters.
Compared to other video creation platforms, Vyond provides robust customization and data security. You'll also find that your characters automatically lip-sync to recorded voiceovers, making the creation process much more seamless.
10. Canva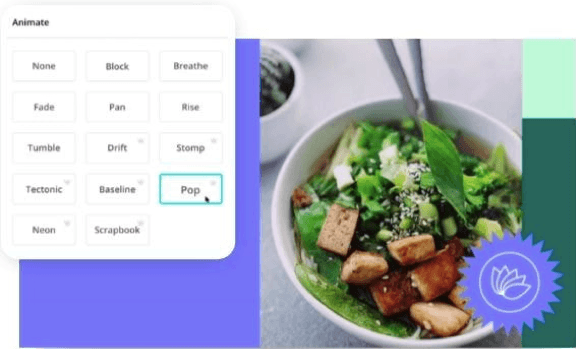 Price: $199.99+ per year (Free plan available)
You might know Canva for its image creation features, but you can also create videos on the website.
With Canva Pro, you can start the design process quickly by using one of their ready-made templates. With your template selected, you can upload videos you've recorded or use their stock video library.
Then, use Canva's drag-and-drop features to customize your content with audio and transitions.
11. Biteable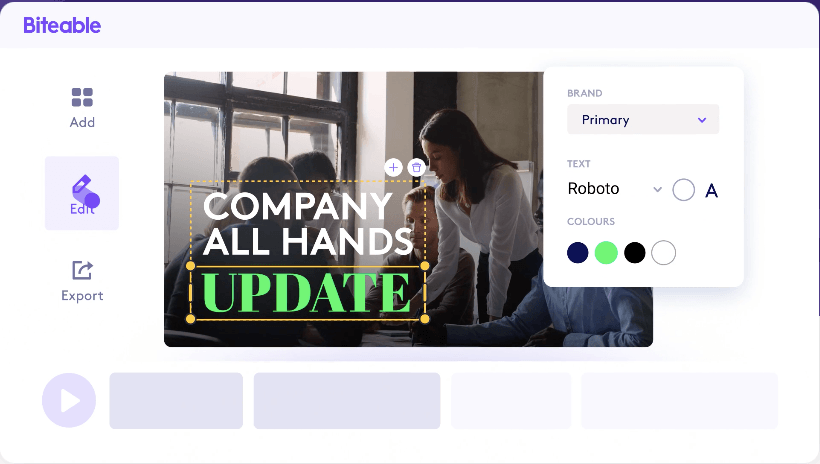 Price: $49+ per month
Biteable is a robust video creation tool designed for businesses. They provide a library of templates for ads and other marketing functions, but you can also use this platform to create internal videos or sales communications.
All you have to do with the templates is input your text and click to apply your branding automatically. But what if you want more customization? You can use their control functions to adjust audio, timing, and more.
The platform also provides analytics to track video performance.
12. PlayPlay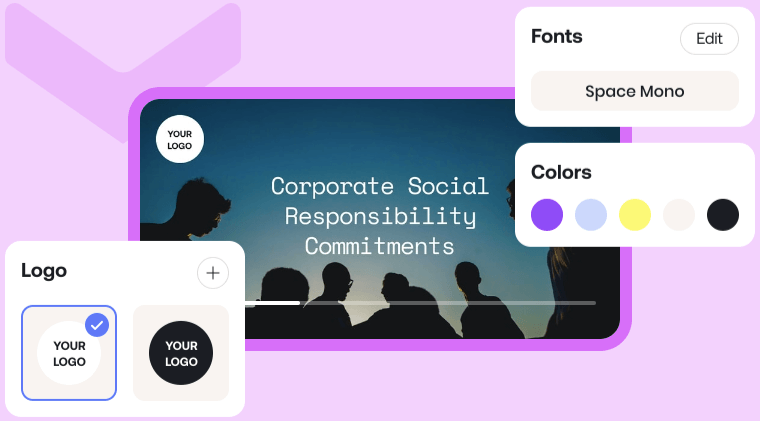 Price: $160+ per user per month
For one of the best online video makers for businesses, check out PlayPlay. With drag-and-drop functionality and automated suggestions and subtitling, you can easily create professional videos. Like most other video creation tools, they also offer templates and a stock media library.
What about branding? The platform's automation includes adding your branded elements to your videos.
13. Kizoa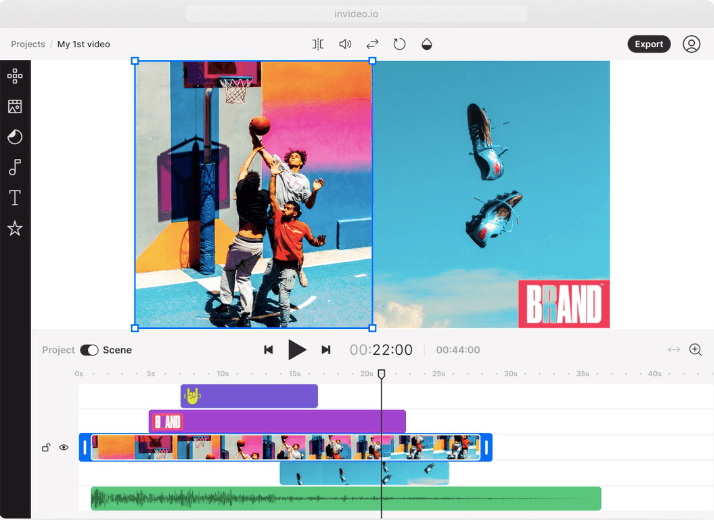 Price: $15+ per month (Free plan available)
Kizoa is a tool that allows you to create slideshows and videos using templates for ads, YouTube, and more. Their editing features include:
Transitions
Text
Stickers
Audio editing
Voiceovers
Animations
Like many of the video creation platforms on this list, Kizoa allows you to easily apply your branding once you've created a brand kit.
14. Descript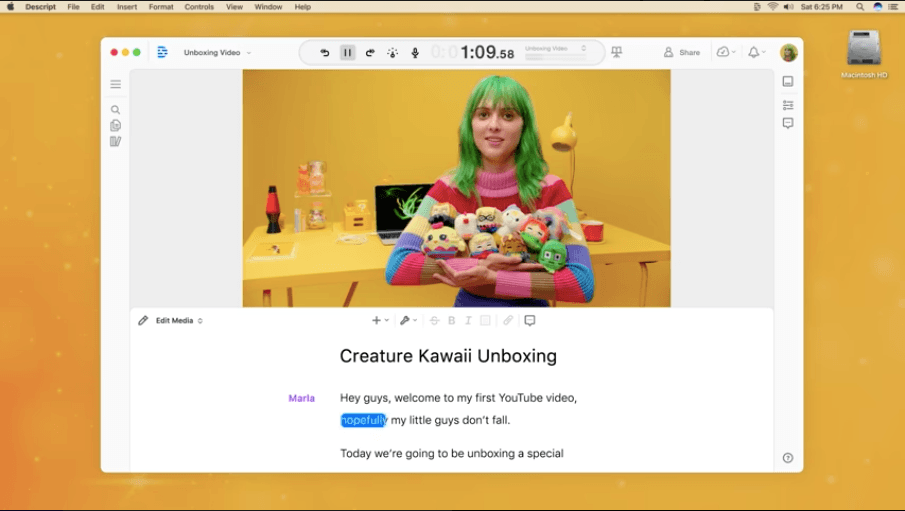 Price: $12+ per editor per month (Free plan available)
Looking for a unique take on video creating? Descript is a "video word processor" and offers unique ways to edit your videos.
The platform uses layers to allow you to edit audio, multimedia, and more. You can also add captions, voiceovers, transitions, objects, and animations to your video. While working or when you finish, share it with your team using Descript's collaboration features.
In addition to editing standard videos, you can also create screen recordings. Once you've finished your screen recording, Descript auto-generates a transcript you can use for editing. The screen recording feature also leverages the platform's video editing tools so you can add engaging elements to it.
15. Clipchamp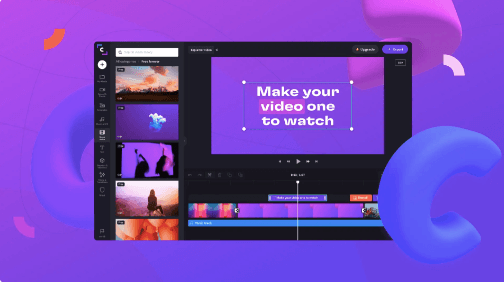 Price: $9+ per month (Free plan available)
Clipchamp is an online video platform with customizable templates and drag-and-drop functionality using a timeline layout. With these features, you can create your videos with ease. The platform also includes stock video and audio to integrate with your recorded content.
Looking to elevate your Facebook advertising strategy? The platform also includes a Facebook video ad maker.
16. OpenShot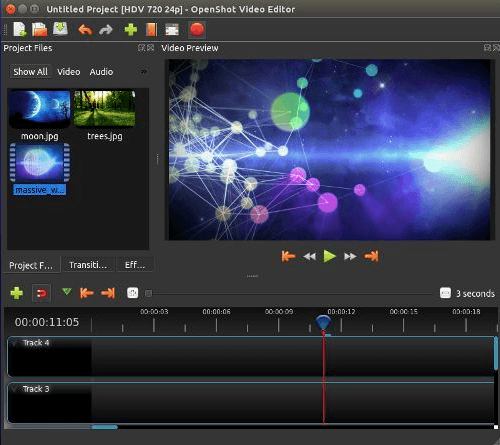 Price: Free
Last on this list of video creation platforms is OpenShot, open-source software available on Linux, Mac, and Windows. With OpenShot, you can create videos using multiple layers to customize them as much as you need.
The platform also includes many robust features, including:
Background removal
Display adjustments
Timing adjustments
Animations
And more
For a powerful, free video creation tool, OpenShot is an excellent choice.
Meet WebFX:
Your world-class, tech-enabled marketing agency with over 1.6 million hours of combined expertise.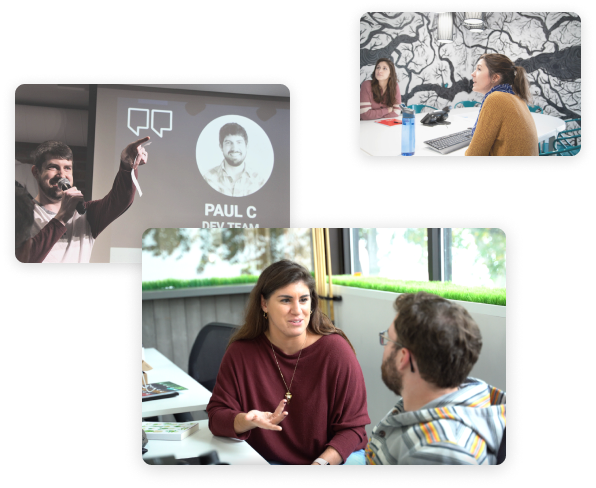 Don't have time to learn a video creation tool?
Partner with our video marketing experts to take the hassle out of video making. Our experts know how to plan, film, produce, and edit phenomenal videos that will capture your audience's attention and drive more conversions.
And because we're a full-service digital marketing agency, we'll work with you to distribute your video to the marketing channels you need. Whether you want to create videos to use on social media, your website, or in ads, we have you covered!
Call us at 888-601-5359 or contact us online to learn more today!
WebFX Careers
Join our mission to provide industry-leading digital marketing services to businesses around the globe - all while building your personal knowledge and growing as an individual.