Creating interactive content is an excellent way to grab your audience's attention and keep them on your website until they are ready to convert into paying customers and clients.
And with our list of seven different types of interactive content with examples, you'll soon be creating more engaging content like a pro.
Just keep reading to check out our full list of seven different types of interactive content below:
Bonus: Did you know that WebFX is a leading content marketing agency?
That's right! Our award-winning team of experts knows how to craft content that drives results. If you want to get more content marketing advice straight from our experts, sign up for our newsletter, Revenue Weekly! You'll get our favorite content marketing tips and tricks sent straight to your inbox!
What is interactive content?
Interactive content is content that encourages users to actively engage with it instead of passively consuming it. Interactive content includes quizzes, calculators, tools, and more. This content contains elements that users actively manipulate and engage with on your website.
3 key benefits of interactive content
So, why should you consider implementing interactive content? There are many benefits of interactive content that your business can enjoy, including:
Increased brand awareness: Interactive content can help you establish your brand as an expert in your field, boosting your brand awareness and trust as a result. That's because users love content and like to share it with other users. Plus, more than 70% of users prefer getting to know a company through content instead of advertisements.
Higher audience engagement: Keeping your audience engaged is essential to increase the time they spend on your website. Interactive content drives consumers to spend more time on your website and learn more about your business.
Increased leads and conversions: Interactive content engages your audience and encourages them to click-through to your website, read your content, and ultimately purchase your products and services. As a result, you can earn more leads and conversions for your business.
If you want to remain competitive in your field and stand out from your competitors, implementing an interactive content strategy is a must.
7 engaging types of interactive content to grab your audience's attention
If you're ready to start creating more interesting content on your website and beyond, check out these seven types of interactive content:
1. Calculators
Providing helpful calculators on your website can be an excellent way to increase user engagement and offer solutions and answers to consumer queries.
Plus, if a consumer is currently weighing their options before deciding to make a purchase, a handy calculator can help provide them with the insights they need and encourage them to convert into a customer.
Example: NerdWallet

NerdWallet's handy home affordability calculator enables users to input various numbers such as their income and down payment amounts to see how much house they can afford.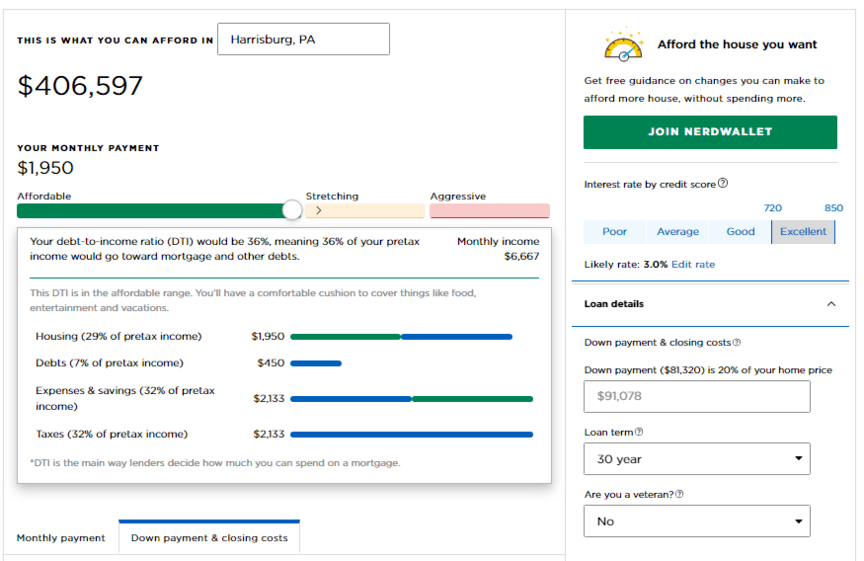 With this calculator, NerdWallet encourages users to spend more time on their website and sign up to join NerdWallet to gain access to more helpful tools and content.
2. Tools
Creating valuable tools for users and providing them with the information they are looking for is another great way to generate leads and conversions for your business.
They can also help you stand out from your competitors by offering a handy tool that users can't find anywhere else.
Example: Ahrefs

With Ahrefs' site explorer tool, users can find key information about their website, such as the keywords they are ranking for in search engines and how much traffic certain pages are driving to their site.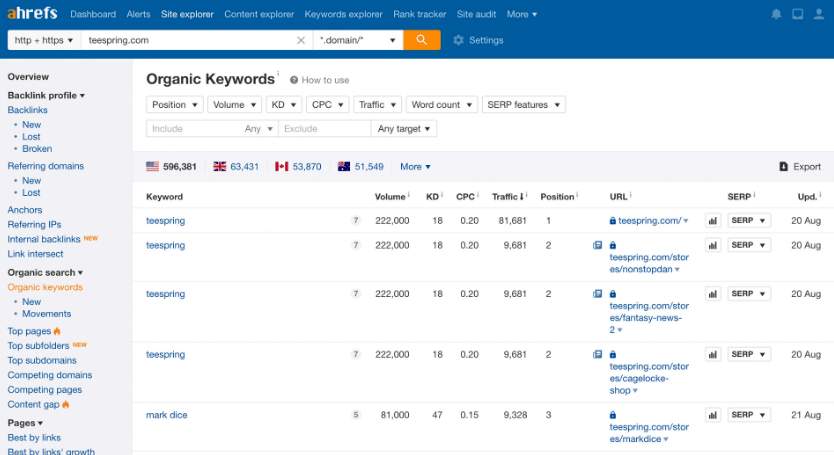 As a result, this tool encourages users to spend more time on Ahrefs' site, increasing Ahrefs' brand awareness and loyalty in the process.
3. Quizzes
Quizzes are fun, shareable, and engaging, which is why many brands use quizzes to boost their brand awareness and capture their audience's attention.
Not only are quizzes an excellent type of interactive content, but they can also help you expand your reach since many users like to share their results with friends and on social media platforms to challenge others to beat their scores.
Example: BuzzFeed

BuzzFeed is well known for their extensive list of entertaining quizzes. Users can spend hours upon hours testing their knowledge with plenty of quizzes to participate in, ranging from movie trivia to zodiac signs.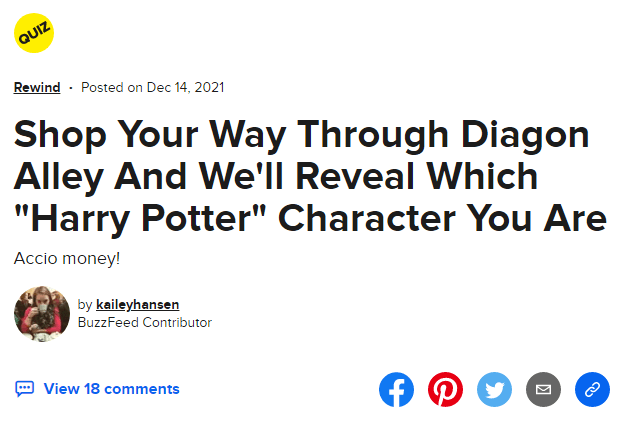 With these quizzes, BuzzFeed can drive more traffic to their website and increase the amount of time users spend on their site, boosting their online visibility and leads as a result.
4. Image sliders
Adding visuals like images and photos throughout your website is essential to break up large blocks of text, make your website look more aesthetically pleasing, and grab your visitors' attention.
But how can you make them even more engaging and interactive? With image sliders, of course! Image sliders enable users to click through various images on their own, learning more about your brand, products, and services along the way.
Example: Nike

Nike expertly incorporates image sliders throughout their website. For example, users can easily browse Nike's popular products by clicking through the multiple images on their homepage.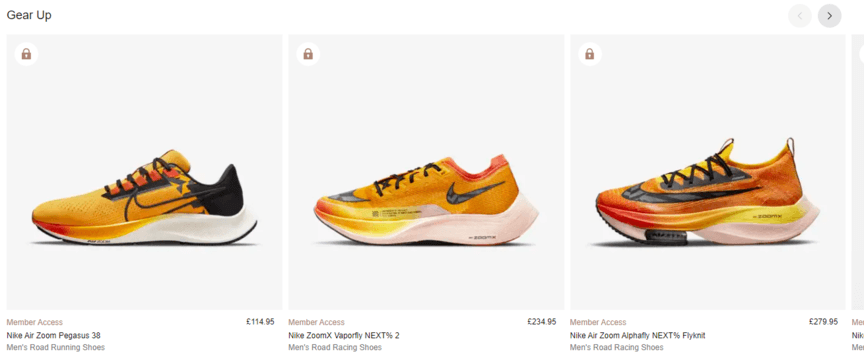 With image sliders like Nike's, you can help users easily find the products and services they're looking for while also enabling them to learn more about your brand.
5. Interactive infographics
Infographics are another great visual element to include on your website, social media platforms, and beyond. And interactive infographics are even better.
Interactive infographics enable you to create content that answers users' questions and provides solutions in a more engaging, visual way.
Example: The Guardian

In this example, the Guardian's interactive infographic enables users to learn more about dog breeds and how closely they are related. Users can scroll and click on various images of dogs to learn more about each type of breed.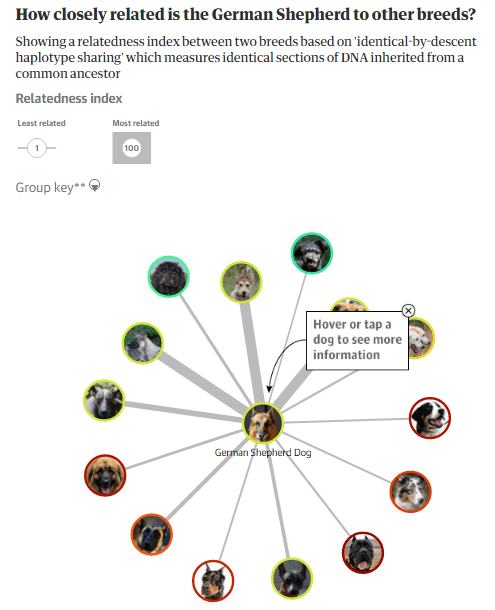 Interactive infographics like this one are a perfect opportunity to showcase your expertise and establish your brand as an expert in your field in a fun way.
6. Interactive videos
Users love to watch videos. In fact, consumers spend 88% more time on pages that have videos. So, if you really want to push your content to the next level, creating interactive videos is a great way to keep users on your website for longer.
Interactive videos offer users an immersive and engaging experience to explore your video and learn more about your brand. With these interactive videos, it's easy to see why your brand association can increase by more than 139% when users interact with your videos.
Example: Thomson Holidays

Thomson Holidays shows off the beauty of Iceland's northern lights in this interactive 360 video. The video allows users to feel like they are standing in Iceland and taking in the sights as they use their mouse to explore their surroundings.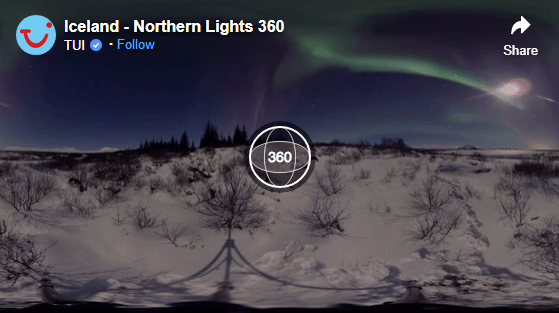 With interactive videos like this, you can provide your website visitors with an eye-catching, immersive experience that entices them to browse your products and services and eventually encourage them to convert into customers.
7. Polls and surveys
Do you want to learn more about your audience's thoughts about your brand and what they would like to see in your products and services? Creating polls and surveys is another excellent type of interactive content that can help you do just that.
Surveys can help you gain valuable information about your audience, such as their:
Feedback on your products and services
Demographics, such as age and location
Interests
Purchasing preferences
And more!
As a result, surveys and polls can give you helpful information that you can use to inform your other marketing strategies and engage your website visitors.
Example: Taco Bell

Taco Bell encourages customers to leave reviews and feedback about their experience. As a result, Taco Bell's customer satisfaction surveys help drive more traffic to their website and get more reviews.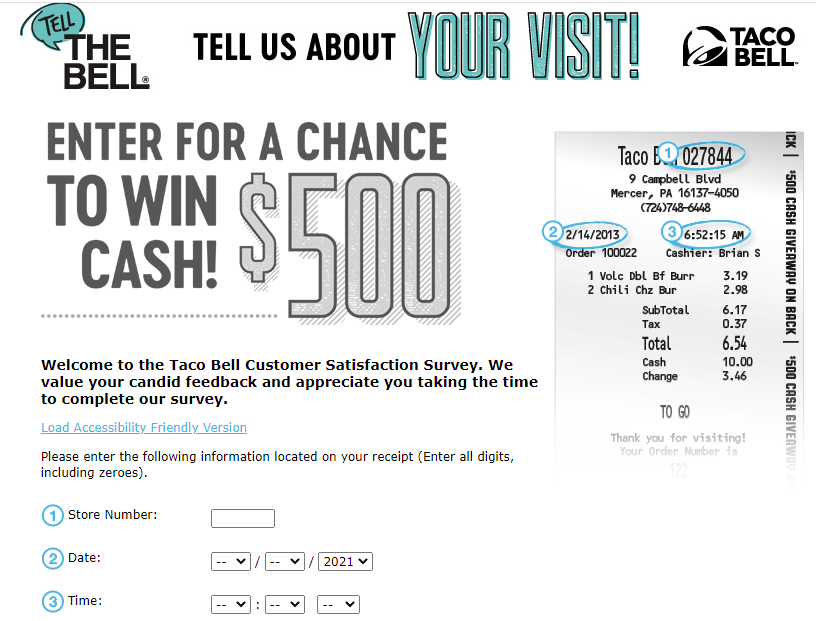 Plus, Taco Bell can learn more about their customer's experiences, enabling them to improve their services to encourage more positive reviews and feedback in the future.
93% of WebFX customers are extremely satisfied with their digital marketing results.
"Working with WebFX, everything is very organized and strategic. We're only a year into our partnership, and our expectations have definitely been met."

View More Client Testimonials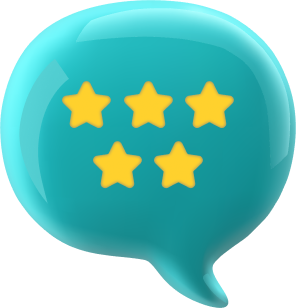 Create engaging, interactive content that drives leads and conversions with WebFX
Do you want to create more interactive custom content for your business, but aren't sure where to start? WebFX has you covered!
WebFX is an industry-leading content marketing agency with more than two decades of experience creating, implementing, and managing effective content marketing strategies that drive outstanding results for clients. And we can help drive sales and revenue for your business too.
Whether you want to create helpful blog posts, engaging videos, eye-catching infographics, or all of the above, we can help you do it all.
Get ahead of your competitors today! Speak with one of our strategists by calling 888-601-5359 or contact us online to learn more about how our content marketing services can help your company grow.
WebFX Careers
Join our mission to provide industry-leading digital marketing services to businesses around the globe - all while building your personal knowledge and growing as an individual.