People love to consume videos, so much so that it's their favorite type of content to see from brands on social media. In fact, social media posts with video content increase views by 48%. As video marketing gains traction online, it's important to incorporate video into your social media marketing strategy. Getting started may seem difficult, but creating social media videos for your business is simple with some planning. Before you hit record, check out these six social media video best practices.
93% of WebFX customers are extremely satisfied with their digital marketing results.
"Working with WebFX, everything is very organized and strategic. We're only a year into our partnership, and our expectations have definitely been met."
View More Client Testimonials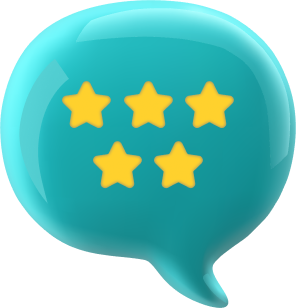 1. Establish your social media video style
Before you can really dive into social media video marketing, you have to know your brand and social media style. Are you more casual or formal on social media? How have you previously communicated with your audience on social media? Knowing who you are will help you figure out three important aspects of your social media videos for business:
What to say and how to say it

What to wear

Where to record
Casual Style
If you have a more casual style on social media, your videos should fall in line with that. Be conversational. You don't want to sound stiff, and you can have fun with the viewers. You can include some funny stories or a joke if they're relevant to the topic. Your spokesperson doesn't have to wear a three-piece suit for a casual video.
You can switch out black dress pants for black denim, and a button-down shirt and tie for a polo shirt. When it comes to choosing a location, pick somewhere comfortable and welcoming. Make sure the area is clean. Whether it's a couch in your office or next to your favorite books and plants, choose a location that's comfortable for you.
Formal Style
If you treat your social media account more formally, your video marketing should follow suit. If you have important points you need to get across, make sure you're familiar with them.
I'll talk a bit about scripting later on in the post. For clothing, business professional attire may be necessary to match the tone of your previous social media posts. When choosing where to record, a simple paper background or an office background will help establish authority with your social media videos for business.
2. Research customers' social media habits
Once you've established your style, take some time to get to know your audience. Who shops at your business or uses your services? This also impacts the language you use. Take a look at who engages with your social media posts online.
Note which social media platforms they use the most and when your target audience is active online. Let's say you sell lawnmowers, and you've noticed people asking a lot of questions on your social media pages about a new model you're offering. They love what they see, but they're really interested in learning how to use it. In this situation, you might consider creating a how-to video about your product for your audience. Your social media marketing videos should satisfy the interests and lifestyles of your audience. After considering who your audience is, you're ready to take into account your video goals and how they align with the proper social media channels.
3. Define your social media video goals
Shooting a video without a purpose can lead to confusion among those involved and your audience. Take some time to think about what you want to accomplish with your social media videos for your business. Are you trying to sell a service, demonstrate a product, entertain your audience, or share some new information? Do you want to persuade someone to buy or welcome a new employee? Your choices aren't limited to those options, but make sure you go into making your social media video with a clear goal in mind. Now that you've established your audience and your goals, you can choose where to post your video. When choosing where to post, take into account the type of video you'll be making.
People use social media platforms for different purposes, and so should your business. Twitter is used to keep up on news, while LinkedIn is for business information and networking. Instagram is where people go to share stories and be creative, while Facebook is where people go to connect with friends and their communities. You can definitely post the same content across platforms, but think about making slight adjustments to cater to each platform's purpose. Someone scrolling through LinkedIn might not be interested in watching a video on how to use a new product unless it meets their business or professional needs. Check out our social video advertising page to learn more about the different social media platforms and their uses.
4. Get feedback on your video ideas
Be open to critiques. Sometimes it's hard to catch mistakes or see missed opportunities when you're close to a project. Someone who is less involved in your project will likely view it with an open mind. Share your idea with a coworker, a friend, a family member, or someone you trust to give you an honest opinion.
You may even consider sending a poll to your audience on social media to see what they think.
5. Pick the right video spokesperson
No matter what your video style or goals are, picking the right spokesperson for your business's social media video can make or break it. This person should be able to bring energy to the table. You might want to look internally for a spokesperson before going to external sources. This way, they'll be more familiar with the video's topic and your company's identity and goals. Many of our videos here at WebFX feature FXers.
Having an internal spokesperson for your social media video is a great way to get your audience familiarized with your business. It's also very important that whoever is on camera is comfortable being on camera. Viewers have a huge amount of content to scroll through on their social feeds. Instagram users alone post 95 million pieces of content daily. With all the content for users to sift through, you'll want to make sure your spokesperson, along with the content in the video, interests your audience enough that they stop scrolling and watch your video.
6. Plan talking points for your social media videos
Depending on the video, you may want to write out a script. Scripting will help you organize your thoughts and write out all the important points you need to make. Even if you're going to be doing a live Q&A video with your audience, you should still have bullet points prepared. Prepare answers for potential questions, write out topics and information that you want to talk about, and become familiar with these points.
Time or approximate how long it takes you to say what you need to say. You might have a lot to talk about in your video, so it might be a few minutes long. Different video lengths work better on different platforms. A two-minute video would be a good length for Facebook, but it will be too long for a Tweet. YouTube is a great place for longer videos, but you should still take into consideration where your audience is going to watch. If a separate spokesperson is appearing in the video, they should be equally prepared for what may come.
You may even want to involve them in the writing process if possible. Most importantly, make sure your script or points align with the goals of your video and the style of your business on social media. Go back to your notes and ask yourself:
Does what I'm saying entertain, inform, persuade, etc. in the time allowed?

Will my audience understand what I'm trying to say?

Does the language I plan to use match the style of my previous posts?
If your script or points don't align with your goals, your social media video might not accomplish what you wanted to accomplish. Give yourself enough time to review and revise your talking points. This can really make a difference for your video.
Not happy with your social media engagement?
We've got just the blog post for you.
Read the Blog Post & Watch the Video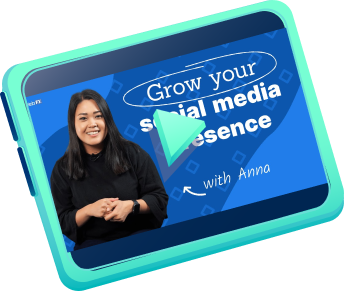 Get started with social media videos today!
After planning your social media video strategy, it's time to press record.
Whether you're recording a video for LinkedIn, Twitter, or Facebook, posting a video is better than not posting a video. Whether you're shooting with a smartphone or a professional camera, these tips for creating a social media video for your business will help you share a polished and complete project with your audience. Don't worry if the video isn't perfect! No video ever is. If you're looking to partner with social media experts, check out our video advertising services. Our team of over 500 experts will help you get more from your social media video marketing.
WebFX Careers
Join our mission to provide industry-leading digital marketing services to businesses around the globe - all while building your personal knowledge and growing as an individual.