A search engine optimization (SEO) strategy is a key component of any successful digital marketing campaign. And the ability to monitor your SEO strategy is equally important to ensure that your efforts drive the best results for your business. That's where an SEO dashboard can help.
They enable you to track and measure the success of your SEO strategies so you can make improvements to earn a higher return on investment (ROI) for your business.
So, if you want to learn about the ins and outs of SEO dashboards, just keep reading!
Here's a quick overview of some of the topics we'll cover on this page:
Bonus: Don't forget to sign up for our newsletter, Revenue Weekly! By signing up, you can join over 200,000 other marketers who get the latest SEO advice and tips sent straight to their inbox from our award-winning SEO experts for free!
What is an SEO dashboard?
An SEO dashboard is a reporting tool or software that enables you to track and monitor the success of your SEO strategy. Your dashboard will include essential data points, metrics, and key performance indicators (KPIs) to help you analyze your strategy.
Why should you use an SEO dashboard?
Now that you know the answer to the question "what is an SEO dashboard", you might wonder why you need to use one.
SEO dashboards enable you to measure the success of your SEO strategy. Tracking your strategy is essential because you can identify any areas that need improvement when analyzing important metrics pertaining to your strategy.
As a result, you can make informed decisions and optimizations to improve your overall strategy. That means you can drive better results and a higher ROI for your business.
How to build an SEO dashboard: 5 key metrics to include
Do you want to know how to build a successful dashboard for your company's SEO strategy? Are you wondering which metrics it should include? If these questions are currently on your mind, we've got you covered.
Learn which metrics you should include in your SEO dashboard below:
1. Organic traffic
One of the most critical SEO metrics is organic traffic. Organic traffic is a measurement of how many people visit your website after discovering it in the search results. When you track your organic traffic, you can see how much of your web traffic comes from your SEO.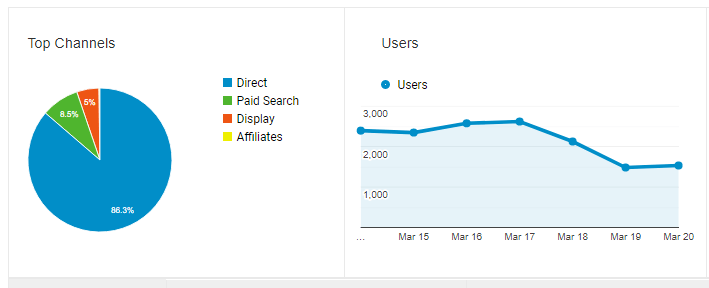 As a result, organic traffic can help you determine the success of your SEO strategy. It helps you see if your SEO strategy increases your web traffic more compared to your other digital marketing campaigns.
2. Keyword rankings
Keyword rankings refers to how high your website ranks in the search engine results pages (SERPs) for specific keywords and phrases. When you track your keyword rankings, you can analyze where your website ranks in the SERPs for your target keywords.
That means you can optimize the web pages ranking lower in the search results to help increase your rankings and boost your online visibility.
3. Conversion rate
Conversion rate is a metric that measures how much of your organic traffic turns into paying customers. You want your conversion rate to be as high as possible because the more conversions you have, the more revenue your business will earn.
By tracking your conversion rate, you determine the success of your SEO strategy and whether it drives conversions for your business. You can then make improvements to encourage more of your website visitors to make a purchase and become a customer.
4. Bounce rate
Bounce rate is another essential metric to include in your SEO dashboard. Bounce rate measures how many users leave your website without interacting with the page or navigating to another page on your site.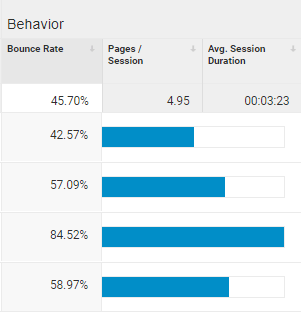 When you track this metric, you identify pages on your site with a high bounce rate, which usually indicates that something on the page is causing users to leave your site. As a result, you can take steps to optimize these pages to keep your visitors engaged on your website.
5. Organic click-through rate
The last metric to track in your dashboard is your organic click-through rate (CTR). Organic CTR is a measurement of how many users click on your website in the search results in relation to how many total users saw your result.
For example, if six total users saw your result in the SERPs and three users clicked on it, your organic CTR would be 50%. Organic CTR can help you identify which pages drive the most clicks for your business in the SERPs.
If your pages have high visibility but a low CTR, this discrepancy could indicate that you might need to optimize your title tag or meta description to increase your clicks and traffic.
The best SEO dashboard to boost your search engine rankings
If you're looking for the best SEO dashboard to help boost your search engine rankings, we've got you covered.
Meet MarketingCloudFX — the industry-leading marketing proprietary software that enables you to track your search engine performance down to the last detail, plus so much more.
With MarketingCloudFX, not only can you monitor your SEO performance, but also the performance of all your digital marketing strategies in one place.
Check out some of the main features of MarketingCloudFX below:
AnalyticsFX
With AnalyticsFX, it's easy to track your website's performance in search engines like Google. From monitoring your current keyword rankings to your overall visibility in search engines, AnalyticsFX helps you do it all.
AnalyticsFX also uses advanced artificial intelligence (AI) to generate data-driven recommendations for optimizations you can make to achieve a top spot in the search results.
VisitorRecorderFX
VisitorRecorderFX enables you to analyze essential data about your website visitors and their behaviors on your site. Learn which of your pages are the most popular, what users click on, how much time they spend on your website, and so much more.
With VisitorRecorderFX, you can track the sources of your web traffic and leads and how they behave on your website so you can create more personalized experiences for your visitors.
CallTrackerFX
If you want to track the sources of your phone calls, MarketingCloudFX's tool CallTrackerFX is for you. With CallTrackerFX, you can view which marketing channels or website pages drive the most phone calls for your business.
Plus, you can record call transcripts to help you drive more conversions and sales in the future.
Customer360
Customer360 is a customer data platform (CDP) that helps you collect essential information about your audience, from their demographics to their interests.
With Customer360, it's easy to create targeted and personalized marketing messages for your audience to boost your conversions and sales.
Independent research from Clutch has named WebFX the
top SEO company

in the United States.

Clutch has personally interviewed more than 250 WebFX clients to discuss their experience partnering with us.

Read More Clutch Reviews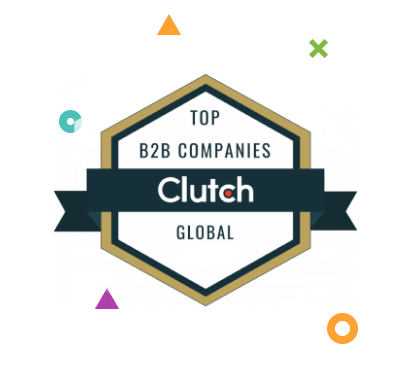 Improve your SEO strategy with an award-winning SEO dashboard from WebFX
If you want to improve your SEO strategy to drive more web traffic and revenue for your business with little effort on your part, WebFX can help!
WebFX is a leading SEO agency with over 1.6 million hours of experience implementing revenue-driving SEO strategies. We'll take care of managing, tracking, and optimizing your strategy so you can focus on your other business tasks while boosting your revenue at the same time.
Plus, with our industry-leading software, MarketingCloudFX, you can easily stay up to date with your website's performance in search engines. In addition, your dedicated account manager will keep you in the loop with frequent meetings and transparent reports.
If you're ready to partner with the SEO agency that's driven over $3 billion in revenue for clients, contact us online to chat with us by calling 888-601-5359. We can't wait to help your business grow!
How is your website's SEO?
Use our free tool to get your score calculated in under 60 seconds.
WebFX Careers
Join our mission to provide industry-leading digital marketing services to businesses around the globe - all while building your personal knowledge and growing as an individual.