Inbound Marketing Services: Custom-Built for SMBs
Get a custom inbound marketing package, and start attracting more leads and sales to your business. With our inbound marketing services, you will receive a dedicated account manager, tailored strategy, regular reporting, and more. Request a proposal now or view our services.
Attract More Leads & Secure More Sales With Inbound Marketing Services
Access all the inbound marketing services your business needs with WebFX, a full-service digital marketing agency with more than 500+ in-house, U.S.-based team members.
Our services include:
Need help building an inbound marketing package? Just contact us online (or give us a ring at 888-601-5359) to chat one-on-one with an experienced strategist!
WebFX maps out your company's goals and orchestrates realistic timelines to accomplish set goals. Their teams are knowledgeable in various areas and are always contributing new ideas.
Office Administrator
MEDICAL CENTER
What do WebFX's inbound marketing services include?
With WebFX, you get a turnkey solution to your inbound marketing needs.
Whether you're looking to redesign your site, improve your search rankings, or scale your email marketing efforts, we provide an all-in-one solution so you can focus on the tasks that need your attention the most.
In most cases, our inbound marketing services will provide you with the following:
Dedicated account manager
Custom strategy
Competitor analysis
Regular reporting
Call, lead, and revenue tracking
Omnichannel reporting via MarketingCloudFX
For the most accurate and specific service deliverables, view each service's plans and pricing:
If you have any questions, go ahead and give us a call at 888-601-5359.
WebFX is a partner businesses trust.
Hear from HydroWorx, who saw a 236% increase in organic sessions with WebFX services.
Watch the Video Testimonial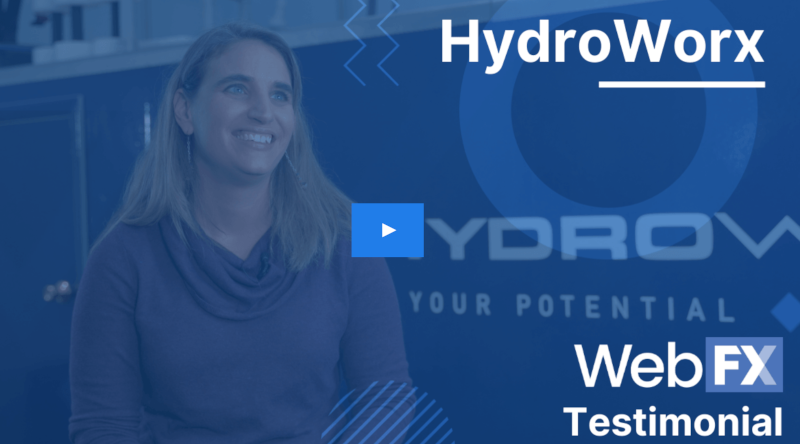 How do WebFX's inbound marketing services work?
While every inbound marketing service is different — for example, a web design project will proceed differently than ongoing SEO — you can expect some similarities between our inbound marketing packages.
For example, most of our services include:
Meeting your dedicated account manager, whether in-person, on the phone, or via video
Asking your team critical questions about your business, like your goals, audience, and more
Auditing your strategy and competitors and providing insight based on those findings
Creating your custom strategy, along with a reporting schedule
Reviewing your strategy's performance regularly, like monthly and quarterly
Besides viewing each inbound marketing service's plans and deliverables for information about our approach to inbound marketing, you can also contact us online to schedule a time to chat with one of our experienced strategists. They're happy to answer your questions!
Why do SMBs choose WebFX for inbound marketing services?
Small-to-midsized businesses (SMBs) partner with WebFX for a few reasons, including:
Get a turnkey solution to inbound marketing
A common challenge when searching for inbound marketing services is finding a provider that does it all.
Without a full-service digital marketing company, you have to coordinate with multiple agencies. For marketers and business owners, that quickly becomes time-consuming and introduces the risk of miscommunication between agencies.
That's why WebFX is a full-service digital marketing agency.
As a full-service agency, we offer your business an all-in-one solution to inbound marketing. You can access the services you need, from SEO to web design, without the hassle of hiring an agency, contractor, or freelancer.
With more than 200 team members, ranging from marketers to developers to copywriters, we can also take on your projects with ease. Plus, we can ensure your projects, like a web design launch, meet your deadline.
Work with a dedicated account manager
As your inbound marketing company, we provide your business with a dedicated account manager.
Your account manager is like an extension of your team and works to build a lasting relationship with your company. They learn about your brand, audience, and goals so they can create a strategy that achieves your marketing goals.
Besides relying on your account manager to manage all the details of your inbound marketing campaigns, you can also count on them when you have a question, resources to forward, or a new company update to share.
Just give your account manager a call — or send them an email.
As one of our clients shared, "WebFX has been wonderful to work with. They're extremely responsive and helpful if there are any questions about anything at all. I would highly recommend the team. We've worked with WebFX for many years and they know what they're doing!"
Sync all your marketing channels, strategies, and data
Your inbound marketing services include more than a dedicated account manager and custom strategy. They also come with MarketingCloudFX, our proprietary marketing automation software exclusive to our clients.
Here is what you can do with MarketingCloudFX:
Track return on investment (ROI) across marketing channels and strategies
Track, manage, and nurture leads
Monitor competitors, keyword rankings, and more
Sync valuable data with Salesforce, Shopify, Amazon Seller Central, and more
Manage online reviews across websites
Record user website behavior
And more
With the artificial intelligence and machine learning power of MarketingCloudFX, plus the industry-leading expertise of our team, your business can make strategic and data-driven decisions about your inbound marketing efforts.
Plus, you can make tracking and measuring your ROI easier because it's all in one place!
Partner with an established partner that has a track record of success
With WebFX, your business gets an experienced partner in inbound marketing.
We bring more than 25 years of experience to online marketing, translating to tremendous results for our clients. Just in the past five years, for example, we've helped our clients earn more than $3 billion in revenue, as well as 7.8 million leads.
That's led to a client retention rate of 91%— the industry average is 50%.
Even better, our client recommendation score is exceptional. It's 488% higher than the nationwide average, beating companies like Apple and Microsoft. With our team, you can trust you'll receive excellent service and fantastic results.
Learn more about what it's like to partner with us by reading our case studies and client testimonials!
Why invest in inbound marketing services?
Creating an inbound marketing strategy is low-hanging fruit when it comes to improving your business.
Why? The strategies included in your campaign require you to get to know your target audience so that you can advertise to them directly and meet them where they are in the customer journey.
Read on for an in-depth look at why inbound marketing is a fantastic investment.
It meets potential customers where they are
Inbound marketing actively targets people searching for your products and services.
If you're driving down the road and happen upon a billboard for a new car, that's not a marketing strategy that's meeting you where you are as a shopper. You're likely not even looking to purchase a new vehicle!
However, since inbound marketing services are targeted and intentional, they allow you to meet customers where they are in their buyer journey.
For example, search engine optimization or SEO helps you show up highly in search engines for targeted keywords. That said, a user must search the keywords that you write about to see the content that you write — they're not being bombarded with your content on a whim. Instead, they're actively searching for it.
Inbound marketing services are so beneficial because they can reach potential clients at their particular stage of the buyer journey — making them more likely to convert.
It's targeted
Inbound marketing strategies provide a great way for you to target your ideal audience.
For example, pay-per-click (PPC) ads allow you to select different targeting parameters which place your ads directly in front of users that fit a specific demographic, lifestyle, or other category of your choosing.
When you target users based on their needs, you'll see an uptick in conversions — simply because you're marketing to users that are interested in what you have to offer.
It's marketing with intention
Inbound marketing services are far more intentional than outbound marketing strategies.
You can think of outbound marketing strategies as throwing something at the wall to see what sticks. It's not very intentional, and it can often wind up being waste of your marketing budget.
When you opt for inbound marketing services instead, you can rest assured that you're marketing with intention. Your intentions might include:
Marketing to the right customer at the right point of their buyer journey
Marketing on the right platforms
Marketing to users that actually need your products or services
Tracking the success of each campaign as to not waste your budget
These intentions are great to set at the beginning of your campaign, and as you opt for different inbound strategies, you'll see that they're not difficult to accomplish.
It's measurable
When you opt for inbound marketing strategies, you'll be able to measure and track their success.
This means that if a specific strategy isn't working, you can use analytics to determine where there might be holes in a specific campaign and patch them accordingly.
It's difficult to track the success rate of outbound marketing techniques, simply because they're not tied to any tracking platforms.
Strategies like SEO, PPC, social media marketing, and email marketing allow you to track success in Google Analytics, or for social media, in each platforms' proprietary analytics program.
4 examples of inbound marketing to inspire your strategy
Check out some examples of how some of our favorite brands use inbound marketing to thrive.
1. Home Depot's blog
Check out the way Home Depot takes advantage of their industry knowledge to provide users with valuable information on their blog!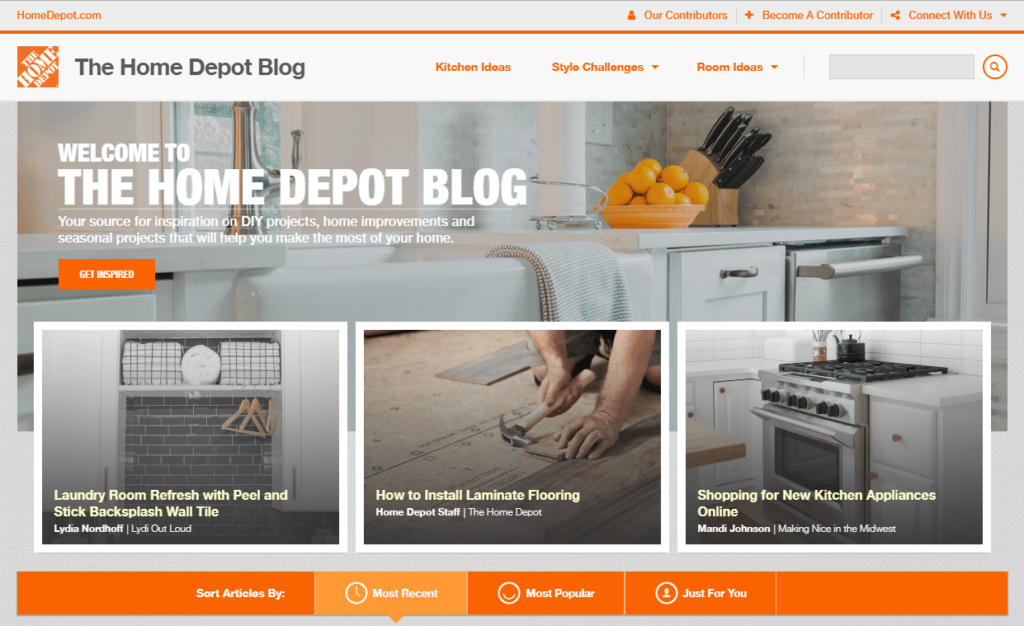 The goal of their blog posts isn't to sell their products (although that can be a beneficial byproduct). It's to inform users so that they feel empowered to take on their own projects.
Blogging as an inbound marketing technique falls under the category of content creation, and it can shift to a content marketing technique if Home Depot were to share their blog posts on social media or in an email newsletter!
2. Starbucks local SEO
Starbucks knows that even though it's a chain, there's no room to let off of their inbound marketing efforts.
When I search for "coffee near me," Starbucks is the first coffee shop to show up in the local SEO 3-pack — showing that they've opted to complete their Google My Business (GMB) profile and reap the benefits of local SEO.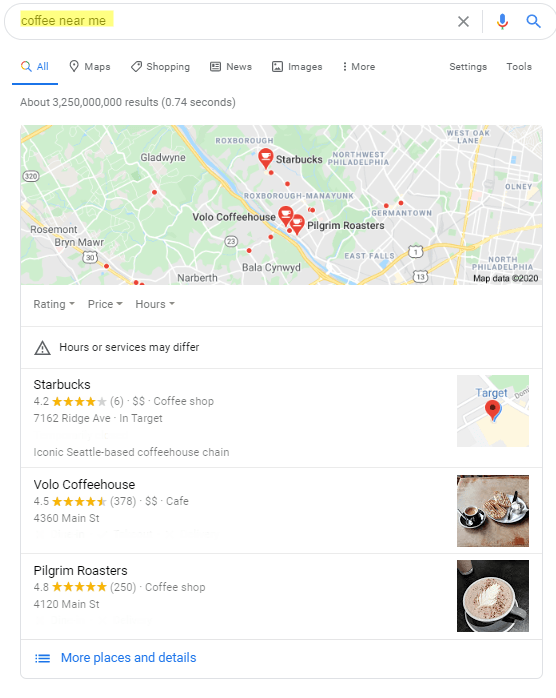 This inbound marketing initiative isn't intrusive since it meets users exactly where they are — in a specific Google search.
3. Gap's PPC ad
When I do a Google search for "comfortable pjs," a PPC ad for Gap's women's relaxed pajama pants shows up above organic results.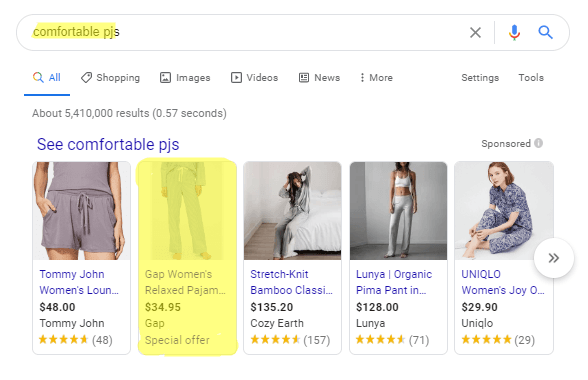 Opting for PPC ads as an inbound marketing service allows you to target users based on exactly what they're searching for. PPC ads are extremely unobtrusive since users are already searching for the product or service shown in ads.
4. B&H's email newsletter
Email marketing is one of our favorite inbound marketing services — not only because of its incredible ROI ($44 for every $1 spent) but because it sends extremely targeted emails to people who have already shown interest in your business.
Check out B&H's email newsletter. I receive these in my inbox consistently — because I was interested in their products and services and proved it by signing up for their newsletter.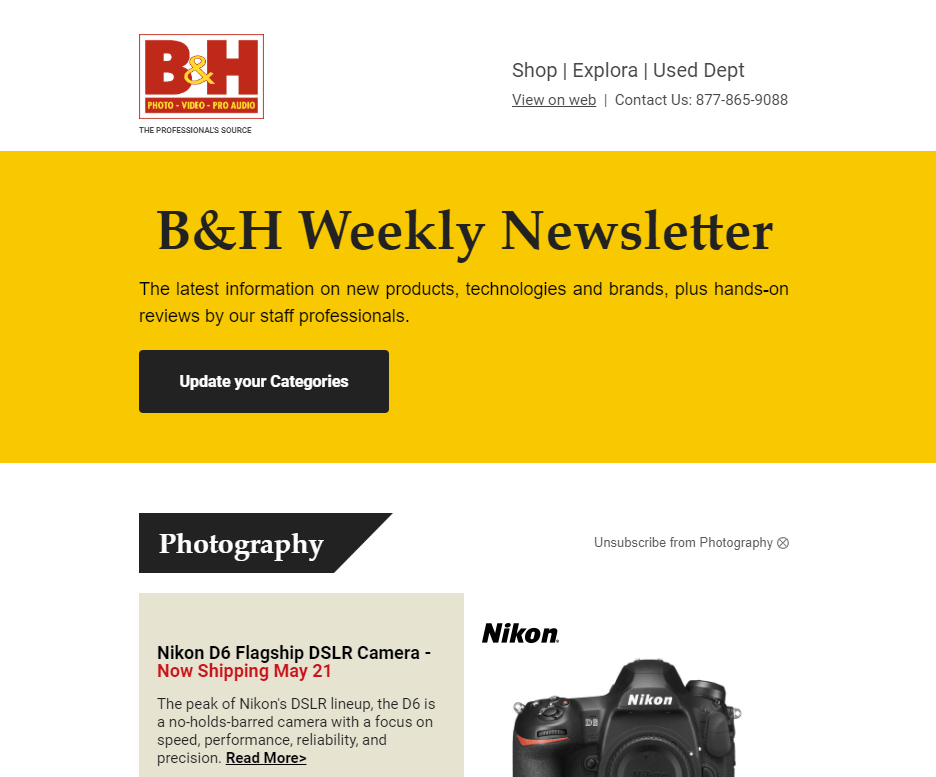 Email newsletters are a fantastic inbound marketing service to adopt since they lets you reach target customers that have already proven their interest in your products.
FAQs about inbound marketing
Browse our FAQ to find answers to some of the most common questions about inbound marketing!
What does inbound marketing mean?
Inbound marketing refers to strategies that connect you with customers looking for products and services you offer. Also known as a "pull" marketing strategy, inbound marketing attracts qualified leads to your business.
Inbound marketing is an umbrella term for strategies like:
What's the difference between inbound and outbound marketing?
When researching inbound marketing, people want to know, "What's the difference between inbound and outbound marketing?".
Inbound marketing isn't intrusive like cold calls and includes techniques that create a customized experience for target customers. Creating targeted inbound marketing campaigns helps you attract, inform, and delight your audience with your products and services. Not to mention, it helps you build a relationship with them as well, so they'll be more likely to purchase.
The difference between inbound and outbound marketing is simple:
Inbound marketing meets customers where they're searching online. Since inbound marketing targets people actively searching for your products and services, it attracts more qualified leads — people who are most likely to buy.
Outbound or "push" marketing is an intrusive form of marketing that interrupts users to advertise products or services. With outbound marketing, you reach a less qualified audience — people who may or may not be interested in your business.
Outbound marketing services include strategies like:
TV commercials
Billboards
Cold calls
Junk mail
Although outbound marketing services might have some success, in comparison to inbound marketing strategies, they are a waste of marketing budget since they don't target your most qualified customers.
Get started with inbound marketing services
If you're looking to use inbound marketing services to improve your business, we've got you covered.
WebFX is a full-service digital marketing agency, which means we offer a wide variety of inbound marketing services.
Check out our inbound marketing services below, and keep in mind that we offer more than 50 inbound marketing services — so, not all are listed here!
Every inbound marketing service that we offer is customized to client needs. We serve customers in a variety of industries and locations around the globe.
If you'd like help with your inbound marketing strategy, we'll create a unique, customized campaign just for you.
We can merge any combination of our inbound marketing services to create a successful marketing campaign that attracts website traffic, leads, and most importantly, increases conversions. In the past 5 years alone, we've generated over $3 billion in client revenue — and we can't wait to drive results for your business.
If you're ready to get started, get a free quote by contacting us online, or to speak with an inbound marketing specialist, feel free to give us a call at 888-601-5359!