Your website design influences 94% of first impressions. When a potential lead stops by your flooring company's site, they need to see a well-designed, user-friendly page.
Your site's design showcases your credibility, customer service, and eye for aesthetics — all vital characteristics of flooring companies. Potential clients want to work with someone they can trust, who will answer their questions, and provide beautiful floors.
Want to learn more about web design for flooring companies and why your business should invest in a high-quality site to generate more leads? Keep reading!
Or, if you're ready to improve your flooring website design, call us at 888-601-5359 or contact us online today to speak to an expert!
Meet WebFX:
Your world-class, tech-enabled marketing agency with over 1.6 million hours of combined expertise.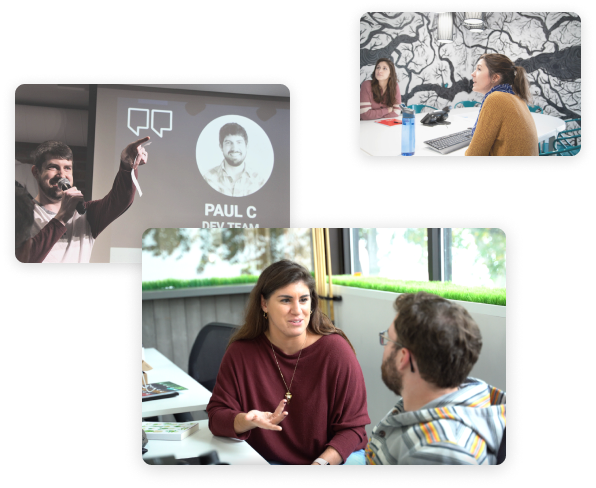 Web design specialized for flooring businesses
At WebFX, we leverage our digital marketing expertise to design a website specialized for your industry.
Our team of over 500 digital marketers has 1.6 million hours of expertise and 50 awards under their belts. We know how to navigate the complex landscape of web design to drive real-world results for your business.
More than that, we know your industry. We've designed many custom flooring websites for companies like yours, so we understand the nuances of successful website design for flooring businesses.
When you partner with us, our dedicated experts thoroughly research your competitive landscape and target audience. We leverage this information to design a website that gives your flooring company a competitive advantage and meets the unique needs of your target customers.
For example, a flooring company that targets commercial businesses requires different design elements than one that targets homeowners. We select strategic design styles accordingly.
Check out our portfolio to see the results we've driven for a home services website like yours!
Benefits of web design for flooring companies
How does web design for flooring companies drive those impressive results?
Learn how to leverage your site for lead generation in the video below, and keep reading for six ways expert design will benefit your flooring business!
1. SEO-friendly design generates more leads
Search engine optimization (SEO) is the process of optimizing your site, so it appears at the top of the search results. This optimal placement directly affects how many people visit your site. Over two-thirds of all clicks go to the first five results on Google.
The more qualified visitors you have on your site, the more potential leads your flooring company receives.
But what does SEO have to do with web design?
Web design plays a significant role in SEO because search engines want to provide users with the most helpful, user-friendly results.
Your flooring site should follow web design best practices, including:
2. Branded design increases brand recognition
The flooring industry faces steep competition online. Make your company stand out by integrating a unified brand experience across your online touchpoints. Design helps 73% of companies distinguish themselves from their competitors.
In addition to your logo, brand name, and brand voice, you need a consistent appearance for customers to recognize your brand. As soon as they see your site in their search results, they'll know you're a flooring company they've come to trust.
Aesthetically pleasing branded design also shows your potential customers your eye for design. Your clients trust you to provide them with floors that tie their home or business together, so use your website as proof of your design judgment upon their first click.
3. Optimized multimedia showcases your work
While your branded site visuals provide a glimpse of your design eye, your past projects speak for themselves. Showcase your flooring options and past installation projects for on your website. Let your visitors see your stunning floors as soon as they click on your site.
Your website should feature prominent portfolios and galleries that align with your product categories.
More than that, incorporating images throughout your site improves the user experience by:
Breaking up walls of text to make your content more readable
Providing supporting examples or visual walk-throughs for "how-to" guides
Emphasizing critical information, you want visitors to see
Supporting your site's aesthetic
However, as you include images throughout your site, you must optimize them for search engines and load time. Expert SEO designers will take care of those details for you.
4. Mobile-friendly websites improve the local search experience
Many customers might prefer a flooring company near them. Especially if you install or repair floors, you need a site designed for local searchers.
In recent years, three times more mobile searches have included the phrase "near me," strengthening the link between mobile and local optimization. When you design your site for mobile devices, you improve the experience for these local searchers.
Search engines also require a mobile-friendly website for high-ranking pages. Mobile-friendliness is a top SEO ranking factor because it affects user experience, with visitors 52% less likely to engage if the company's site has a poor mobile design.
In short, mobile-friendly design keeps users engaged and helps your site appear at the top of search results, which can translate into more traffic and more leads for your flooring company.
5. Design elements aid in conversion rate optimization
When a user visits your site, they need to know how to contact you, see your available flooring options, and possibly find a store location near them. A well-designed main menu will facilitate this navigation.
Design that centers conversion rate optimization (CRO) will also incorporate eye-catching calls-to-action throughout your pages to point users to your desired next steps.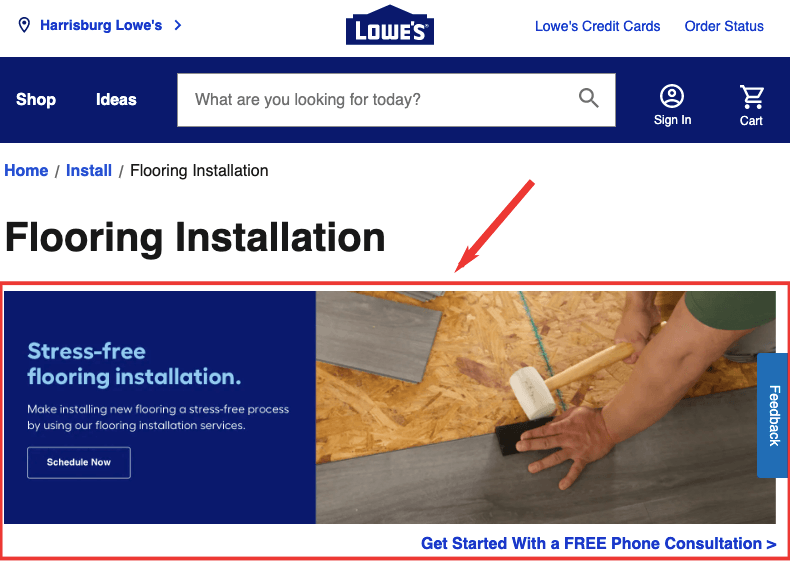 6. Easy-to-find information showcases your customer service
Your site's navigation also enables visitors to see relevant industry expertise and find answers to common questions.
An SEO-friendly flooring website features product information and supplemental content such as the benefits of different flooring types and flooring design trends. You might also answer common customer questions about choosing the right flooring or maintaining their floors.
Your site's design empowers visitors to locate that content quickly and easily.
Website design for flooring businesses with WebFX
Are you ready to capitalize on these impressive web design benefits for your flooring company? At WebFX, we design SEO-friendly sites that empower you to grow your flooring business. Our flooring website design services include:
Custom flooring websites designed for your company: Do you specialize in hardwood floors or tiles, or do you sell various types of floors? Our design team customizes your website — and the pages within — to suit your needs. We also customize your site's design style to match your branding.
Stunning multimedia to showcase your products: Our designers will incorporate photos and videos throughout your site to showcase your beautiful flooring options.
Responsive design for a mobile-friendly website: For a mobile-friendly website, we use responsive design. Instead of creating a separate mobile site, we save you time and money by designing your flooring website to adjust to different screen sizes.
Copywriting to build your pages: What if you don't have supporting content for your flooring website? No problem. Your content influences your site's design and optimization, so we provide website copywriting services alongside our web design services.
Navigation optimized for user experience: Once we've created all that content, we make it easy for your site visitors to find it by designing seamless site navigation.
Conversion-optimized landing pages: Are you running a pay-per-click advertising (PPC) campaign? Our web design team will optimize your landing page designs for conversions.
Design a website as beautiful as the floors you sell
Your beautiful floors bring your clients' rooms together. In the same way, your web design brings your site together. Partner with a web design agency that knows how to drive real-world results for flooring companies.
We've launched over 1600 websites for our clients. With our data-driven approach, we balance artistic design with site elements that translate into increased traffic, more leads, and over $3 billion in revenue for our clients.
Contact us at 888-601-5359 to speak with a strategist or request a free quote online today!
Earn a 20% greater ROI with WebFX