Are you looking to grow your tiling business and attract more leads? Digital marketing gets your business seen by more people and drives potential customers to your in-person location. A whopping 97% of people view your business online before visiting.
But where do you begin with digital marketing? How do you know which strategies will work best for your tiling company?
We've got you covered! Learn how digital marketing for tiling companies helps you drive leads — and how a digital marketing agency like WebFX will increase your marketing return on investment (ROI).
If you'd like to go ahead and speak to a strategist, call us at 888-601-5359 or contact us online!
Meet WebFX:
Your world-class, tech-enabled marketing agency with over 1.6 million hours of combined expertise.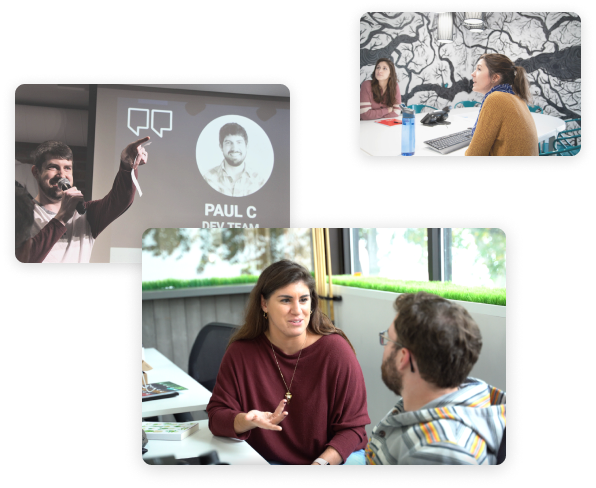 How does digital marketing for tiling companies work?
Digital marketing for tiling companies is one of the best ways to market your business. A comprehensive Internet marketing strategy for tiling businesses involves tactics like:
Search engine optimization (SEO): When you search for something on Google, you usually click on the top few search results, right? SEO helps your tiling company's website rank higher to reach those prime spots.
Pay-per-click advertising (PPC): While SEO can help your website land at the top of the unpaid search results, many queries include paid results. You'll need a PPC strategy to land in those coveted top paid spots.
Web design: We've referenced a couple of digital marketing strategies that drive users to your website. Your tiling company's site forms the foundation of your online presence, so you should ensure it's well-designed.
Social media: Whether homeowners or industry partners like builders and designers, your potential customers spend significant time on social media. Meet your audience where they're at by marketing your tile business on social platforms like Instagram, Facebook, LinkedIn, and Houzz.
And more!
If you want to invest in these digital marketing strategies, consider partnering with a digital marketing agency. A marketing company can help you create a comprehensive online marketing strategy tailored to your tiling business's needs.
If you're looking for a full-service digital marketing agency to help you launch an Internet marketing strategy for tiling companies, WebFX can help. Our all-in-one digital marketing services will empower your company to capitalize on the results that matter most to your business.
For example, your tiling business might need an SEO strategy targeting "best tile for shower walls" and "types of tile backsplash." In conjunction with your SEO strategy, you could also target visual search ads to showcase your beautiful tiling options.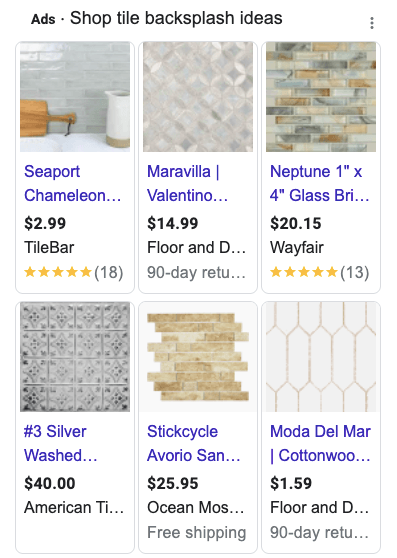 When you partner with our experts, we leverage data from your campaigns to adapt as needed and continually improve your ROI.
6 ways to use Internet marketing for tiling companies
Now that you know the strategies involved in online marketing for tiling businesses, you might want more specific ways Internet marketing will help your business grow. Check out these six strategies customized for tiling companies:
1. Design a gallery-focused website
Your potential clients need to see how beautiful your tiles are. Implement a website design that showcases your products — and, if you install tiles, your previous installation projects.
Your tiling website could include images on product pages, a portfolio, and even relevant images on other content pages, such as your blog or about page.
Anytime you include multimedia on your website, optimize the images and videos for search engines. Image optimization includes writing alt text so search engines and screen readers can read the image. You'll also need to compress your files to keep your website from loading too slowly.
2. Publish relevant content on your site
Content forms the backbone of your tiling company marketing strategy. When you optimize your site for search engines, you need pages targeting strategic keywords used by your customers. These pages allow you to expand your reach and meet customers at all stages of the buying journey.
If you want to optimize your company's site for keywords, create content focused on topics related to those search terms. Possible topics you might conduct keyword research for and write about include:
Design trends: Position your company at the forefront of the tiling industry and show your customers you're up to date with the latest design trends. Are ceramic tiles growing or fading in popularity? Which types of tile backsplash are making waves right now?
Inspiration: A homeowner might not know what type of tile they want. Give them the guidance they need to make that decision by creating industry-relevant content.
Informational articles: Answer the questions your potential customers and other industry partners might want to know. You might feature topics such as maintaining your tile, when to update your tile, and how to choose the right type of tile.
When you communicate your industry expertise, you build trust in your brand and empower your company to leverage future partnerships with other industry professionals. A lasting collaboration with an interior designer, for example, could prove particularly profitable for your business.
Consider niching your content down even more by providing content for different buildings — such as commercial businesses or restaurants — and various rooms in the home — such as kitchens, bathrooms, and foyers.
As you create content, make sure you align your content strategy with your target customer segments.
3. Optimize for local searches
Many of your clients will likely search for tiling companies near them. Incorporate local SEO into your tiling company marketing strategy to improve your site's visibility in local searches.
Local SEO focuses on keywords with location-specific descriptors, like "tiling companies in Harrisburg" or "tiling companies near me." Google will show these searchers local businesses in a convenient listing that includes the companies' contact information, hours, and locations on a map.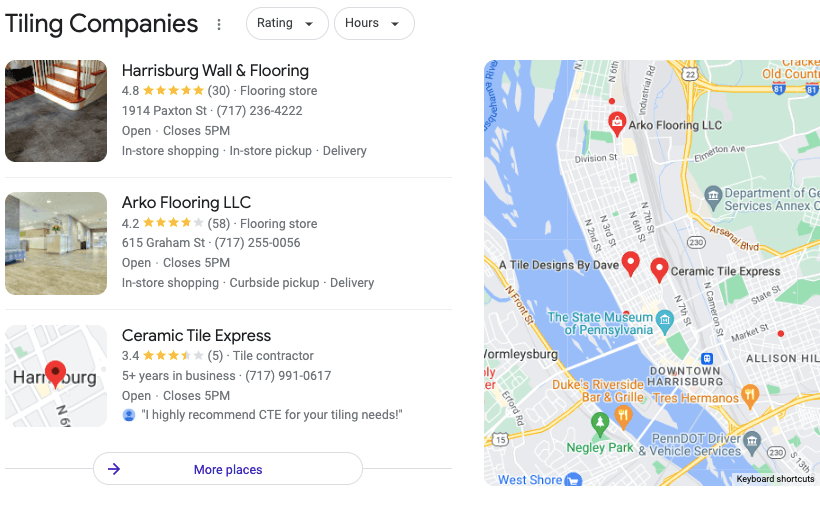 To help your tiling company do local SEO successfully, you should:
4. Repurpose content across channels
Now that you've developed strong content and optimized it for local searches, make the most of your content by repurposing it across your digital marketing channels.
Whether you write blog posts, create articles, or design an infographic, you can share that content on social media.
Repurposed content benefits your tiling company by:
Providing multiple ways for your audience to interact, which can increase engagement rates.
Facilitating different learning styles, which increases your content's usefulness. While one person might prefer reading the information, another might need video walk-throughs to understand the content.
Increasing your reach and driving more traffic to your website.
5. Integrate paid and organic search
Your website is the primary way your potential clients evaluate your offering and decide whether they want to work with you for their tiling needs. Drive more traffic to your site using both paid and organic search.
SEO, or organic search, provides a more long-term strategy for your tiling business, while paid search helps get your site seen by potential customers faster.
SEO and PPC work together for your tiling company by giving you more real estate in the search results. Emphasize SEO for longer-lasting content, such as how-to guides, and PPC for more time-sensitive offers, such as a holiday sale.
6. Feature a simple contact form and location finder
Once you've driven potential leads to your sites, you need an easy way for them to convert.
If you install tile, provide an easily accessible contact form and phone number. If you manufacture and sell tile, let your visitors know where they can purchase your products. Can they shop online? Do you have showrooms near them? Which retailers sell your tile?
Many local businesses provide a map and an easy-to-use search feature to help visitors zero in on the locations nearest them.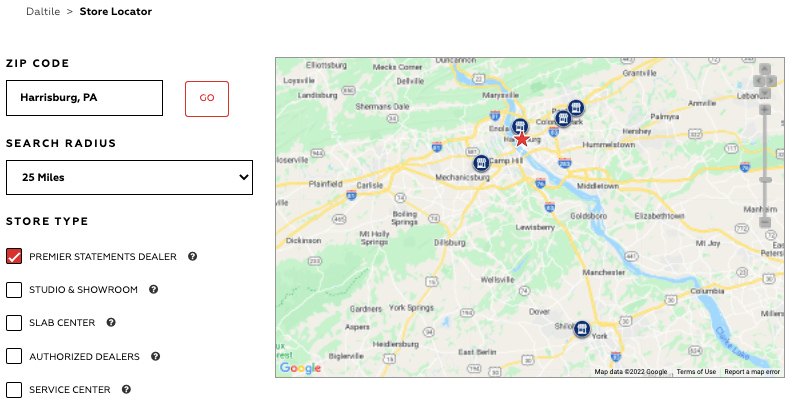 Online marketing for tiling businesses with WebFX
Our digital marketing agency provides comprehensive services to help your tile business grow. Our services include:
We bring 25 years of digital marketing experience — including experience in several industries. We know what it takes for a tiling company to market its business online successfully. Our team conducts thorough research to understand your target customer and competitive landscape.
Take a peek at the work we've done for our clients!
Because we are a full-service agency, we act as your all-in-one digital marketing solution. Our team includes over 500 subject matter experts to ensure you'll receive top-tier, data-driven strategies. We also provide a dedicated account manager to make all communications quick and easy.
Our digital marketing campaigns impact the metrics that improve your bottom line.
See More Results

WebFX has driven the following results for clients:

$3 billion
In client revenue

7.8 million
Leads for our clients

5.2 million
Client phone calls
Leverage digital marketing for tiling companies with WebFX
Now that you know how to grow a tile business using digital marketing, consider partnering with an agency that drives proven results.
Digital marketing is a complex process, and we understand how busy you are maintaining client relationships and nurturing leads. Let us handle your digital marketing so you don't have to.
Work with our team, and take advantage of our top-tier ROI tracking platform that's helped us generate $3 billion in revenue for our clients.
Ready to use digital marketing to grow your tiling company? Call us at 888-601-5359 to speak with a strategist or request a free proposal online today!
Earn a 20% greater ROI with WebFX