If BP could go back in time, I'm sure they would do a lot of things differently. Maybe there was no way to stop the disastrous oil spill from happening. Maybe they really are doing all they can to clean up the Gulf Coast.
But they undoubtedly wish they had done a better job at talking about the spill and informing the public, especially through online channels.
With all of the applications and studies surely to come of the Deepwater Horizon oil spill, one of the more fascinating is BP's reputation management. Here's a look at some of my thoughts about BP's post-spill campaign from a social media perspective:
The Good
Streaming video of recovery efforts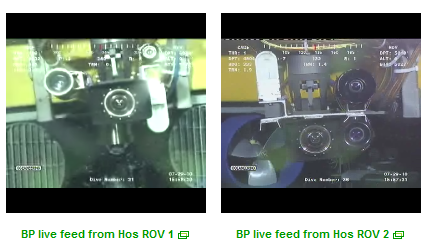 Sending out a press release and alerting news crews about your oil recovery tactics is sooo 20th century. Using technology to stream a live video feed of robots attempting to fix an oil leak miles below the ocean surface is more like it.
People didn't have to read about what BP was doing to fix the problem; they would watch it themselves. It was a move that used the web to showcase BP's transparency and willingness to go to great lengths to fix the leak. And let's face it…watching a giant robot with a saw for an arm cut through a pipe 30,000 feet below the oceans surface is just plain cool.
The Bad
Twitter presence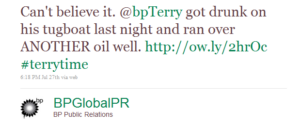 The Twitter account @BPGlobalPR has managed to accumulate almost 200,000 followers, regularly interacts with them, and has even made a killing selling BP t-shirts.
So why isn't this a good thing? Because @BPGlobalPR is really a spoof account of BP and pokes fun at the company with regular tweets. BP's actual Twitter account has a measly 19,000 followers. Ouch.
The fake BP account has been cited in the LA Times, CNET, The Huffington Post, and ABC News, among others. Twitter has been a disaster for BP.
The Ugly
Altering the content of photos in Photoshop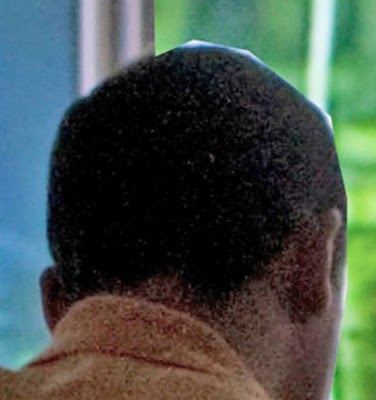 Most of BP's faults in their reputation management campaign online can be chalked up to lack of knowledge or, perhaps, inexperience. But not the manipulation of photos.
BP's creation of a Flickr account with photos of the cleanup was actually a good move. People were able to see the action as it was going on and photos a great way to bring the action home to people. With a highly public case like this one, however, BP should have been extra careful when choosing freelancers and editing photos.
Once a blogger discovered that several photos had been (poorly) edited, word spread quickly. It is never a good thing when your company's most viewed album on Flickr is titled "BP Altered Images."
****
In this digital age, it is so much harder to put out PR fires and bury miscues than it used to be. If you are a popular company and you mess up, people are going to talk and word is going to spread.
While the web gives companies the potential to reach a massive audience, it also carries the risk that the massive audience will either witness or discover a mistake. Just take a glance at these charts showing BP's online presence before and after the leak.
Before: April 2010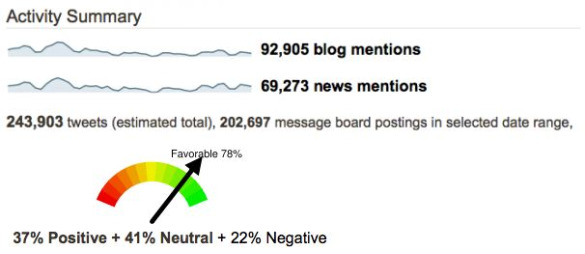 After: July 2010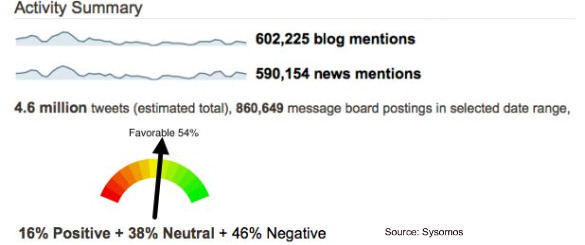 This kind of social power lets companies who know what they are doing reinvent their brand overnight. Take Old Spice for example.
Their "Old Spice guy" campaign has gone viral and sales are up 107 percent. A poorly managed online brand, on the other hand, can destroy a company's reputation even faster.
Check out our reputation management services to keep tabs on what people are saying about you online.
How is your website's SEO?
Use our free tool to get your score calculated in under 60 seconds.
WebFX Careers
Join our mission to provide industry-leading digital marketing services to businesses around the globe - all while building your personal knowledge and growing as an individual.