Whether you've noticed it or not, Google has made some serious changes to both its search algorithms and its search page in the past few weeks. Some are a bit harrowing to marketers (think 'keyword- Not Provided'), but all of these changes require marketing managers and business owners to rethink the work they are doing online. Just in time for its 15th birthday, Google rolled out Hummingbird last week, which follows its pattern of providing knowledge – rather than just facts – to searchers.
The idea behind Hummingbird is that searchers are getting smarter and asking the search engine more complicated answers. Instead of searching "San Francisco" to learn a few facts about the city, users are now searching "Best activities to do in San Francisco on a budget for a three-day vacation." Instead of searching "football" to learn more about the sport, we are now searching "Fantasy Football flex Lamar Miller or Marques Colston Week 4?" Google calls this "conversational search." In response to more advanced search queries (even though determining these user keyword queries is now a bit more difficult!), Google has completely revamped the search results page in three ways:
Hummingbird
Now Cards
Knowledge Graph
The good news – especially for your SEO efforts – is that Google says you don't have to change anything. And this makes sense, as its shift toward higher-knowledge content practices just what Google's been preaching: original and high-quality content will be rewarded in search engine results and rankings. The better news is that there are ways to use these updates to your advantage, especially if your business is events-based or even somewhat localized.
Google Now
The idea behind Google Now is to get "the right information at just the right time … before you even ask." One of the most obvious uses is in the case of sporting events. If I search "Pirates game" on the day of a Pittsburgh Pirates game, Google will generate the following result: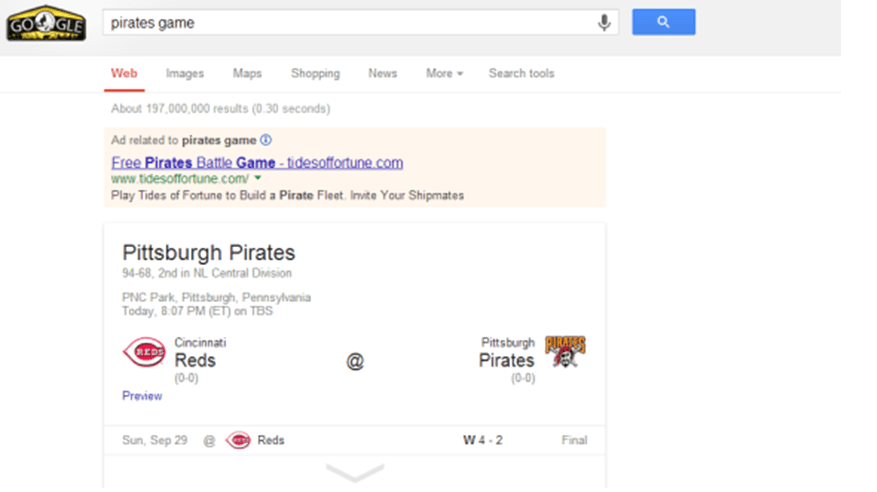 Google understands that I don't care what a Pirate is or what a Pirates game is or who the Pirates are. I care about the game tonight – what time does it start?
Where is it being played? Can I still buy tickets? How can I watch it at home?
What is the significance of this game? Are the Pirates any good this season? What happened the last time these two teams played?
With the Now card, I get all of that information. With just one click, I can see the results of the last 20 games or read a preview about the game from MLB.com.
Putting Google Now to Use
That's all great stuff if you're a professional baseball team.
But if you're not, how can you utilize this feature? Google supports a pretty wide variety of Now Cards beyond major sporting events, and ones even less obvious than weather, directions and flight times. Google Now Cards will show events nearby (powered by event popularity, proximity, and if a Google user has added that event in their Google Calendar or confirmed via Gmail).
It also shows hotels, restaurants, shopping products, shows, news updates, appointments, photo spots, places, real estate, research topics, nearby attractions, and more. Business owners and marketing managers can (and should!) take advantage of these features in order to see their businesses appear on search results. The best way to do this is to utilize Google.
If you run email marketing campaigns, be sure they're configured to allow Gmail users to confirm events. This will trigger the Google Now cards to show up in those user's related searches and will give you an extra marketing boost. Most Now Cards are triggered based on location, so if you haven't already realized how important setting up your Google Plus Local account is for your business, consider this a sign.
This is the location from where Google pulls the data, and without it your business won't show up in many of these Now Card features. The more information you have – including physical location and customer reviews – the better.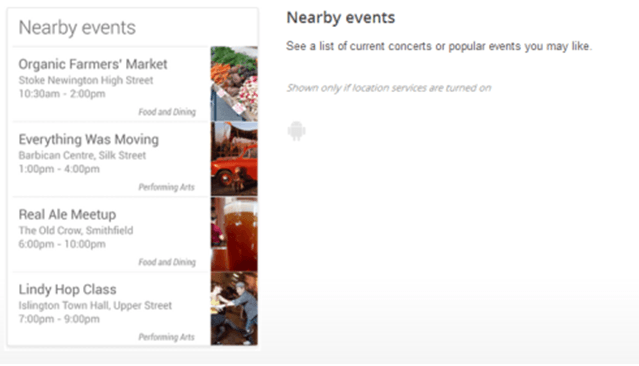 You don't have to be a major nationwide business to see a benefit from this Google update.
By keeping your content fresh on both your website and Google Plus, your information will be pulled and displayed to users in the area. As Google continues to move into the realm of social media with Google Plus, it's going to continue rewarding the use of it. Think of it like Facebook – if someone 'Likes' Maroon 5 on Facebook, they'll see Maroon 5 Facebook posts show up on their newsfeed.
If someone +1s or follows Maroon 5 on Google Plus, they'll begin to see Google Now cards on their search results for concerts, album releases, and even big announcements. Scale this scenario to the size and scope of your business and commit to regular posts, updated information, and building a following on Google Plus, and you'll reap the rewards. Work with Google here, because together you can create the ultimate user experience, and that will ultimately drive customer satisfaction and business (not to mention improved rankings!).
Appointments and Reservations
If your business is appointment or reservation-driven, configure your online reservation system to work optimally with Gmail if you haven't already. It's pretty simple to ask users to confirm appointments via their email provider (and the prevalence and popularity of Gmail continues to increase toward 50% nationwide), and doing so will help get your information – including driving directions and what time the customer should leave home to make it to the appointment on time – circulated. These location-based Now Cards are best utilized on mobile devices, and last week Google announced it would add push notifications, making this information available not only in searches, but as a timely notification.
On the user end, Google is supposed to show these cards when it thinks you need the information. From a business perspective, you have to do everything you can to ensure that your information will be pulled and shown. Not to beat a dead horse, but that really truly starts with high quality and unique content.
Hummingbird
Let's go back to the major update. It's a huge change. Change is always good, but not everyone sees it that way at first.
That makes the early stages of the Hummingbird change even more important – it's your time to separate yourself from other businesses in your industry. Embrace the changes. How?
Create new and unique content as often as you can (without compromising quality), give as much information about your business as possible, and do whatever you can to make the user experience more enriching and fulfilling. This is what you should have been doing all along, but now is the perfect time to ramp up your efforts and leave your competition in the dust! Remember my search query examples from before?
Google says the Hummingbird update will keep up with advanced queries and give advanced results. Whereas before Hummingbird, my search for "Best activities to do in San Francisco on a budget for a three-day vacation" probably would have yielded some results about general budget travel, general San Francisco tourism pages, and maybe the San Francisco activities page from Trip Advisor, now my results will be much more tailored. Instead of seeing this page in my search results (left), I see this page (right):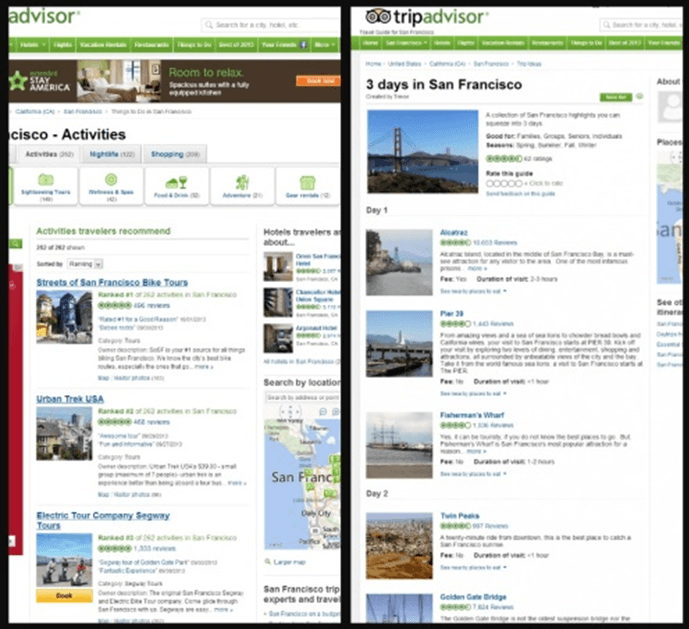 Can you see how one of these results is much more relevant than the other?
Now let's apply this example to your business.
What can you do?
Google is making search results more specific, which means that it can crawl and index your site differently than before, and may decide that a page on your site matches a keyword phrase different than it did pre-Hummingbird. Since Hummingbird is still in the early stages, I don't recommend making any drastic changes yet, but a few months down the road, take a look at how Google has indexed and ranked your pages for your target keywords (do this via a simple site:www.examplesite.com insert keyword here search on Google).
There's a good chance that something here will have changed. You'll have to re-optimize some of your pages and make some adjustments to the site, but the time you spend will be well worth it. Remember, Google is trying to stay ahead of the game – you should, too.
Knowledge Graph
For the purposes of this article, I'll only briefly touch on the Knowledge Graph and the changes to it accompanying Hummingbird. Matt McGee at Search Engine Land wrote a great post about how Knowledge Graph, too, is getting smarter by allowing comparisons between Knowledge Graph articles, and adding filters to the graph itself to switch between similar subjects. Like I said, if you're willing to put in the work to adjust to Google's changes from the start, your business and website will see the rewards.
There are ways to think ahead of the curve, and embracing Google's new tools is the way to do it. Happy Hummingbird! Further Reading: http://google.about.com/od/n/qt/Google-Now.htm http://techcrunch.com/2013/09/26/google-improves-knowledge-graph-with-comparisons-and-filters-brings-cards-to-mobile-search-adds-cross-platform-notifications/ http://www.forbes.com/sites/roberthof/2013/09/26/google-just-revamped-search-to-handle-your-long-questions/
WebFX Careers
Join our mission to provide industry-leading digital marketing services to businesses around the globe - all while building your personal knowledge and growing as an individual.