With the world more connected than ever, sales information and marketing trends are easier to find and share. As a business owner, you should know how essential this data is to your operations.
Whether you're analyzing universal sales figures or reports from your own business, you can use sales statistics to chart the course of your growth. Below, we'll look at some of the most impactful sales statistics and how they influence your business.
Sign up for our newsletter for more insights into today's marketing world, or get in touch with a WebFX expert today!
1. 67% of millennials prefer shopping online rather than at a brick-and-mortar store.
A substantial majority of shoppers — 67% of millennials and 56% of Generation Z — now prefer shopping online instead of visiting an in-person store. This preference may be due to several factors, such as convenience, access, location, and price.
The bottom line? More people are shopping from their computers and phones than ever before. A business that wants to succeed in this landscape must learn to connect with shoppers online.
2. 48% of customers have bought something online to replace an in-person purchase.
Another indication of the trend toward online shopping is that nearly half of all customers surveyed have made an online purchase to replace something they bought at a physical store.
As a business owner, you can use this knowledge — and the data you collect from your customers — to determine which items people are more likely to see online versus in-store.
3. 95% of purchases will be online by 2040.
Experts predict that 95% of purchases will occur online by 2040, which should be no surprise to anyone keeping up with marketing trends over the last several years. The clear shift toward online shopping is part of a broader increase in Internet access and use across all industries and activities.
4. 63% of consumers say they'll buy from a business online if they've had a positive in-person experience.
While online sales are the future of marketing, don't underestimate the power of brick-and-mortar stores. Over 60% of customers said they'd make a purchase online after having a good interaction with an in-person business.
Capitalizing on the overlap between physical and digital connections is a great way to stay in touch with consumers and build relationships, no matter how they found your business.
5. Almost 60% of all web traffic comes from mobile devices.
If you want your company to thrive in the digital age, you have to go beyond the basics. We know customers are shopping online — but what devices are they using?
A recent study showed that over half of all website traffic now comes from mobile phones — double the 2015 average and on the rise. Optimizing your website, app(s), and online presence for mobile devices is crucial if you want to quickly and effectively serve these on-the-go users.
6. 93% of shoppers read reviews from other customers before purchasing a product.
Regarding online shopping habits, consider this buyer behavior — most potential customers check out reviews before making a purchase. Whether they're looking on your site or a third-party reviewing service, people like to read customer feedback to ensure other people had a good experience with your company.
When you feature reviews on your site, potential buyers will know you're a reputable brand they can trust. With this new confidence, they're more likely to make a purchase.
7. A full 77% of people buy products from businesses they follow on social media.
Social media holds endless potential for your business, no matter your industry. In fact, almost 80% of users buy products from brands they follow on social media platforms like Facebook, Instagram, and TikTok.
Creative content sparks interest among potential buyers and encourages them to buy. The wider your reach in these online communities, the more leads you can develop through additional avenues.
8. 76% of shoppers have bought something because of an email.
While social media is a great start, email marketing is even better. Sending emails to users who have expressed interest in your brand is an effective way to develop leads. Over three-quarters of shoppers have purchased because of an email.
If you want to go above and beyond, simple steps like personalizing email subject lines can boost your open rates even more.
How you can use these stats to improve your sales
When we consider all of these trends together, it's clear where the future of marketing and sales is heading. We'll continue to see increased Internet conversions, online purchases, digital interactions, social media users, and more across all industries.
Businesses of all sizes need to focus on these areas. You can make decisions about your future using the sales stats above alongside first-party data. Is your website optimized for mobile users? Do you have the resources to support the growth in online sales while managing your brick-and-mortar store?
Evaluate every aspect of your business to prepare for your next steps with the right tools. For example, a customer relationship management (CRM) system can help you keep track of your sales data and other essential information.
Time to Level Up Your Sales
Our long list of services helps you grow every aspect of your business with marketing strategies that are proven to increase bottom-line metrics like revenue and conversions.
In the past 5 years, we've managed more than 12.9 MILLION transactions across our client base.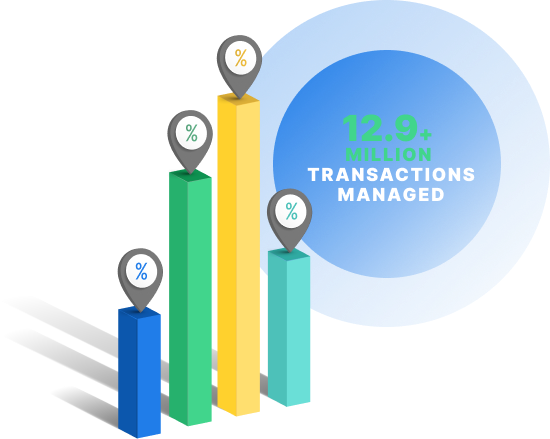 Work with WebFX to make a difference in your sales
At WebFX, we stay on top of the latest marketing trends and sales statistics so you can focus on your business. Our digital marketing experts will help you collect and analyze your data, create valuable content, and measure your success as your company grows.
We've helped deliver real results for our clients, including millions of leads and over $3 billion in revenue. If you're interested in learning more about our services, request a quote or call us at 888-601-5359 today!
Get posts by email
Join 200,000 marketing managers and subscribe to Revenue Weekly!
"*" indicates required fields
WebFX Careers
Join our mission to provide industry-leading digital marketing services to businesses around the globe - all while building your personal knowledge and growing as an individual.