What does PPC stand for? PPC stands for "pay-per-click," which is an online advertising strategy. In PPC, websites and search engines display your ad for a fee, which you pay when someone clicks on your ad.
When you're trying to grow your business online, there are a wide variety of marketing strategies you can use. PPC advertising is a popular marketing strategy that can help you drive traffic to your website and sell more products and services.
In fact, for every $1 spent in Google Ads, you have the potential to earn a return on investment (ROI) of $8! But, what does PPC stand for, and what does it do for your business?
On this page, we'll answer, "what does PPC stand for" and provide you with four key strategies to creating effective PPC campaigns. If you want to learn more about this paid advertising option, contact us online to learn about our paid advertising plans.
What does PPC stand for?
PPC stands for "pay-per-click." Pay-per-click (PPC) is a type of online advertising in which you run an advertisement and only pay for it when someone clicks on it.
Why use PPC ads?
Many companies opt for PPC ads because you only pay for people who are interested in your business (people who click your ads).
Unlike advertising strategies like newspaper ads or billboards, you don't pay for ad space, you only pay for ad clicks.
PPC ads are a great option if you have a time-sensitive campaign and want to garner attention. Your PPC ads have a lot to offer for your business and can help you grow online.
Types of PPC ads
Now that we've talked about what PPC stands for, it's time to talk about the types of PPC ads available to you. There are two main types of PPC ads you'll want to learn about for your business.
Each kind offers a unique experience, so it's important to learn about both to help you determine which one (or both!) is right for your business.
Google Ads
When you say PPC, most people will automatically think of Google. Google PPC ads appear at the top of the search results above organic and local listings. Over 45% of page clicks go to the top three PPC ads.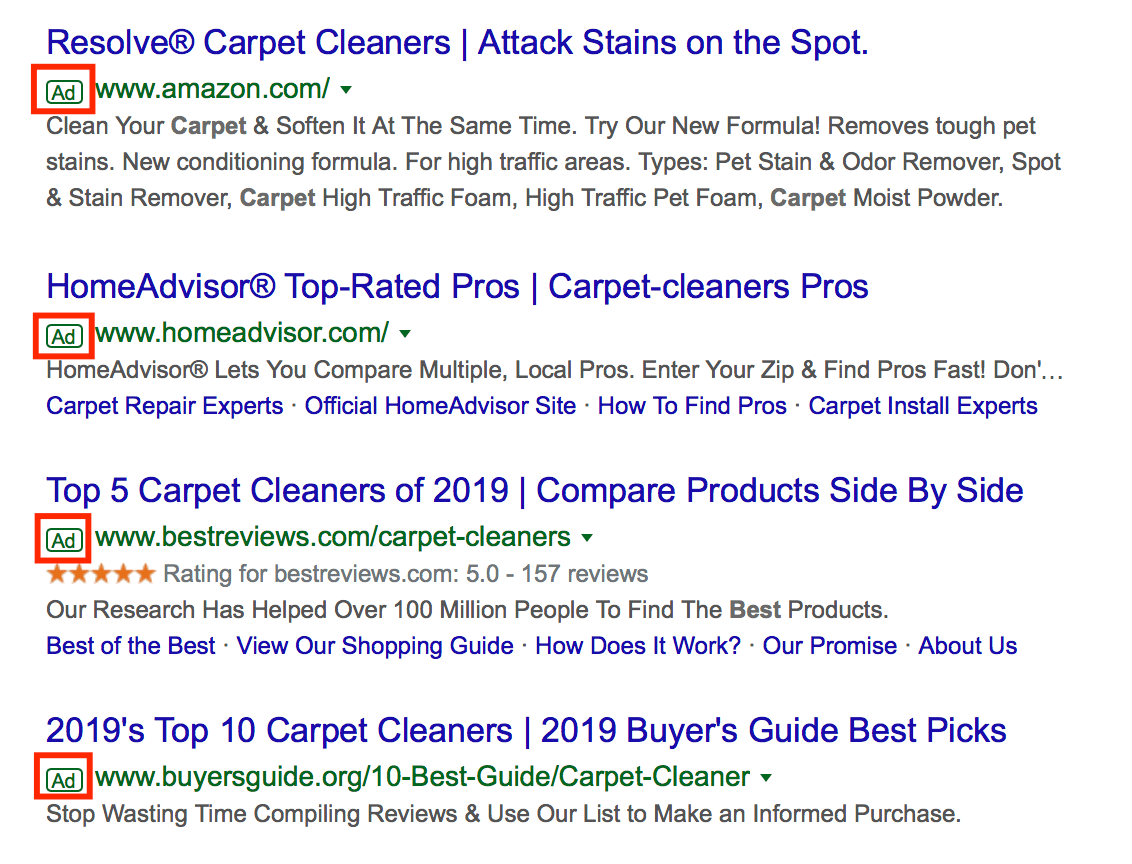 These paid ads help drive valuable traffic looking for your business. It's possible to earn $2 for every $1 spent on PPC for Google. To get started with Google Ads, you must select your keyword for your ad, which we'll dive into in more detail later.
Once you choose your keyword, you'll bid for your ad's placement.
First, you'll establish your budget. Whether you're running a monthly campaign or a week-long campaign, you must establish how much you want to spend.
Your budget will help you determine the right bid amount. Start by setting your maximum bid, which is the most you're willing to pay when someone clicks on your ad.
When you conduct keyword research, you'll see the average cost per click (CPC) for a keyword, which will help give you an idea on your bid amount. Once you set your maximum bid, Google determines your placement based on this bid amount and your quality score. You'll get your ad's placement and launch your campaign. If you're looking for a way to drive more relevant searchers to your business, PPC for Google is the answer.
Social media ads
The other PPC-type ad is social media ads.
These ads appear in newsfeeds on social media sites. Some popular platforms for social media advertising include:
You can use any of these platforms to help you reach leads interested in your business. Each platform offers different advertisements styles for your business. With platforms like Instagram, you focus mainly on photo and video ads.
Other platforms, like Facebook, provide photo ads, video ads, carousel ads, and more. Social media ads are highly targeted.
You can personalize your ad campaigns and put them in front of relevant audiences. These ads appear seamlessly in your audience's newsfeed and blend in like a typical social media post.
When you can target people specifically and personalize the ad experience, you garner more engagement. You'll get more relevant leads clicking on your ad and checking out your business.
4 key strategies to a successful PPC strategy
Whether you choose to run PPC ads on Google or social media, it's essential to have a strong plan in place to help you drive success. If you're still asking "what does PPC stand for," taking a look at four key strategies will help better explain.
1. Setting goals
The first part of the PPC process requires setting goals. You need a clear sense of your PPC goals and expectations for your campaign. You should never run a campaign without any goals in mind.
If you fail to set goals, you won't be able to accurately measure success or know if your PPC campaign is working for your business. When you set goals, you'll want to establish:
Who you're targeting
The outcome you want
How you'll measure success
These components are crucial for setting goals. It helps you shape your campaign and understand what you want to achieve with your strategy. You'll also be able to measure campaign success, so you can make adjustments and drive better results.
By setting goals for your campaign, you'll help your business stay focused on your PPC strategy.
2. Choose the right keywords (for Google Ads)
If you're using PPC for Google, keywords are a crucial component of success for your campaign. You must choose the right keywords to appear in relevant search results and attract interested leads.
Keyword research
To get started, you must conduct keyword research. Keyword research will help you find relevant, vital terms for your ad.
These key terms help you place your ad in search results where leads are likely to click on your ad. When you conduct keyword research, you'll generate a list of potential keywords for your advertisement.
To drive the best results with your campaign, stick to long-tail keywords. These keywords contain three or more words, like "best carpet cleaners," and drive valuable traffic.
With PPC campaigns, it's best to use long-tail keywords, since these keywords drive more relevant traffic because the phrases are so specific.
Additionally, the CPC is lower because there are fewer competitors and bids for the keyword due to the specificity of these key phrases.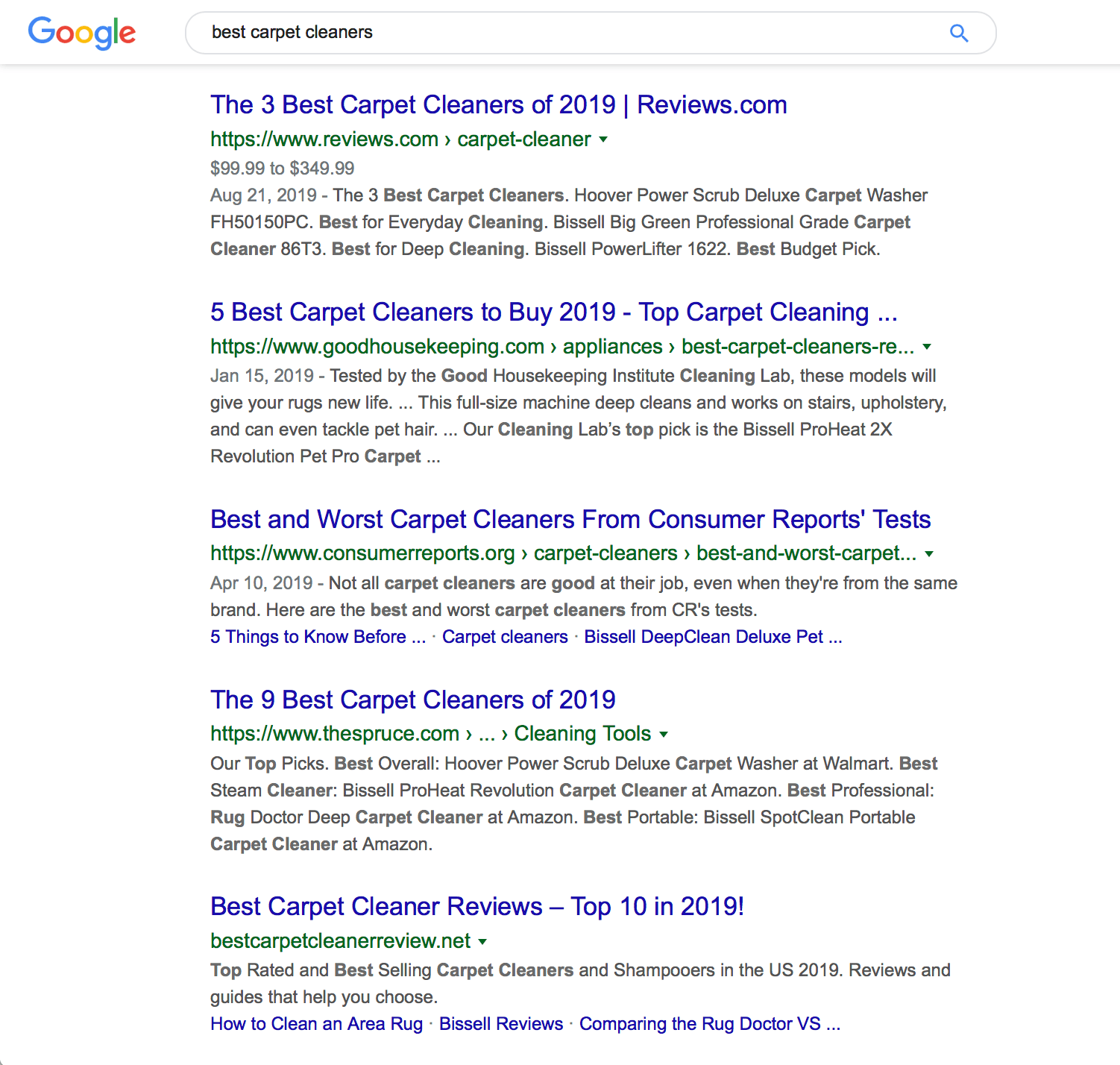 By focusing on long-tail keywords, you'll help drive more relevant traffic and keep your CPC low.
Add negative keywords to your list
As you're selecting your long-tail keywords for your ad, you'll also want to add negative keywords to your list. Negative keywords prevent you from wasting money on irrelevant keywords.
Let's say you own a carpet cleaning company.
You're running an ad for "carpet cleaners in Harrisburg, PA." in hopes of driving interested clients for your business. Now, imagine you're working on adding green cleaning products to your business, but you haven't figured out the right solution yet. Despite not having green cleaning solutions yet, you appear in search results for "organic carpet cleaners in Harrisburg, PA."
These leads visit your landing page only to bounce because you don't offer green solutions yet.
With negative keywords, you can prevent your ad from appearing in irrelevant results. In this situation, you would set "organic" as your negative keyword. Setting organic as your negative keyword would prevent your carpet company from appearing in searches for organic carpet cleaners.
When you utilize PPC for Google, focus on choosing the right keywords (and negative keywords) to help you appear in relevant search results.
3. Establish your budget
If you want to drive success with your paid advertising campaigns, establish a budget. You must know how much you want to spend on your campaign, so you can determine aspects like your maximum bid. As you go through the PPC process, you'll find that there is no required budget amount — you set a budget amount that works best for your business.
It's important to note, however, that your budget amount influences your campaign's success. You will drive better results spending $2,000 on a campaign than spending $500 on a campaign. If you want to drive success with your campaign, you must establish your budget.
A budget will help you determine how long you can run your campaign, and if you need to set a daily cap to stretch your budget longer.
4. Test your landing pages
To drive success with your PPC strategy, you must test your landing pages. The first copy of your landing page won't drive the best results for your business. There is always room to improve!
When you test your landing pages, test one element at a time. If you test too many items at one time, you won't get precise results or be able to pinpoint what's positively impacting your landing page. You can test small elements to see if they drive positive results for your ad.
Try changing the color of a button or the position of a photo. It may be a small change, but it can have a significant impact on your ad's performance. If you want to create more successful campaigns for your business, test your landing pages.
It will help you drive better results with your PPC ads.
Start creating impactful landing pages for your PPC campaign today
On this page, we've answered the question, "what does PPC stand for?" Hopefully, you now have a fantastic understanding of PPC ads, what they are, and how they will help you grow your business online.
When you work with WebFX for your PPC needs, we'll create ad copy that resonates with your audience and drives interested leads to your page. We have a team of over 500 experts that will bring their knowledge and expertise to your campaign. We'll help you create PPC ads that target the right leads and drive more interested people to discover your business.
If you're ready to start running PPC ads for your business, contact us online or call us today at 888-601-5359 to speak with a strategist about our PPC plans.
WebFX Careers
Join our mission to provide industry-leading digital marketing services to businesses around the globe - all while building your personal knowledge and growing as an individual.