I'll be the first to admit that I'm not the most organized person in the world. However, after spending a good portion of a week just poring over my photos to look for just a few snaps to put in a new portfolio, I realized that keeping my files organized was only going to help me in the long run.
What is Photoshop Lightroom's Library Module?
In a nutshell, the Library module in Photoshop Lightroom 4 (which is Adobe's software for digital photography) is where you organize all the photos you've taken.
The Library module is where you'll decide which photos to work on, which photos you want to throw away, and decide what to do with each photo before working on them in the Develop module of Lightroom (which I'll discuss in another article).
Here are my five top tips for improving your digital photo organization using Photoshop Lightroom.
1. Import Your Photos the Right Way
So you've just come home from a long weekend of awesomeness and you've taken lots of great photos with your nuclear-powered, magnesium alloy, space-age camera.
You're probably thinking you're work is done.
Nope!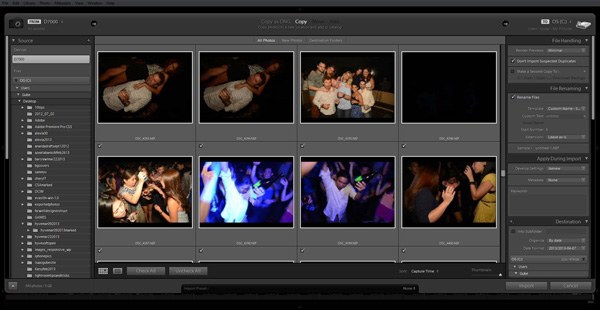 It all starts with importing your photos. Personally, I used to just insert my memory cards in my card reader and click on "Import" in Lightroom's Import panel.vThis always left me with file names such as "untitled-17921943.nef"
That is bad. That is very bad.
Do not do that.
My Lightroom catalog now has 65,918 photos. You can imagine how terrible it must be to have unrecognizable file names.
(In my defense, I never thought I'd be taking photos for this long and therefore early on in my career as a photographer I picked up some really terrible habits that I am now slowly breaking.)
When importing your photos in Lightroom, take the time to rename your files in the File Handling panel. Not only will you have a better reference when working with your files (because you'll know exactly what you're working on), but you will also effectively make your photos searchable just through the file names themselves.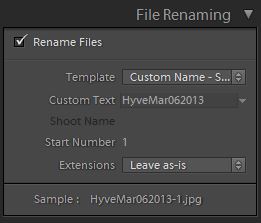 In the Import panel, you also have the ability to add keywords or tags to your photos.
This adds another layer of organization to your photos and will be helpful in finding specific photos.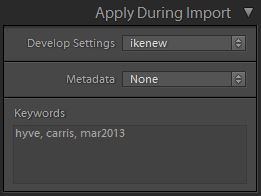 You'll also be able to add Lightroom presets to your photos while you're importing. This is a time-saving feature when you know you'll be using specific Lightroom presets to your photos when you start working in the Develop module of Lightroom.
Save yourself from making the same mistake I did in the past. The extra 5 minutes you take to import your photos properly into Lightroom will save you untold hours in your workflow.
2. Flag Your Photos
I like to think of flagging as the first step in organizing your Lightroom catalog. This feature tremendously helps you quickly find photos.
A photo in Lightroom can have 3 flag states:
Flagged
Unflagged
Rejected
Think of flagging as the screening process for photos you want to keep/work on and photos you don't want to keep.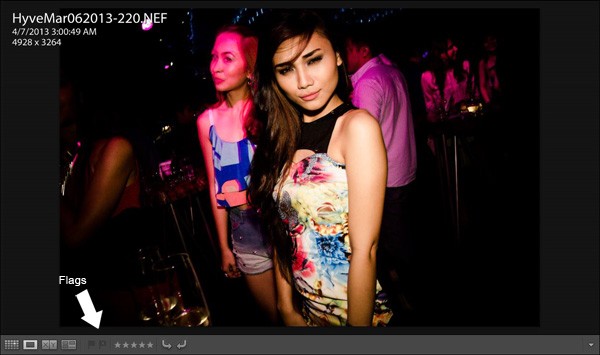 3. Rate Your Photos
Once you've flagged or rejected certain photos, you also have the ability to rate your photos in the Library module of Lightroom.
You can choose to rate photos from 1 to 5 stars.
Rating your photos adds another layer of organization. For instance, if you want to create a new portfolio to show prospective clients, you can find your best pictures just by their ratings.
To rate your photos, you can either navigate your Filmstrip or your Grid View in the Library module and then press 1, 2, 3, 4, or 5 on your keyboard.
Alternatively, you can also use your mouse to rate photos by clicking on the corresponding number of stars you want to give to each photo.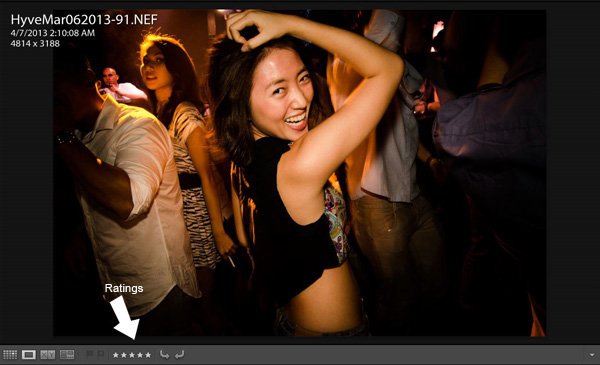 4. Tag Your Photos
The ability to tag photos in Lightroom is yet another way of adding a layer of organization to your photos. While you can add tags and keywords to your photos in the Import panel, you can add even more tags to specific photos.
You can just select the photo on your Filmstrip or in Grid View and just click the word (or words) on your word list. You can also type the word (or words) in the Keyword Tags field on the Keywording panel.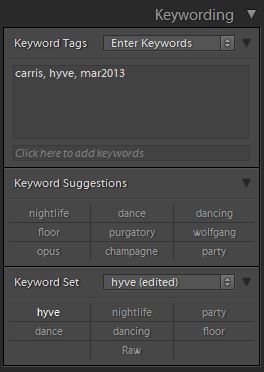 Tagging or keywording makes your photos searchable and is one of the most powerful organization tools in Lightroom.
5. Use Collections and Smart Collections
Collections are your friend in Lightroom. Think of Collections as different photo albums to help you keep your photos organized.
I use the Collections feature in Lightroom to separate the different events I've covered in a given weekend. If I cover 4 or 5 events in one weekend, it is very helpful to see where one event ends and another begins on the Filmstrip.
To place photos in a Collection, select an entire series of photos in Grid View or on your Filmstrip and place them in a collection by pressing the "+" on the Collections panel, which will reveal a dropdown menu where you can choose Create Collection.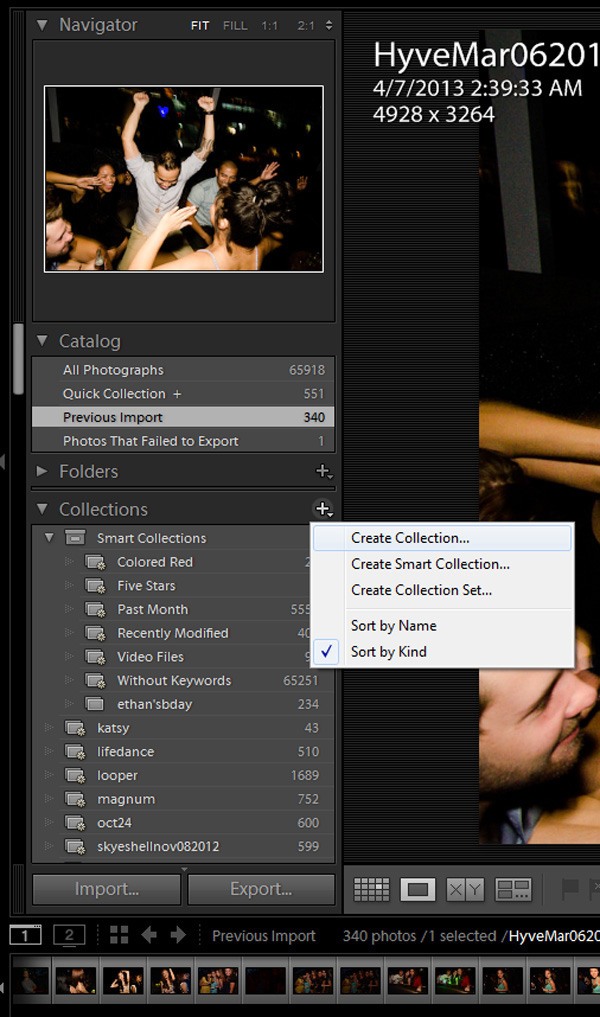 You will then be prompted to name your Collection.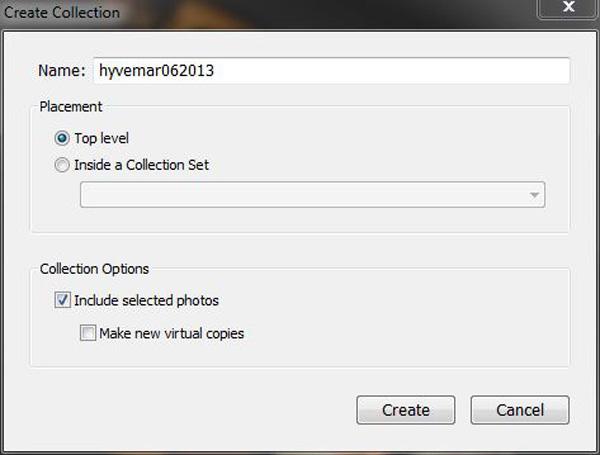 Smart Collections work very similarly to Collections except that they automatically organize your photos based on certain parameters you've set.
For instance, if you've tagged your photos with certain keywords and you'd like to have all the photos with the same tag in one collection, you can specify a Smart Collection to create a collection based on that one keyword. Any future additions to your catalog with the same keyword will also be added to that Smart Collection.
To create a Smart Collection, click on the "+" on the Collections panel, which will reveal and a dropdown menu. Click Create Smart Collection and you'll be prompted to enter the parameters for your Smart Collection.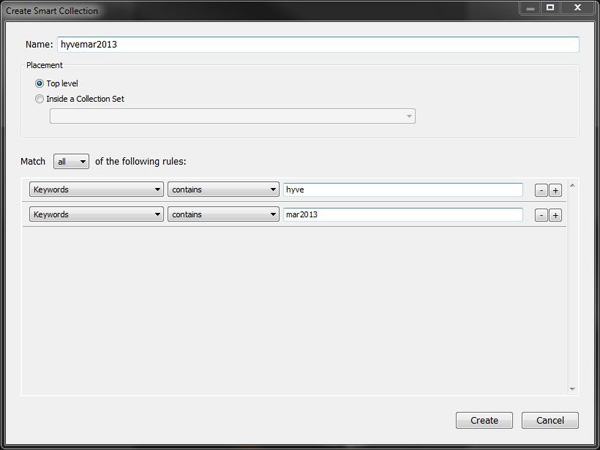 Conclusion
What most people forget, especially in today's world of digital and insta-everything is that taking the picture is only a fraction of the work.
The real magic happens after the photo is taken.
In the days of film photography, photographers took great care in the handling and developing their films.
Not much has changed since then, contrary to what people may think about digital photography.
Photos are still created the same way except that instead of working with film and negatives, we have digital sensors and RAW files.
Being a good photographer — or any creative, really — is a mindset, and it starts with how your treat your work. You can't expect to take better photos if you don't take care of the photos you've already taken.
Watch out for a follow-up article where I'll be covering tips on how to work more efficiently in the Develop module of Lightroom.
WebFX Careers
Join our mission to provide industry-leading digital marketing services to businesses around the globe - all while building your personal knowledge and growing as an individual.