Email service providers
Email service providers offer everything you need to create, send, and monitor your email marketing campaigns.
But before you choose an email service provider, you should understand what they do and what services you should look for.
A typical email service provider will include email templates for your emails, a way to maintain your list of subscribers, an easy setup for sending your emails, and analytics for your campaign's success.
Before you choose an email service provider, you should do your research to make sure they offer all the services you want and require for your campaign.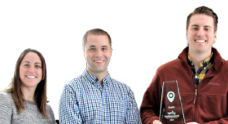 Here are some of our favorite email service providers:
MyEmailFX
MyEmailFX is our proprietary email marketing platform at WebFX.

We offer our clients a platform that is streamlined, convenient, and user-friendly – making it a great option for any company looking to employ an email marketing campaign.
The platform allows you to create and customize everything from your content to design, and send emails to segmented lists in your target audience.
It also provides real-time reporting which allows you to see data like who opens each email and what actions they take after reading them.
MyEmailFX also allows you to set up drip email campaigns, which is helpful for when you want to create a schedule to automatically send your emails to your contact list.
MailChimp
MailChimp is a user-friendly platform that allows you to create simple, customizable email newsletters.

It provides an easy solution for ecommerce companies that want to share their products in their emails, and can integrate with Shopify, Magento, and Woocommerce.
The platform also offers integrated Facebook advertising, marketing automation, and reporting to determine the success of your emails.
Litmus
Litmus is another multi-feature email service provider that allows you to eliminate technical errors in your campaigns and send targeted content to your subscribers.

Litmus lets you test your emails on over 70 different apps and devices in one easy click, which can save you a lot of time in your analytics stage, by helping you to identify errors quickly
It also catches errors that might set you back in your email campaign, like missing links or lengthy load time.
The program also allows you to see what emails are opened, the location the user was when they opened it, and even what device they used to do so.
Lastly, they provide email analytics that show data like open rate, forwards, and how many times an email was printed.
Zoho
Zoho is another A/B testing platform that allows you to send different emails to your audience to determine what content and layout works best.

You can test subject lines, email content, and more and then get reports on each email's performance, allowing you to determine exactly what combination of elements works best.
What kinds of tools will I need for my email marketing campaign?
Though email service providers can deliver most of the functionality you need for your email blasts, some tools are extremely helpful in allowing you to custom-design certain elements of your email.
To create the best email marketing campaign, there are a few different tools that you'll need.
You'll need a tool that helps you with content, a tool for the technical parts of your email (like coding), and a tool to test how successful your emails are.
A combination of these tools can help you have the best possible email marketing campaign possible.
Content tools
Content for your emails includes your body copy, your graphics, and even your subject line.
With the help of these tools, you can improve each of those elements.
Tiny Take
Tiny Take is an app that allows you to capture screencasts of your website to include in your emails.
For example, you could let customers know about a new feature on your website, simply by taking a screenshot and including it in your monthly newsletter.

If you add a new product to your site, you could take a screenshot of its product page, and include it in your email along with a link.
This is a great way to keep your branding and design cohesive across your website and your emails.
The Noun Project
The Noun Project is a collection of icons that you can use in your emails to add some flare without overwhelming your design with full-sized photos.
There are paid and free options, and you can even change the color of the icons to match your brand.
Canva
Canva is one of the best content tools that you can use for your emails.
It allows you to create headers, footers, custom advertisements, and more to add to your emails – and the best part is, it's free.

Canva's user-friendly interface allows you to create visual content from graphics to banners that look like they were created by a professional designer. There is a collection of templates for common designs, and you also have the option of creating one from scratch.
Readability test tool
One of WebFX's proprietary tools, the readability test tool, allows you to determine how readable your content is.

You can test it by direct input, which makes it easy to copy your email's body copy right into the tool and get the results.
Grammarly
Grammarly is another great tool for helping you create the best written content possible for your emails.

Though it's a paid tool, for a low price, Grammarly can fix your spelling mistakes, suggest synonyms for easier readability, and even fix contextual errors.
Coding tools
If you ever want or need to dive into the technicalities of your emails, it's good to understand HTML and CSS code so that you can make small changes when you see fit.
These tools won't teach you HTML though, so you'll need to have a baseline understanding before using these tools to edit the code of your emails.
Sublime text
Sublime text is a great application for editing code.
It keeps everything organized with color-coding, so that you can see the beginning and end of different elements in your code.
It's also extremely easy to keep a working hierarchy of your tags so that everything stays organized.
2.4 Billion
IN CLIENT REVENUE
6.3 Million
Leads for our Clients
4 Million
Client phone calls
Our digital
marketing campaigns
impact the metrics that matter most!
Learn More
Ready to create an effective email marketing campaign?
If you're ready to start using email to reach and convert more of your target audience, WebFX can help. We're a full-service digital marketing agency, and we have years of experience creating effective email marketing campaigns from start to finish.
We have a full team of designers who can create custom graphics for your emails, and email marketers who know how to engage your audience with email campaigns.
We'll provide real-time analytics so you can understand just how well your emails are performing at any given time, and improve them accordingly.