Email marketing is an easily personalized strategy that lets you connect with nearly anyone. But while the process is simple, there are multiple steps to email marketing, and you'll need the right tools for it.
Two of the most reliable email marketing tools on the market are Mailchimp and Constant Contact. Both platforms can help you run your email campaigns more efficiently, but which of the two is better?
This article presents the plans, pricing options, and most compelling features of both platforms. Read on to discover which one could be right for you. Then subscribe to Revenue Weekly — our email newsletter — for more digital marketing tips!
Mailchimp
Mailchimp is the first name most people think of when it comes to entry-level email marketing. It began in 2001 as an email marketing platform for small businesses. While it's expanded over the years to become a full marketing platform, it's still best known for its easy email marketing tools and services.
Plans and pricing options
Mailchimp has four main plan options. Three of these plans have tiered pricing structures, and each plan provides varying levels of access for different numbers of users. You can choose the plan that's right for you based on the features you need and your budget:
Free
You can send up to 10,000 monthly emails with the Free plan. This plan allows as many as 2,000 contacts and up to five segmenting conditions. It also includes design, channel, and content tools to help you build your business and your brand.
Essentials
The Essentials plan has pricing tiered by the maximum number of contacts. For $11 to $299 per month, you can maintain from 500 to 50,000 contacts, with a monthly email limit equal to 10x your tier's maximum. Along with the features in the Free plan, Essentials also offers two more audiences, A/B testing, and over 100 prebuilt templates.
Standard
Like Essentials, the Standard plan's price and email limit are based on your number of contacts. Each month you can choose a tier from $17 for 500 contacts up to $605 for 100,000 contacts. Your monthly email limit is 12x your tier's maximum contact number. This plan also offers more tools and up to five audiences across all price tiers.
Premium
The Premium plan, which starts at $299 per month, includes an initial 10,000 contacts. While this plan's theoretical contact maximum is 200,000 — coming in at $1,300 per month — you can customize it to include more. Premium also comes with 15x your plan's contact limit in monthly emails, unlimited audiences, and access to every feature Mailchimp's marketing plans offer.
Mailchimp also offers a Pay-As-You-Go plan with the same features as Essentials if you don't send out emails regularly enough to opt for a monthly subscription. This plan lets you purchase blocks of email credits that are good for 12 months.
Advantages
Though Mailchimp and Constant Contact offer many overlapping features, both platforms provide their own advantages in certain areas. Mailchimp might be the best fit for you if you're looking for:
Accessible automation features
Automations let you streamline communication and content creation, helping you increase your return on investment (ROI). Every plan, including the Free plan, comes with access to Mailchimp's classic automations.
A comprehensive reporting suite
You can run email campaign reports and automation reports with every plan, giving you access to an extensive list of metrics. The Premium plan also provides comparative reports, letting you compare statistics from one audience across multiple campaigns.
High value for low price point
Mailchimp provides a wide array of features at low price points from their Free plan upward. These plans can be a low-commitment way to dip your toe into email marketing if you're new to it.
Constant Contact
The founders of Constant Contact started the company as Roving Software in 1995. While Mailchimp started with a focus on email marketing and branched out later, Constant Contact began as the overall online marketing tool it still is today.
Plans and pricing options
Constant Contact offers two email marketing plans. Like Mailchimp, these tiered plans differ based on the features you want and your budget:
Core
Though most automation features are exclusive to the Plus plan, the Core plan offers a broad range of customer growth, marketing, and reporting features. This plan covers five users and costs $9.99–$300 per month for 500 to 50,000 contacts, respectively. If your contact list exceeds 50,000, Constant Contact will automatically upgrade your plan to Plus.
Plus
The Plus plan uses the same tiered structure as the Core plan, ranging from $45 to $410 per month. You can also get a custom quote for a list with more than 50,000 contacts. This plan gives you access to Constant Contact's full suite of features, including automated email marketing, additional reporting options, and more comprehensive ad management. The Plus plan allows unlimited users.
The monthly email limits for both Core and Plus plans are 24x your total contacts.
Advantages
You might consider choosing Constant Content as your email marketing platform if you're looking for:
Easy list management and reporting
Constant Contact offers a simple, easy-to-use platform. Intuitive dashboards let you easily create contact lists and control your customer segmentation. While their email reporting isn't as comprehensive as Mailchimp's, you can filter your results to view each metric individually.
Apps and integrations
Constant Contact makes it easy to connect with services across the web with an extensive list of apps and integrations.
Accessible customer service
The Constant Contact tool includes a "Contact Us" button at the top, making it easy to connect with their support team via phone or support ticket.
Time to Level Up Your Sales
Our long list of services helps you grow every aspect of your business with marketing strategies that are proven to increase bottom-line metrics like revenue and conversions.
In the past 5 years, we've managed more than 12.9 MILLION transactions across our client base.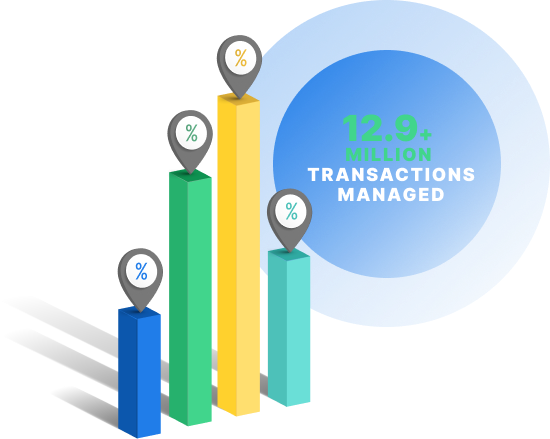 WebFX is your email marketing expert
When you're considering an email marketing platform, it's important to make sure you choose the one that best fits your needs. Does it suit the time and money you're willing to invest? Does it offer all the tools you need to create successful email campaigns? Can you count on getting the support you need when you need it?
WebFX has the tools, people, and information you need to make your online marketing thrive. Check out our email marketing resource hub to read about the best tools, strategies, and more. We also offer email marketing management services — call us at 888-601-5359 or contact us online to learn more!
WebFX Careers
Join our mission to provide industry-leading digital marketing services to businesses around the globe - all while building your personal knowledge and growing as an individual.