Janice spent the day before crafting the perfect email campaign. When she comes in the next day to see the results, she finds it's vastly underperforming. She goes back and sends a copy to herself, only to find that the email is all messy and doesn't look the way she wanted.
If Janice had used any of the email testing tools on the market, she could have avoided this blunder.
Email testing software is critical for ensuring you send top-notch emails to your subscribers. But with many email testing tools available to your business, how do you pick the best one?
If you find yourself asking that question, we've got answers. Keep reading to learn about the top six email testing tools to help you send killer emails every time!
P.S. Want to get tips for doing email marketing and other digital strategies? Join 200,000 smart marketers by subscribing to Revenue Weekly!
What is an email testing tool?
Email testing software is a program that allows you to preview your email messages before sending them out to subscribers. Email testing tools enable you to change different elements to see how your email performance changes by editing these elements.
With these email tools, you can ensure that you're sending out the best version of your email so that you can maximize engagement and conversions.
6 email testing tools you can use
Looking for the best email testing tools for your business? Here are six excellent email testing software options you can try:
Keep reading to learn more about these testing tools for email marketing!
1. Litmus
Price: $79-$159+ per month
First on our list of email testing tools is Litmus. Litmus enables you to send error-free emails to your subscribers by testing and previewing them before you hit "send."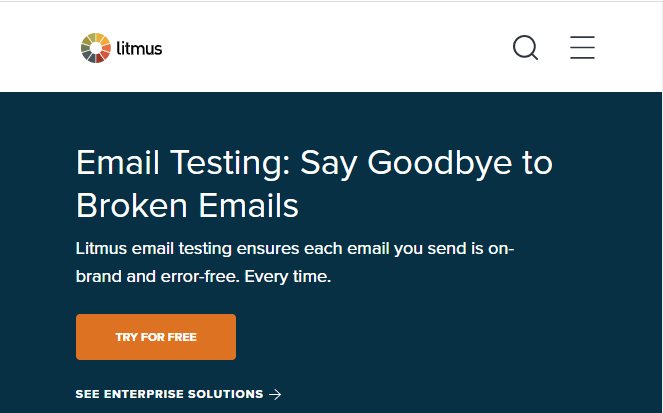 With Litmus, you can preview hundreds of emails in one place. Litmus will provide you with recommendations for improving your emails to ensure your messages look suitable for all clients on all devices.
Litmus includes features like:
Testing in regular and Dark Mode
Checking link functionality
Scanning your emails to identify issues
Recommendations for improving email performance
Automated testing of visual elements
This tool is an excellent option if you're looking for a comprehensive email test tool.
2. Mailosaur
Price: $9-$399 per month, Free trial available
Next on our list of email testing software options is Mailosaur. This email testing tool is an excellent option if you're looking for something simple and effective for testing emails.

You'll get features like:
Automated testing email framework and language
Integration of testing results into existing dashboard
User interaction simulations
Automated testing of account verification and password resets
Unlimited email addresses for testing
This email test tool will provide everything you need to test your emails and produce the perfect email for your clients.
3. Mail-Tester
Price: Free
One of the free email testing tools you can use is Mail-Tester. This tool is an excellent option if you want to see how spammy your emails are.

To test your emails, you're given a specific address to send your emails. Once you send your emails to that address, Mail-Tester will scan your email to determine its spamminess. It looks at features like your message, mail server, and sending IP.
You'll get a report back detailing what's appropriately configured and where you need to make improvements. It's a free and easy tool to help your emails end up in users' inboxes rather than their spam or junk folder.
4. ReachMail
Price: $29-$749 per month
Next on our list of email testing tools is ReachMail. ReachMail offers solutions for small businesses to large companies.

With this tool, you can A/B test your emails. A/B testing involves testing two slightly different versions of your email to determine which one performs better. It's a great solution to help you craft the perfect email.
ReachMail enables you to test up to five emails at a time and look at the data to help you make your decisions. This process makes it easy for you to sample your audience and see what emails they like best, so you can create more compelling emails for your subscribers.
5. Mailtrap
Price: $10-$300 per month, Free plan available
Another excellent email testing tool is Mailtrap. Mailtrap offers plans for everyone, from individual plans to enterprise company plans. It's an excellent tool for ensuring you send high-quality and functional emails to your subscribers.
With Mailtrap, you get:
500 to 10 million test emails per month (exact number depends upon your plan)
Verification of multiple variables at a time, including email headers, body text, and subject lines
Scenario testing for simple and complex emails
Email functionality testing
And more
Mailtrap provides you with everything you need to deliver clean and functional emails to your subscribers.
6. Email on Acid
Price: $74+ per month
Last on our list of best email testing tools is Email on Acid. Email on Acid provides you with everything you need to launch a successful email marketing campaign.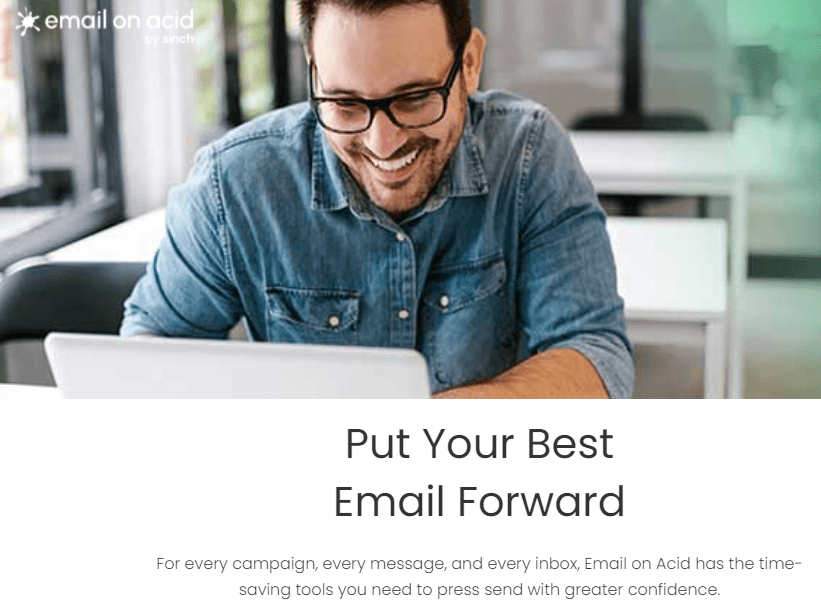 Email on Acid provides you with an email preview function. With the email preview, you can see how your emails look different across multiple devices and for different subscribers. You can see how your emails display in their inbox so you can ensure you deliver the best experience.
Additionally, Email on Acid provides you with spam tests. These spam tests enable you to test your emails against popular spam filters to see if your emails are at risk of ending up in spam folders. It allows you to make changes and test them before sending your emails.
You can also track email performance after launching your emails to see if you need to conduct more testing and improve your emails.
You'll get everything you need to craft compelling emails that drive the results you desire.
Invest in email testing software from WebFX
At WebFX, we offer email marketing software that makes it easy for you to automate your email marketing flow. This tool, which is part of our in-house proprietary marketing software, enables you to create, send, and test emails with ease.
Our email testing software enables you to craft emails and conduct A/B testing to ensure you're sending top-notch emails to your subscribers. Not to mention, our email marketing software is backed by a team of over 500 marketing experts that know how to run successful email campaigns.
Ready to maximize your email marketing results? Contact us online or call us today at 888-601-5359 to speak with a strategist about our email marketing software!
How is your website's SEO?
Use our free tool to get your score calculated in under 60 seconds.
Get posts by email
Join 200,000 marketing managers and subscribe to Revenue Weekly!
"*" indicates required fields
WebFX Careers
Join our mission to provide industry-leading digital marketing services to businesses around the globe - all while building your personal knowledge and growing as an individual.