Email marketing is one of the most effective ways to build your brand, connect with clients, and reach new heights with your business. However, if you've tried crafting the perfect message or keeping up with customer responses, you know how challenging it can be to stay on top of your emailing game.
Thankfully, you have options to help improve your email system in today's digital marketing world. One of the easiest ways is using an email maker, which offers templates and other features that make emailing a more manageable part of running your business.
Learn more about email makers and how they'll benefit your business in this guide from the experts at WebFX!
And if you want to get more tips and tricks for marketing your business online, subscribe to Revenue Weekly for insider info on all things marketing!
Why use an email maker?
Think about your email marketing strategy for a moment. How many emails do you send in a day? Consider how many variations of those emails you send to deliver a personalized experience for your audience.
When all's said and done, you're sending hundreds of emails to prospects every month. It's time-consuming to create these diverse emails to boost email marketing engagement with leads.
That's why an email maker is beneficial to your business. With an email maker, you can easily input all your information into templates to create emails. It's an efficient way to generate emails fast, so you can spend your time focusing on other essential tasks.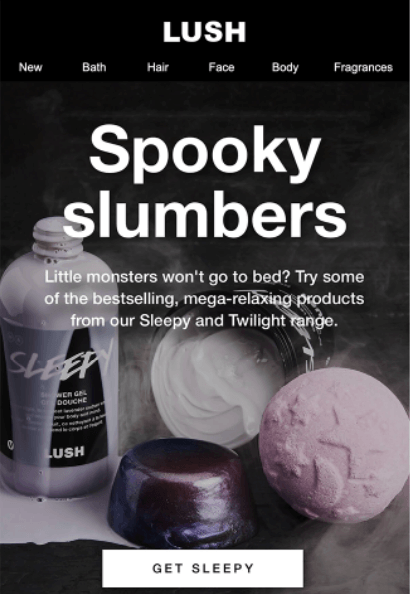 What to look for in an email maker
If you're looking for the right email maker for your business, numerous options are available. Searching the Internet for email templates puts thousands of choices at your fingertips. When you're considering which email build to use, focus on one that offers the following:
Template options: Emails are a versatile way to do business and connect with consumers. Your business is unique and any email maker you consider using should have enough template options and features to find what fits your needs. Whether you're reaching out to a potential lead or sending an automated response to a customer, you need flexible options.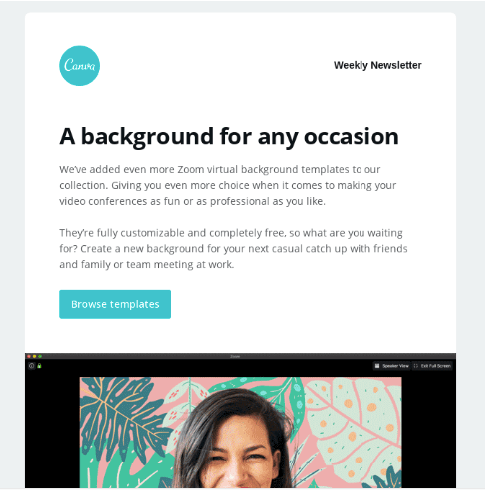 Compatibility: Some email templates use style elements, file formats, and other features that don't work with every server or email service. Ensure the email system you choose is compatible with your existing software so that you don't have to make costly changes.
Support: Your consumers don't settle for less when it comes to customer service and support — why should you? Find a company that values your business, prioritizes answering your questions, and stays in touch when necessary.
Pricing: Email marketing is a cost-effective strategy for helping you promote your business. To keep your email affordable, invest in an email maker that clearly explains the pricing and offers several plan options to get the features you need at affordable rates.
Management features: When you look at an email maker, check if it offers additional management features, like tracking emails, creating drip campaigns, and setting up automated email responses. It'll make it easier for you to manage your email marketing in one place.
As you search the web looking for an email builder, keep these factors in mind to help you narrow down your choices.
Should I work with email marketing professionals or an email maker?
When you look into an email maker, you'll find dozens of options that include everything you need to create impactful emails. But as you do more research, you'll find that you can partner with an email marketing company instead and have them do the work for you.
So, which is better for your business: An email builder or professional email services?
There are benefits to both options. Generally, an email builder is more affordable, making it an excellent choice for your budget. This reality is especially true if you get an email maker that handles all aspects of your email marketing.
With email marketing professionals, you reap the benefits of having your campaigns crafted by experienced email marketers. Your email marketing agency will know how to build emails that boost engagement and sales for your company. Additionally, hiring an email company frees time in your schedule to focus on other business tasks.
To decide if an email builder or email marketing company is better, you'll need to consider your business's budget, needs, and availability. If you're too busy to manage your email campaigns and have room in your budget, you may consider hiring professionals.
Meet EmailMarketingFX: Your all-in-one email maker
If you're looking for an email builder that can help you do it all, look no further than EmailMarketingFX. EmailMarketingFX is an email builder that enables you to craft engaging emails for your prospects. Here's what you get with this email maker:
Email templates: EmailMarketingFX offers dozens of email templates to make it easy for you to build the emails you need. You can stylize your emails to fit your brand's unique style.
Email personalization: With EmailMarketingFX, you can create personalized emails to engage your subscribers. Our software makes it easy for you to segment your audience and deliver personalized email content to increase engagement.
Email tracking: Once you send emails, you want to know how they perform. This email software enables you to track email performance to make more informed decisions about your email strategy.
These are just a few of the many features you'll get with this email builder.
Start your next email marketing campaign with WebFX
If you're ready to take your email marketing strategy to the next level, WebFX is ready to help! With over 25 years of experience in digital marketing, we know how to craft email marketing campaigns that help you grow your business.
With our proprietary email marketing software, EmailMarketingFX, you can craft emails quickly and track their performance with ease. It makes it easy for you to craft email campaigns that drive your desired results.
Our software runs on your server — so no third party is necessary — and it supports versatile formats, automation, and more. You'll gain valuable insights from our email marketing analytics to make the most of your next campaign.
Want to learn more about the benefits of EmailMarketingFX and how our team will help your business succeed? Contact us online or give us a call at 888-601-5359 today!
How is your website's SEO?
Use our free tool to get your score calculated in under 60 seconds.
WebFX Careers
Join our mission to provide industry-leading digital marketing services to businesses around the globe - all while building your personal knowledge and growing as an individual.