Email marketing has been around for a long time. Today there are many forms of marketing to promote an ecommerce site, such as social media marketing and mobile marketing. Although these marketing methods have their benefits, there's a reason why email marketing has been around for so long.
Email marketing works.
If you want to learn more about the best email marketing for your ecommerce business, keep reading, and give us a call at 888-601-5359.
What is email marketing for ecommerce businesses?
If you subscribe to a mailing list, you have experienced email marketing. Email marketing for ecommerce targets a group of people interested in your products by offering them deals, promotions, and other information based on their shopping behaviors. Through a series of emails, you can communicate with current and potential customers, securing an ad spot right in their inbox.

Hear What It's Like to Work With WebFX!

"Our WebFX team was on top of everything. Best part is our lead contact felt like she was part of our company. She learned everything about our business so quickly and was able to be very efficient with our brand. Reacting to what we needed or wanted to change, making us feel so comfortable the whole way!"
Retail
How can email marketing benefit ecommerce?
Email marketing has the potential to garner a lot of attention for your site. It has multiple benefits, all of which can help to grow your business and your brand.
Low cost, high ROI. Email marketing has the potential to earn an ROI of 4300 percent. You could earn even more, too — this is just the tip of the iceberg.
Targeting. You're only focusing your efforts on the people who are interested in your brand. Either you added them to the list because you know they're interested, or they subscribed themselves. This means you're not wasting time on people who aren't at least interested. You can also divide your list into subsets, allowing you to promote certain products to people more likely to buy.
Easy tracking. If you use a reputable email marketing service provider, you can easily track your results. You can more effectively target customers if you find out who's deleting your emails, opening your emails, and clicking through to your site.
Appealing to impulse buying. Appealing to impulse is especially useful for ecommerce. You want to entice your audience with an email at the perfect time. If a customer abandons a cart, send a follow-up email. If you need to move inventory, create a flash sale. Coupon codes, related items, and repeat buys all cater to impulse.
Seeing fast results. Ecommerce sites can start seeing results within minutes of beginning an email marketing campaign. Once your recipient gets their email, they click through to your site and immediately start shopping.
Connecting with a large audience. There's no limit to how far you can reach with email marketing for ecommerce. As long as people reach your website and have the opportunity to opt into your email list, they can be within your reach.
If you're ready to get started with email marketing for ecommerce, make sure you have a good grasp of the basics.
Time to Level Up Your Sales
Our long list of services helps you grow every aspect of your business with marketing strategies that are proven to increase bottom-line metrics like revenue and conversions.
In the past 5 years, we've managed more than 12.9 MILLION transactions across our client base.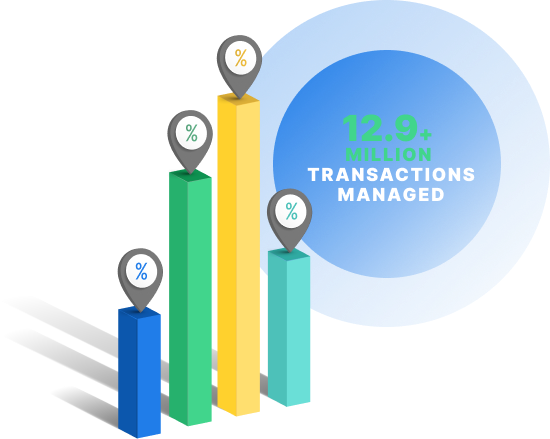 15 quick email marketing tips for ecommerce businesses
1. Use smart subject lines in your emails
A subject is one of the first things users will see when your emails appear in their inboxes. In order for a user to even open your email, you have to make sure that the subject line is perfect.
Your subject line should be concise and clear, and you should keep in mind that mobile clients aren't able to see a long subject line, so try to include only the most pertinent information.
For example, if you have important news or an update about your store, include that right away, in a subject line like, "We've got a surprise!"

If you are having a sale or offering a discount or coupon code, be sure to include that in the subject line as well.
Nothing entices people like the promise of saving money!
2. Cover a variety of topics for the best ecommerce emails
Every email you send shouldn't just be to advertise a sale.
You should strive to find interesting topics to focus on that will also help to drive purchases.
Here are a few ideas:
Seasonal trends for your industry
How-to features
Company news or policy changes
New items in stock (or items back in stock)
When you vary the content in your emails, you're much more likely to keep your subscribers interested and willing to open each message to see what you're offering.
3. Utilize email receipts and shipping messages
Email receipts have a much higher open rate than bulk marketing emails. So much so that email receipts have an open rate of 70.9% while marketing emails have an open rate of 17%.
Many online businesses don't recognize that email receipts are a gold mine for generating more sales.
Your online business should take advantage of the high open rate by offering special deals or incentives in an email receipt.
For example, you could offer free shipping on a purchase made from your site over the next 30 days, or you could add an offer to save 15% on the next purchase.
You can also include special content in "order shipped" emails, as seen in the suggested content from retailer, "At Home," below.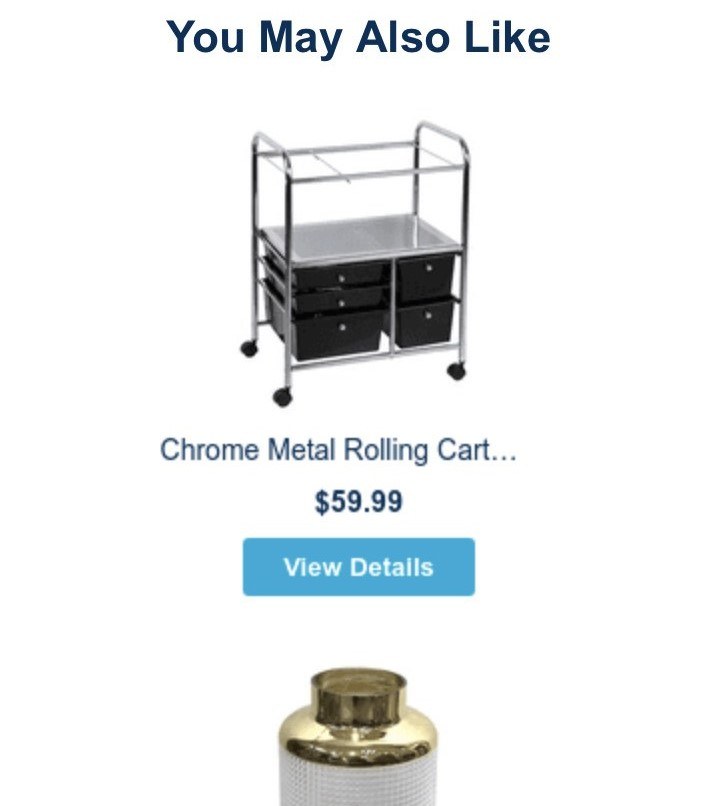 You could include links to parts of your site that appear relevant to the customers purchase, or something that they might need in addition to their new purchase.
4. Make your ecommerce emails personal
You should always make an effort to address your recipients by name. When you simply address an email with "customer," you fail to make the user feel valued as an individual customer.
Instead, use their name to show that you are thankful for their individual business.
In order to properly personalize emails, you'll need to make sure that you collect the first names of your subscribers at the time that they opt in for your emails.
This may not always be possible for abandoned cart emails, but in all other situations, you should aim to personalize your messages in this simple way.
5. Exercise restraint when sending your emails
While it's great to follow up on missed opportunities and entice people to buy more of your products, there is a fine line between aggressive and annoying.
Use your personal judgment to send emails as often as you see fit, and if you feel that you're getting close to crossing the line, pull in the reigns.
As a general best practice, avoid sending more than one sales-oriented email per week. Limit your most sales-related emails to special occasions, such as a big blowout sale or inventory reduction.
6. Keep track of your own ecommerce email best practices
The best practices for your email campaign will depend heavily on your own personal business.
Pay attention to what your customers do and do not respond to, and change your email strategy accordingly.
You can view the analytics in your email platform to see information like open rate, click through rate, unsubscribe rate, and so on.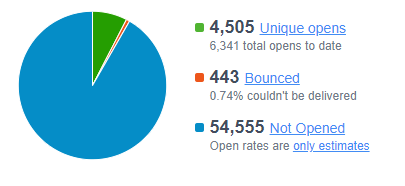 Keep an eye on the statistics and review them often to make sure that you are up to date with any changes that need to be made.
Additionally, don't be afraid to ask for feedback. People love giving input – especially when it has to do with something they can benefit from.
Consider creating an email survey once a year that offers a coupon code or special deal in exchange for answering a few questions about your email marketing.
7. Use your ecommerce website to create an email list
Expertly crafted emails can't get you anywhere if you don't have anyone to receive them.
This is where your ecommerce site comes in.
Whether you have a link to an email sign up page on your homepage, or a non-intrusive pop-up with details about your newsletter, utilizing your website for ecommerce email marketing can get results.
In the example below, beauty brand Ulta has both a link to an email sign up page and a subtle pop-up encouraging people to sign up for their emails.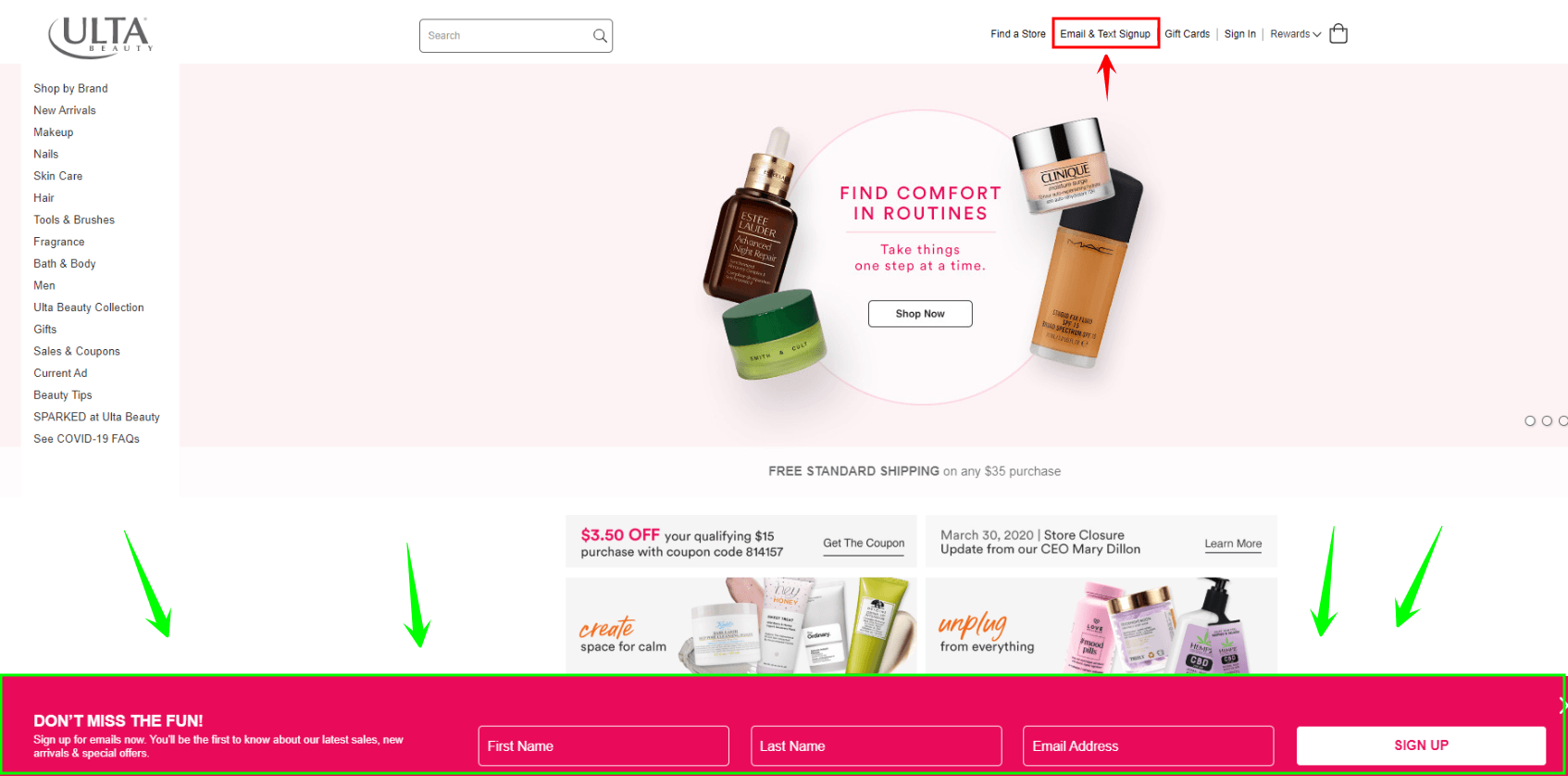 Learn more about creating an email list with our email list building guide.
8. Keep your email subscribe box simple
A subscription box that requires a lot of consumer information can scare away potential subscribers.
When you're creating a subscription box for your ecommerce emails, keep things basic.
Asking for an email address is essential, but think of what you can remove.
Do you need a zip code, home address, or company name? Or will an email and first name suffice?
What you need to include in your email subscription box will vary from company to company, but try to keep your requirements as simple as possible.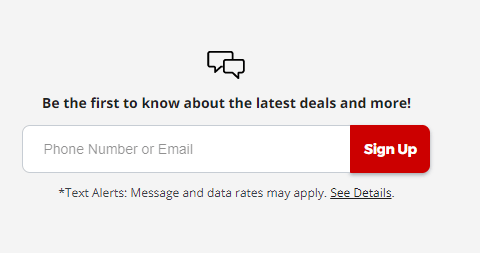 In the above example from retailer JC Penney, all a person needs to enter to become a subscriber is either a phone number or an email.
9. Utilize multimedia content in your ecommerce emails
You want your emails to be eye-catching, right? Then try to include visuals in your emails!
Whether you center an email around a video, use custom GIFs, or have expertly designed graphics, multimedia content can make your emails pop.
If part of your ecommerce email marketing plan is showing off what you have to offer, include visuals of your products.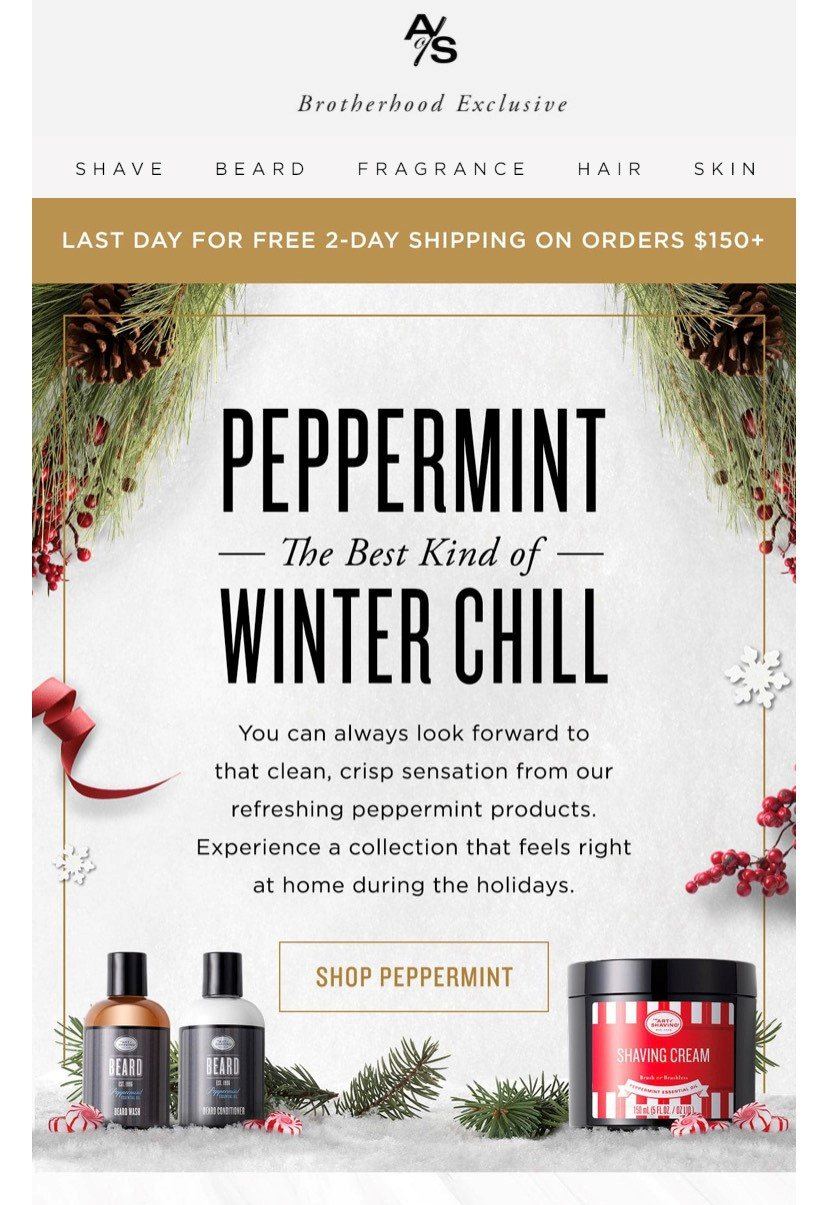 A text-only email explaining that your products look really cool won't have the same impact as an email that utilizes both text and images to give context to what you're explaining.
10. A/B test your ecommerce emails
You never know what works in your ecommerce email marketing until you test it!
Different email elements will have different impacts on subscribers, as shown in the email A/B test results below.

A change as simple as a different email subject can potentially increase your open rates.
For example, using the word "video" in an email subject line (when you have a video, of course) can decrease your unsubscribe rate and increase your open rate.
Testing small changes can help you have the most effective strategy for your ecommerce email marketing.
11. Don't forget about branding in your emails
You likely have a set of brand guidelines you have to follow in your content marketing, on your website, in your stores, etc.
Why should your email marketing be any different?
When designing your email newsletters, e-receipts, and other forms of your ecommerce business's email marketing, make sure the elements align with your brand.
People likely associate your brand with elements like:
Your logo
Colors
Fonts
Language
Keep your brand identity in mind at all times.
12. Take advantage of email automation
With email automation, you'll create content in advance that then gets sent to a special list of people when they take an action that triggers the automated content.
You'll create a timeline that determines when people will receive these emails, like, "two days after subscribing."
One example of ecommerce email automation is an abandoned cart email.
Another example is a "welcome email" for people who subscribe to your newsletters or sign up for a rewards program.
Automating emails is a simple but effective way to keep in touch with your subscribers.
13. Include clear calls to action (CTAs) in your ecommerce email marketing
When you create your emails, you probably have an idea of what you want subscribers to do when they receive your emails.
Whether you want them to read a new blog post, RSVP to an event, or even check out a new product, you need to communicate that.
In this example from TaskRabbit, you see a clear CTA to book their services. A little button can make a big difference.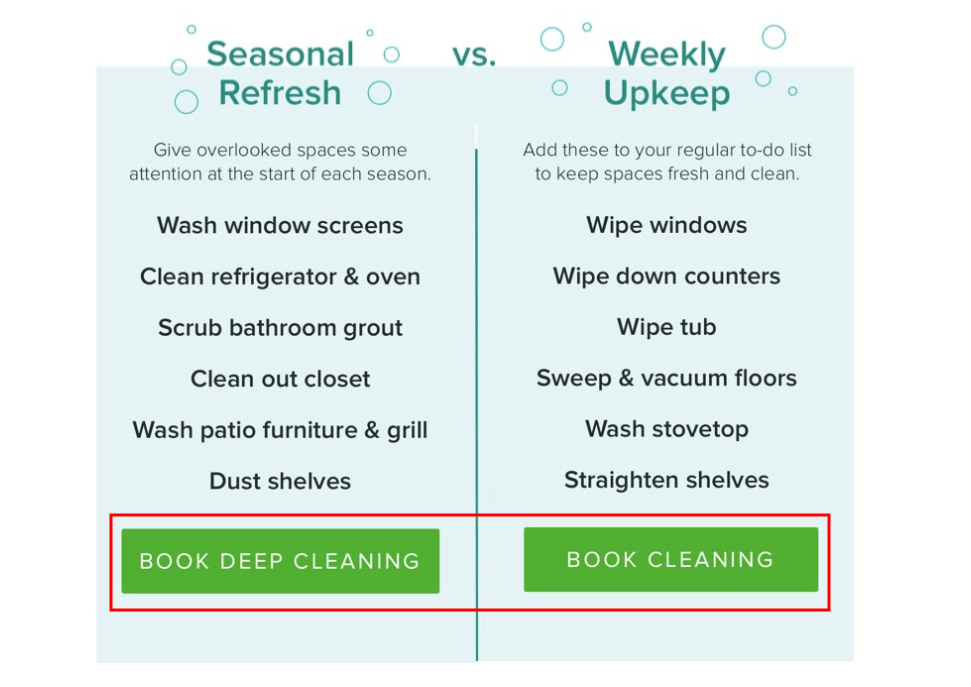 14. Design your ecommerce emails with mobile and desktop in mind
Mobile email rates make up about half of all email opens.
That's a lot of opens.
To cater to devices of all sizes, best practice is to design responsive emails.
Responsive emails adapt to a variety of screen sizes, so no user is left out.
The last thing a subscriber wants to do is have to pinch and zoom to read your content, and it just won't look good.
If you want to make responsive design a part of your ecommerce emails, we have services for that.
15. Make your ecommerce emails easy to read
This final tip goes hand in hand with responsive design. Make your emails easy to read.
If an email meant for desktop users appears on a smartphone, chances are it's going to be awkward to read.
In addition, you don't want to send out regular marketing emails that are just large chunks of text.
In certain situations, especially during emergencies, this may be necessary, but this shouldn't be a regular practice for your ecommerce email marketing strategy.
If you do want to include text in your emails, break it up with multimedia content and different headings.
Partner with a team of ecommerce masters!
WebFX campaigns have delivered more than 12,936,451 ecommerce transactions in the last 5 years
Read the Case Studies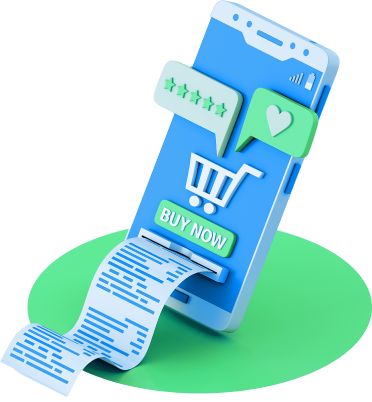 Drive sales with email marketing for your ecommerce store
If you're not certain that you can set up an email marketing campaign for your ecommerce store on your own, WebFX can help.
Our email pros have created successful campaigns for ecommerce stores just like yours, and we'd be happy to help you create campaigns that drive revenue to your online store. Browse our ecommerce email marketing management services now!
Contact us today to learn more and receive a free quote!
Earn a 20% greater ROI with WebFX