On this page, we'll discuss what call tracking software is, why you should use it, and which call tracking apps offer the best solution. Plus, we'll share which call track software offers the best option for small-to-midsized businesses (SMBs).
Table of Contents
What is call tracking software?
Call tracking software is a tool that enables you to track phone calls that are made to your business. Whether the calls come from online or offline marketing efforts, calling tracking software allows you to track what marketing campaigns drove users to contact your business.
When you receive phone calls, you can record these calls to obtain valuable information. Many call tracking software providers allow you to make audio recordings and source your calls so that you know exactly who's calling. This information helps you gain insight into how leads find and contact your business.

You can track calls from numerous sources, including:
Local listings
Billboards
Your website
Radio Spots
Regardless of where you're running a campaign, you can attach a unique phone number to each campaign to see what advertisements drive customers to your business.
4 features to look for in call tracking software
When you're considering call tracking for small businesses, it's important to understand the features should be included with these services. Let's take a look at four standard features in most phone call tracker software programs.
1. Dynamic number insertion
With dynamic number insertion, you swap out phone numbers from your pool of phone numbers. This feature is what allows you to have different phone numbers for each of your campaigns. Dynamic number insertion will enable you to correlate your incoming calls with a specific ad or campaign.
2. Multi-channel attribution
Most call tracking software will have multi-channel attribution. This feature is a critical component in understanding your audience and their journey to contacting your business.
Multi-channel attribution allows you to see every touchpoint that led to someone call your business. You can see the pages people visited and what they interacted with on your site, and you can even see the last action they took before calling your business.
This feature is crucial to help you understand your audience better. It helps you determine if there are particular reasons people call your business, like information missing from your page or questions about your products or services.
3. Call recording
The best call tracking software will include call recording. Call recording helps you understand why people contact your business. It provides you with valuable insight into your audience's thought process and in combination with multi-channel attribution, helps you understand a user's reasoning for contacting your business.
For example, let's say you own a cleaning business. You notice that multiple people browsed your cleaning packages page for your cleaning services before calling your business. Upon listening to the call recording, you discover that the people who called wanted to know how much your cleaning services cost.
The call recording and multi-channel attribution indicate that these people contacted your business because they couldn't find pricing information on your cleaning packages page. As a result, you can alter your cleaning packages page to include the price (or estimate range) to help provide leads with that information ahead of time.
As a result, people are equipped with pricing information and can focus on contacting your business for more critical questions. Additionally, having the prices on your site may convince more people to contact you and hire you because they already know how much your cleaning services cost.
Aside from learning about your customers' call content, you can also learn how well your staff handles customer calls. Are they answering customer questions and providing a positive experience?
Call recording provides an excellent opportunity for you to evaluate your customer service team to see if you need to improve your strategies and best practices.
If you want to have the best call tracking software, ensure that it has call recording capabilities.
4. Integrations
Top phone call tracker software should integrate with other programs you use for your marketing campaigns. For example, you should be able to incorporate call tracking software with programs like Google Ads and Google Analytics.
Your call tracking software must work with other programs so you can understand the full scope of your campaigns. It will help you better understand how specific marketing methods compare to others in terms of driving phone calls.
7 of the best call tracking software applications
When it comes to call track software, you have options.
That's why we've compiled a list of the seven best call tracking software apps, which include:
1. CallTrackerFX
Price: $299 - $999 / month
Free Trial Option: A free demo is available upon request
CallTrackerFX is a go-to phone call tracker software because it provides you with the following:
Vanity phone numbers
Dynamic phone number insertion
Call transcription
Integration with customer relationship management (CRM) and marketing automation software
With CallTrackerFX, your business can improve its tracking for online and offline marketing efforts. Plus, you can sync your lead generation and lead nurturing efforts to increase close rates, customer support, and more.
2. FluentStream
Price: $20 - $45 / month per user
Free Trial Option: No
FluentStream is another competitive caller tracker software option because it lets you:
Forward calls
Access local numbers and toll-free numbers
Get notified of new voicemails via email
Transcribe voicemails
When it comes to calls tracking software for insurance companies, legal firms, educational institutions, and healthcare companies, FluentStream provides the features your customer support team needs to succeed.
3. Hubspot
Price: $50 - $1200 / month
Free Trial Option: Yes
Hubspot is a popular choice when it comes to call track software because the platform lets you:
Record calls
Schedule and prioritize calls
Make calls via your Internet browser
Sync your call data with your CRM
If you want to get started with this caller tracking software, Hubspot offers a free version you can try.
4. CallFire
Price: $99 - $599 / month or 6 cents per minute or text
Free Trial Option: No
CallFire is another option for businesses looking for a robust caller tracking software because it includes:
International, local, and toll-free numbers
SMS-enabled call tracking
Email or smartphone call notifications
Whisper messages
Call detail reports
This phone call tracking software also offers versatile payment plans. You can pay a monthly fee, which includes a set number of minutes or texts or opt for a pay-as-you-go plan, which charges six cents for every minute or text.
5. Channels
Price: $19 - $49 / per user per month
Free Trial Option: A demo is available upon request, as well as a 7-day free trial
Channels, also known as Crazy Call, offers a calls tracking software that includes:
Shopify, Magento, and Pipedrive integration
Mobile app
Live chat integration
Helpline workflows
Call history
And more
While you can choose from a few different plans for this call tracker app, no matter which one you pick, you can count on 24/7 support from the Channels team. Channels can provide support via phone, chat, or email.
6. Vonage
Price: Custom
Free Trial Option: Yes
Vonage offers a powerful call tracking software solution for enterprises. With Vonage, you can:
Record calls
Split call recordings
Use the Vonage Voice API
Add local virtual phone numbers automatically
If your company's looking for a phone call tracker software that gives you complete control over your call tracking solution, consider Vonage and its app, which allows you to program and tailor its software to your unique needs.
7. Truly
Price: $65 / month per user
Free Trial Option: A free trial is available upon request
Truly is one of the best call tracking software applications available because you can use the platform to:
Sync your call data with popular CRMs
Improve call quality to increase caller satisfaction
Send voice, text, and picture messages via SMS or Whatsapp
Set business hours
And more
If you're looking for a comprehensive solution to providing customer support and nurturing leads, then you may want to try Truly as your phone call tracking software. You can request a free trial to get started or ask for custom pricing, like if you're an enterprise.
5 reasons using call tracking software is a no-brainer
Call tracker software offers numerous benefits to your business. Let's check out five benefits of using call tracking software for small businesses.

1. It helps you determine which channels drive leads
One of the most significant benefits of call tracking software is that gives you a clear understanding of how leads find your business.
When you know what channels drive the most leads, you can continue to contribute your marketing budget to those campaigns and do away with those that aren't driving phone calls.
This ends up saving you tons of money in the long run.
Partner with Ecommerce masters!
Campaigns managed by WebFX have earned over
TRANSACTIONS IN THE LAST 5 YEARS
Read Case Studies
2. It helps you find qualified leads
With call recording and transcribing, you can analyze your calls to see who's calling you, which helps you determine if you're getting calls from qualified leads.
You can see what types of leads contact your business and the questions they ask.
Call track software helps you get to know your audience. You learn what channels they are likely to respond to and use to engage with your business. By learning about your audience, you can focus on these channels that help you find qualified leads and drive these leads to your business.
3. You understand which keywords drive leads
PPC advertising is a critical component of driving valuable leads for your business. Call tracking software for small businesses is a great supplemental tool to help you understand the success of your PPC campaigns.
Since each PPC campaign has a different phone number, you can see which ad drives the most calls. This information helps you see which ads drive the most leads to call your business.
From this information, you can effectively track PPC visitors to see what keywords they use to discover your business. It helps you focus on keywords that drive the most traffic.
As a result, you can start ranking for more relevant keywords. You can conduct keyword research to find keywords similar to the ones used for your successful ads. It will help you drive more valuable leads for your business.
4. It helps you improve your return on investment (ROI)
When you invest in the top call tracking software, you'll have the opportunity to enhance your return on investment (ROI).
Calls tracking software offers call recording, keyword tracking, and more. This information helps you track your campaign's performance to gain insight into which campaigns perform best for your business.
When you understand which campaigns work, you can adjust your marketing strategy. You can start focusing on strategies that drive more positive results and improve strategies that may not drive as great of results.
5. It helps you see where you need to improve
As we've mentioned a few times before, call tracking software is valuable for helping you understand which campaigns need improvement. If you see that specific phone numbers aren't generating calls, you can see if that strategy needs optimization.
It's beneficial to your business because it helps you save money and drive more valuable leads. You won't keep putting money towards an ad campaign or marketing strategy that doesn't drive the results you desire.
Which is the best call tracking software for SMBs?
If you want the best call tracking software for your business, look no further than CallTrackerFX. This software offers numerous call tracking features that will help your business excel online.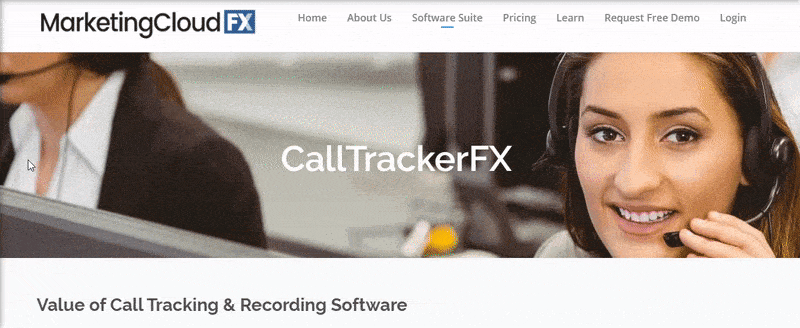 Here are a few features you can expect from this software:
Call recording: With call recording, you can review customers' calls to see what your audience inquires about the most. This information allows you to provide users with the information they want and optimize the purchasing funnel for them. You can also use this information to help improve the customer service experience.

Call sourcing: With call sourcing, you can track the source of your phone calls. It enables you to see which campaigns drive phone calls and how users find your information to contact your business. This feature helps you analyze your campaigns to improve ROI.

Dynamic number insertion: With dynamic number insertion, you'll get a unique phone number for each of your campaigns. You can track these specific phone numbers to see who's calling and which campaign drove them to call your business.

Google Analytics integration: CallTrackerFX easily integrates into Google Analytics so that you can get all your information in one place.
If you're looking for caller tracking software that has everything you need, CallTrackerFX is the answer. This software is the best call tracking software for helping you track, manage, and analyze your phone calls.
Get a free demo of a top call track software
Call tracking software will help you gain a greater understanding of how people find your business. When you can track the source of your calls, you will understand how your audience perceives your business and which marketing tactics compel them to contact your business. If you're looking for a company that can help you track your calls, WebFX is the answer.
We're a full-service digital marketing company that specializes in call tracking. With our software, CallTrackerFX, you'll get everything you need to track your phone calls. We'll help you track, analyze, and optimize your marketing campaigns to get more leads calling your business.
With over a decade of experience, we'll help you create a strategy that works for your business. Our team of over 200 experts will help you manage your phone calls to drive better results.
Ready to start using phone call tracking software? Contact us online or call us today at 888-601-5359 to speak with a strategist about our call tracking software, CallTrackerFX.