[Video] WebFX, SEO, and You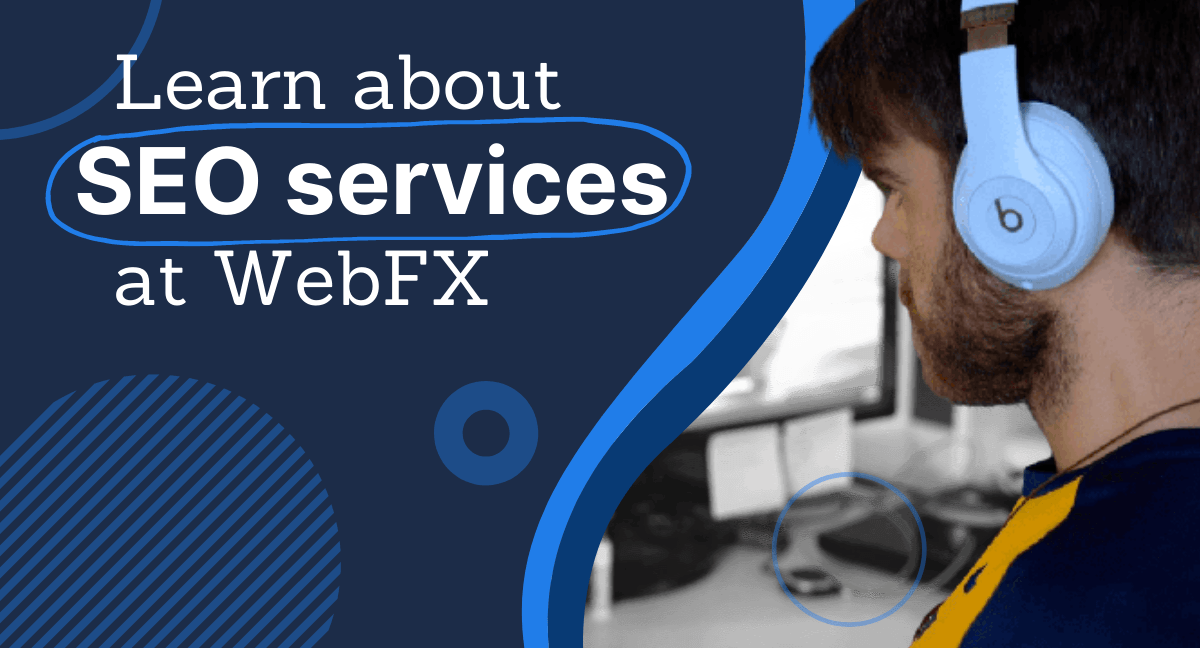 Get an inside look at how our SEO agency develops custom SEO strategies, collaborates with clients, and more in this exclusive video that highlights why Clutch named our company the #1 SEO agency in the world.
Why choose WebFX as your SEO company?
Great question! Businesses across the U.S. choose our SEO company for a few reasons, including:
Get an online SEO agency with 20+ years of experience
With our search engine optimization agency, your business partners with one of the most experienced agencies and SEOs in the industry. Through our experience, which extends across industries, our team will create a custom strategy that drives the results your company wants.
Just in the past five years, we've used our experience to help our clients generate:
Over $2 billion in sales
More than 6.3 million leads
More than 4 million phone calls
With these kinds of results, our clients have been able to not only achieve their quarterly and annual goals but also expand their teams, open new locations, and launch new products or services to grow their businesses even more.
Work with a dedicated account manager that knows your business
When you choose our SEO company, you get partnered with a dedicated account manager.
Your account manager is like an in-house team member. They learn your business, your name, and your preferences when it comes to communication, reporting, and more. With WebFX account managers, you get someone who is an extension of your team.
Plus, you can easily contact (and hear back) from your account manager.
Whether you have questions, want to share information, or pass along some resources, it's easy to connect with your account manager by email, phone, and even video chat. You don't have to wait long for your account manager to respond, either.
Track your SEO performance in real-time and with monthly reports
As a search engine optimization agency with decades of experience, we understand the importance of tracking and measuring your SEO performance. When you can track and measure your SEO campaigns, everyone in your company can see SEO's value and impact.
That's why our SEO services include regular reporting for:
Keyword rankings
Traffic
Goals
Return on investment
And more
With these reports, it's easy for you (and the rest of your company) to see the performance of your SEO strategy — and our SEO management company. Our agency also makes it easy to check the status of your SEO in real-time with MarketingCloudFX.
MarketingCloudFX, which is exclusive to our clients, allows you to track the performance of all your digital marketing strategies, including SEO. Check the number of leads and sales driven by SEO, for instance, or review the best-performing pieces of content.
Get unmatched service with fast responses, transparent pricing, and trackable deliverables
Our client retention rate is 91%.
At our website SEO company, we maintain such a stellar client retention rate because of the service and results we provide our clients — which also contributes to our impressive client recommendation score, which is 488% higher than the nationwide average.
Besides helping our clients achieve their goals, we also provide a client-first experience that includes prompt response times, transparent pricing and deliverables, and trackable deliverables. As your professional SEO agency, we make marketing your company and optimizing your website easier.
That's why so many businesses choose and recommend us for SEO.
Learn more about what clients say about working with us by reading our testimonials and case studies!
What can your SEO agency do for my company?
With so much hype around SEO, what can the strategy do for your company? Let's talk about a few of the most beneficial ways our SEO agency can help to transform your company.
Is it like snapping your fingers? Not quite, but there are a lot of amazing benefits that your business can yield when you implement an SEO campaign.
Our SEO agency can help increase traffic to your website
One of the most sought-after benefits of implementing an SEO online marketing campaign is the ability to increase traffic to your website.
Every business owner wants more website traffic because the more people view your site, the more conversions you will earn.
By targeting the most important keywords in your industry, you'll be able to rank for those keywords in search engines like Google. When someone searches for that term, the URL to your site page targeting that keyword will show up at the top of results (with a great SEO marketing campaign), and a user will have the chance to click it, visit your site, and hopefully make a purchase.
Increased traffic also sends great signals to Google which can help your rank better for other keywords and hold the high rankings that you already have for key terms in your industry.
Our SEO agency can help improve brand awareness for your company
When you increase brand awareness, you'll be able to stay top-of-mind to past and potential customers. By staying at the top of results pages, users will consistently see a link to your website, and your brand will become something they're used to seeing.
Being at the top of results pages also increases clicks, which means more users will visit your site and learn more about your brand and offerings.
They might even tell a friend or two!
Our SEO optimization company can help you reach your most qualified audience
With a great SEO campaign from our search engine optimization agency, you'll be able to target your most qualified audience.
Instead of just throwing strategies and seeing what sticks, SEO allows you to hone in on your target demographic to make more sales.
Let's say you sell Disney themed rain boots for children. Using a keyword that encompasses that term will allow you to target users that are specifically interested in that product — and those customers will be excited to find your site since you sell exactly what they're trying to find.
SEO helps you target more qualified leads since it allows you to put your content in front of customers that are the most interested in your offerings.
Our SEO agency can help you see an uptick in leads, calls, and revenue on your website
Who doesn't want to increase conversions? When you increase conversions on your website, it means that you must be doing something right. It also means that your business is thriving — what business owner wouldn't be thrilled about that?
SEO allows you to increase leads because of its highly-targeted nature, the use of valuable content, and the way SEO helps to improve your website for a great user experience.
Our SEO management company will also help you create actionable calls-to-action around your site to entice users to buy on the spot.
With all these details combined, your SEO campaign can help increase leads on your website to help ensure that your business is consistently doing great. You'll also see an increase in calls to your business, and overall, an increase in revenue year over year.
Our SEO agency can help you outrank competitors
If you implement an SEO campaign and your competitor doesn't, it's a no brainer that your company will come out on top. When you implement your campaign, you'll actively target keywords that your competition could also be targeting.
Not to mention, our website SEO company will help provide beneficial content that users will love, engage them with multimedia elements, and provide them with the information they need to become customers.
You'll also literally rise above your competition in search engine results pages, when the use of your SEO campaign helps you to earn that coveted number one spot.
Should I hire an SEO agency?
After you've decided that SEO is the strategy for you, the next question is whether you should hire an SEO agency to do the heavy lifting for you. You may consider implementing an SEO campaign in-house, but there are a few things to consider before making the decision.
Is anyone on your team knowledgeable about SEO?
SEO has a lot of moving parts. There is on-page SEO and off-page SEO, along with many strategies that fall under each category. SEO isn't a "set-it-and-forget-it" strategy, rather it must be consistently cared for and updated.
That being said, implementing and keeping up with an SEO campaign on your own can be quite a daunting task. The task becomes more difficult if you're not familiar with SEO techniques and how to perform them.
If there is no one on your team that is knowledgeable in SEO, and you've never implemented an SEO campaign on your own, your best bet will be to hire an organic SEO agency.
They know the ins and outs of an effective campaign and will be able to get all your strategies implanted for you. They'll also continuously update your campaign so that the only thing you have to concentrate on is running your business. (and dealing with more conversions because of your new SEO campaign!)
Do you have the time and resources to learn SEO?
If you're not convinced that you need to hire an SEO agency, you should consider other options, but not without considering their potential pitfalls. If you're considering keeping your SEO campaign in-house, you'll have to consider the logistics.
As mentioned, SEO has a lot of moving parts. There is a lot of behind-the-scenes tactics that work together to make a successful SEO campaign. That means that in order to create and implement a successful campaign, you'll need to be well-versed in all things SEO.
Do you have the time and important resources that will teach you or another employee how to successfully carry out an SEO campaign?
If you're short on time, and can't afford the learning resources, analytics tools, or other programs used in an SEO campaign, it might be best to leave it to an agency.
Do you have time to implement an SEO campaign?
SEO is so successful because it is a strategy that is continuously updated and improved on your website to ensure that you're always staying a step of your competition. Whether that be with content or keywords, SEO is a strategy that you can't leave alone.
There is a lot of fine-tuning, that goes on behind the scenes, and committing to an SEO campaign while running a business can be extremely difficult.
To have a successful SEO campaign, you have to give 100%, and if you're running a business, that's merely impossible. Your SEO campaign should get all the attention it deserves to create amazing results for your company.
Hiring an SEO agency is your best bet if you don't have the time to dedicate to your campaign.
Do you need help with SEO? Hiring an agency is the way to go.