Get Answers With The Go-To SEO Support & Help Guide
Less than 35% of small-to-midsized businesses (SMBs) use search engine optimization (SEO), yet more than 90% of online experiences begin with a search engine like Google. That makes SEO one of the most underused online marketing strategies, even though it offers an impressive return.
If you're thinking about making SEO a part of your company's digital marketing plan, it's a smart idea. SEO not only helps increase your online visibility in search results, but it also improves your website traffic. Using SEO can even boost sales numbers because it allows you to connect with your target market.
You and your team probably have questions about SEO.
They might be, "What is an SEO specialist?" or "Do I need to hire an SEO company?" You may even wonder how your business can rank in Google search results. With this SEO support and help guide, you can get answers to each of these questions and more.
Keep reading to get started! If you have questions specific to your business and SEO strategy, feel free to connect with our team of SEO specialists. Contact us online or chat with us over the phone by calling 888-601-5359!
5 essential resources for learning about SEO
Pressed for time? No problem! Use (and bookmark) these top resources for learning about SEO:
SEO Starter Guide Get all the details on SEO, from what it is to how to do it, with this helpful beginner's guide.
The 1-Page Cheat Sheet to Google SEO Give yourself a quick and handy reference for optimizing your site for Google SEO with this cheat sheet.
[Video] SEO Basics: What Is SEO? Learn all about SEO, from how it works to how it drives revenue, with this useful video series.
CEO's Guide to SEO Provide your company's decision-makers with everything they need to know about SEO with this guide.
The Beginner's SEO Tutorial Follow along with our SEO tutorial to audit and optimize your website for search engines like Google.
Even if your company plans to partner with an SEO specialist or agency, it's helpful to have a background in the basics of SEO. That way, you can understand strategic decisions by your SEO company, as well as spot shady ones when researching agencies.
What is SEO?
SEO is the process of making your site better for search engines. You (or your dedicated SEO strategist) make your website better for search engines through optimizations, which can range from improving a page's speed to adding a new image to a page.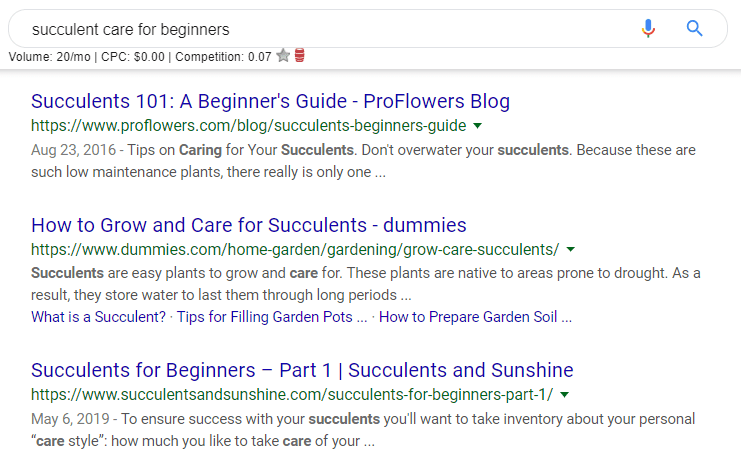 Optimizations go beyond making search engines happy, though.
They also focus on creating a better user experience and offering users something valuable based on their search. That's why Google recommends optimizations "geared toward[s] making the user experience better."
What is an SEO?
An SEO describes someone that specializes in search engine optimization. Companies looking to hire an SEO will generally partner with an SEO consultant or SEO agency. In some cases, larger businesses will feature an in-house team of SEOs.

Not every SEO is equal, though.
Some SEOs, for example, specialize in specific areas, like ecommerce SEO, local SEO, or even enterprise-level SEO. That's why companies looking to hire an SEO will often focus on SEO agencies because they offer a range of talent and solutions.
If you're thinking about hiring an SEO, it's a tremendous decision.
That's because, while an SEO can improve your site's rankings, traffic, and sales, an unethical SEO can cause permanent damage to your website, brand, and business. Using SEO support and help guides like this one, however, can help your company choose a trusted SEO.
What does an SEO do?
From consultants to agencies, SEOs offer services that cover a range of tasks, including:
Auditing your website to assess its SEO
Compiling valuable keywords for your company to target in content
Researching your industry, business, and competitors to develop an SEO strategy
Writing original, helpful, and optimized content for users and search engines
Providing web design and development recommendations to improve your SEO
And more!
Every SEO is different, though, which is why it's helpful to review a consultant or agency's SEO services before partnering with them. That way, you know what an SEO provides before hiring them and starting your campaign.
Why do businesses need (and use) SEO?
Companies that want to survive and thrive in today's marketplace need SEO.
While it may seem like a dramatic statement, it's true, especially for smaller businesses. People shop online, even when they're looking for something local, like a restaurant, plumber, or daycare. Even business buyers go online to research services and compile a list of providers.

For perspective, check out these statistics:
If companies want to grow, they need to reach people at the right moment. Search provides the perfect opportunity because (at that moment) these users, from consumers to business buyers, are looking for products or services related to your business.
That's why, following a search, more than half of users discover a new company or product.
To see the real value of SEO, though, it's helpful to look at case studies.
Take Reynolds Building Solutions, for example. This building solutions provider invested in SEO (and partnered with WebFX to develop, launch, and manage its strategy) to earn more from its online presence and website.

With SEO, Reynolds Building Solutions saw the following improvements:
43% year-over-year organic traffic increase
71% organic contact form submission increase
Your business can use SEO to drive similar results.
Whether you're looking to increase quote requests or product sales, optimizing your website for search engines and users can improve your site's visibility in search results that matter. That visibility can help you reach your target audience.
Do I need an SEO specialist?
While every company can benefit from SEO, not every business needs to hire an SEO specialist. Depending on your organization's size, budget, and resources, you may have the opportunity to manage your SEO strategy in-house.
A few questions that can help you decide if you need outside SEO support include:
Do we have the expertise and knowledge to do SEO?
Do we have the resources to manage an SEO strategy
Do we have the time to develop, launch, and manage our SEO?
If your team doesn't have the means to lead your strategy in-house, partnering with an SEO can help tremendously. Whether it's because your company doesn't have the time, resources, or background, your SEO can provide what you need to succeed.
In some cases, however, your business may not have the budget to hire an SEO specialist.
On average, SMBs spend between $1500 and $5000 per month on SEO. If they partner with an hourly consultant, rates range from $100-$300 per hour. A larger business will often spend more, depending on their strategy and industry.

That doesn't mean your company needs to turn to cheap SEO services, which are notorious for using unethical SEO practices. Instead, you can adopt some in-house practices to make SEO affordable (and possible) for your business.
A few examples include:
Integrating SEO into your business can help improve your visibility in search results, which can create support from company decision-makers, as well as a budget for professional SEO services. It's vital, however, to take that first step.
How do I choose an SEO?
If your company's ready to hire an SEO, congrats! Finding an SEO company is an exciting process because they serve as not only your agency but also your dedicated partner.
It's also a bit overwhelming. You have dozens of choices and want to choose the best SEO agency for your business, which can leave you stressed.
To make it easier, use this helpful five-point checklist to find the perfect partner for your business:
1. View the SEO's portfolio and case studies
Before your company contacts any SEO, from a consultant to an agency, look at their portfolio or case studies. Most reputable and experienced agencies will at least offer one of the two. These resources can help you learn about the SEO's approach, background, and clientele.
2. Check the SEO's client reviews and testimonials
Next, look at the SEO's reviews and testimonials. Based on what past clients say, you can get an idea of the kind of SEO support and service that agency or consultant offers. Reviews can also alert you about shady or unethical SEOs.
A few sites to check reviews for include:
As you read reviews, look for any patterns. For example, if several reviews mention that the SEO fails to meet deadlines or communicate with team members, it can help your company remove that SEO from your list of contenders.
3. Set up a meeting with the SEO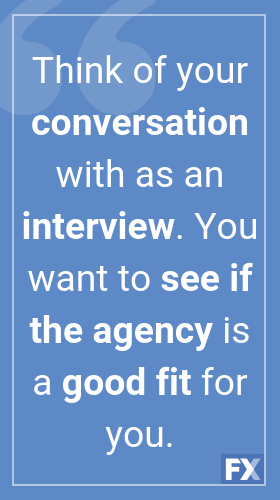 Once you've compiled a list of vetted SEOs, you can start to contact them.
For the best results and helpful insight, you'll want to chat with the SEO over the phone or in-person. A verbal discussion, versus a chain of emails, tends to offer more value. You can get a feel for the SEO's personality, for example, and see if they would work well with your team.
It's also helpful to think of your conversation as an interview.
You want to see if the SEO is a good fit for your company, and they should want to do the same. Before your meet-up or phone call, compile some questions to ask the SEO. You can use a few of the examples below to get started.
What kind of experience do you have in our industry and location?
Do you have any case studies that you can share from my industry?
What SEO strategies do you use?
How much do your services cost?
How long have you provided SEO services?
During your meeting, you should also expect the SEO to ask a few questions, like the following:
What does your business want to accomplish with SEO?
Do you use any other digital marketing strategies?
Who are some competitors in your industry?
What products or services matter most to your business?
Who is your target audience?
Following your meet-up, you will probably narrow your list.
For example, you may find that one SEO showed zero interest in your business. They didn't ask about your audience, competitors, or products. Instead, they chatted about their prices and pushed your team to sign with them.
Even worse, they tried to pitch some unethical or black-hat SEO practices, like the following:
Buying links from other websites
Creating a "doorway" page on your site to stuff with keywords
Using "shadow" domains to redirect multiple websites to your site
In comparison, another asked about your company and showed genuine interest in your business. They even highlighted their work in a similar industry and offered to connect you with that client so you could learn more about that client's experience.
Not to mention, when you shared the other SEO's suggestion about buying links and building "shadow" domains, they let you know that those practices won't help your business or rankings. Instead, they'll hurt them, as well as your reputation.
You want to look for these kinds of differences when meeting with SEOs.
4. Request an SEO audit
For a better perspective of the kind of service and strategy, as well as support an SEO can provide, request a technical and search audit. In most cases, your company will have to pay for this service. It can give immense insight into an SEO, however, which is why it's worth the investment.
Even search engines, like Google, recommend requesting an audit before signing with an SEO.
An SEO audit helps showcase the expertise and skill of an SEO. Based on your audit, they can provide actionable recommendations, as well as a preview of their strategy. Plus, they can estimate the amount of work required, which is useful if you're partnering with an SEO consultant.
If, however, your SEO comes back promising your company a first-page ranking, find another SEO. That kind of statement can often indicate a lack of experience or even the use of unethical practices. Experienced SEOs will let you know if it's possible, but they won't guarantee it.
5. Choose your SEO
With all your research, interviewing, and audits finished, your business can choose your SEO.
In most cases, your SEO will require a contract.
These contracts generally last six to 12 months. If you're partnering with a consultant, however, they will likely require an hourly commitment. It's normal for SEOs to have contracts because SEO can take a few months to show results.

Since SEO services include a contract, it's critical to choose the best agency or consultant for your business. You don't want to invest in professional SEO support and then discover that the SEO isn't going to deliver.
Invest time researching, interviewing, and comparing agencies.
It'll help you find the best one for your business, as well as a trusted partner. In SEO, that matters. It's a long-term digital marketing strategy, and building a lasting relationship with an experienced SEO can make all the difference in your strategy's success and return on investment (ROI).
Get on Google with trusted SEO support from WebFX
Companies from across more than 50 industries trust WebFX for SEO.
With our decades of experience, as well as advanced machine learning technology, we provide businesses like yours with competitive, custom SEO strategies that help your company thrive and compete in a tough marketplace.
Discover how we can help your business grow by contacting us online or calling 888-601-5359!
How Is Your Website's SEO?
Use our free tool to get your score calculated in under 60 seconds.