Our Best SEO Services and Why You Need the Best SEO Possible
When you are looking for something, whether it's a company or a product, the first thing you probably do is pull up Google and type in some keywords. Then you scroll through the many listings that pop up, looking for the best match for your needs.
Those listings are the key to generating new leads for your company. If you want to thrive in these digital times, you must find a way to rise to the top of those search page rankings. And that's what makes search engine optimization so important.
If you'd like to speak with an SEO specialist before reading on, you can reach us at 888-601-5359.
Whether you're a local that needs SEO services from a leading agency, or if you need SEO services in Tampa, WebFX is here for you.
Independent research from Clutch has named WebFX the
top SEO company

in the United States.

Clutch has personally interviewed more than 250 WebFX clients to discuss their experience partnering with us.

Read More Clutch Reviews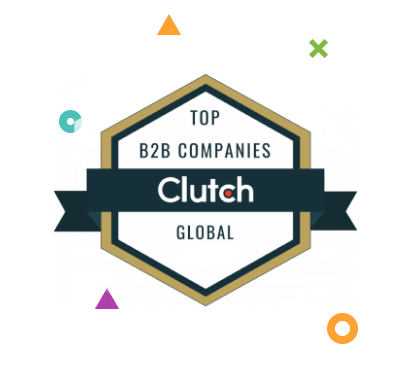 Why Use SEO?
Search engine optimization, or SEO, helps you gain favor with search engines and soar in the rankings. This gets your business more leads and stronger sales. Without SEO, your site may never rank well enough to attract the traffic and leads you need to grow your business.
SEO best practices can be complicated and confusing. Many businesses are unsure how to do SEO themselves, or they simply don't have the time to figure it out. They may also find that maintaining their rankings is difficult without the right resources.
That's where we come in. Voted the #1 SEO company in the nation, WebFX is a leading SEO company with some of the best services out there. We specialize in helping medium- to large-sized businesses become profitable online, and we do it through custom packages of different SEO components that your site needs to succeed.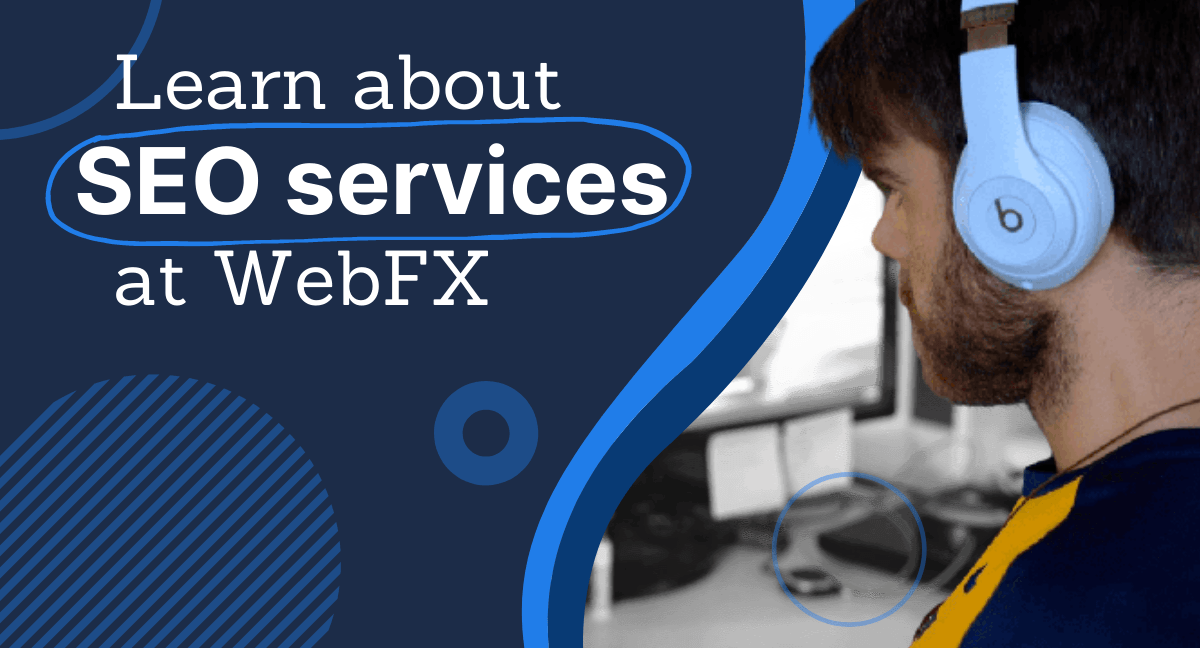 On this page, we'll outline our best SEO services for your business, and explain how they can help drive higher conversion rates, more traffic, and increased leads and sales through your website.
Let's start by looking at the initial optimization phase.
Initial keyword research and optimization
At the beginning of your SEO journey, we will need to perform research that helps us decide which keywords are best for you to target. This means we'll do some in-depth keyword research to find out what words and phrases are most relevant to your company, and then find ways to implement those keywords into your website content.
One of the best ways that a search engine can determine whether or not to include a website in any given search result is by looking at the keywords used. If the content is filled with relevant keywords, that site is more likely to rank highly. That's why we start with this step.
The keywords we choose will be approved by you. Then we will proceed to implement them in various locations on your website, including:
Within the copywriting on your homepage and other pages
In the titles of your pages
In the URLs (addresses) of any new pages that may be created
In the meta descriptions that describe the content of each page in search
In any other content that may be produced, such as blog posts
Content creation
Speaking of content, WebFX can help create the type of content search that engines favor when ranking sites. It's not just about whether or not you use the right keywords: it's about creating content that human beings click on, read, and share.
Fresh, frequently updated content is important to search engine optimization in Google. It wants to know that there is a live person behind your site and not just a spambot trolling for clicks. Adding new content is a great way to prove this, and to also give your visitors something of value.
It's also important that this content be entirely original. Nothing kills your SEO efforts more quickly than plagiarizing or stealing content from other sites. Google will punish your site for such dishonesty. WebFX utilizes a trusted copywriting team that will product original, SEO-friendly, and rank-worthy content on any topic you choose.
CHECK OUT OUR WEBSITE COPYWRITER SERVICES
Mobile-friendly website design
Responsive website design is an increasingly important part of any SEO plan. The aim of responsive design is to create a website that can be viewed properly across a wide range of devices, from PCs to tablets to smartphones. A responsive website will load quickly with a minimum of scrolling or resizing, and give visitors the same experience no matter what their device.
In 2015, Google implemented mobile-friendliness as a ranking factor. This means that it's no longer enough simply to have a site that looks "okay" on mobile devices. You need to have a responsive website that gives all of your visitors a good experience.
WebFX has built responsive websites for many of its clients. We also ensure that all new websites we build are responsive right out of the box, so they'll never require a redesign to meet Google's mobile-friendly standards moving forward.
CHECK OUT OUR RESPONSIVE WEB DESIGN SERVICES
Link building
Link building has evolved greatly since we began offering SEO services. At its most basic level, link building is getting other high-quality sites to link to your content. Google likes sites that are linked to in this way. It shows they are worthy of trust and that your site is authoritative enough to rank highly in search engines.
Link building can be accomplished in many ways, including:
Reaching out to other sites to request links to your content
Writing a guest blog for a site in return for a link to your site
Producing infographics that can be displayed and linked to on other sites
Link building can be very dangerous if it's not done correctly, though, which is why it's best to leave this practice up to the professionals. WebFX has a team of outreach specialists who have been building links for years, and know exactly what to do to acquire natural links that search engines will love.
User experience improvements
User experience has become an increasingly important part of SEO. People like things that are intuitive. If you give them an enjoyable, easy-to-use website, they will be happy with their experience and more likely to buy your product.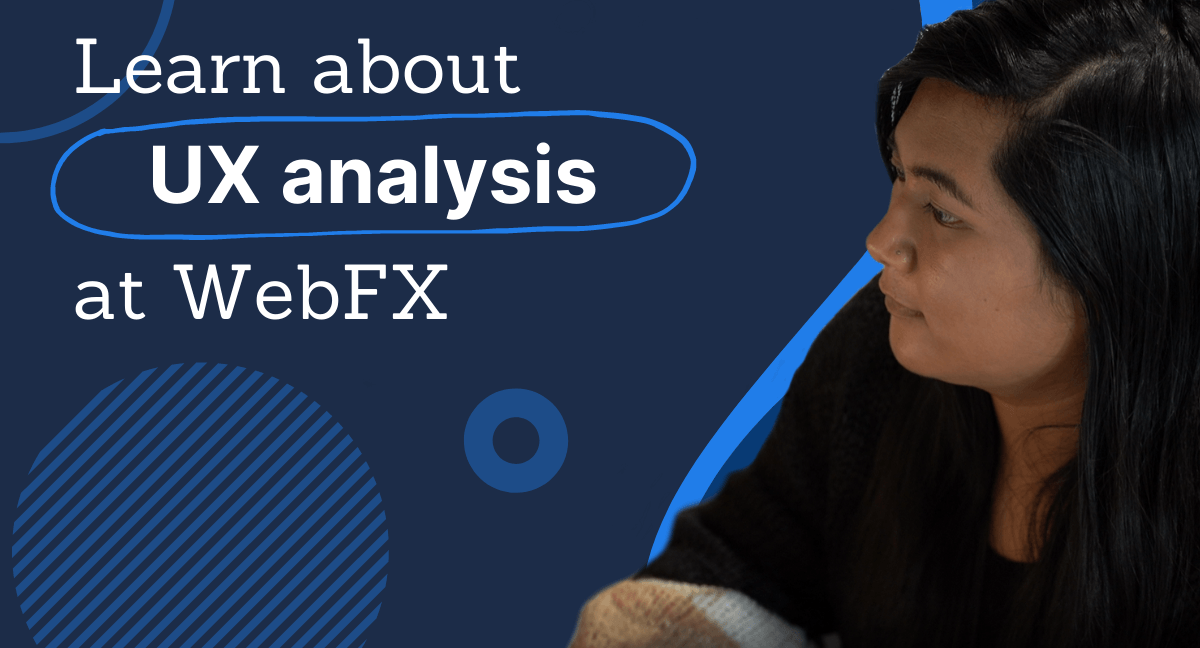 On the other hand, a poor user experience can lead to higher bounce rates—that is, the rate of people leaving your site after looking at just one page. High bounce rates can negatively impact your search rankings because Google doesn't want to rank websites that aren't making visitors happy!
WebFX can improve your user experience by:
Creating more relevant, finely targeted content
Redesigning your website to improve the navigation and layout
A/B testing elements like calls to action to find out what your unique audience best responds to
CHECK OUT OUR WEB DESIGN AND UX SERVICES
Local SEO
Local search has become an increasingly important part of SEO. When you are out and about, you use your smartphone to perform searches. For instance, when you get hungry while on a shopping trip, you might use your phone to search for the closest pizza joint.
Local SEO can help your restaurant show up at the top of this search. With proven local SEO, you can get not just increased website traffic, but also more foot traffic as people find your business while they are on the go. It also ensures that the traffic you receive is as targeted as possible—that is, consisting of people in your specific area who can actually buy your products or benefit from your services.
CHECK OUT OUR LOCAL SEO SERVICES
Analytics and reports
Finally, every SEO package from WebFX includes a dedicated Internet marketer who is designed to help you not only accomplish more online, but also review your progress. This review comes in the form of custom analytics and reports showing you how you are ranking, what improvements you have made, and what new business you have attracted through SEO.
We also offer Google Analytics consulting to help you understand your own progress.
CHECK OUT OUR GOOGLE ANALYTICS CONSULTING SERVICES
Independent research from Clutch has named WebFX the
top SEO company

in the United States.

Clutch has personally interviewed more than 250 WebFX clients to discuss their experience partnering with us.

Read More Clutch Reviews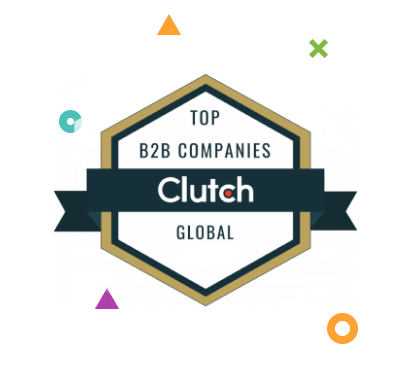 If you don't have the best SEO services, it can hurt your site
Having a website without SEO is like having a car without gas – it will never go anywhere. Using the search engine optimization best practices we've detailed here will bring in more customers as well as increase your sales. And you do not have to be the one to do it all.
By hiring WebFX, you can put all of our experience to work for your business. We offer the best SEO services in the nation, and we're ready and willing to go to work for you. Having SEO issues? We've got you covered, too.
To find out how your business can benefit from a partnership with the nation's top SEO agency, give us a call or contact us online today. We're looking forward to your call!