7 Tips for Optimizing Images for Visual Search
Google is the top search engine on the web.
With the continuing growth in popularity of this search engine, it is more crucial than ever to optimize your search strategy to ensure that your business reaches as many leads as possible. One aspect you'll want to focus on is visual search.
On this page, we'll discuss the basics of visual search and provide you with seven ways to optimize your images for visual search. If you need help optimizing your images for visual search, call us today at 888-601-5359 to speak with a strategist or keep reading to learn more.
What is visual search?
Have you ever seen something and wanted to look it up, but couldn't figure out how to describe it? You end up searching a long description of the place or object, only to drum up weak results.
Visual search allows you to take a photo and upload it to a search engine like Google or Bing. Then, the search engines will generate results that closely match your object.
These search engines analyze the components of the image to try and generate relevant results. The results either generate information (like places, landmarks, or monuments), or provides you with results where you can purchase the product. Visual search also enables you to take a picture and upload it later to find information.
Visual search is crucial to your audience. Considering that humans process visuals 60,000 times faster than text, it's essential that you optimize your images to help more people find your products. Not to mention, there are far more objects in the world than words people use in the English language.
Images play an important role in earning conversions for your business. People are visual learners, so they want to see images of your products first. Your images can be the determining factor as to whether or not a lead converts.
Top 3 visual search providers
Visual search is a crucial part to attracting leads and helping them convert. There are three main visual search providers to consider.
1. Google
Searching for images on Google is simple. When you go to Google's homepage, you click on the Images link in the top right corner. This will take you to the Google Images search.
Once you are there, you have the option to search for an image by inputting and URL or uploading an image. This will produce results that include a best guess at what the image is, as well as similar images to that image.
Google also offers a visual search program called Google Lens. It combines search, artificial intelligence (AI), augmented reality (AR), and computer vision. This technology uses artificial neural networks to analyze images and determine what is in the image.
Google Lens has come a long way since it was first developed. The product had a hard time properly recognizing buildings and focusing on one object. Now, Google Lens has adapted to provide a better visual search experience.
This program makes it easy for users to shop. Google offers Style Match, which shows you items like the one you search and tells you where to buy them. It also provides recommendations based on the item you seek.
Google Lens is built into all Google Pixel phones. It can also be accessed through Google Assistant, Google Photos, and Google Maps.
When you use Google Maps, Google Lens allows you to scan the street and pull up information about local businesses that you scan over. This is a great tool to use if you're walking around a city and looking for places to visit.
Google Lens can also understand and transcribe text. If you scan a business card, Google Lens can process the business name, phone number, email address and more. It generates a list of options that include:
Call phone number
Add phone number
Add email address
Send email to email address
This is just one of the many things Google Lens can do to help users conduct visual searches. It's a great tool to look up images and discover more about your surroundings.
2. Bing
Bing launched their visual search tool back in 2009, but the hype around visual search wasn't present. They disabled their tool in 2012. Now that market interest is prevalent, Bing revived their image feed in 2017.
Bing's image search tool is similar to Google. You go to the search bar, press the camera button, and upload an image to find similar images.
This visual search tool is available on Bing, in the Bing app, on Microsoft Launcher, and on Microsoft Edge. Bing's tool is similar to Google because it analyzes photos and identifies the object in the photo. It will also make suggestions for similar products.
The main difference between the two tools is that Bing allows you to draw a box around the image. You can focus in on a particular part of the photo to ensure that you only generate results for that part of the image. It helps generate more relevant results.
3. Pinterest
Pinterest is one of the most popular visual search providers among users. Considering this social media app is visually based, it's a great place to implement a visual search tool.
With Pinterest Lens, you use your smartphone to scan the physical world like other visual search tools. Pinterest searches through their billions of pins to try and match your search query. It will also suggest related pins that are relevant to your search.
Pinterest allows you to go deeper within your search results. If you want to look for a specific shirt or pair of pants, you can search for that item. Pinterest will generate a list of similar styles to the item you search, rather than giving you objects that have the same color.
This is a great visual search tools for retailers. Much of Pinterest's content focuses on fashion, décor, cooking, and fitness. As a retailer, it's beneficial to add your products to Pinterest to help people find them.
Time to Level Up Your Sales
Our long list of services helps you grow every aspect of your business with marketing strategies that are proven to increase bottom-line metrics like revenue and conversions.
In the past 5 years, we've managed more than 12.9 MILLION transactions across our client base.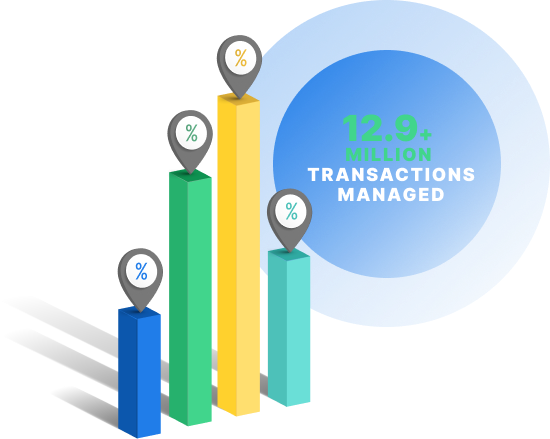 7 ways to optimize for visual search
Visual search helps leads find your products. There are seven ways you can help your business optimize for visual search to drive more leads.
1. Offer numerous images
When you optimize your business' site for visual search, offer numerous images for your products. You don't want to just rely on one image. It could cause leads to miss out on your product and choose a competitor's product instead.
Multiple images ensure that your leads find your products regardless of the angle they view your product. If they take a picture of the product from the back, they should be able to find a back-facing photo on your website.
By taking multiple photos of your products, you'll ensure that your audience finds your website first. This will help you earn more valuable leads for your business.
2. Choose high-resolution photos
If you want to attract leads through visual search, you need to invest in great photos. High-quality photos ensure that Google can process your photo to match it a person's search query.
Resist using blurry or low-resolution pictures on your site, as they aren't appealing to your audience and make your site seem unprofessional. Not to mention, your audience will have a hard time getting a closer look at your product.
High-resolution photos ensure that your audience sees your product clearly. It will keep your audience more engaged and interested in your product.
3. Do keyword research
Not only is keyword research important to search engine optimization (SEO), but it also impacts visual search. Keywords help you provide a better description of your product image. It helps your image appear in the right results.
Keyword research will help you find the right keywords for your campaign. There are numerous keyword research tools you can use to help you find the right keywords for your campaign.
When you select keywords, you generally want to focus on long-tail keywords. These are keywords that contain three or more words. Long-tail keywords are more specific and detailed, so they attract more qualified leads.
Let's say you sell sweaters and you have a lead that's looking for a maroon sweater. Which keyword do you think will generate better results: "Sweater" or "Maroon striped cotton sweater"?
The latter keyword will generate more accurate results. "Sweater" is generic and doesn't specify what the user wants to find. You have no way of knowing the type, color, style, or material of the sweater.
Keyword research will help you find those long-tail keywords for your photos. It will help you provide your audience with a helpful description of your product.
4. Optimize image titles and descriptions
Once you have your long-tail keywords selected, you'll want to integrate them into your image title and description.
Keywords in your description help signal the subject of the image. Your audience will be able to find your products faster, and it's helpful for people who are visually impaired. They can use screen readers to read your image's description and understand what's in your image.
When you create your title, make it descriptive. A generic file name like "img203.png" won't help Google or your audience. It is best to create a descriptive heading and detailed description to help your audience and Google understand your image better.
It's essential to use your keywords in your title and description to help your audience understand your image better. It will also help your images appear in the appropriate search results.
5. Add alternative text
When you upload your images to the web, include alternative text, or an alt tag, with your image. An alt tag is a great place to input information about your photo, and every image you upload should have one.
Like your descriptions, this is also important to include for members of your audience that may be visually impaired. They can use screen readers to read the alt tag and understand your image better. It's a great way to provide an accurate description of your image for your potential customers.
Alt text also helps search engines understand the context of your image. They will rank your photo appropriately because they will know the context of the image. It's a great way to help more valuable lead find your image.
6. Optimize image size and file types
If you want to see the best results with your visual search strategy, optimize image size and file types. When you use high-resolution images, they can bog down your site. High-resolution images tend to have larger file sizes, which means they need more time to load.
First, you'll want to size your image appropriately. Consider the different devices your audience uses when you size your images. They should look good on smartphones, tablets, and PCs.
Next, compress the file size. The right image compression programs will reduce your image file size without distorting the quality of the photo. This allows you to keep your high-resolution photo but avoid long load times.
By optimizing your photos, you'll reduce loading time, attract leads, and keep them on your page. This will help you earn more conversions from your visual search strategy.
7. Include captions
Many brands make the mistake of thinking their image is self-explanatory. They neglect to include captions because they are sure their audience will understand the context of their image. In reality, captions help audiences understand the image better.
Using captions will help you describe what's happening in your photo. You can go into detail about your product or the action in the photo. It helps add more context to your image, which helps your audience process the image easier.
By adding captions, you'll improve your image's ranking. More people will find your image first through visual search. It's a great way to help more leads find your products.
WebFX will help you optimize your images for visual search
As visual search technology develops, it's important that your business takes advantage of this innovation. Visual search can help more people find your products and earn your business conversions. At WebFX, we have more than 25 years of experience helping businesses optimize their search presence.
When you partner with us, you'll get a team of 500+ experts that are dedicated to your campaign. As a full-service digital marketing company, we offer numerous services to help you produce the best images for visual search. Our team of experts will help you create and optimize images that attract leads.
If you're looking for a company that drives results, look no further than WebFX. To date, we've driven over $3 billion in sales and over 7.8 million leads for our clients. We focus on driving successful results for our clients first.
Our clients love the work we do for them. We have over 1020 client testimonials that attest to the great work we do for them. Check them out to see what it's like to partner with a visual search expert like WebFX!
Start using visual search today
If you're ready to start optimizing for visual search to reach more valuable leads, contact us online or call us today at 888-601-5359 to speak with a strategist.
We look forward to helping your business reach new heights!
How Is Your Website's SEO?
Use our free tool to get your score calculated in under 60 seconds.