9 Amazon SEO Best Practices to Boost Your Rankings and Sales
Amazon is one of the most popular outlets for ecommerce companies looking to sell their products. But with so many companies selling on Amazon, it's vital that you optimize your product listings so more people can find and purchase your offerings. On this page, we'll provide you with nine Amazon SEO best practices to help you optimize your listings. Keep reading to learn more, and
contact us
online or call us today at
888-601-5359
to learn more about optimizing your SEO plan for Amazon.
How does Amazon SEO work?
To get the most out of your Amazon SEO campaign, it's important to understand how Amazon ranks products. This will help you optimize your search listings to perform better in the results.
First and foremost, Amazon cares about buyers. They focus on selling the right products to buyers to increase conversions. Since many people go to Amazon because they are ready to buy, Amazon wants to generate the most relevant search results to ensure they convert.
Amazon uses its A10 algorithm to rank products. This algorithm focuses on two things:
Performance: How well your product has sold previously
Relevance: How well your product matches the search query
Amazon tends to favor products that sell more often and have better reviews because they know Amazon users are more likely to purchase those products.
It's important to keep this information in the back of your mind when you follow Amazon best practices to optimize your product listings.
9 best practices for Amazon SEO
There are numerous steps you can take to help your Amazon listings perform better in search results. Here are nine Amazon SEO best practices to help you optimize your Amazon listings.
1. Conduct keyword research
Keyword research is an essential part of Amazon SEO.
Keywords help your Amazon listings appear in the right search results. It's crucial that you conduct keyword research specifically for Amazon search terms since people search differently on Amazon than traditional search engines like Google.
Some Amazon-specific keyword research tools include Keyword Tool and Sonar. You can also type your keywords into Amazon's search bar and see what comes up on autofill. These tools will help you find keywords that are most relevant to your product listings.
The most relevant keyword should be the main focus on your listing. You can also find other related keywords and use them as backend keywords (which we'll discuss later).
If you want to help your products rank better in the Amazon search results, you need to start by choosing the right keywords.
2. Optimize product titles
When you list products on Amazon, it's essential that you optimize the titles. Titles are one of the first things your audience sees so it's one of the most important Amazon SEO best practices to keep in mind. They will judge whether they want to click on your product by looking at the title.
Your title tells them about your product. It has a massive impact on your listing's performance, so it's important that you optimize it correctly to ensure that your page ranks properly in the search results.
Here is the general format you'll want to follow when you create your title:
[Brand] [Feature] [Material] [Key ingredient] [Product type] [Model number] [Size] [Package count] [Color] [Flavor]

This is the best formula for organizing your title. It helps you keep the most important things at the front to ensure your audience sees them. You always want to put your brand name first, as it builds immediate trust with your audience (especially if they are familiar with your brand).
When you create your title, make sure you integrate your keywords in there too. It will help your listing appear in the most relevant search results.
The title format is important because you need to prioritize the most valuable information. Not everyone will see the full title of your Amazon listing. People who view your Amazon listing on mobile won't see the whole title, so you want to ensure that your brand name is first.
The same goes for rail ads. These are sponsored Amazon posts that appear on the sides. The titles for these products are even shorter, so it's important to put the most valuable information first.
By putting the most important information first (like your brand), you ensure that every user will see it. This is the most effective way to drive interested leads no matter how they find your product listing.
3. Add high-quality images
Next to your title, the images you choose play a fundamental role in getting your audience interested in your products. People judge your products based on the photos. If you want to get them interested by using photos, it's best to use high-quality images when you follow best practices for Amazon SEO.
Amazon allows users to zoom in on products to get a closer look. This is very important to buyers because it's the closest thing to analyzing a product without it being placed in front of them. High-quality photos allow your audience to see your products properly.
It's important to upload images from different angles too. Your audience wants to see all aspects of your product. By providing them with high-quality photos from multiple angles, you'll earn more conversions for your business.
4. Optimize your listing information
As one of the Amazon best practices, you'll also want to optimize the information you include in your product listing. Your listing information helps you rank in the right search results, and it helps you nudge leads closer to conversion.
You'll want to include your most relevant keywords in your listing information to ensure that you appear in the right search results. Optimize your description for your top keywords so that you appear in multiple relevant keyword searches.

People often use different words to find the same product. For example, some people search for jeans, while others search for that same product through keywords like denim or pants. It's important to include these relevant keywords in your description so you appear in similar searches.
5. Use bullet points in product descriptions
Product descriptions allow you to provide your audience with valuable information about your products. Some companies use this area to add long paragraphs of information about their products. Quite frankly, your audience won't take the time to read large paragraphs of information.
To help give them the information they need, break the information down into bullet points. This will help you quickly provide them with the most valuable information. They can skim your description and learn more about your product.
It will make your information easier to digest for your audience. It's a great way to help them get more valuable information that can earn conversions for your business.
6. Compare prices
Pricing is a very influential factor for Amazon buyers. Users want to get the best product for the best deal. It's essential that you don't overprice your products for your desired keywords, as it will leave to unsatisfactory results.

If you sell a product for $50, but all the other products with that same keywords are $20, you won't earn as many conversions. People will opt for a $20 product with good reviews over your $50 product.
It's important to understand how your competitors price their products so that you can compete with them. If you want to keep your product listed at the higher amount, you need to show why your product is worth the extra money. It will help you gain more conversions if you can show your audience the value of your product over the competition.
7. Analyze competitors' listings
Speaking of competitors, another one of the Amazon SEO best practices is to analyze competitor's listings. Dozens of other companies sell products on Amazon. It's essential that you understand how your competitors list their products so you can optimize your listings.
First, look at the information in their listings. This will help you identify keywords that you could rank for but currently don't include in your listings. You can also see how they format their information to get their audience interested.
Look at how they attract people to their listing. These can be things like a low price, high reviews, or quality photos. Pick out similarities and differences between your listing and theirs.
Analyzing competitors' listings will help you optimize your listings to outrank them in search results.
8. Use backend keywords
We previously mentioned using backend keywords for your Amazon product listings, so what exactly are they? Backend keywords are keywords that aren't seen by your audience. You input them in the backend of your product listings to help you rank for those particular keywords.
For example, you will likely want to rank for dozens of variations of a keyword. However, you don't want to stuff them all into your product description, as Amazon may not know which keywords are most important to your campaign. Instead, you can use backend keywords to optimize your listing for other keywords.
Amazon gives you five lines with a 50-character limit to rank for other keywords. It's vital that you don't exceed this limit, as your keywords won't be indexed and registered. You'll want to choose your backend keywords wisely to help you rank for the most valuable terms.
Here are a few best practices to follow:
Don't repeat keywords when you're listing your backend keywords. Amazon only wants you to list keywords once. If they're already on your page, you don't need to list them in your backend keywords.
Avoid commas. Commas take up valuable character space. Amazon will recognize the individual keywords, so you don't need to add commas.
Include spelling variations and synonyms. Sometimes people spell keywords wrong or use a different word to find the same product. You can account for this by adding these keywords into the backend of your site.
Backend keywords provide the opportunity for your business to rank for additional keywords. It's a great way to reach more relevant leads that are searching for related keywords.
9. Earn reviews
Reviews play a crucial role in your product listings' performance on Amazon. It may be one of the most crucial Amazon SEO best practices. People rely heavily on reviews to sway them towards buying your product or going with a competitor's product.
When people are ready to purchase a product, they check the reviews to see how other experienced the product. They want to know that there's a good chance the product will work for them.
Amazon values customer reviews. It will rank products higher in search results that have more stars. After all, they put the buyer first and the buyer wants a product that they're going to love. A high-star value indicates that the product would fit their need.

When people purchase your products, encourage them to leave an honest review. Good and bad comments will help your business grow. Good comments will help your business's product listing rank higher, while bad reviews provide an opportunity to address problem areas.
Partner with a team of ecommerce masters!
WebFX campaigns have delivered more than 12,936,451 ecommerce transactions in the last 5 years
Read the Case Studies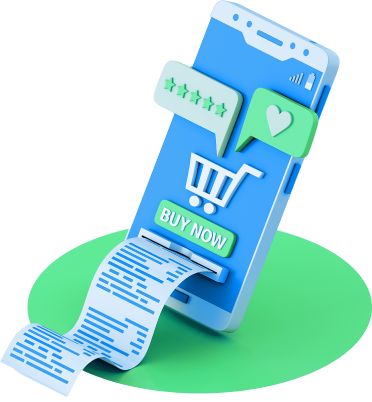 Optimize your product listings with WebFX
If you want to rank at the top of Amazon search results and sell more products, SEO for Amazon is essential.
At WebFX, we know how to optimize your Amazon SEO listings to drive better results. We have more than 25 years of experience creating digital marketing plans that work. Our team of 500+ experts will help you optimize your Amazon SEO listings to reach more valuable leads.
If you're looking for a company that drives results, look no further than WebFX. To date, we've driven over $3 billion in sales and over 7.8 million leads for our clients.
Want to know what it's like to partner with a top SEO company like WebFX? Check out our 1020+ client testimonials from clients in a variety of industries!
Get started today
If you're ready to start optimizing your Amazon product listings to earn more conversions for your business, contact us online or call us today at 888-601-5359 to speak with a strategist.
We look forward to helping your business grow!
Earn a 20% greater ROI with WebFX