6 Tips for Choosing Valuable Amazon Backend Keywords
When you sell products on Amazon, you need to optimize your listings so they appear at the top of relevant search results. Amazon uses keywords to help your listings appear in the right search results. As a result, backend keywords play a huge role in optimizing your Amazon listing to attract more people to your product.
What are backend keywords?
If you are familiar with search engine optimization (SEO), you have experience with conducting keyword research to find the right keywords for your website. Like Google, Amazon uses keywords to help products appear in relevant search results. Keywords are a crucial part of finding products on Amazon's site.
Amazon offers backend keywords to help businesses reach more relevant traffic. These are keywords that appear at the "back end" of your listing, meaning your audience will never see these keywords on your page, but your page will still rank for them.
Backend keywords are crucial to helping your business appear in more search results. It prevents you from stuffing dozens of keywords into your product description and features.
So, how do you find where you can input your backend keywords? Follow these simple steps:
Log into Seller Center
Go to the inventory lab
Look for "Offer" tab
Click on "Keywords" and open hidden keyword section
When you input backend keywords, it's important to note the limit. Amazon limits your backend keywords to 250 bytes, not 250 characters.
This is an important distinction because different characters are composed of varying bytes sizes. For A-Z and 0-9, it's one byte for each letter or number. A symbol like "ü" is two bytes, while a symbol like "€" is 3 bytes. So, if you market to international customers, you'll need to consider various symbols into your byte count.
If you input backend keywords and exceed the 250 byte limit, Amazon won't let you save it. It's important that your backend keywords remain 250 bytes or less.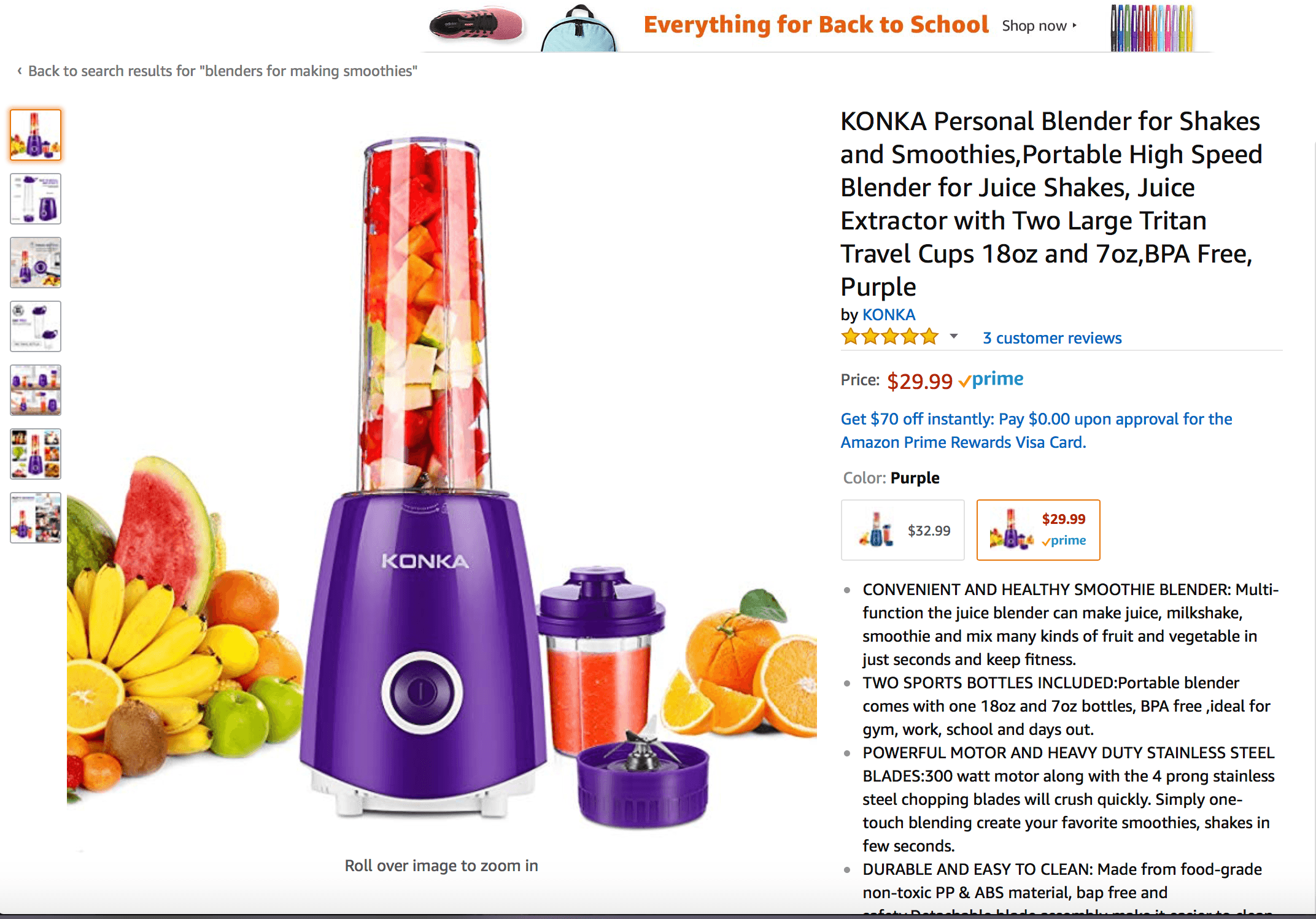 Why are backend keywords important?
As you learn more about backend keywords, you may wonder why they matter. What added value do they have for your Amazon product listing?
Backend keywords are valuable for helping your product rank for other important keywords. Instead of trying to cram them into the text in your listing, you can keep them on the backend of your site and still rank for them. It benefits your business because you keep your product copy clean and still rank for valuable keywords.
Backend keywords also help make your products more discoverable. You don't want to pigeonhole your products into a few keywords. By using backend keywords, you open the opportunity for your business to reach more valuable leads.
For example, let's say that you sell strings of lights. While some people may search for light strings, others will search for Christmas lights, patio lights, or light strands. If you only optimized for string of lights, you'd miss out on people who are searching using all the other terms listed.
Instead of missing out on these leads, you can incorporate these keywords into the backend of your site.
This makes it easier for you to reach people who use different search terms to find products. Not everyone will use the same keywords to find a certain product. Backend keywords help you create more opportunities for leads to find your product listing.
At WebFX, our team of 500+ experts have the knowledge and expertise to help you find the right backend keywords. Contact us online to see how we can help you find the right backend keywords!
6 tips for optimizing your Amazon backend keywords
If you choose the right backend keywords for your Amazon listing, you'll reach more valuable leads. Here are six tips to put you on the right track towards better keyword selection.
1. Focus on the most important keywords
Since you are limited to 250 bytes for your backend keywords, focus on the most important keywords. You want to earn conversions to boost your Amazon product ranking. Keyword research helps you choose the right keywords to reach leads interested in your business.
To find the right ones for your listing, use tools like Sonar to find Amazon-specific keywords. People search differently on Amazon than Google, so it's important to use keyword tools that focus on using Amazon search data. These tools can also help you see the search volume of a keyword.
This doesn't mean you have to nix your Google keyword tools completely. You can use your Google tools to find the value of your keywords. It can help you distinguish which ones are more valuable to your campaign.
By looking at the keyword value, you can determine which keywords are best for your campaign. It will help you focus on including the most valuable keywords into the backend of your site.
2. Use keywords sparingly
If you're accustomed to optimizing for Google SEO, your first instinct is to incorporate your keywords in multiple places. It's a habit that can carry over to your Amazon product listing.
Amazon does not require (nor recommend) that you use keywords more than once. As long as you use them once on your page, you'll rank. You don't need to get clever with integration and try to place it all over your page.
When you integrate keywords into the backend of your listing, you'll want to follow the same practice. Don't use ones that are on the front end of your page. You're already going to rank for those keywords.
In addition, don't use the same keyword twice on the backend. Once is enough to rank for it. This helps you avoid wasting space that could be used for more valuable keywords.
3. Nix punctuation
Whenever you make a list, it's habit to include commas between each item. With Amazon backend keywords, you don't need to add punctuation to your keywords.
This includes commas, periods, exclamation points, question marks, and any other punctuation. You only need to include a space to separate each keyword you input. Commas don't add any value to your backend keywords.
4. Monitor keyword performance
Many business owners make the mistake of choosing backend keywords for their listing and never revisiting them again. This is a problem because you won't reach your listing's full potential if you never revise your backend keywords.
It's best that you monitor your backend keywords to see if they are driving valuable traffic to your Amazon listing. You only have a limited number of backend keywords you can use, so having the best keywords will drive results.
To ensure your keywords are working for your listing, monitor their performance. You can check your keyword index and rank performance to see if the keywords are still effective.
This also applies if you discover new keywords you think would fit your listing better. However, it's best to avoid changing your main page keywords as much as you can, especially if your page ranks well in the results. You'll have to work to earn your rank again.
Instead, you can add new keywords to the backend keyword list. This ensures that you still rank for these keywords you think are better for your listing.
When you modify your backend keywords, don't do it too often. It takes time for your keywords to index and properly get your page to rank. Check your performance periodically to see how you're performing for that keyword and only make changes if things don't improve.
5. Don't worry about plurals
When you input backend keywords, you may think you should include the plurals of your keywords for people who search for multiples of your product. You don't need to worry about plurals. Amazon accounts for this when people are searching for products.
Amazon knows that people will search for singular and plural versions of your product. If you're trying to rank for "yellow crew neck sweater," they will rank your listing the same for "yellow crew neck sweaters." You don't need to waste valuable space on plurals for your backend keywords.
6. Listen to Amazon
If you want to optimize your backend keywords to perform best, listen to Amazon. Amazon provides guides, rules, and tips for how to choose backend keywords. If you follow their rules, you'll be on your way to better listing performance.
Amazon has a few requirements when it comes to backend keywords. Here are a few examples:
Use relevant keywords
Never use keywords that aren't relevant to your product. Some businesses will try to use popular keywords to get their product in front of more people. Amazon frowns upon this because your product listing isn't relevant to the keyword.
Amazon wants to generate the best product results in order to encourage conversions. It doesn't want you to use irrelevant keywords because your product won't be relevant in the search results. It will mean less conversions for them and your business.
To avoid this, only use keywords that pertain to your product. You can stretch them, like using "fitness equipment" as a keyword for a blender product, but they need to relate to your product somehow.
Put keywords in logical order
When you list each of your backend keywords, ensure that they are in logical order. Think about how people search for items. What order do they place those keywords?
For example, you don't want to put "fire red engine" but rather "red fire engine." Most users will put the color first and then the product. You want to order your keywords to match how a user would search with that keyword.
Avoid brand identifiers
Your brand should never be in your backend keywords. Amazon does not allow it.
If you're selling Adidas sneakers, don't put Adidas in the backend, as it's a brand identifier. Focus on non-branded keywords that will generate better results.
Our digital marketing campaigns impact the metrics that improve your bottom line.
See More Results

WebFX has driven the following results for clients:

$3 billion
In client revenue

7.8 million
Leads for our clients

5.2 million
Client phone calls
WebFX will help you find the right backend keywords for your Amazon listing
Backend keywords offer a great opportunity for your business to appear in more relevant search results. By choosing the right keywords for your listing, you'll help your business reach more interested leads. At WebFX, we know how to optimize Amazon product listings for hidden keywords.
We're a full-service digital marketing company that specializes in SEO for Amazon. We have a team of 500+ experts that will bring their knowledge and expertise to your campaign. With more than 25 years of experience, we know how to optimize your Amazon product listing for important backend keywords.
If you're looking for a company that drives results, look no further than WebFX. To date, we've driven over $3 billion in sales and over 7.8 million leads for our clients. You can trust that we'll put your business first to drive the best results.
Don't believe us? Just ask our clients! We have over 1000+ client testimonials that attest to the great work we do for them!
Get started today
If you're ready to integrate backend keywords into your Amazon product listing, contact us online or call us today at 888-601-5359 to speak with a strategist.
We look forward to helping your business grow!