Did you know? Only 30% of Amazon shoppers view the second page of search results. That's reason enough to invest in search engine optimization (SEO), but Amazon SEO can become time-consuming if you don't have the right toolkit.
With Amazon SEO tools, your business can streamline its SEO processes, which means less time researching keywords and more time processing orders.
Start building the perfect toolkit for your company with this post, which covers:
P.S. If you're looking for professional help with Amazon SEO, WebFX can help. Our SEO services for Amazon have helped our clients manage more than 12.9 million transactions and earn more than $3 billion in revenue over the past five years. Learn more about our results-driven plans and real-time analytics by contacting us online now!
What is Amazon SEO?
Amazon SEO is the process of optimizing your product listings for A9 — the search engine algorithm for Amazon.com — and Amazon shoppers.
Keyword research is one of the most basic (and essential) strategies for Amazon SEO, and it's often the biggest motivator for using an Amazon SEO tool.
If you're looking to learn more about Amazon SEO, check out these resources:
Why invest in an Amazon SEO tool?
You'll benefit from investing in an Amazon SEO tool for a few reasons:
Research keywords faster
Keyword research is a core part of Amazon SEO, which is why most Amazon SEO tools label themselves Amazon keyword research tools. You can use these tools to support your SEO strategy by simplifying the process of finding, researching, and vetting keywords. A tool like keywordtool.io, for instance, will share a keyword's monthly search volume, average cost-per-click (CPC), and competitiveness.

This free Amazon keyword tool offers a much faster experience than the manual keyword research process.
You get valuable keyword data, like monthly search volume, in an instant, which lets you make data-driven decisions about your SEO strategy.
Track keyword performance
With paid Amazon SEO tools, your business can also monitor its keyword rankings. Sellics, for instance, allows your company to track its keyword rankings over time. You can use this feature in various ways, from measuring your SEO performance to assessing your Amazon A/B tests' impact on organic rankings.

Again, you get a convenient solution to an otherwise time-consuming task. Monitoring your keyword rankings manually over time is an intensive task, especially if you have a large product catalog, and manual keyword monitoring doesn't guarantee accurate results.
Reveal competitors' SEO strategies
Your business can also use Amazon SEO tools to uncover a competitor's SEO strategy. For example, your brand could use a tool like Helium 10 to see which keywords a competitor's product ranks for and where that product appears in search results, like on the first page or second page.
You can also see the value of those keywords by revealing their monthly search volume.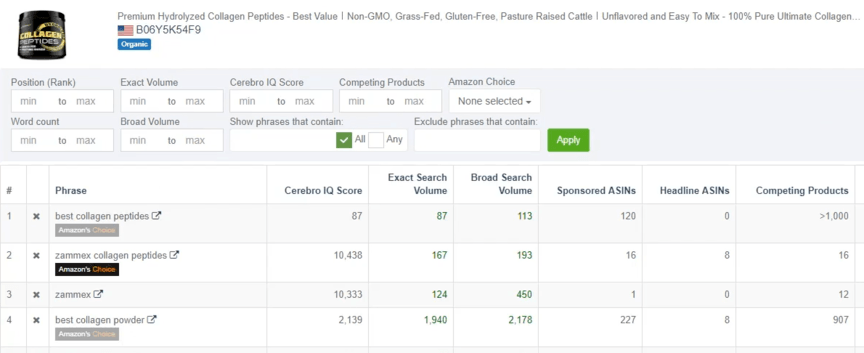 With instant access to your competitor's SEO strategy, you can compile a list of keywords fast. In this scenario, the competition has done keyword research for you.
All you need to do is incorporate these keywords into your product listings.
5+ ways you can use Amazon SEO tools
Based on the benefits of Amazon SEO tools, you can likely guess their uses, which include:
Find keywords to target
Reverse-engineer competitor SEO strategies
Uncover Amazon search trends
Analyze existing keywords
Monitor keyword rankings over time
Discover new product opportunities
And more
Now, are you ready to start building your Amazon SEO toolkit? Then, keep reading to learn how!
5 best Amazon SEO tools
As the largest ecommerce marketplace, there are plenty of tools for Amazon SEO. Which ones are the best, though, and worth your marketing budget?
The following list makes answering that question easy because it shares the five best Amazon SEO tools.
1. KeywordsFX
Price: Free Need a free Amazon keyword tool? Check out KeywordsFX. With KeywordsFX, your business can research keywords for Amazon, as well as Google.
Besides keywords for your product listings, for example, you can discover questions or concerns to address in your product description. Take the following example: Protein powder.

In the "Questions" column, you'll see potential points to address within your product description.
For instance, why is your protein powder good for the user? Or, how long does your protein powder last in storage? Your answers to these questions can make shoppers more confident about purchasing your product over a competitor's.
Try KeywordsFX
2. Keywordtool.io
Price: $89 – $199 / mo. Open to spending some money on an Amazon keyword research tool? Try keywordtool.io.
With keywordtool.io, your business can access the following keyword data:
Search volume
Cost-per-click
Competitiveness
Search volume trends
Your paid plan will also allow you to filter search results with negative keywords. If your protein powder isn't plant-based, for example, it makes sense to add "plant-based" as a negative keyword. This setting will tell keywordtool.io to exclude any keywords that contain "plant-based" from your results.
Like KeywordsFX, you can access keywords that highlight different search intents.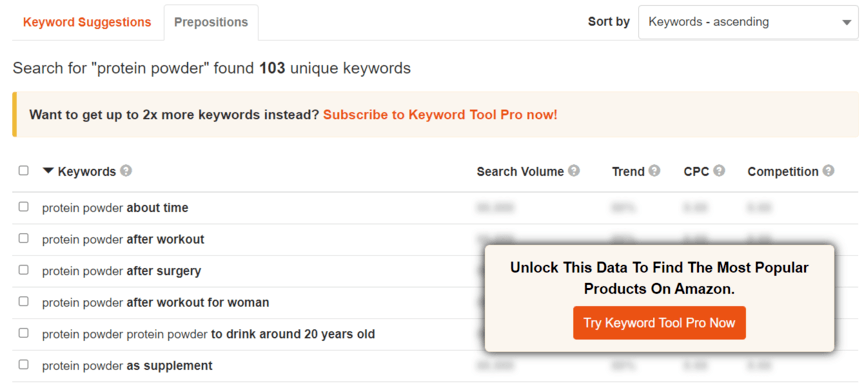 In this example, you have the keyword "protein powder after surgery." This keyword highlights a search intent that your product listing's description could target to appear more relevant to shoppers — if that intent is relevant to your product.
3. Sellics
Price: $198 – $599 / mo. While one of the most expensive Amazon SEO tools, Sellics is one of the best. With Sellics, your company receives a platform for optimizing your presence (and growing your revenue) on Amazon.
For example, you can use Sellics to research keywords, optimize ad spend, manage reviews, and more. If you're just looking for an Amazon keyword research tool, Sellics offers Sonar.

Sonar is the company's free Amazon keyword tool.
With Sonar, you can research keywords by Amazon marketplace, like the U.S., Germany, France, and more. A five-point scale will grade a keyword's search volume — for exact numbers, you'll need to sign up for Sellics. As a bonus, you can also use Sonar to research a competing product's rankings via the product's ASIN.
4. Jungle Scout
Price: $49 – $129 / mo. Via Jungle Scout, your business receives an Amazon SEO toolkit. You can use Jungle Scout to:
Research keywords
Track keyword performance and rankings over time
Build SEO-friendly product listings
Manage promotions
And more

Like many Amazon SEO tools, you can use Jungle Scout to power your pay-per-click (PPC) campaigns. For example, you can research keywords in Jungle Scout and learn the average CPC, which can help you uncover high-value, low-cost keywords to target in your next ad campaign.
5. Amazon
Amazon may seem like the least effective tool for Amazon SEO, but it's invaluable. Some Amazon keyword research tools, like keywordtool.io, even integrate with Amazon — meaning you can view search volume and CPC data as you search on Amazon. Besides this feature, though, Amazon offers valuable data about a keyword's search intent.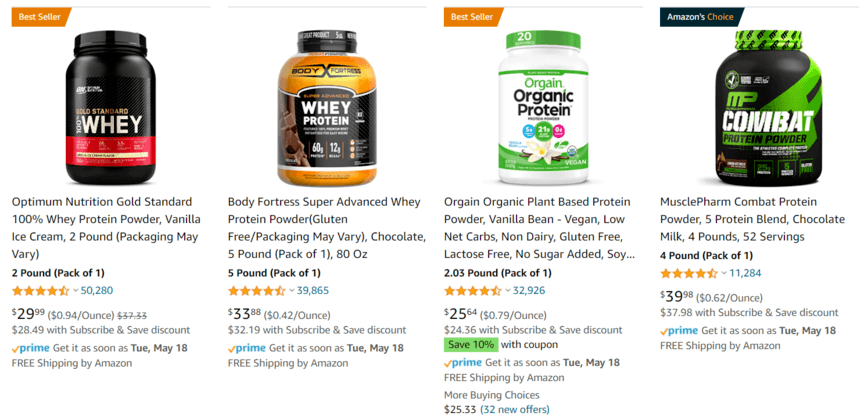 You can target any high-volume keyword you want, but if your product doesn't match a shopper's search intent, it won't sell or rank well. That's why it's critical to actually search for your keywords on Amazon. Look at the different product listing titles, images, and descriptions, for instance, to determine what these products do that make them bestsellers.
Then, incorporate your takeaways into your product listing optimization.
Get the ultimate Amazon SEO tool and start driving more sales
Having a wrench doesn't make you a plumber, and having an Amazon SEO tool doesn't make you an SEO. Tools are only as effective as the users behind them, which is why many Amazon sellers partner with an SEO agency for Amazon, like WebFX. With our agency, you get the ultimate tool for Amazon SEO — a dedicated account manager with the tools, resources, and know-how to optimize your listings for sales.
Help your business achieve higher rankings and better sales by contacting us online (or calling us at 888-601-5359) to learn more about our SEO services for Amazon, which include keyword research, product listing optimization, competitor analyses, and more!
WebFX Careers
Join our mission to provide industry-leading digital marketing services to businesses around the globe - all while building your personal knowledge and growing as an individual.