Amazon Seller University: Learn How to Sell on Amazon
Amazon is the world's biggest ecommerce platform and one of the best online marketplaces for businesses. Selling on Amazon can bring you many opportunities, like reaching a broader audience and increasing your revenue. Want to learn more about Amazon marketing? Keep reading and check out the resources below!

Learn
Home 9 Amazon SEO Best Practices to Boost Your Rankings and Sales Amazon is one of the most popular outlets for ecommerce companies looking to sell their products. But with so many companies selling on Amazon, it's vital that you […]

Learn
Home 4 Ways to Improve Your Amazon Order Defect Rate On Amazon, 53 percent of paid units were sold by third-party sellers in 2018. This means that third-party sellers dominate Amazon's platform when it comes to purchases. As a third-party […]
Learn about Amazon marketing with our free resources
We have a range of free resources on our site to help you learn about Amazon marketing. Here are some of our top articles on the basics of Amazon marketing, from how to create your Amazon storefront to how to evaluate the performance of your Amazon ads.
Amazon is competitive, so to be successful you need the right strategies, tools, and marketing services. Want to learn how to sell on Amazon? Check out some articles above, or keep reading to learn more about the basics, along with our answers to frequently asked questions.
The first step to increasing your SMB's Amazon sales is getting a FREE proposal.
One of our experts will be in touch within 24 hours!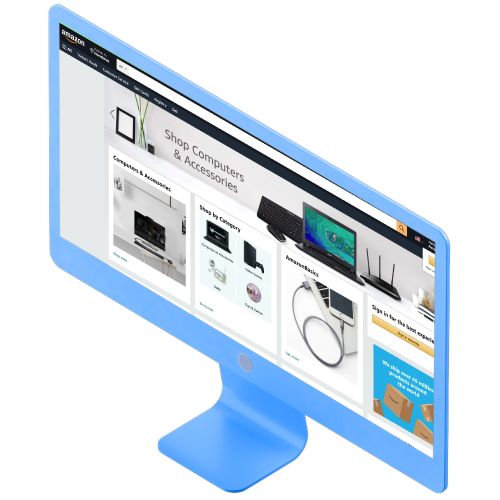 Why sell on Amazon?
Amazon is responsible for more than 40% of online sales, from products to services. It is the world's biggest ecommerce platform, meaning it can help you increase your sales, brand awareness, and market dominance.
Here are some pros of using Amazon:
Increase sales by reaching new customers.
Reach new leads by reaching people missed through other marketing efforts.
Improve checkout rates since people trust Amazon.
Who can sell on Amazon?
If you are wondering how to sell stuff on Amazon, then another question that has likely come up is "Who can sell on Amazon?"
Selling on Amazon is open to both individual sellers and professional sellers. You must adhere to Amazon's requirements and restrictions when listing products and creating pages. If you are unable to do this, Amazon may close your account.
How to sell something on Amazon
If you want to try selling on Amazon, follow these steps:
Create your Amazon account
Choose your selling plan
Add your payment and shipping information
Upload your products
Optimize your product listings
Advertise your products
Start selling
Depending on your selling plan, you can also create an Amazon Store, which can help establish your business as a brand. You can take advantage of services offered by Amazon too, like Fulfillment by Amazon (FBA) to streamline order management and fulfillment.
How to market products on Amazon
Here are a few strategies for marketing your products on Amazon:
Email marketing
Launching an Amazon email marketing campaign can help you reach target shoppers, build awareness, and encourage shoppers to purchase your products. Consumers spend 10 to 60 minutes a week looking at email and have a high interest in promotional emails.
A promotional email can include:
Sale highlights
New product launches
Exclusive coupons
You can use Amazon email marketing for more than just promotions. It can also support your content marketing strategy and Amazon sales funnel, while updating shoppers about your business.
Utilize the Q&A section
Adopting an active role in the questions and answers section can help secure sales while also marketing your product to other shoppers. Your responses will demonstrate to consumers that your company is active and involved with the community.
Try these tips when utilizing the Q&A section:
Adopt a brand voice
Check-in on a routine schedule
Make answers skimmable
Highlight unique selling points
Correct inaccurate answers
Schedule limited-time promotions
Limited-time promotions are a great way to earn exposure for your products. These promotions do not have to include discounted product prices. They could consist of freebies that encourage shoppers to buy and share your product within their social circles.
Here are some tips to help your products and promotions stand out:
Make a compelling offer
Leverage multiple marketing channels
Launch ads on Amazon
Motivate shoppers with a deadline
Create simple promotion codes
Take advantage of seasonal shopping
FAQs
Got more questions about selling on Amazon? Check out this FAQ:
How much does selling on Amazon cost?
Amazon seller fees differ based on ten factors, including the seller's account type.
Individual sellers pay $0.99 for every item sold, while Professional sellers pay $39.99 per month. Both account types pay a variable closing fee of $1.80 for every media item sold, plus a referral fee percentage, ranging from 6% to 96%, for every item sold.
When does Amazon pay sellers?
To be paid by Amazon, you must provide a valid bank account as the Deposit Method in the seller account settings. They are unable to make payments to credit cards or online payment systems such as PayPal.
Once that is set up, and you have a positive balance, Amazon will send the money to your bank account using an Automated Clearing House or electronic funds transfer. It can take up to five business days for the payment to appear in your account after Amazon initiates it.
What products can I sell on Amazon?
What you can sell on Amazon depends on the product, category, and brand. While some categories are open to all sellers, some require Professional seller accounts, approval to sell, or include products that third-party sellers cannot sell.
Refer to this guide for additional information, including product specifics.
Meet WebFX:
Your world-class, tech-enabled marketing agency with over 1.6 million hours of combined expertise.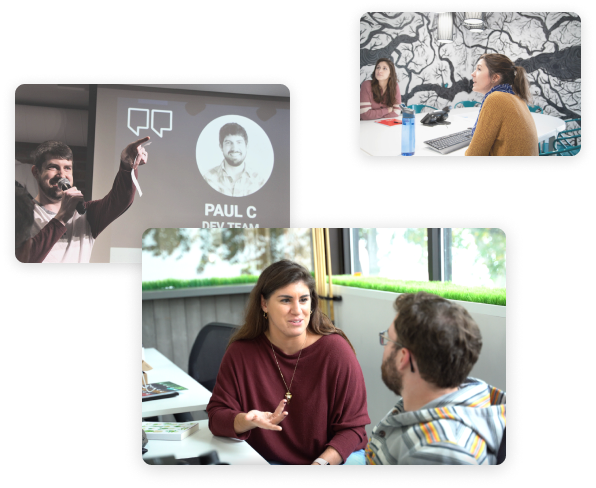 Sell on Amazon successfully with WebFX
Want to earn more sales with a seller agency for Amazon? If you're looking to ease your responsibilities and create more time for yourself — without losing your competitive edge — a seller agency for Amazon like WebFX can help.
Learn more about our marketing services for Amazon or contact us online today!