The path Google has taken to encrypting all searches and destroying keyword data as we know it has been a long and winding one. It started a long time ago with Edward Snowden and involves the US government, AdWords, iPhones and a bunch of other factors.
When Google first announced encrypted search for signed-in Google users in October of 2011, Matt Cutts said the impact would only be a single digit percentage of Google searches. Less than three years later, the impact has reached 100% of Google search queries.
Here's a look at the myriad of events that have happened to bring us to this point.
June 21, 1983: Edward Joseph Snowden was born in Elizabeth City, North Carolina.
1995: Larry Page & Sergey Brin meet at Stanford.
September 4, 1998: Google is officially founded in Menlo Park, CA.
November 14, 2005: Google announces Analytics, a web analytics software that Google says will "help improve the overall web – one site at a time."
2006: Edward Snowden begins employment with the NSA as a security guard for the Center for Advanced Study of Language. Later that year, he started working on IT security for the CIA.
2007: Edward Snowden's job with the CIA takes him to Geneva where he works as a computer network security technician.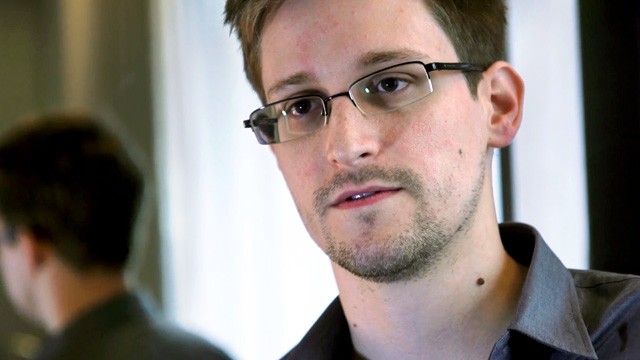 2009: Edward Snowden leaves the CIA and begins working for a private contractor inside an NSA facility in Japan.
November 28, 2010: WikiLeaks publishes the first batch of over 250,000 US diplomatic cables.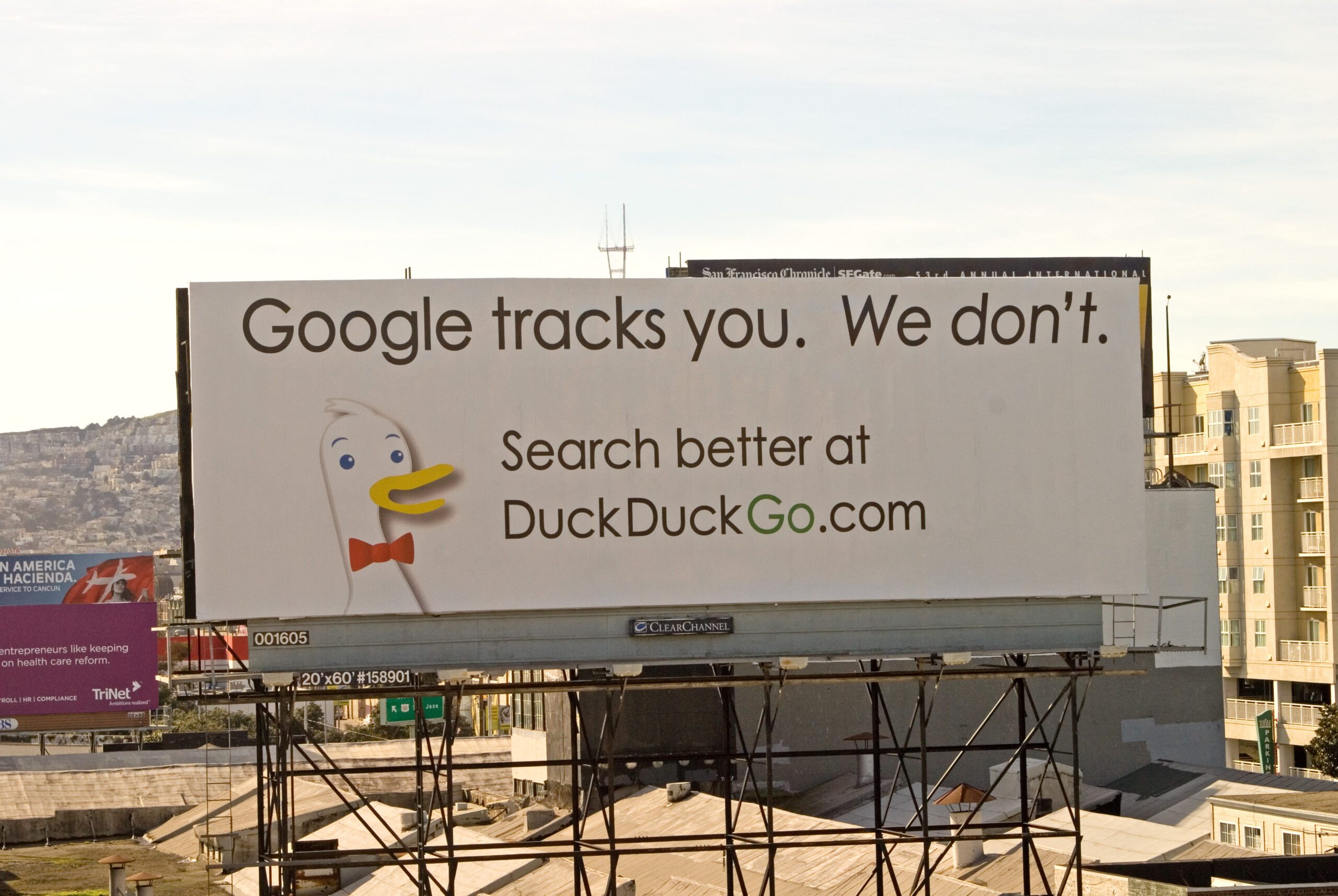 January 2011: Search engine Duck Duck Go creates a billboard challenging Google on privacy issues.
October 18, 2011: Google begins encrypting search queries made by users who are logged-in to their Google Accounts. Matt Cutts tells SEL that the impact will be in the single-digit percentages of all Google searchers.
Encrypted queries show up as (not provided) in Google Analytics.
April 2012: Edward Snowden downloads sensitive NSA material.
Wow, hadn't looked at this in a while but (not provided) is now at 51.3% for @SEOmoz…. — Casey Henry (@caseyhen) April 26, 2012
April 26, 2012: SEOmoz reports (not provided) impacts 51.3% of search queries coming into their site.
July 17, 2012: Firefox 14 launches and uses SSL search by default, adding to the (not provided) keywords. – "We automatically make your Google searches secure in Firefox to protect your data from potentially prying eyes, like network administrators when you use public or shared WiFi networks."
September 27, 2012: Apple's Safari browser in iOS 6 no longer passes referral data, adding to the number of (not provided) searches – "The web browser on iOS 6 switched to use SSL by default and our web servers don't yet take that fact into account.
Searching still works fine, but in some situations the HTTP referer header isn't passed on to the destination page. We're investigating different options to address this issue."
Late 2012: Edward Snowden contacts Glenn Greenwald of The Guardian.
February 13, 2013: Our study of (not provided) reveals that around 35% of searches were no longer passing keyword data from Google.
June 6, 2013: The Guardian first publishes articles revealing a complex NSA program called PRISM designed to monitor and track Internet and telephone conversations from over a billion people. The article states that the NSA program includes "Collection directly from the servers of these U.S.
Service Providers: Microsoft, Yahoo, Google, Facebook, PalTalk, AOL, Skype, YouTube, Apple."
June 8, 2013: In an open letter from CEO Larry Page, Google denies that the NSA has a direct back door into Google's servers.
June 9, 2013: Edward Snowden is first identified as the NSA leaker by The Guardian. He says his "sole motive is to inform the public as to which is done in their name and that which is done against them."
June 11, 2013: Wired magazine details how Google transmits information to the NSA – via secure FTP. "When required to comply with these requests, we deliver that information to the US government — generally through secure FTP transfers and in person," Google spokesman Chris Gaither told Wired.
"The US government does not have the ability to pull that data directly from our servers or network." June 18, 2013: Google publicizes a motion to the US Foreign Intelligence Survelliance Court to publish statistics regarding information requests from the NSA & FISA.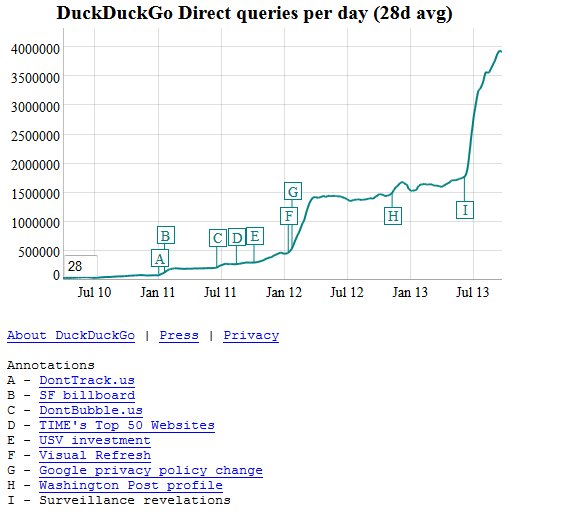 June 19, 2013: Private search engine Duck Duck Go's search queries per day go from 1.7 million to over 3 million following the NSA leaks.
June 25, 2013: Edward Snowden takes asylum in Russia. President Vladimir Putin says Snowden will not be extradited to the United States.
August 22, 2013: The Guardian reports that the NSA paid millions of dollars to companies involved in PRISM, including Google, Yahoo, Micosoft and Facebook.
August 22, 2013: Google quietly announces that paying AdWords customers will have access to more data than ever on search query performance
September 6, 2013: Google further encrypts information flowing through its data centers in a public attempt to combat NSA data intelligence.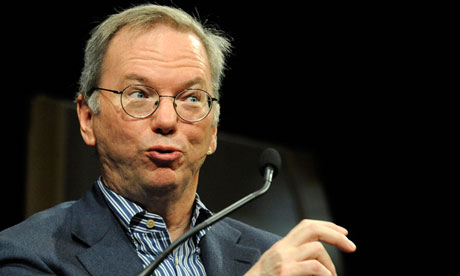 September 13, 2013: Google's executive chairman Eric Schmidt comments on PRISM at an event in New York: "There's been spying for years, there's been surveillance for years, and so forth, I'm not going to pass judgement on that, it's the nature of our society"
September 24, 2013: It's revealed that Google has began encrypting all search activity except for clicks on ads through SSL. "We added SSL encryption for our signed-in search users in 2011, as well as searches from the Chrome omnibox earlier this year.
We're now working to bring this extra protection to more users who are not signed in."
Keyword data will no longer be passed through any searches, bringing (not provided) to 100%.
WebFX Careers
Join our mission to provide industry-leading digital marketing services to businesses around the globe - all while building your personal knowledge and growing as an individual.