Running a business often involves making and receiving phone calls — a lot of them. Potential customers might call you for quotes, questions, and more as they work toward making a purchase. And as it happens, those calls are packed with useful marketing information.
Recording your phone calls is an excellent way to obtain information about your target audience. It can also function as a helpful record-keeping system for when you need to go back and check what was said or done over a particular call.
But what should you use to record your calls? You don't want to try recording them all as voice memos on your phone, and luckily, you don't have to. There are numerous call recording apps available online, and we'll cover several of the best ones below.
Read on to learn about some of the best call recording software options out there. Then partner with WebFX — the agency with over 25 years of experience — for our professional call recording services. Just call 888-601-5359 or contact us online to get started!
Measuring the metrics that affect your bottom line.
Are you interested in custom reporting that is specific to your unique business needs? Powered by MarketingCloudFX, WebFX creates custom reports based on the metrics that matter most to your company.
Leads

Transactions

Calls

Revenue
Learn More

7 call recording apps and software for your business
All call recording systems offer different features, which makes it challenging to know which call recorder is best for your business. To help you, here are seven of the best call recorders out there!
1. LiveAgent
Price: $39 per agent per month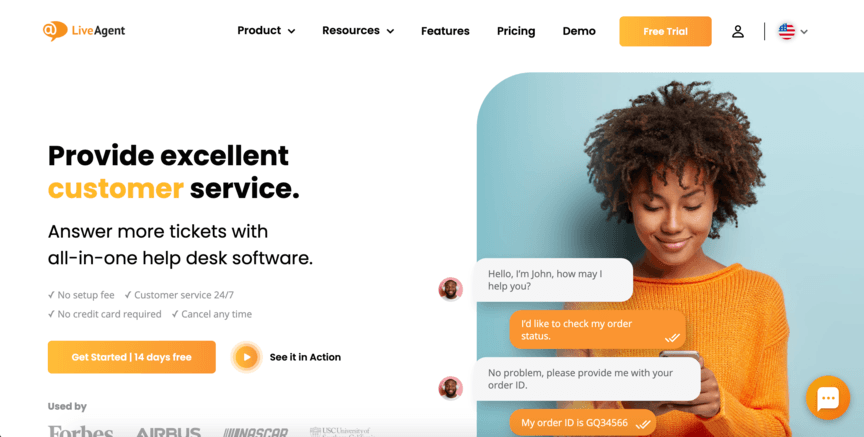 LiveAgent is the first entry on our list because it's one of the most comprehensive options. If you're looking for a full customer service communication software, this call recording software fits the bill. LiveAgent offers unlimited call recordings, and that's just the start.
The software is much more than just a phone recorder. It also includes:
LiveAgent is a large-scale call recording software, so you don't want to use it if you only want to record phone calls. This call recorder software works best for companies looking for help with customer service.
2. Cube Call Recorder
Price: Free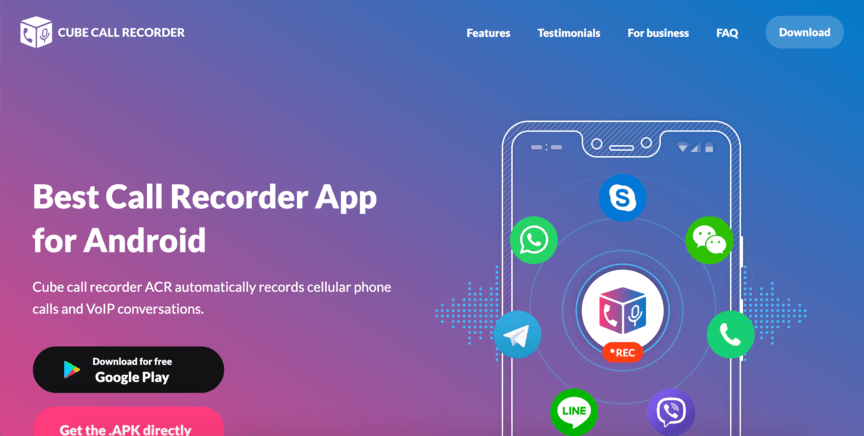 If you plan on making your calls from a smartphone, it can be handy to use an app that's optimized for your phone. And for Android phones, that app is Cube Call Recorder.
Cube is undoubtedly the best option out there for Android devices, as it's optimized for Android specifically. It's capable of recording not only regular phone calls, but also video calls made from your phone on apps like Skype and Slack.
Cube also offers cloud backups for all your recordings, though you can remove old recordings to help free up space. You can even mark important parts of a conversation simply by shaking your phone so you can easily come back to it later!
3. Rev Call Recorder
Price: Free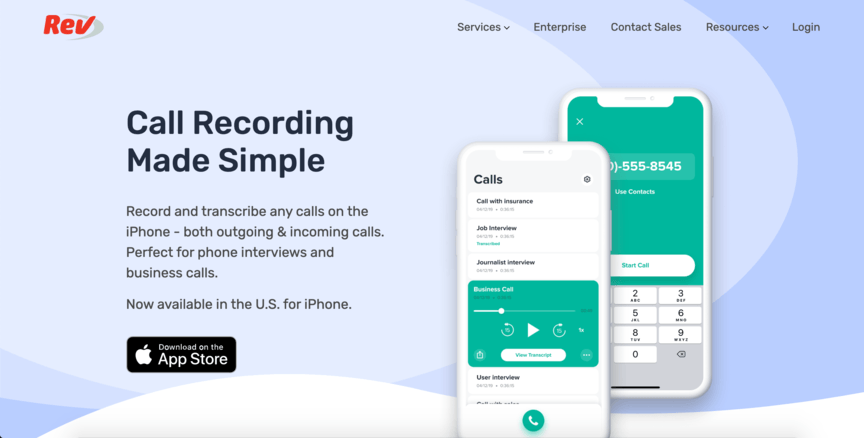 Cube may be the best phone recorder for Android, but what if you have an iPhone? Don't worry — there's an app for that too, and it's called Rev Call Recorder.
Rev is best known for its speech-to-text services, but it also offers an iPhone app for call recording. You can set it to automatically record calls you make or receive, with an unlimited number of recordings available to you.
Also, as you might expect given what Rev is best-known for, you can even convert your call recordings to written transcripts if you prefer to read them rather than listen to them.
4. Talkdesk
Price: $65 per agent per month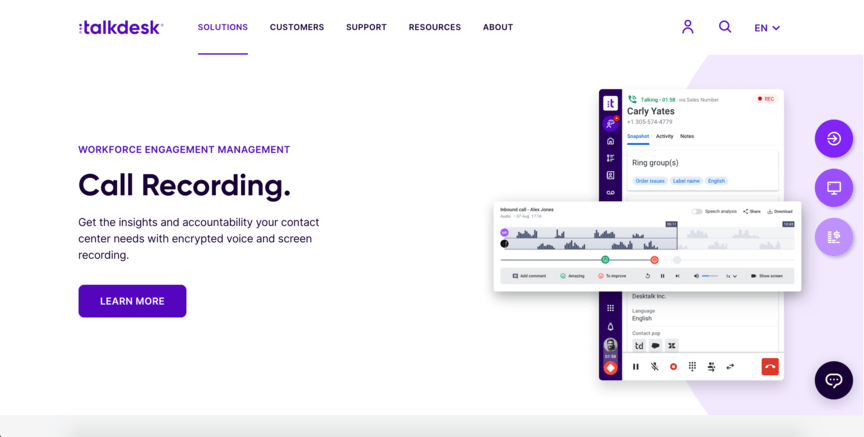 Much like LiveAgent, Talkdesk is far more comprehensive than a basic call recording system. It's meant as a contact solution for entire customer service teams. However, its call recording function is one of its best features.
In particular, Talkdesk is excellent for recording video calls, as it can record both video and audio and sync them with one another.
Another incredible feature is Talkdesk Speech Analytics, which listens to calls to pick up on specific keywords. If it hears a particular keyword, it can automatically alert the most relevant people at your company.
For example, if it hears a specific keyword repeated across multiple calls, it can notify you of heightened usage — you may find multiple customers having the same issue, in which case Talkdesk could pick up on the repeated keyword phrase.
5. RingCentral
Price: $33–$45 per agent per month, depending on number of agents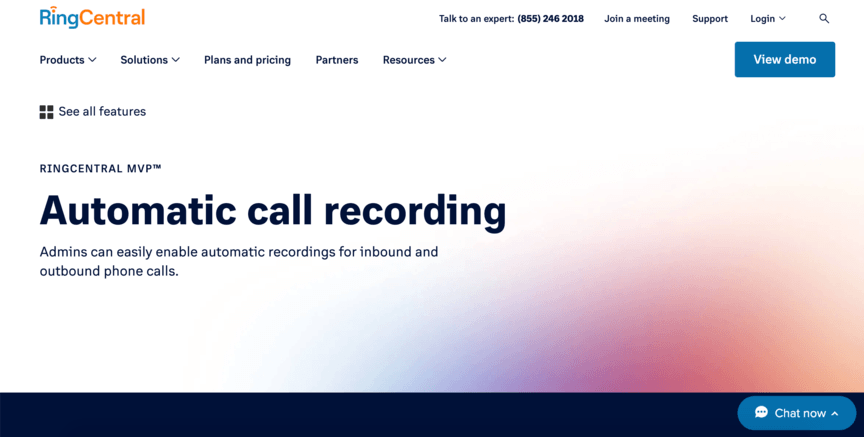 The whole point of recording your phone calls is to be able to go back and listen to them again later. For that reason, it's critical to have enough storage space for all your recordings. That's the prime benefit of RingCentral, a call recording system that's all about storage space.
When you record your calls with RingCentral, you can store 100,000 recordings per account for up to 90 days. To preserve them past the 90-day expiration date, you can also upload them easily to Dropbox or Google Drive.
RingCentral even provides a tool called the RingCentral Archiver that allows you to view and organize your recordings however you like.
6. Hansen Software
Price: Varies by payment frequency and number of extensions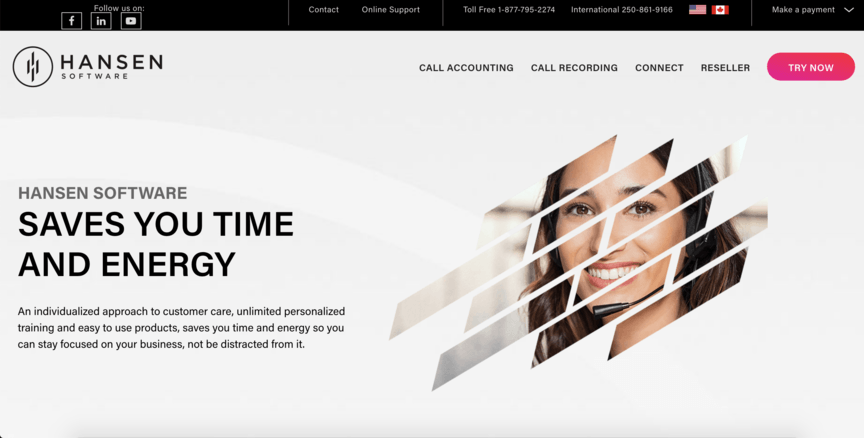 Not every company uses smartphones or computers to make their customer calls. Your business may still rely on traditional, analog phone systems, and if so, you won't get much use from other call recorders on this list. But that's where Hansen Software can help.
Hansen is a phone recorder designed specifically for analog phones, meaning you don't have to uproot your whole phone system to record calls. You can save your recordings to your computer as either MP3 or WAV files, making them easy to store and access.
7. CallTrackerFX
Price: Varies (view pricing)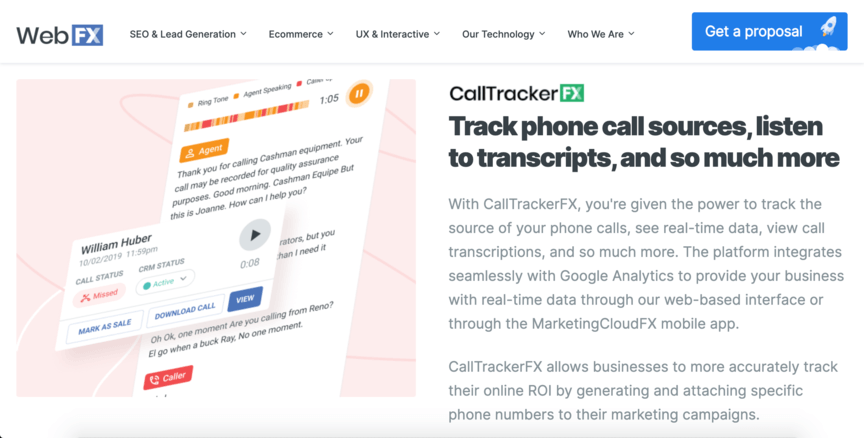 Ultimately, you want to use your call recording systems to benefit your marketing. For that reason, it can be helpful to get recording services from an agency that specializes in marketing, rather than from generic call recording apps. That's why you should consider trying CallTrackerFX.
CallTrackerFX is part of the MarketingCloudFX suite, a full-service marketing software from WebFX. It enables you to not only record call transcripts, but also to monitor information like where the calls come from and how they contribute to your overall return on investment (ROI).
With CallTrackerFX, you can get help optimizing your phone calls to drive maximum revenue down the road!
WebFX can help you track all your business calls
So, at the end of the day, which is the best call recording software? That depends on your business's unique needs — but if your top priority is marketing, CallTrackerFX is a good bet. WebFX has earned over 1000 client testimonials, proving that we know how to drive revenue.
With our call tracking services, you'll get help tracking all your calls and extracting valuable information from them. You'll even receive a dedicated account representative to keep you informed about everything we do for you.
With over 5.2 million phone calls handled, you can feel confident we're the right partner for you.
To get started with us, just call 888-601-5359 or contact us online today!
WebFX Careers
Join our mission to provide industry-leading digital marketing services to businesses around the globe - all while building your personal knowledge and growing as an individual.