As digital streaming services like Pandora, Spotify, Grooveshark, and Last.FM spread across the Internet as a legal alternative to music consumption, debates sprung up. While these streaming services were paying handsome royalties to global stars, the plethora of recording artists who signed on with aggregates such as CDBaby expressed doubt that these were viable distribution avenues. For example, in 2012, cellist and composer Zoe Keating published a Google Spreadsheet containing her online sales for a six month period.
(You can still access the public spreadsheet here.) Her figures showed about $280 earned from Spotify and $290 from Pandora. However, Keating published this not to debate Spotify as a threat to non-mainstream artists, but to provide data that was lacking and visualize a more ideal streaming platform.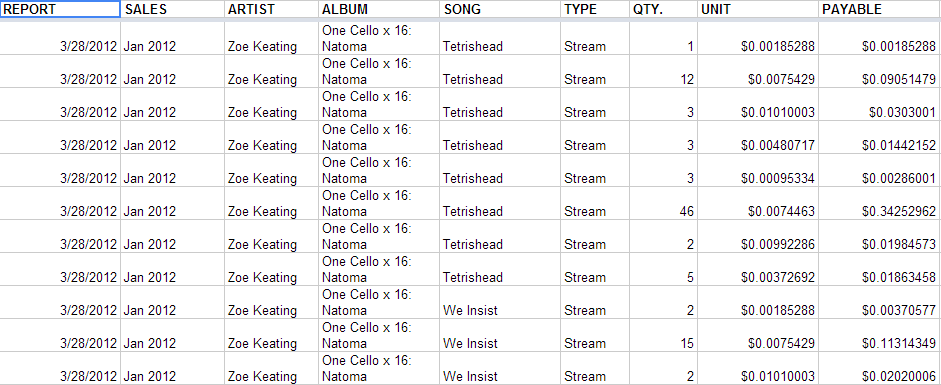 When TheAtlantic covered Keating's report, they used the headline, "Why Spotify Doesn't Make Sense for Musicians: 70,000 Listens Earns Less Than $300." As many commenters pointed out, a conclusion such as this is comparing apples to oranges, which is precisely what Keating wrote in the notes tab on her spreadsheet.
It's ludicrous to compare viability when Bandcamp, iTunes, Amazon, and streaming services each serve a different purpose. Keating describes Spotify as a platform for discovery, leading into cross-platform purchases. The fundamental idea of making these platforms viable heavily ties back to marketing.
This forced non-mainstream musicians to try everything and anything possible to generate more views, clicks, listens, follows, fans, and purchases. Social signals became a fundamental part of brand recognition. Surely enough, musicians had to learn internet marketing from the ground up.
They understand streaming platforms are best thought of as a product sample and landing pages need to have conversion rate tests for these indirect visits.
Digital Ties with Labels and Artists
Successful labels have concrete understandings of marketplace research, genre demographics, and internet marketing. Genres such as electronic dance, house, dubstep, drum and bass, trance, glitch, trap, and more of the like greatly align with a tech-saturated market.
Gamers and athletes make up a huge share of this market, additionally creating sub-cultures for each genre. The indie electronic record label Monstercat is one of the best examples of a label that truly understands internet marketing in our modern landscape of social platforms. They demonstrate innovative marketing tactics by linking together media networks and creating funnel paths within each network.
Here are some of the more innovative tactics Monstercat has utilized.
Growing Social Streaming Platforms
Plug.DJ is an internationally accessible social streaming platform. Anyone can sign up for free, create "parties" that others can join, and rotate through the traditional DJ role.
Essentially, this is group listening with a chat room. Monstercat created one of Plug.DJ's top party rooms, known as #Tastycat. When asked about Plug.DJ's utility as a promotion tool for artists and labels, a Monstercat representative said:
I think it offers a great chance for artists to showcase their music to an audience.

It gives them their first shot at some exposure in an industry where getting that first step up is extremely difficult. For labels – it's a great way to interact with your community. This is something not enough labels do and yet they publicly claim no one is buying music anymore.

There is a correlation.
Even though the #Tastycat music streaming room allows artists outside of the Monstercat label, it still features a variety of their artist pool which is nearly at 60. On a typical afternoon like today, the #Tastycat room holds 500-700 users, but some nights have brought them over 2,500 users.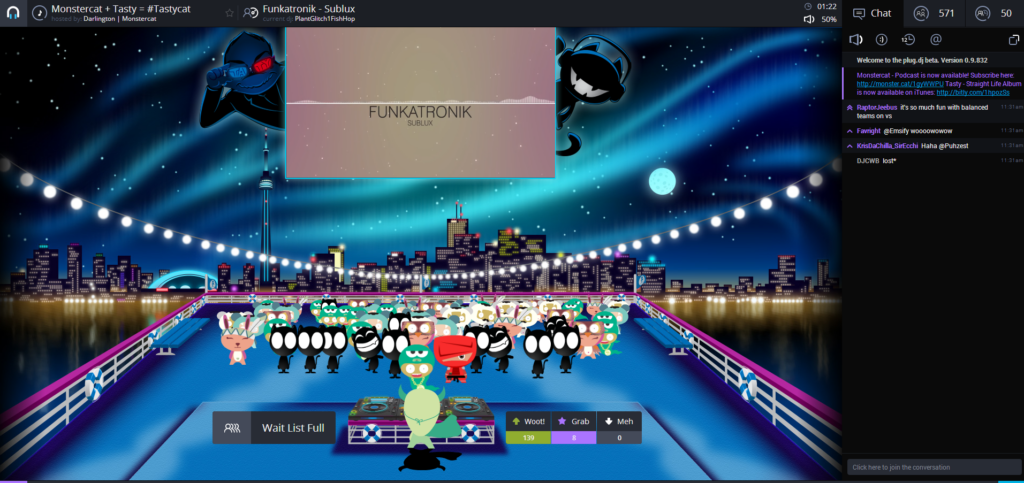 Aside from the free exposure value for their label and artists, this platform thrives on social elements. Games, contests, and feedback allow Monstercat to interact on a daily basis with fans.
Additionally, each artist can tap into their respective fan bases to funnel traffic to the party room. Since artists have their own networks and profiles, a lot of that traffic is actually organic.
Dedicated Subreddits + CTA + Optimized Landing Pages
The social news and community platform reddit allows anyone to create a subreddit (a topical forum of sorts) that can be public or private.
In addition to the hundreds of music-related subreddits with a collective subscription base in the millions, it's almost inconceivable for musicians to ignore reddit. As a label, Monstercat's subreddit is primarily dedicated to new releases, discussions, announcements, and other artist related content. They do accept non-Monstercat related content, but this is a label controlled subreddit.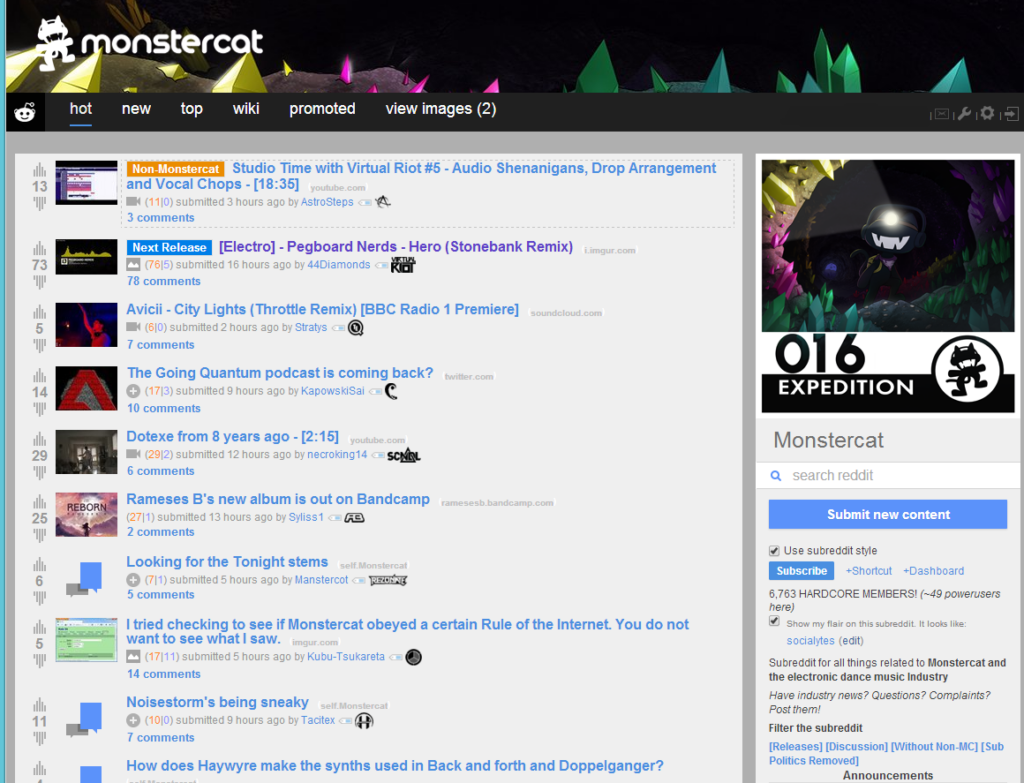 Along the right hand side you'll notice the "016 Expedition" image. This is actually a call to action with prime real estate. If we click through we're directed to a fully optimized landing page:
The landing page features a free-to-listen playlist via Soundcloud of the entire album, followed by four buying options. This is just one of many media network funnels.
Opening up a backlink analysis, we find several other funnel paths:
Artist YouTube video descriptions and Facebook pages, Last.FM and Soundcloud referrals
Fan blogs on WordPress and Tumblr
MiamiMusic Joonbug post
A Minecraft forum (remember how gamers are a primary audience profile?)
The album was released for free a few months ago which helped generate more organic links.
Soundtrack of a Growing Industry
About five months ago Monstercat held an AMA on reddit, which is a live Q/A type of format where anyone can ask a question or leave a comment. One notable comment reads: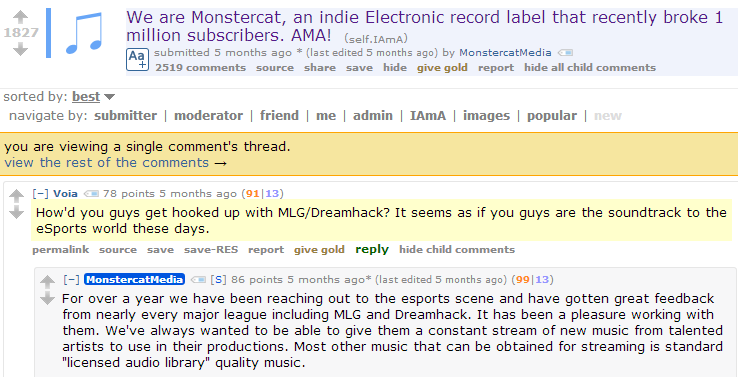 Professional gaming is one of the most rapidly growing industries right now. With the world's largest eSports organization (Major League Gaming/MLG) and the world's largest computer festival (Dreamhack) unifying for tournaments, it was an incredibly strategic play for Monstercat to lobby their artists for the tournament soundtracks.
As a result of successful outreach, eSports fans can organically discover Monstercat artists in video descriptions, forum discussions, and official playlists for the tournament.
Crypto-Currency Enabled
In addition to standard purchase platforms like iTunes, Amazon, Google Play, and Bandcamp, Monstercat has integrated a Bitcoin payment processor on their main website: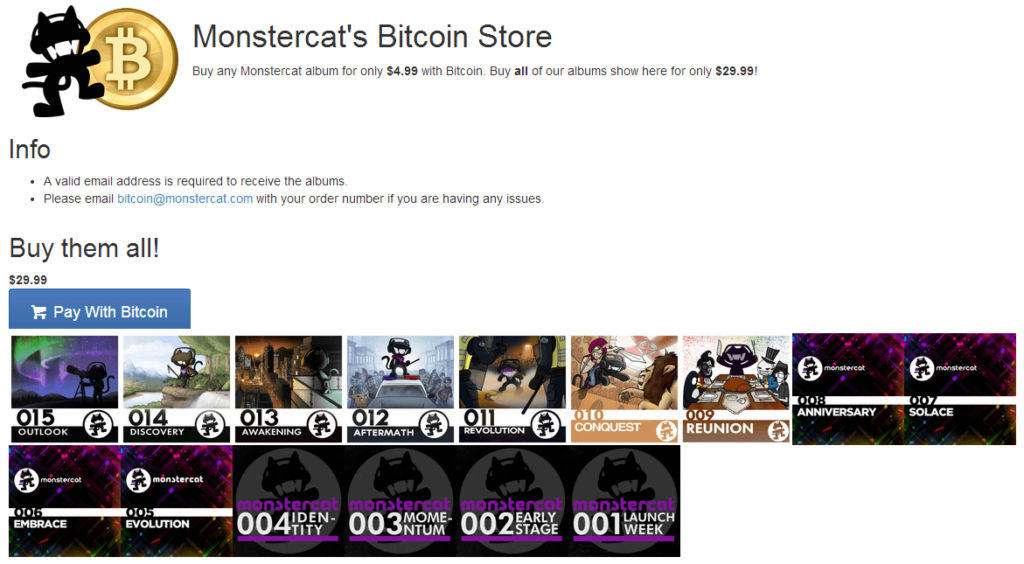 By extending the convenience of payment options to align with a global trend, Monstercat continues to exemplify how music labels can be trendsetters. Many of these tactics can be applied to products and brands outside of the music industry.
Building up communities on new platforms, finding roles in emerging industries, and optimizing funnel paths for landing pages are exceptional benchmarks for social media marketing.
WebFX Careers
Join our mission to provide industry-leading digital marketing services to businesses around the globe - all while building your personal knowledge and growing as an individual.