This post was written by Steven Snell of Vandelay Website Design. Every web designer has a need to create invoices and track payments that have been received or have not yet been paid. Fortunately, there are a number of tools that can streamline this process, and we'll look at 20 options here. There is a good deal of variety in terms of features and pricing.
Some are better suited for organizations that have several employees, while others may be a good fit for a freelancer. Some of these tools will simply help you to create attractive invoices, and others will extend further into the area of accounting software.
PayPal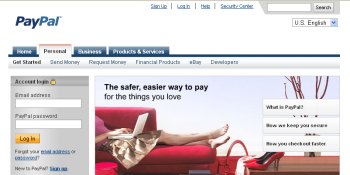 PayPal provides a simple invoicing system that will email your invoices to your clients. This system is fairly popular with freelancers because there are no monthly fees, just a small amount taken out of the money that you receive.
The PayPal account is then linked to your checking account, and you can easily transfer the balance from PayPal to your bank. Personally, I use PayPal for my freelance blogging, and I'm very happy with the service.
FreshBooks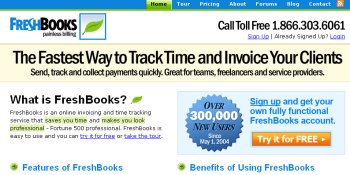 FreshBooks offers more functionality than many of the other choices. It will create and manage invoices, track your time and expenses, and create reports.
You can get started with FreshBooks using a free (and very limited) account, or you can choose from a number of different options to meet your needs. The pricing is pretty reasonable. You can manage up to 25 active clients for $14 per month.
Blinksale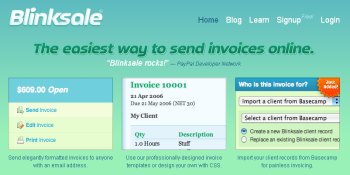 With Blinksale you can manage unlimited clients, but you are limited in the number of invoices you can send.
You can send up to 3 invoices per month for free, or you can upgrade to 50 invoices for $12 per month. The biggest package allows for 1500 invoices for $49 per month.
LessAccounting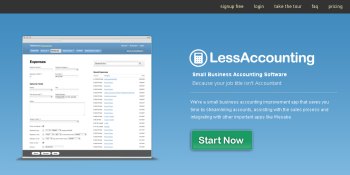 Less Accounting has taken the approach of targeting small business owners by providing a simple software that will provide the essentials for small businesses without the extras that more complicated systems include. LessAccounting is a simple accounting solution that also allows you to create and manage invoices.
The cost for LessAccounting is $19.95 per month, and the first 30 days are free.
PaySimple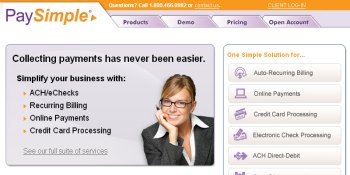 PaySimple will help you to create and manage invoices by allowing ACH payments, recurring billing, online payments and credit card processing. Prices start at $34.95 per month with no set up fee and small fees per transaction. Their site does offer a demo, and they provide dedicated account management and online customer support.
Invoice Place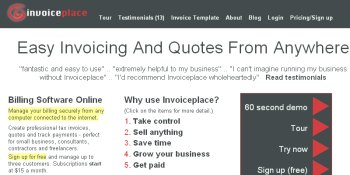 Invoice Place offers a free basic service, with monthly subscription options for upgrading.
You can create and manage your invoices online for up to 3 clients for free (unlimited invoices are offered on every plan). Prices start at $12 per month for managing 20 clients and go up to $32 per month for managing up to 500 clients. With Invoice Place you also have the option to export to PDF, Excel, or Word.
WORKetc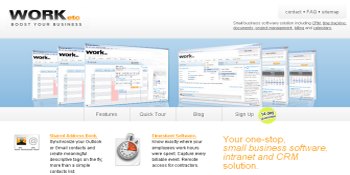 WORKetc offers a wide range of functions, including contact management, calendars, email marketing, project management, and of course invoice management.
The monthly subscription fee is $44.95, which includes access for 2 employees, with additional employees costing $10 per month. There is a 14-day guarantee.
Billing Orchard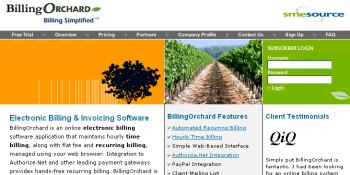 Billing Orchard maintains hourly time billing, along with flat fee and recurring billing. It claims to be the ideal solution for web developers, web hosts, and hosting resellers.
The price for the basic system with automated invoicing is $14.95 per month. From there, prices go up to $69.95 and there is an option to pay $10 per month for a support ticket system.
Bill My Clients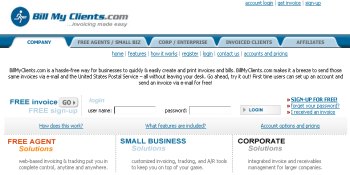 Bill My Clients offers different options and solutions for businesses of different sizes. For freelancers, they offer an invoicing and time tracking service for $11.99 per month.
For small businesses, the service includes A/R management, also for $11.99 per month.
Invoices Made Easy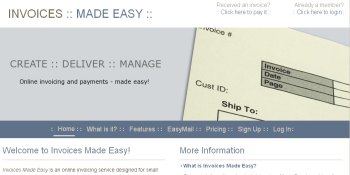 Invoices Made Easy is one of the lower-priced options at $5 per month ($15 per quarter). With Invoices Made Easy you can create and email invoices, track payments, accept online payments, and they will also print and mail paper invoices for you if you wish. The cost for having them mail your invoice ranges from $1 – $1.50 per invoice.
Invotrak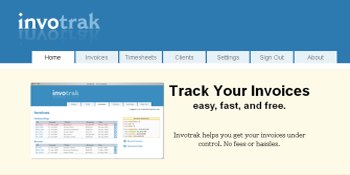 Invotrak is a free option for creating and tracking invoices.
You can enter clients and manage invoices accordingly, but there are no advanced options such as receiving online payments, and there are no upgrades to a paid service available.
Simply Invoices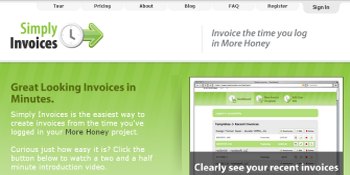 Simply Invoices will allow you to create invoices for time that you have tracked in More Honey. There is a free option that allows you to 5 different invoice templates with no custom logo, and apparently the invoices will also include their own links. For $9 per month, you can get 10 invoice templates with custom logos and no links.
Prices go up to $25 per month for infinite templates.
SimplyBill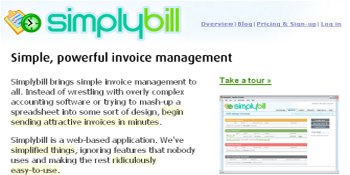 SimplyBill provides a number of options, including creating, emailing, and printing invoices. You can also save invoices as PDF's, creates quotes that can be converted to invoices later, and track payments and time. There are 3 different pricing plans, ranging from $5 per month to $25 per month.
For $5 per month, you can create up to 25 invoices for up to 10 clients. For $25 per month, these numbers are unlimited. Each plan comes with a trial period.
Time59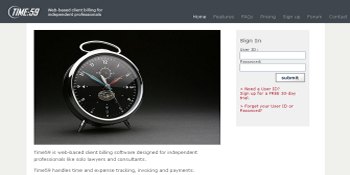 Time59 is designed for independent professionals and freelancers.
It can handle time and expense tracking, as well as invoicing and payments. The price is only $49.95 per year and there is a risk-free 30-day trial (no credit card info is required for the trial).
Invoice2Go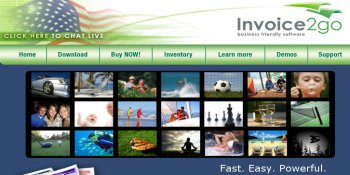 Invoice2Go provides over 300 professional invoice templates to choose from. You can also send the invoices and track payments, and there is a free 30-day trial.
The basic product costs $129 per year, and the advanced option sells for $249 per year.
Cashboard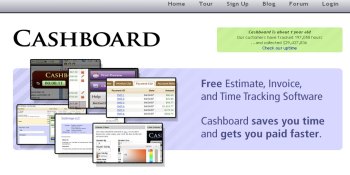 Cashboard is estimate, invoicing, and time tracking software. With cashboard you can send fully branded and customized PDF invoices and estimates. Like many of the others listed here, Cashboard has both free and paid options.
The free account will allow you to manage 2 active projects with unlimited clients and invoices. Prices for upgrades range from $12 per month to $140 per month.
Bill4Time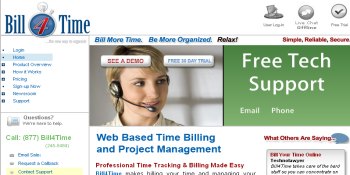 Bill4Time is a time tracking and billing system for freelancers and small to medium-sized businesses and it includes reporting capabilities. The first 30 days are free for all plans.
Pricing is calculated according to the number of users. For 1 – 10 users the price is $35.95 per user. For larger organizations (100+ users) the price is $14.95 per user.
Free Invoice Templates for Excel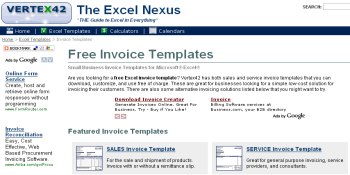 If you're looking for a different option, you can download free invoice templates for Excel and create and manage your own invoices.
Steven publishes several posts each week on various aspects of web design at VandelayDesign.com.
How is your website's SEO?
Use our free tool to get your score calculated in under 60 seconds.
Get posts by email
Join 200,000 marketing managers and subscribe to Revenue Weekly!
"*" indicates required fields
WebFX Careers
Join our mission to provide industry-leading digital marketing services to businesses around the globe - all while building your personal knowledge and growing as an individual.