E-commerce web design brings some unique requirements, and this usually includes the need for specific icons such as shopping carts, credit cards, and others related to the online shopping experience. In this article, we feature 30 sets of quality icons for use in e-commerce designs. Half of the sets are free and the other half are premium.
Of course, free resources are always great, but the premium sets will give you more options, sometimes higher quality, and they are generally very reasonable in price.
Free E-Commerce Icons
These 15 sets of free icons are excellent for use on e-commerce websites. As always when you're working with freebies, be sure to read and understand the terms of use or license agreements stipulated by the creator.
1. Free Glossy E-Commerce Icons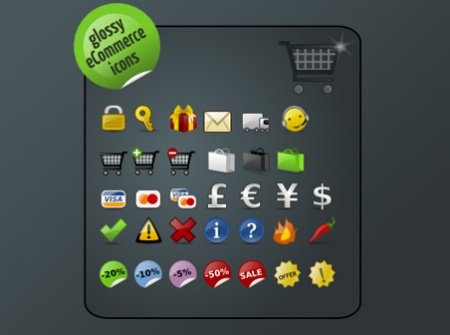 A popular set of free icons that was designed specifically for e-commerce sites.
2. Shopping Cart Icons
This is not a large set of icons, but good shopping cart icons are often needed for e-commerce design.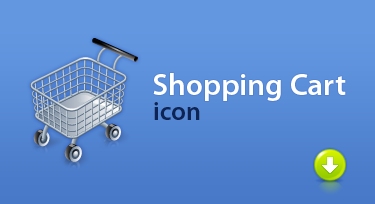 A shopping cart icon from Bartelme Design that is available in a few different sizes.
4. Shopping Cart Icon
A full shopping cart icon available at deviantART.
5. Shopping Basket Icon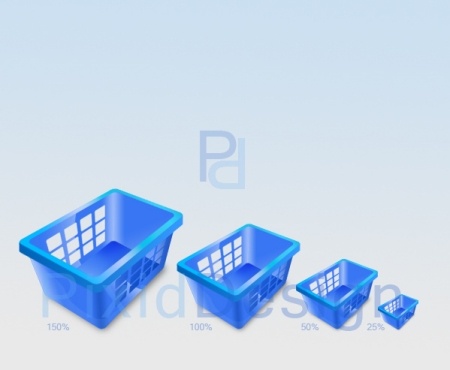 A quality basket icon available at deviantART.
6. e-Shop Icons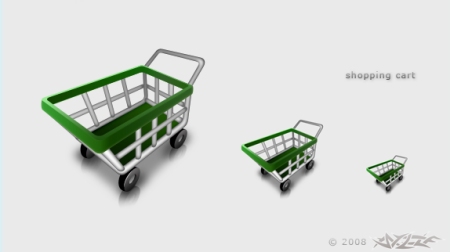 This small icon set available on deviantART includes a nice shopping cart.
7. Chalkwork Payment Icons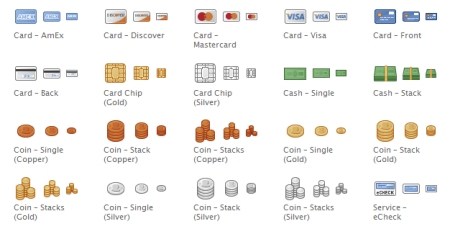 A full-set of free e-commerce icons from Mezzoblue.

A set of six icons for showing your visitors that you accept credit card payment.

If you're looking for the logos of particular credit card companies, you can get them here.
10. VisualPharm Finance Icons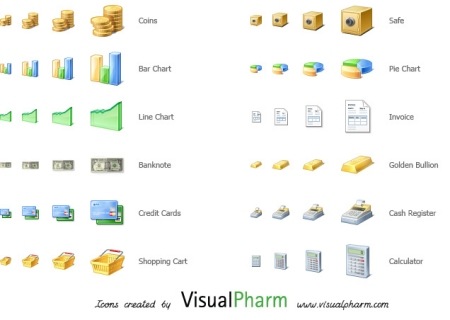 A quality set of finance and shopping icons that includes baskets, credit cards, registers and more.
11. Sienna Icons

Webdesigner Depot released this large set of 200 icons. Not all of them are related to e-commerce, but there are shopping carts, bags and baskets, as well as credit cards, security/locks, and currency icons.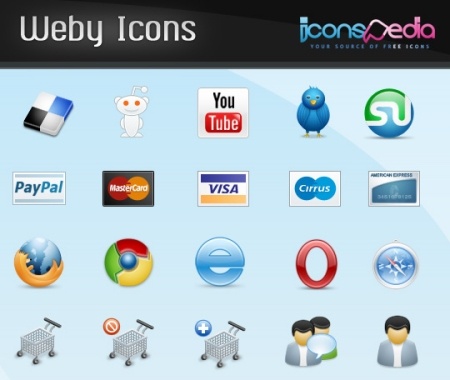 A set of 100 icons that includes many that are useful for e-commerce, including shopping carts and credit cards.

The popular Silk icon set from famfamfam has over 700 icons, including several for shopping carts, credit cards and currency.

CSS Globe offers an icon set that includes shopping cart icons.
15. E-Commerce Icon Set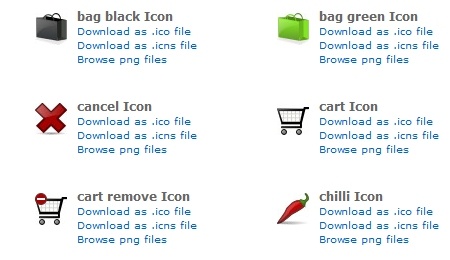 Includes shopping carts, shopping bags, credit cards, currency icons, and more.
Premium Icons
If the free icons featured above do not meet your needs, here are 15 premium sets of icons created with e-commerce and shopping in mind. Prices have been listed when possible. For those that are sold at iStockphoto, the price of credits will depend on how many credits you purchase.
16. Shop Icons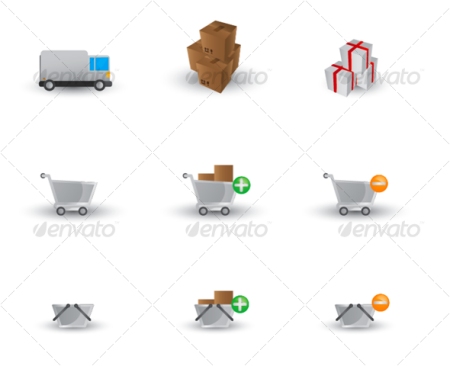 A few different shopping-related icons, such as baskets, carts and shipping. ($6)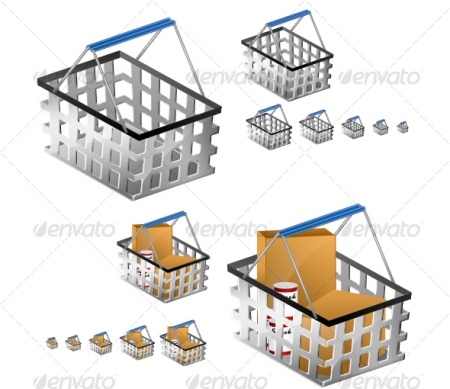 Five icons in 7 different sizes, shopping baskets, credit cards, scanners and barcodes. ($3)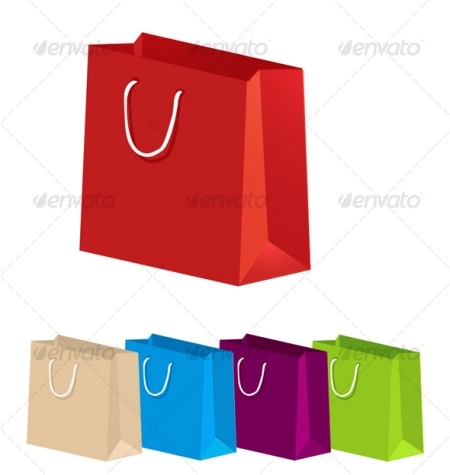 A set of shopping bag icons that comes with the PSD file so you can change the color. ($3)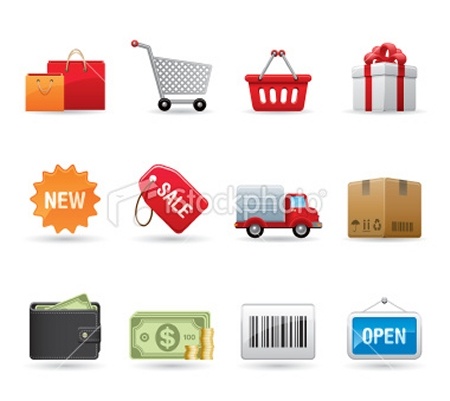 Set of 12 icons specifically designed for e-commerce purposes. (15 credits at iStockphoto)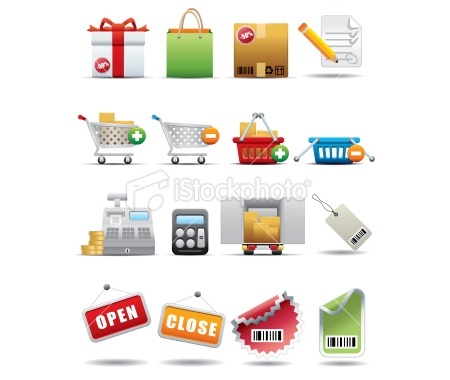 A 16-piece set of icons, including carts, baskets, bags and more. (15 credits at iStockphoto)
21. Shopping Icons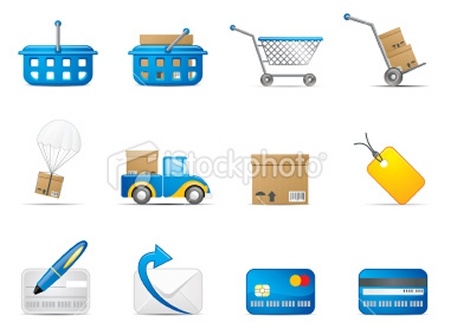 Set of 12 icons including shopping baskets/carts, credit cards and shipping icons. (15 credits at iStockphoto)
22. Red Shopping Icons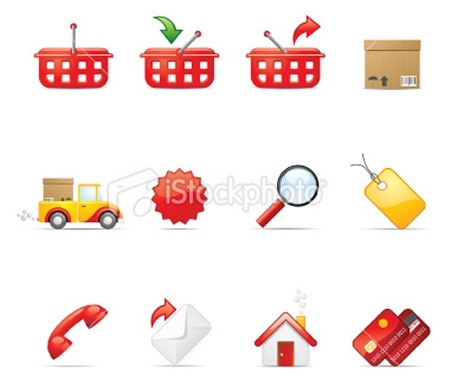 From the designer of the previous set, this time with a red color scheme. (10 credits at iStockphoto)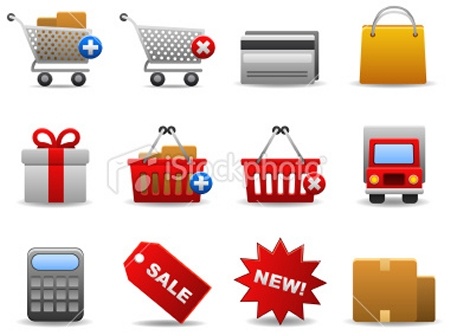 Set of 12 icons, all for e-commerce and shopping. (10 credits at iStockphoto)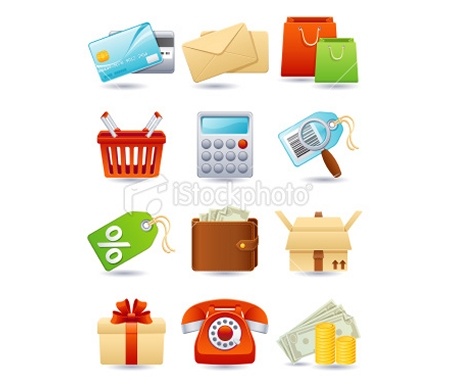 A beautiful set of 12 icons that includes baskets, bags, credit cards and more. (15 credits at iStockphoto)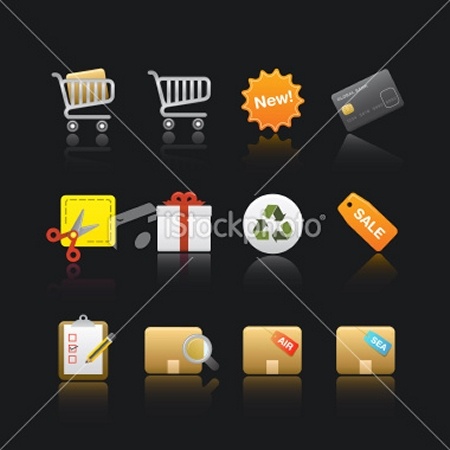 Set of 12 stylish shopping icons that includes carts, sale and shipping icons. (10 credits at iStockphoto)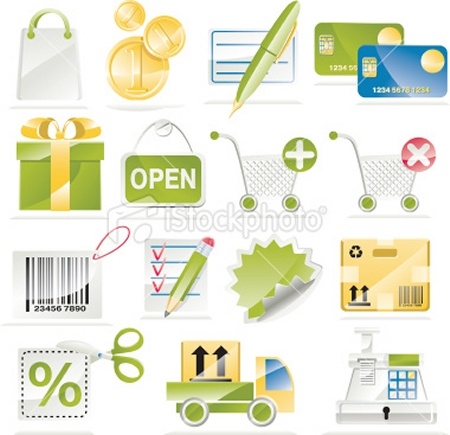 Set of 15 stylish shopping icons. (15 credits at iStockphoto)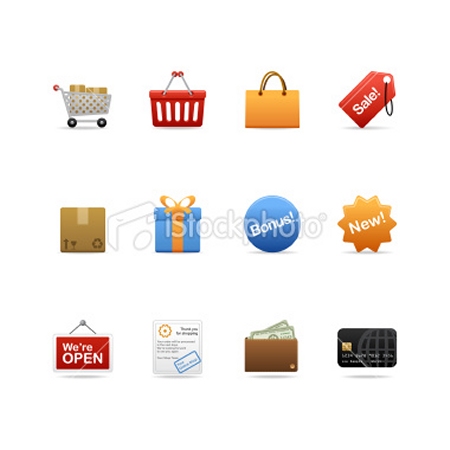 A set of 12 icons including a basket, cart, bag, sale, credit card and more. (10 credits at iStockphoto)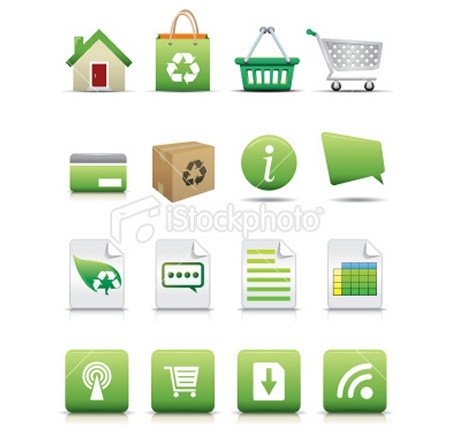 A nice set of 16 green icons for your e-commerce needs. (10 credits at iStockphoto)
29. Infinity Icon Set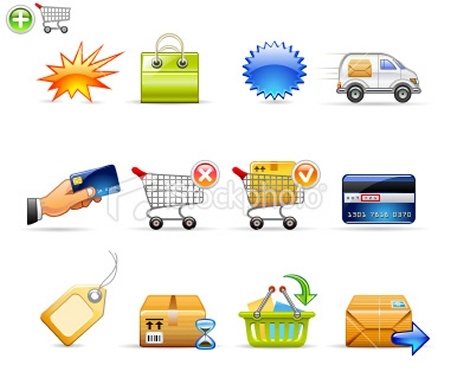 A set of icons for various use in e-commerce design. (10 credits at iStockphoto)

Function's icon sets are always high quality. This one includes a variety of icons, but there are a number of shopping baskets and credit card icons that are ideal for e-commerce use. ($15)
Related content