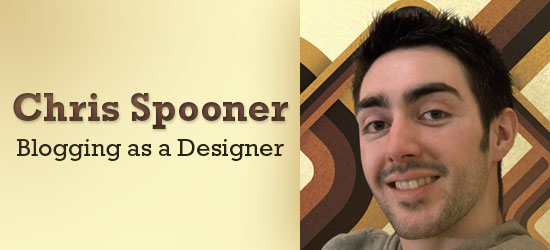 We interviewed top designer and blogger, Chris Spooner, to find out about managing weblogs on top of being a professional creative. Here's what he has to say…
1. What are benefits and disadvantages of blogging as a designer?

There are countless benefits from blogging as a designer, a few that spring to mind include the hugely increased exposure to both your work and name as well as the source of exciting design projects from around the world. As a blogger it's important to be part of the community and read fellow design blogs, this also helps a designer keep up to date with industry changes, and is a constant source of inspiration. There's also the good excuse to experiment with new techniques and create a bunch of personal designs, as they all help out when putting together new blog posts and tutorials.
There have been plenty of designs I've had plenty of fun creating, which have been purely for tutorial purposes on Blog.SpoonGraphics. This is all without mentioning the advertising income blogs can provide, which all comes in handy in supporting your personal life. For me, setting up my blog has proved to have been an invaluable decision, which has really given a boost to my design career.
With all this in mind it's pretty difficult to come up with any disadvantages. I suppose there is the initial time investment that can prove troublesome, as it can take a while for a blog to reach a stage where the benefits outweigh the necessary input.
2. You have several websites, blogs, and you also do freelance work: what are some tips you can share with us to manage time effectively and deal with such a work-heavy schedule?

Blog.SpoonGraphics was initially worked on during my spare time in the evenings and weekends, leaving the usual time during the day for work commitments, because during this period of my life I was working 9-5 at a local design studio. It wasn't until I headed out on my own that I started spending more quality time during the day on creating new articles and keeping it up to date. Now, I tend to see blogging as an important project that is slotted into my daily routine. As the site generates its own income, it allows more time to be spent on blogging, and less on freelance work.
Meaning that I can often avoid the 'bread and butter' jobs and focus on more exciting projects.
3. How does your work play into the role of coming up with posts to publish on your blogs?

Client related projects often help develop my skills and sharpen my knowledge, and usually help drum up post ideas based on certain techniques that are used, or problems that need solving. If I come across something I think would prove useful to other designers, chances are it would work well as a blog post or tutorial. There's also the option of being able to document a design as a project walkthrough on the blog.
In the past these have proved quite popular, with readers enjoying the insight into the thoughts behind a particular design. It also works the other way around too, blogging also helps provide ideas and inspiration that can be put into practice in client work.
4. Can you share some instances where your blogs have helped you get more projects?

There has been quite a range of scenarios where projects have evolved from blogging or blog related activities. The Vivid Ways logo project was generated from a referral from Jon Phillips of Spyre Studios, he was working on the site design at the time. I had the opportunity to create a skateboard deck and a couple of t-shirt designs for a merchandising company on behalf of Fall Out Boy after a guy from the company stumbled across a post based on skate deck design.
Another example is from a client following through from an online interview (just like this!), checking out my work and deciding to get in touch. John Campbell from DesignBump got in touch to help out with his recent redesign, he had simply become acquainted with me and my work through following my blog. All in all, I see my blogging shenanigans as a hugely important part of my life, with almost every design project being sourced from blogging in one way or another.
It's basically like traditional networking and marketing on steroids!
5. What is the future of blogging, specifically for design blogs?

I guess it's a hard one to predict, as there's not much of a history to base ideas on. However, I reckon the quality of posts and the amount of information they give away will continue to increase. I think the bar has definitely raised for design tutorials, with hugely in-depth articles springing up everywhere.
I find it great that designers and web developers can completely learn a new topic or coding language through following the articles of fellow bloggers. I hope to see this sharing of knowledge and advice continue into the future.
6. Can you share some tips to designers who would like to start a blog? What are things to keep in mind, and what's the best way to go about establishing a weblog?

My main tip would be to make sure you're passionate about the subject. Setting up a blog, especially in the early stages, can be a huge time investment, with hardly any return.
However, if you enjoy what you're doing, keep it up and sooner or later things will start to pick up. It's also handy to live the lifestyle and become active on social networks, Twitter, and to subscribe to a mass of RSS feeds in your niche. This keeps you up to date with the industry and helps feed back inspiration for your own blog development.
About Chris Spooner
Chris Spooner is a top designer and blogger.
He's the mastermind behind the sites, Blog.SpoonGraphics and Line25, where he covers the topic of graphic and web design. Check out his personal site, Chris Spooner. Connect with him via Twitter, @chrisspooner.
Related content
Six Questions: Eric Meyer on CSS3
Web Standardistas on Web Standards in Education
How is your website's SEO?
Use our free tool to get your score calculated in under 60 seconds.
Get posts by email
Join 200,000 marketing managers and subscribe to Revenue Weekly!
"*" indicates required fields
WebFX Careers
Join our mission to provide industry-leading digital marketing services to businesses around the globe - all while building your personal knowledge and growing as an individual.