Keeping up with web design content is tough and time-consuming. That's where these web design newsletters will help: They'll make sure you're on top of must-know industry news, and provide you a constant stream of hand-picked web design links. Go and subscribe to these email newsletters, they're free.
Sidebar — Get five design links (more or less) daily, hand-picked by numerous curators.
Versioning — Find noteworthy web design and dev links on this entertainingly-written daily newsletter by SitePoint.
HeyDesigner — Get hand-picked design and dev articles every Sunday.
The Web Designer Newsletter — Discover freebies, tools, and articles by reading this newsletter.
HackingUI — Stumble on great design resources curated by a UI designer + front-end developer duo, Sagi Shrieber and David Tintner.
Inbox Pixels — Be inspired by animated Gifs showing great user interface designs.
The Smashing Email Newsletter — An epically info-packed newsletter sent out twice a month by Smashing Magazine.
Design Reading List (Startup Digest) — A weekly roundup of UX, strategy, and design articles.
Web Design Weekly — Get links to web design news, tutorials and articles once a week.
Sacha Greif's newsletter — Get design tips and stories from Sacha Greif, a well-known designer and entrepreneur, every Sunday.
Responsive Design Weekly — A link roundup of responsive design articles, tools, and tutorials.
Hack Design — Receive a design lesson once a week from some world-renowned curators.
Wunderkammer — Get eight to ten hand-picked design, strategy, and tech links every couple of weeks.
Web Tools Weekly — Discover tools for front-end devs and web designers, curated by SitePoint's HTML/CSS managing editor, Louis Lazaris.
The Hacker and Designer News Newsletter — A weekly recap of the best posts on Designer News and Hacker News.
UX Design Weekly — Get a carefully chosen list of user experience design links every Friday.
UX Weekly — Receive five top-notch user experience design links per week.
The UX Newsletter — Read UX research and design stories by MailChimp, sent out roughly once a month.
Userfocus — A monthly newsletter sent out by Userfocus, a usability consultancy firm, containing links to UX and usability news, articles, resources, and tutorials.
The UX List — Get five links to UX and usability content, sent out (almost) daily.
UX Stack Exchange Weekly Newsletter — A digest of the top UX design questions and discussions on Stack Exchange. (Subscription form is on the sidebar.)
User Onboarding — Analysis and teardowns of onboarding processes. (Subscription form is at the end of the web page.)
All The Small Things — A weekly newsletter covering marketing + design.
Design + Code — A weekly roundup of iOS, Xcode, Sketch, and design resources.
Product Design Weekly — Stay on top of digital product design news and articles.
Muzli weekly digest — A recap of the most popular design inspiration content on Muzli.
Fast.Co Design — Get the freshest Fast.Co Design (business + design) stories in your inbox.
Dribbble Newsletter — A newsletter offering news, updates, and inspiration sent out by the Dribbble team.
DesignTAXI Newsletter — Receive inspiring design content from DesignTAXI via email.
Web Design Newsletter (Webdesigner Depot) — A weekly recap of web design news, articles, tutorials, and resources.
How to Manage Your Email Newsletters
Mixing your email subscriptions with regular work emails can affect your productivity. I recommend filtering your newsletters out of your inbox. Read your newsletters separately, whenever you've got time to spare.
Good email apps such as Gmail, Apple Mail, and Outlook have features that allow you to create rules that will help you better manage your emails. For example, I use Gmail, and this is how I do it: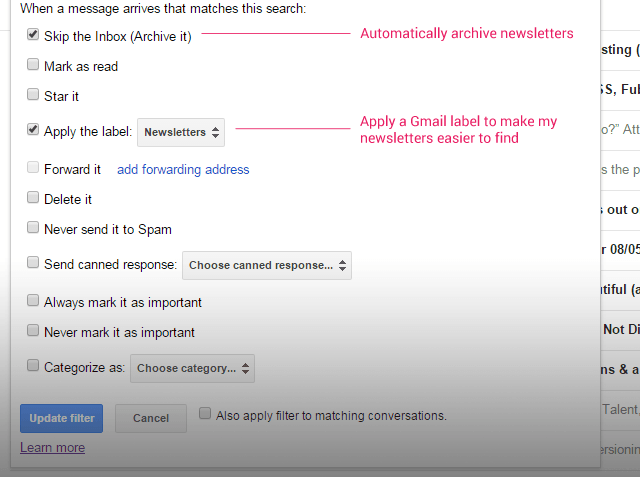 I have a Gmail label named "Newsletters".
I set up a filter for the email addresses of my newsletters. The filter instructs Gmail to have all emails from these email addresses skip my inbox and to apply the "Newsletters" label to them.
Whenever I can — sometimes every day, sometimes once a week — I read and go through the emails.
Here are links for setting up email filters/rules on popular email apps:
Related Content
10 Free Web Design Books Worth Reading

Jacob Gube is the founder of Six Revisions. He's a front-end developer. Connect with him on Twitter.
How is your website's SEO?
Use our free tool to get your score calculated in under 60 seconds.
Get posts by email
Join 200,000 marketing managers and subscribe to Revenue Weekly!
"*" indicates required fields
WebFX Careers
Join our mission to provide industry-leading digital marketing services to businesses around the globe - all while building your personal knowledge and growing as an individual.