The 30 Best Web Design Newsletters To Subscribe To
Keeping up with web design content is tough and time-consuming. That's where these web design newsletters will help: They'll make sure you're on top of must-know industry news, and provide you a constant stream of hand-picked web design links. Go and subscribe to these email newsletters, they're free.
How to Manage Your Email Newsletters
Mixing your email subscriptions with regular work emails can affect your productivity. I recommend filtering your newsletters out of your inbox. Read your newsletters separately, whenever you've got time to spare.
Good email apps such as Gmail, Apple Mail, and Outlook have features that allow you to create rules that will help you better manage your emails.
For example, I use Gmail, and this is how I do it: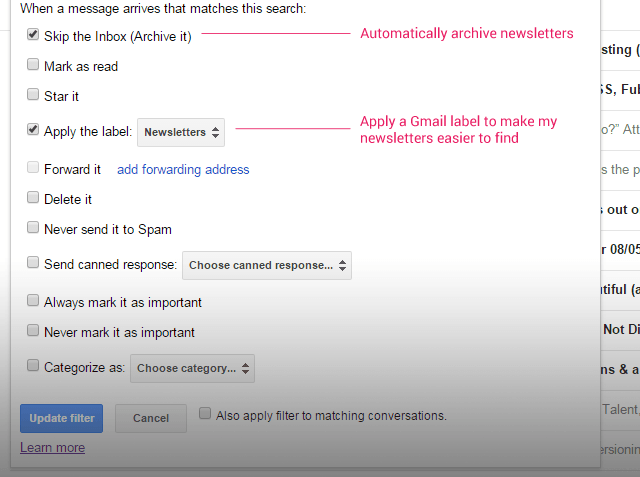 I have a Gmail label named "Newsletters".
I set up a filter for the email addresses of my newsletters. The filter instructs Gmail to have all emails from these email addresses skip my inbox and to apply the "Newsletters" label to them.
Whenever I can — sometimes every day, sometimes once a week — I read and go through the emails.
Here are links for setting up email filters/rules on popular email apps:
Related Content