Key Medical Technology Statistics
The global medical devices market is expected to grow to around $671.49 billion by 2027.
North America holds 39% of the total medical technology market.
MedTech US and UK companies boosted their R&D investment by 11.5%.
An average American will spend around $400 on each medical device they need to use.
75% of medical device industry participants believe having a more robust supply chain is a market concern.
43% of MedTech businesses employing IoMT use data to inform business choices.
69% of health care organizations are testing or adopting AI.
Medical technology statistics provide essential information on the state of the field today and how it affects patient care, illness management, and health care provision. These medical device industry statistics illuminate how technology is reshaping how we approach health care and enhancing patient outcomes globally, from the increase of telemedicine to the use of wearable devices.
These figures also demonstrate the rising expenditure on medical technology research and development (R&D) and the need for creative health care solutions. Also, they offer a view into the difficulties and possibilities that the medical technology sector must deal with, such as regulatory barriers, cybersecurity worries, and the requirement for interoperability.
Healthcare experts, decision-makers, and investors can better grasp the trends and developments influencing the direction of medical technology by looking at these figures. Let's take explore the following statistics:
These are real SEO results driven for a WebFX client.
You're next.
Learn More About SEO Services


260%
increase in organic revenue

198%
increase in organic transactions
150%
increase in organic traffic

3872%
increase in sessions from SEO
Medical device industry statistics
Let's delve into the statistics concerning the medical device industry. By examining various data and figures, we can learn more about the size, growth rate, and significant trends.
The following statistics provide a thorough picture of the present situation of the medical device sector and aid in understanding its importance and future effects on health care:
The global medical devices market was estimated to be worth $456.80 billion in 2020. It is expected to grow to around $671.49 billion by 2027.
The medical devices market is anticipated to rebound and expand starting in 2021 at a CAGR of 6.2%, reaching $695.2 billion in 2031.
North America holds 39% of the total medical technology market.
Most of the world's top original MedTech equipment producers by revenue are based in the U.S., with a national average of 70%.
The combined revenues of US and European medical technology businesses were predicted to be $552 billion in 2021.
Due to the adverse effects of COVID-19 on numerous medical technologists, U.S. MedTech companies' revenues fell by about 5% in the first half of 2020.
The therapeutic devices section had a revenue growth of 12.2% in 2020. At the same time, the nonimaging diagnostics segment saw a revenue increase of 12.2%.
The projected value of the U.S. telemedicine industry will be $25.88 billion by 2027.
39% of senior executives in MedTech firms believe that supply chain technology systems are essential to their business operations.
43% of senior executives say digitizing the supply chain is essential for continued success.
Another 43% of respondents think big data is critical to the supply chain.
The MedTech sector supports roughly two million employees in the U.S., both directly and indirectly.
At least 85% of health executives agree that technology has ingrained itself into everyday life.
37% of marketers say that generating high-quality leads was one of their biggest challenges.
We want to decrease that percentage.
WebFX can help you generate high-quality leads with a customized marketing strategy.
Learn More About Lead Generation Services
Medical technology statistics
The most recent medical technology statistics provide insight into the industry's technology advancements and developments. These statistics show how medical technology may revolutionize patient care and results, from the application of artificial intelligence in diagnostics to the growing usage of telemedicine.
Let's review these intriguing stats that demonstrate the incredible advancements in medical technology:
The average amount medical technology companies invest in R&D initiatives is 5.1% of their annual revenue.
MedTech US and UK companies boosted their R&D investment by 11.5%.
According to 78% of health executives, COVID-19 and beyond will present the highest stakes for innovation ever.
219 COVID-19-related diagnostics were produced in the US, and UK manufacturers produced the remaining 448 as of August 2020.
31% of MedTech executives said their primary objective in investing in digital technology is to cut costs.
Another 25% of investors claim to boost product demand, while:
25% claim to do so to learn about implementing business strategy.
19% of respondents claim that investments are being made to increase the effectiveness of their R&D procedure.
U.S. medical technology usage statistics
Modern health care systems rely on medical technology to provide precise diagnoses, efficient treatments, and better patient outcomes. We can learn how medical technology affects health care delivery and spot trends that influence future advancements.
Here are a few usage statistics for medical technology you should know:
Did you know?
Instagram has more than
1 billion

monthly users

Download our guide to see how you can leverage Instagram for your business

Get My Free Guide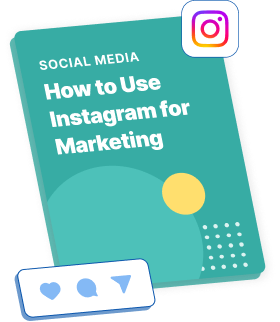 Data on medical technology issues
New difficulties and opportunities in the world of technology emerge as the science of medicine advances. We will look into the effects and ramifications of these developments — from electronic health records and telemedicine to artificial intelligence and robots.
Let's explore the quickly developing field of medical technology:
Statistics on recent developments in healthcare technology
Here are the latest statistics and trends in medical technology:
The Internet of medical things (IoMT) market is predicted to increase from $30.79 billion in 2021 to $187.60 billion in 2028 at a CAGR of 29.5%.
43% of MedTech businesses employing IoMT use data to inform business choices:
While 39% use data to demonstrate the value of their products and support their price.
31% of companies are providing data distribution routes as a service.
At least 35% of consumers are open to giving medical device manufacturers their personal information.
40% of patients are open to sharing personal information for scientific purposes.
56% of consumers will share their personal and health data to aid in the prevention of disease:
45% to assist in environmental protection
42% to benefit their community
37% to help in the resolution of issues like crimes
35% to increase transparency
Let WebFX help you boost your online presence with a personalized plan tailored to your business needs.
Grow your medical technology business with WebFX
WebFX is a leading digital marketing agency that focuses on assisting companies in the medical technology sector in reaching their expansion targets. We can offer you a tailored digital marketing strategy to raise your exposure, attract high-quality leads, and boost sales thanks to our extensive expertise and experience in the sector.
Contact us online or call 888-601-5359 to speak with a strategist about how we can help your medical technology business thrive in the digital landscape.
Increase your leads, sales, and revenue with digital marketing