A well-designed website is essential for any business to succeed — especially for industrial companies. Good web design means maintaining a website with modern design elements that ranks in search results, converts visitors into paying customers, and represents your brand.
Believe it or not, the layout of your site can do all of these things (and more). That's why it's so important to have a well-made site specifically designed for modern users.
Today, that means using responsive design to make your site accessible for mobile users. It also means creating five key pages on your site that'll continually earn new traffic, reinforce your brand, and convert new customers.
If you'd like to speak with a web design specialist about our web design services before reading on, you can reach us at 888-601-5359 or contact us online!
5 must-have pages for industrial web design
In order to increase traffic to your website, and provide users with everything they need to become a paying customer, you'll need the following pages on your industrial company's website.
#1. Homepage
Your homepage is arguably the most important page on your site. It's often where you make your first impression on new visitors, which starts them down the road to becoming a customer.
Your homepage should include:
Your brand name
Your company logo
Your company slogan (if applicable)
Your company's colors
Images of your company's facilities, staff, or products
Bullet points highlighting your company's selling points
These elements help you professionally present your business to the world and start earning new customers.
Your brand name is important because it acts like a handshake between you and your visitors. You say hello to them, tell them who you are, and welcome them to your site.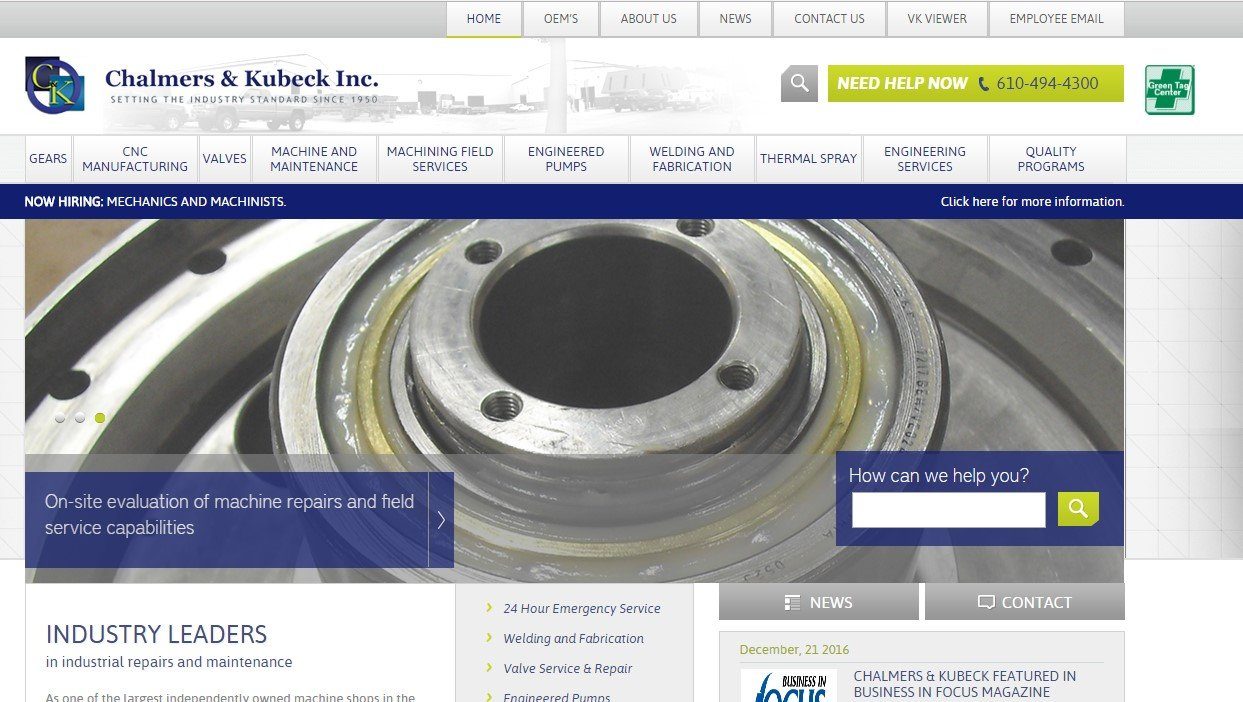 The same is true for your company logo and slogan. It gives a little more insight into your business while speaking to your professionalism. Even your company's colors help set the tone for what a visitor can expect from your business. Darker colors typically convey professionalism, while brighter colors are used for accents or brands oriented toward child-friendly products.
You can also include images of your facilities, staff, or products in a photo slider toward the top of your page. You've probably seen this strategy used before, especially with ecommerce retailers, and it's a great way to introduce some transparency to your brand.
Last, you can use creative bullets — like icons — to highlight what sets your company apart from your competitors. This will show your visitors the value of your company and give them reasons to work with you over someone else.
#2. About page
Your About page is another key part of your website.
On your About page, you get to talk about your company more in-depth. This lets you answer several big questions that can earn new customers for you, including:
What are your company values?
Do your employees like working at your business?
How do you show appreciation toward employees?
What's your philosophy on business?
What's your goal with your business?
Your company values are important because they show potential customers where you're coming from as a business. Those values will naturally show themselves in your approach to marketing and sales, since they're the roots of your company's outlook.
Next, customers in every industry like to see a company with happy employees. That's because happy employees are more productive, and it implies that a customer will have an easier time working with your company representatives than if they were miserable every day.
Customers also like to see you appreciate your employees. If you host company-sponsored events and encourage teamwork in your staff, highlight those ideas with photos or videos.
The About page is also a place where you can reinforce your business philosophy. What inspired you to start the company, and what keeps you going every day? Similarly, you can address the overall goal you have for your business. Whether that's bringing people closer together with high-quality products or supplying the best industrial services on the East Coast, explain your goals in a way that will resonate with your potential customers.
#3. Testimonials page
A testimonials page is the place to list compliments from all of your current and previous happy clients. This page doesn't have to be anything fancy, but it should look nice and be easy to navigate.
Typically, a table layout will work just fine. That table can show the name of a client, the services they received from you, and their testimonial written in their own words. You can get testimonials by emailing your current clients with customer satisfaction surveys. Once they fill out the survey, have a blank box at the bottom where they can type any critiques or praise they have.
You can also include a sentence that asks for your clients for permission before posting their testimonial public. Then, you can use that praise on your site as a testimonial — as long as you note that you may use a client's words on your site. In general, it's always better to have more testimonials. This shows people you really know your industry, plus you have a long list of satisfied clients to back you up.
Next to word of mouth, that's the best endorsement you could get!
#4. Blog
A blog is the best way for you to regularly add new content to your site. Your blog posts can cover anything from frequently-asked questions to current events and more. You can even use it to highlight new hires or major projects you pick up!
Your blog should have a similar appearance to the rest of your website. The overall design should look professional, you should have your brand name somewhere, and it's smart to use your logo on the blog's main page just to reinforce your brand. This is all in addition to the other content on your page, which should include text, images, videos, and other engaging elements.
Your blog's design should also incorporate a large, rounded font that doesn't use serifs. This makes it easier for people to read what you write. You can also use a dark font on a light background to help readability. And if you really want to go all out, you can add a little extra space between paragraphs to help the text "breathe" a little more.
Overall, these design elements are great for any professional blog. So when you start one, keep the design simple and make it easy to read. It'll pay dividends for the success of your blog, and for your online presence as a whole.
#5. Conversion page(s)
Conversion pages are the parts of your site where someone can become a lead or paying customer. For industrial companies, these pages will often have form fields that ask for someone's name, email address, and business needs.
Once they fill those out, you can get in touch and work toward converting them into a paying customer.
But when you design a conversion page, it's crucial that you guide your visitors' eyes to the place where they can convert into leads.
Most of the time, this will be on the side or bottom of a page. That way, when someone's scrolling through your content, they can stop and convert at almost any point.
You should also have a dedicated Contact page listed clearly in your navigation bar, to make it as easy as possible for site visitors to get in touch with you. This Contact page can have the same form fields as your other conversion pages, but it acts as a catch-all for new leads, questions, and comments. You can also link to your Contact page from every other page on your site, allowing new leads to find their way to you at any time.
Hear What It's Like to Work With WebFX!

"We had been looking for a new SEO firm responsible for industrial companies and we found the right one with WebFX. We have had nothing but great experiences so far and don't expect anything to change moving forward."
Boiler Installation
WebFX is an expert web design firm
At WebFX, we have a full team of web designers and developers who know how to create top-notch, cutting-edge websites.
We've helped our clients earn more than 7.8 million qualified leads, regardless of their niche. We've worked wonders in the past — now we'll do the same for you!
Contact us to create the perfect website for your industrial company!
Earn a 20% greater ROI with WebFX