Industrial marketing costs $30,000 to $145,000 per year. How much you pay for industrial marketing will depend on your agency, services, and more. Keep reading to learn more!
Online marketing is crucial for any industrial company, including yours. The purpose of your business is to drive revenue. But to drive revenue, you have to attract customers — and to do that, you have to market to people, and you have to do it effectively.
That's why you need to take the time to develop a killer industrial marketing campaign. But if marketing isn't your area of expertise, you may want to seek out the help of an experienced agency like WebFX to handle your online marketing.
Though outsourcing your digital marketing isn't free, it's well worth the investment if you partner with a reputable agency like WebFX. And many times, outsourcing your campaigns is cheaper than paying an in-house team to market your industrial business.
You'll need to budget for your marketing services. What is the cost of industrial marketing, though? How much should you plan on budgeting for industrial marketing?
We'll delve into the details of industrial marketing pricing below, so read on to learn more. Then partner with WebFX — the agency with over 25 years of experience — for our top-tier digital marketing services. Just call 888-601-5359 or contact us online today to get started!
Our digital marketing campaigns impact the metrics that improve your bottom line.
See More Results

WebFX has driven the following results for clients:

$3 billion
In client revenue

7.8 million
Leads for our clients

5.2 million
Client phone calls
How much does industrial marketing cost?
One of the most important things to understand when it comes to the price of industrial marketing is that it can vary immensely. Your budget could end up looking much different depending on the agency you partner with and the services you request.
Typically, industrial businesses can expect to spend $30,000 to $145,000 per year for digital marketing. That's a broad range, but it should give you a general idea of what to expect.

Hear What It's Like to Work With WebFX!

"We had been looking for a new SEO firm responsible for industrial companies and we found the right one with WebFX. We have had nothing but great experiences so far and don't expect anything to change moving forward."
Boiler Installation
How should you budget for the price of industrial marketing?
When you plan your industrial marketing budget, it can be tempting to invest as little as possible. Looking at the price range above, you might say, "Well, if I can pay anywhere from $30,000 to $145,000, I'll go with $30,000! No reason to spend more than I have to!"
But that's not a wise approach to take in this case. Your marketing is extremely important to your company's success, and you need to make sure it's high-quality. If you aim to pay as little as possible, the quality of your marketing will be on the low end as well.
Obviously, don't invest more than you can afford, but don't short yourself either. Figure out the maximum amount you can afford to spend, and then look at agencies within that price range to see which ones seem to offer the best services. Find an agency with plenty of experience and a history of driving results.
How does industrial marketing pricing work?
Not all industrial marketing costs work exactly the same. Different agencies use different systems for determining how much you owe them for their services.
Generally, agencies will use one of three types of rates:
Hourly: With an hourly rate, agencies charge by the hour for their services, usually somewhere between $50 and $500 per hour.
Monthly: With a monthly rate, you pay a bill to the agency each month. Monthly prices are frequently between $2500 and $12,000 per month.
Project-based: With a project-based rate, you'll pay based on the number of projects an agency handles for you, with each project costing a set amount — typically between $1000 and $7500 per project.
Be sure to pay attention to the type of rate offered by each agency you consider.
What services does the cost of industrial marketing cover?
Industrial marketing costs vary not only by agency, but also based on the services you hire the agency to perform. There are different types of marketing available, and depending on which ones you need help with, your budget could vary significantly.
But what services are often included in an industrial marketing plan? Like your budget, the answer can vary, but a few services in particular are typically present. We'll look at each of them in brief below!
1. Search engine optimization (SEO)
Search engine optimization (SEO) is one of the most important strategies in any digital marketing campaign. It involves optimizing your web content to rank in Google search results. There, people can find it and follow it to your website.
There are numerous ways to increase your Google rankings, including:
Partnering with an agency is often a great way to boost your SEO, since agencies typically have advanced knowledge of Google's algorithms and how to harness them.
2. Pay-per-click (PPC) advertising
Pay-per-click (PPC) advertising is another way to reach people through Google search results. Instead of organic rankings, though, PPC involves displaying paid ads at the top of search result pages.

You can launch PPC campaigns through Google Ads, where you bid on keywords you want to target and set up your ads. When people click on your PPC ads, they'll be taken to landing pages that encourage them to convert.
Like SEO, PPC is typically better off in the hands of an agency that knows the ins and outs of Google and has the resources to create top-tier ads and landing pages.
3. Social media marketing
Social media is where the average user spends 33% of their Internet time, so it's no surprise that it's a fantastic marketing tool. A marketing agency can help you set up an account and begin posting engaging content to draw in users.
You can also use social media to run paid ads that show up right in users' feeds. You can target those ads to people based on specific demographics like age or location, helping you reach the most relevant possible audience.
4. Web design and development
All your other online marketing leads back to your website, so you absolutely can't miss out on web design as a marketing strategy. Your site should be designed to look appealing and function smoothly for everyone that visits it.
Some ways you can improve your web design include:
An experienced agency can build you a site from scratch, or optimize your existing one to attract and retain more traffic.
WebFX knows manufacturing.
"Working with WebFX, everything is very organized and strategic. We're only a year into our partnership, and our expectations have definitely been met."
— C.H. Reed, Industrial Solutions and Services
See the Testimonial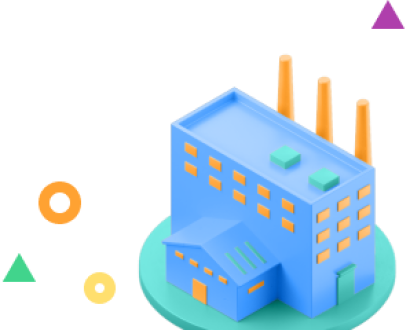 WebFX can give you the most for the price of industrial marketing
Now that you know more about the cost of industrial marketing, you can begin searching for an agency that both fits your budget and provides high-quality services. While your budget depends entirely upon you, if it's high-quality services you're looking for, WebFX is the way to go.
With over 1020 client testimonials, WebFX is the agency industrial businesses trust to drive stellar results for their online marketing. With our digital marketing services, you can rest assured your revenue will get a significant boost in the long run.
To get started with us, just call 888-601-5359 or contact us online today!
Earn a 20% greater ROI with WebFX