In today's high-tech world, social media platforms have become integral to maintaining relationships — they're like the new word of mouth. People frequently use social media channels to seek advice and solutions to problems and share their good or bad experiences with local contractors and businesses with their online network.
As a water treatment industry expert, you can leverage social media to insert yourself into these discussions, build credibility for your brand as an authoritative voice, and ultimately sway consumers' purchase decisions. Social media is a great way to demonstrate to clients that you care about them even after they purchase and install your water and wastewater treatment systems.
But how do you employ social media for the water and wastewater treatment industry? Read on to understand the basics of social media marketing for water and wastewater companies and uncover the best methods to get you started. Here's a quick rundown of the topics we'll discuss:
74% of people use social media when making a purchasing decision.
Make their decision easy with a stellar social media presence. See how your brand can level up by requesting a no-obligation proposal today.
One of our experts will be in touch within 24 hours!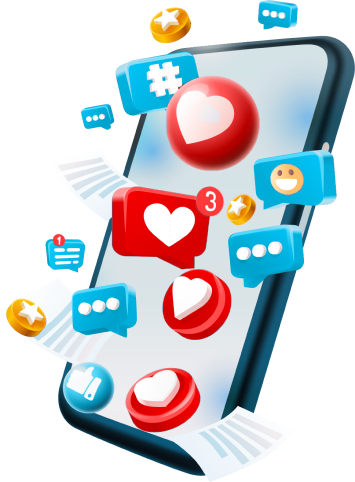 What is social media marketing for water and wastewater treatment?
Social media marketing for water and wastewater treatment is the promotion of water treatment companies using social media channels such as Facebook, LinkedIn, Instagram, and Twitter to build awareness and trust, connect with prospective clients, generate new leads, and increase revenue.
Is social media right for water and wastewater treatment companies?
Yes, social media is suitable and can work for water and wastewater treatment companies since the average American spends over half an hour daily on Facebook and makes eight separate visits during 24 hours. Plus, with 302.35 million users as of 2023, 90% of the US population uses social media.
Therefore, social media platforms are the best channels to promote water conditioners, reverse osmosis (RO) systems, dechlorination devices, and other water-related solutions to homeowners and property managers. By leveraging social media, water and wastewater treatment companies can reach their target audience quickly and cost-effectively.
What can water and wastewater treatment companies post on social media?
In all honesty, only a few people might be interested in seeing pictures of your team installing a brand-new water purification system or building a well. That's where imaginative social media marketing strategies shine.
Try seeing yourself as a homeowner or property manager. They're looking for someone who can relate to their plight and provide a solution. To attract new clients using social media, you must address their pain points and highlight the perks they'll get from using your water treatment solutions and services.
For instance, some common household water quality issues that can cause frustration for homeowners include ion stains on fixtures, odorous water, and safety concerns regarding tap water. So you can post pictures on social media showing the beneficial effects of better water quality on people's well-being and happiness. Doing so is a great way to show off your company's success and highlight how your equipment improves people's lives.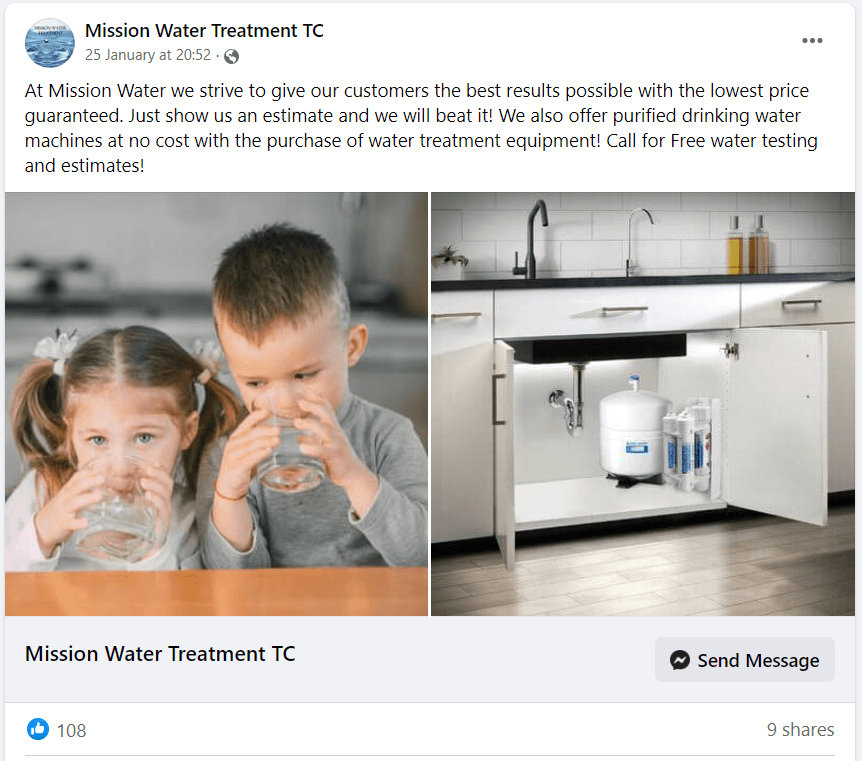 You can also tackle local water issues that no one else is addressing. For example, while many online sources explain the basics of how a filtration system operates, your team can also address more nuanced questions about the water quality issues facing your target market.
Once you've piqued their interest with engaging content, you can direct them to your website for further resources. A user's research process generally begins with social media.
Not happy with your social media engagement?
We've got just the blog post for you.
Read the Blog Post & Watch the Video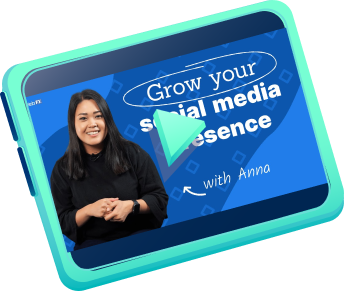 Organic vs. paid social media marketing
Organic social media marketing is the free promotion of products or services using no-cost social media applications to cultivate and interact with an online target audience. Its primary purpose is to increase your company's exposure, enhance customer service, and educate your audience by publishing videos, infographics, updates, and articles on your business page.
On the other hand, paid social media marketing encompasses all aspects of social media driven by advertising expenditures. It's a paid promotion on a social media platform that enables marketers to reach users who aren't already engaging with them. The cost-per-click (CPC) model is one of the most common ways to price this advertising.
Incorporating paid and organic social media techniques allow you to effectively interact with and educate your audience while increasing your brand's exposure to a bigger market.
6 social media strategies for water and wastewater treatment companies
1. Use brand listening to monitor online conversations about your company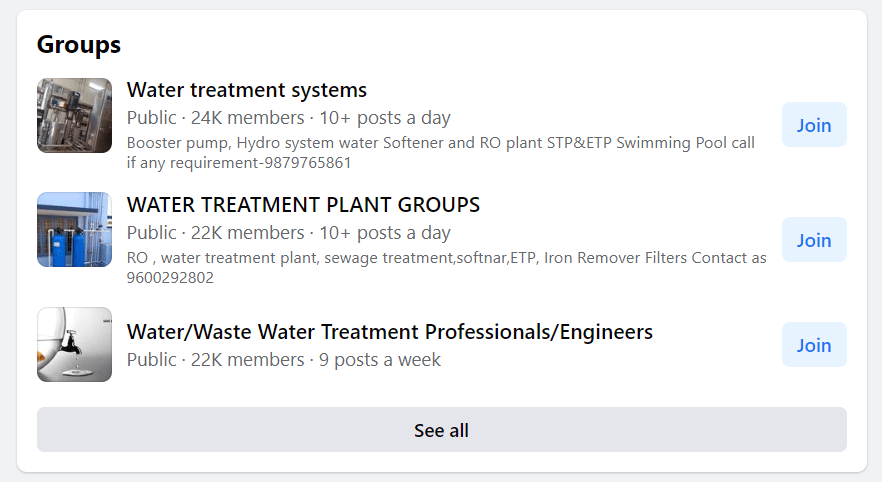 Brand listening is essential to social media marketing for water and wastewater treatment companies. It can help companies determine how your brand is perceived, identify customer needs and concerns, measure campaigns' success, and discover improvement opportunities.
You can learn about your consumers' demographics, interests, and perceptions of your company and its solutions through branded keyword searches.
For instance, if your company is ABC Water Treatment, you can use the branded keyword "ABC Water Treatment recommendations" to discover debates and conversations on the most controversial topics related to your business. There you can voice your opinion, address negative comments, and demonstrate your expertise.
In addition, you can use social listening technologies to better monitor online conversations about your company and track the latest buzz in the water treatment sector in real-time, allowing you to pick up on insights as they emerge. Doing so will help you better understand your target market and tailor your posts to them.
2. Use custom visuals to grab your target audience's attention
Pictures are so much more likely to catch people's eyes than words alone, so they are indispensable for social media campaigns promoting water and wastewater treatment. The visuals you employ in your social media content strategy should quickly attract the attention of your intended audience.
Additionally, when sharing visuals, you should include relevant data that reinforces the message of your campaign. Visuals are an excellent way to disseminate public health quotes, helpful environmental regulation compliance tips, essential water and wastewater treatment information, and industry updates.
Your visuals should be creative and engaging for your target audience, providing relevant information about the industry and what is happening in the water and wastewater treatment field.
3. Share inbound links to blog posts on your website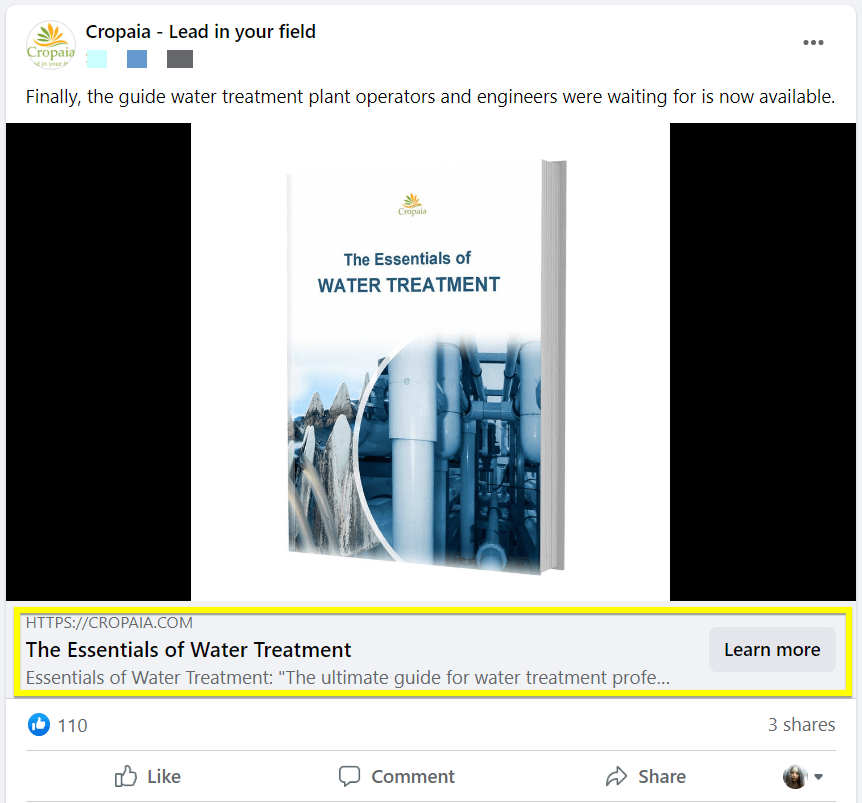 When it comes to what you should share on social media, there is no one-size-fits-all solution. There is a wide variety of material formats to select from, each of which may have its unique group of audiences for various reasons.
Blogging is an excellent method for boosting water and wastewater treatment SEO and spreading awareness online. For instance, you can craft helpful and informative blog posts to demonstrate your knowledge in the field and provide your audience with easy-to-follow resources for understanding the complexity of water and wastewater treatment.
Posting your new blog posts on social media channels like Facebook and LinkedIn can encourage more people to visit your site regularly. Writing blog entries might help you gain credibility as an expert in water purification. Additionally, including relevant keywords and phrases in your blog posts can increase the chances that they show up in search engine results, potentially helping to drive more traffic to your site.
4. Respond to the comments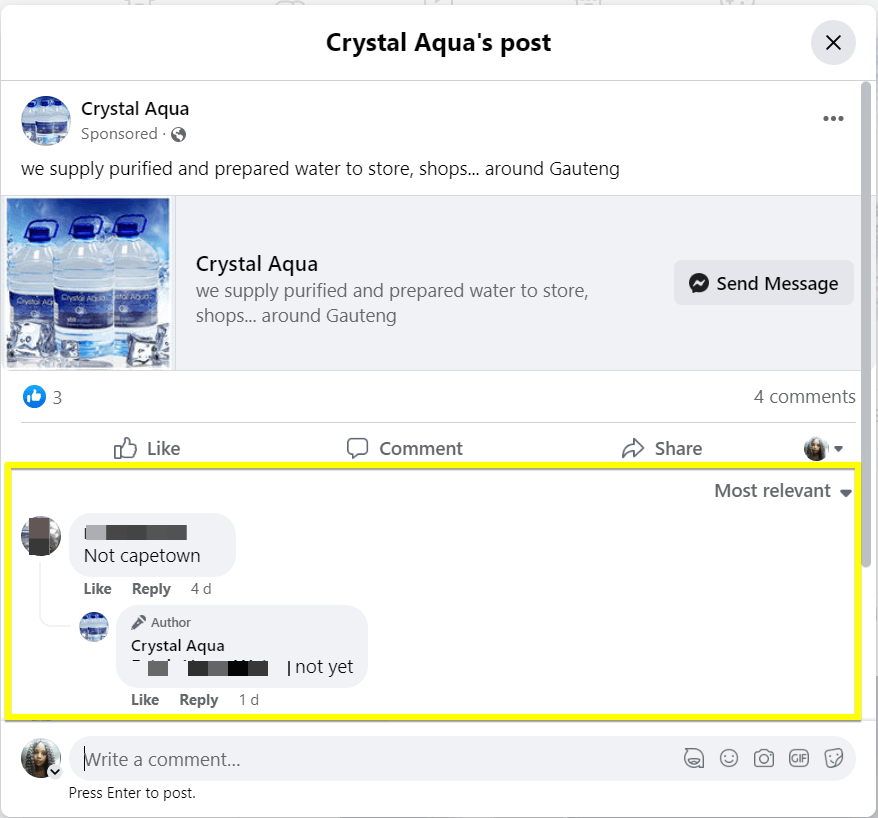 Comment threads allow you to interact with consumers in a new way, and you can quickly monitor and control your online reputation. Participating in comment threads on other sites and responding quickly to comments on your postings shows your audience that your company is active in their space and cares about their thoughts and opinions.
For instance, if a user compliments a picture of one of your wastewater treatment plants, you should express gratitude and appreciation. Doing so demonstrates to clients that you value their feedback, which increases the likelihood that they will continue doing business with you.
On the other hand, if you see a negative remark, you should apologize and urge the user to contact you using Messenger to resolve the issue. Responding actively to customer feedback demonstrates that you appreciate their viewpoints.
5. Post informational and "how-to" videos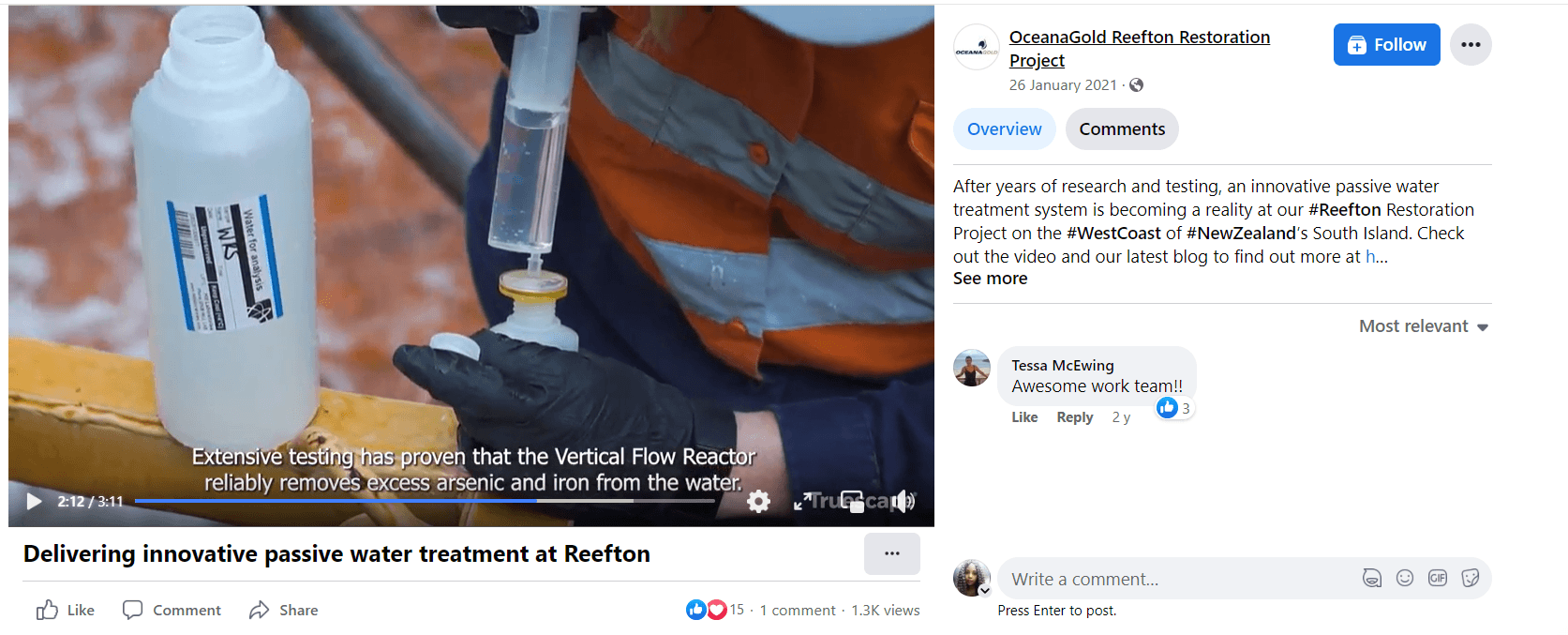 In today's media-rich world, sharing visual content on social networks like LinkedIn might result in twice as many responses. The best strategy to get people interested in what you have to say about water treatment technologies and the revolutionary influence they will have on the water and wastewater treatment sectors is to combine textual pieces with visual media.
For example, if you supply water filtration systems and have developed a solution with the potential to enhance the efficiency with which such devices function, you could upload a "how-to" video demonstrating the proper installation or operation of the devices, or you could post images showing your water purification filters in action.
The trick is to keep your videos short — between one and two minutes — and include helpful information or a unique perspective on a trending issue. You can also integrate subtitles in your content to improve its readability and SEO.
6. Run Facebook ad campaigns to target users already searching for water treatment solutions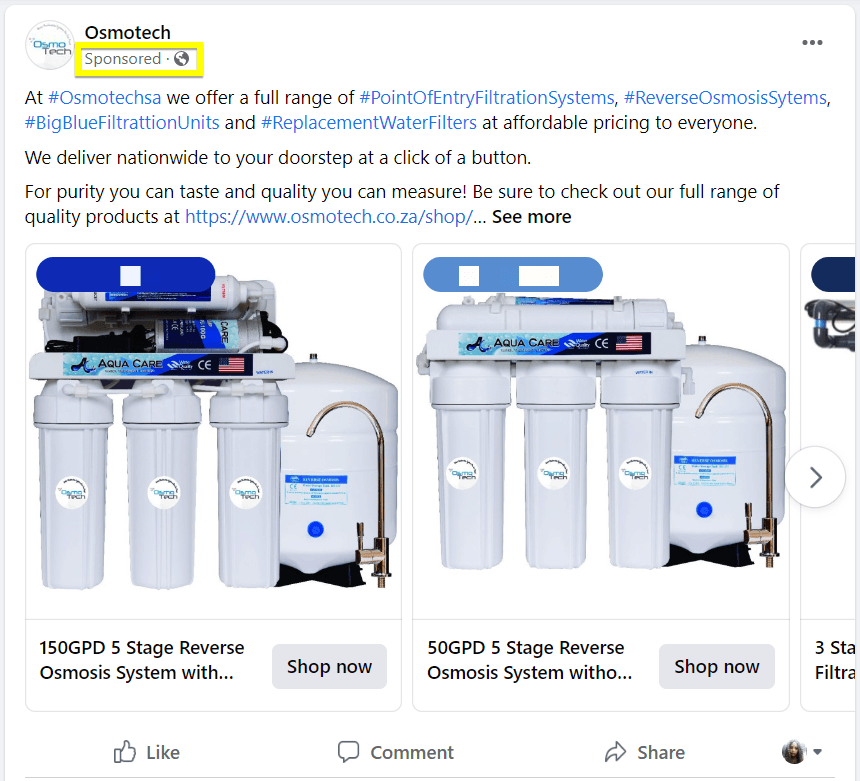 Facebook ad campaigns can be a great way to reach people considering purchasing water and wastewater treatment systems. You can connect your client base and boost conversions by making customized ads geared to your unique audience to pique their interest.
Facebook's built-in Ads Manager allows you to target users showing an interest in your water and wastewater treatment products and services, create an engaging ad that stands out from the crowd, establish a budget, and monitor the efficacy of your campaign.
For example, you can use Facebook Ads Manager to create an audience by targeting people recently searching for information about water and wastewater treatment solutions or using terms such as "water conservation" online. You can also add demographic targeting, such as people living in a specific region or with a particular interest, to ensure your ad reaches the right audience.
Bonus read: The Ultimate Guide to Lead Generation for Water and Wastewater Treatment
Growing your social presence with WebFX is a walk in the park.
"WebFX allows growing your social media platforms to be stress-free! They are knowledgeable and adapt to your company needs!"
Learn More About Our Social Media Services

Invest in social media marketing services for water and wastewater treatment
With innovative revenue acceleration technology and a client rating score that is 488% above the industry average, WebFX is a reputable provider of social media marketing services for water and wastewater companies.
Using tried-and-true methods that harness the potential of social media platforms, we have assisted several businesses in raising their profile and expanding their client base.
We would love to partner with you in growing your water treatment company by helping you increase sales, retain your existing customers, and build a more substantial reputation through social media.
Browse our social media management service packages and prices or call 888-601-5359 to learn how.
Increase your leads, sales, and revenue with digital marketing