PPC for Payroll Services: 3 Tips for Earning More Clients
If you want to earn new clients and continually drive revenue for your payroll services company, you need a strong marketing plan. One of the best strategies to include in your plan is pay-per-click (PPC) advertising. PPC ads will help you attract qualified leads that drive revenue for your business.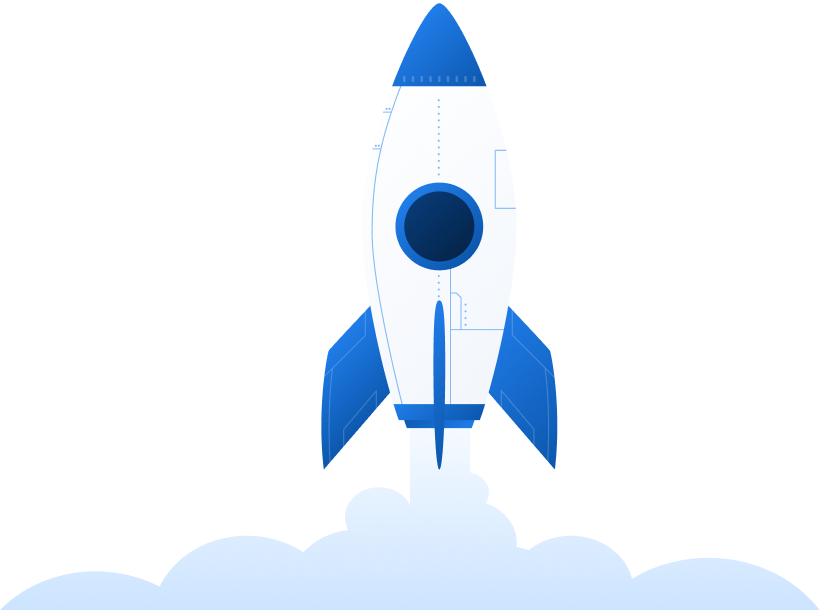 Kinley's company is looking to make paying her employees easier, so she's searching for payroll services. She finds an ad on Google and discovers a company that fits her needs. Kinley contacts them to learn more about what they offer.
The only problem is it was your competitor's ad she clicked on.
Without PPC for payroll services, you'll miss out on earning new clients for your business and boosting your company's revenue. With a PPC plan in place, you can help your company appear in relevant search results and drive leads to your website rather than your competition.
But where do you start with payroll PPC?
Keep reading to learn more about how you can use PPC for payroll services to earn new clients and increase revenue for your company!
Traffic attracted through PPC advertising yields 50% more conversions than organic advertising.
Are you leveraging PPC in your marketing efforts? Let's get started.
View the Guide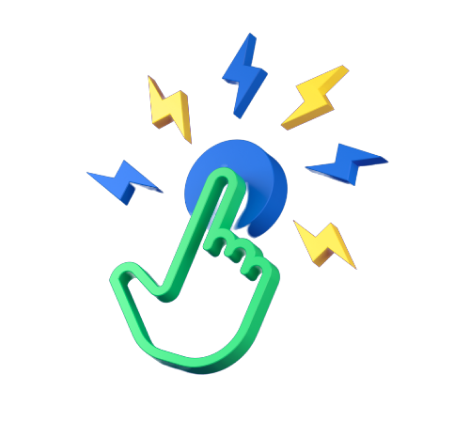 Why invest in PPC for payroll services?
Not sure if payroll services PPC is right for you? Here are three key benefits of investing in payroll PPC:
1. PPC for payroll services helps you boost your company's revenue
A big benefit of PPC for payroll services is that it helps you boost your company's revenue. PPC is a strategy that helps you put your payroll services before people searching for them and above your competition.
When you appear higher in search results, prospects are more likely to click on your ad and learn more. Considering that 46% of page clicks go to the top three PPC ads, you're more likely to earn qualified leads by investing in PPC.
2. PPC for payroll services gives you control over your budget
When you invest in payroll services PPC, you reap the benefit of being able to control your budget. With PPC, there is no set amount you must invest for your campaign. You choose how much you want to spend on your campaigns.
Keep in mind that the amount you invest impacts the results of your campaign. You'll see better results investing $3000 than $500.
Regardless, you control your investment, so you can set a budget that works best for your payroll company.
3. PPC for payroll services helps you increase brand recognition
With payroll PPC, you increase your brand recognition. By putting yourself at the top of search results with paid ads, you help more people discover your payroll services.
Even if prospects don't click on your ad, they'll still see your ad in search results. They'll see your brand and what you offer. When they're starting to narrow their focus, they'll remember you and consider your brand as an option.
If prospects click on your ad, they'll spend time learning about your payroll services and seeing what you have to offer. When it comes time to convert, they'll remember your business and choose you.
How to create a successful PPC strategy for payroll services
Now that you know why you should create a PPC strategy for payroll services, it's time to start creating your revenue-driving strategy. Here are three tips to help you drive success with payroll PPC:
1. Identify relevant keywords to target in your ads
To create a successful PPC strategy for payroll services, start by identifying relevant keywords to target in your ads. Keywords are critical to your ads' success because they determine where your ads appear.
To find the right keywords, start by using a keyword research tool like KeywordsFX. You can use this keyword tool to generate a list of ideas of terms to target within your ad.
Once you have a list of relevant keywords, you'll want to look at the data on them more closely. A key metric to look at is the keyword volume and the cost per click (CPC).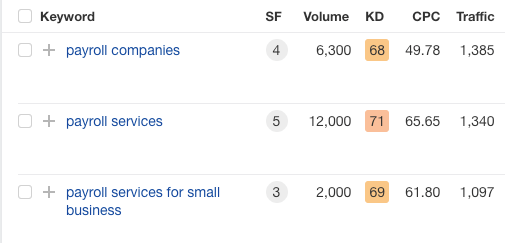 The keyword volume provides you with an estimate of how many people search those key terms. You want to target keywords that have a higher search volume because it indicates people are searching those terms.
Your CPC indicates how much you'll pay each time someone clicks. You want your CPC to stay low so you can get more for your budget. This cost will vary depending on which keywords you choose.
For you to drive success with payroll PPC, you must strike a balance between keyword volume and CPC. Short-tail keywords, which only contain one or two words, have a huge volume, but they come at a high cost. These keywords aren't very specific, so, while they have a high search volume, they have less qualified leads.
That's why it's best to focus on long-tail keywords, which contain three or more words. These keywords drive more qualified leads because they're specific, but also tend to have a lower CPC so you can maximize your budget.
2. Use ad extensions to entice more clicks
The key to a successful PPC strategy for payroll services is using ad extensions. Ad extensions enable you to provide additional information in your ads to entice people to click.

There are numerous ad extensions you can use to create a more click-worthy ad, including:
Price extensions
Sitelink extensions
Callout extensions
Call extensions
Promotion extensions
Message extensions
And more
You can use multiple ad extensions to help create a better ad experience for your audience.
By integrating these extensions, you provide your audience with more information about your business –– it might be a discount you're offering for new client signups or links to important pages on your website. This extra information may, in turn, encourage prospects to click on your ad.
3. Test your ad copy to maximize results
When you do payroll services PPC, you must ensure you continually test your ad copy. When you first create your ad, you won't put out a perfect ad that drives the absolute best results. There's always room to improve your ads, even if they're already driving good results.
By testing your ads, you continually improve your ad performance, which leads to better results for your payroll PPC strategy.
When you're testing your payroll PPC ads, you can test your:
Ad extensions
Keywords
And more
Make sure you only test one element at a time. If you test multiple elements, you won't know what changes positively impact your ad.
By continually testing your ads, you'll improve results and drive more revenue for your business.
Ready to invest in PPC for payroll services?
If you want to boost your revenue and earn new clients, it's time to invest in PPC for payroll services. By running paid ads, you'll put your payroll company in front of people who need your services. If you aren't sure where to start with PPC, WebFX can help.
We have a team of 150+ Google Ads certified team members that will craft your custom ad campaign. With over 25 years of experience, you can feel confident we know how to craft campaigns that grow businesses.
Don't believe us? Check out our 1020 testimonials that attest to the awesome work we do!
Ready to boost your payroll business's revenue? Contact us online or call us today at 888-601-5359 to speak with a strategist!
Increase your leads, sales, and revenue with digital marketing