Having a strong online presence is crucial for recruiters looking to find job applicants and new clients for their recruiting companies. In fact, a Pew Research Center survey found 90% of people who had recently looked for a job had used the Internet to research jobs.
Creating a results-driven, data-backed digital marketing strategy can help recruiters find the right candidates and grow their recruiting businesses.
On this page, we'll cover the top six strategies for digital marketing for recruiters.
At WebFX, we have a team of more than 200 digital marketing experts who can help create and implement such a plan for your recruitment agency. Our online marketing work has driven more than $2.4 billion in revenue for our clients over the last five years. To speak to a strategist, contact us today.
Our digital marketing campaigns impact the metrics that improve your bottom line.
See More Results

WebFX has driven the following results for clients:

$3 billion
In client revenue

7.8 million
Leads for our clients

5.2 million
Client phone calls
What is digital marketing for recruiters?
Digital marketing for recruiters involves using Internet-based channels to promote your brand, product, or service. Recruiters can use Internet marketing to promote both their recruiting businesses and open positions for which they are seeking candidates.
Some examples of Internet recruitment marketing strategies include search engine optimization (SEO), pay-per-click (PPC) advertising, and social media marketing.

Hear What It's Like to Work With WebFX!

"WebFX is the area if not the region or national experts on SEO. Their service is incredible."
Healthcare Recruiter
Top digital recruitment marketing strategies
Internet marketing for recruiters can involve numerous online channels. Here are some of the best methods for digital recruitment and online marketing for recruitment agencies.
1. SEO
About 93 percent of Internet sessions start with search engines, so if jobseekers and clients can't find you in search, you're missing out on a huge percentage of your potential audience.
SEO encompasses a variety of tactics that help ensure the right people find your content online. It involves targeting keywords that your audience searches and improving your website's quality to encourage search engines to rank it higher.
As a recruiting company, you might target keywords like "recruiting companies for tech firms" or "recruiting companies in (your city, state, or region)" to attract potential clients. To find job candidates, you might target keywords like "software engineer jobs in Seattle."
Of course, the exact phrases you target depend on the precise audiences you want to reach.
Local SEO techniques can be especially useful for recruiting firms since many jobs are tied to a specific location. Local SEO involves targeting keyphrases that relate to a location, such as "software engineer jobs in Seattle" or "recruiting companies in Tallahassee."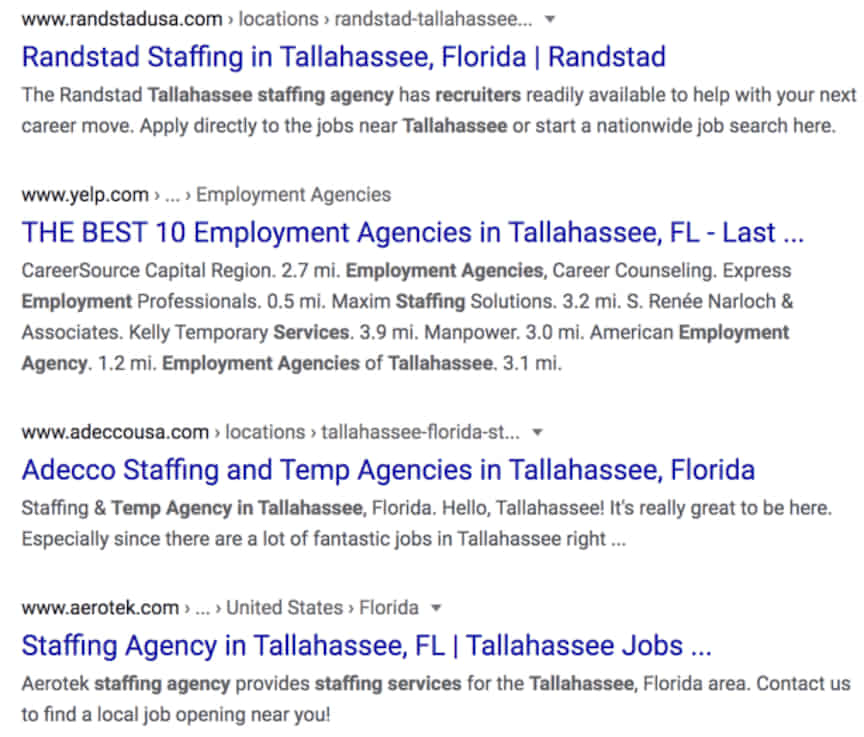 WebFX has been named the world's #1 SEO agency by Clutch! Learn more about our SEO services, including our local SEO services.
2. Social media marketing
Social media is another valuable tool for digital marketing for recruitment agencies. It's excellent for building brand awareness and promoting open job positions you have available.
A digital recruitment strategy for social media can involve posting articles, tips, and facts related to careers and hiring, along with posts about jobs you have available.
Before you start posting, come up with a brand personality and use a brand voice that matches it in all of your posts. Many recruiting agencies go for a professional, business-like tone, but this could vary depending on the industries that typically use your services.
What social media sites should you use? LinkedIn is the obvious choice since it's a professional network, and people often use it to find job opportunities. According to LinkedIn, over three quarters of people who recently switched jobs used the network to inform their decision.
LinkedIn isn't the only option, though. Facebook, Twitter, Instagram, and other networks can also be valuable to your recruiting business. If you aren't sure which platforms to use or how to create an effective social media strategy, you can invest in social media management services from a digital marketing company like WebFX.
3. PPC advertising
PPC ads are an excellent way to find job candidates quickly, especially those who are actively looking for jobs. You can also use PPC advertising to reach potential clients looking to work with a recruiting agency.
PPC ads appear at the tops of search engine results pages (SERPs), on social media sites, and on other websites. They're incredibly useful for getting your audience's attention and driving leads to visit your page.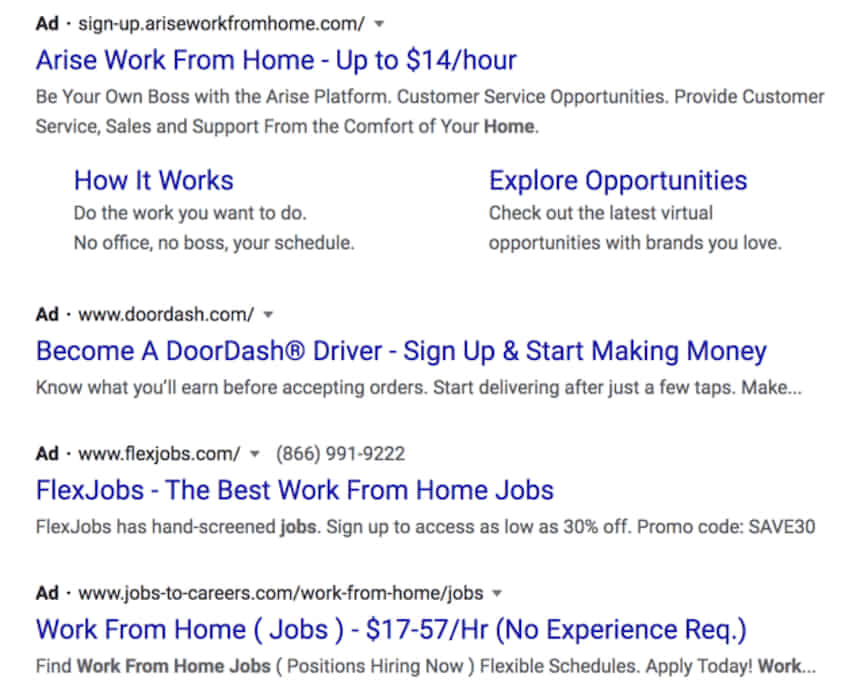 These online ads let you reach precise audiences by targeting keywords they search online and using PPC ad platforms' targeting features. These features allow you to target users based on demographic characteristics, recent online activity, and more.
You can even use retargeting, which lets you reach people who recently visited your jobs page or posting. With this targeting method, you could, for example, show someone an ad who started a job application but didn't yet finish it.
For help creating a PPC campaign that targets the right audiences and gets users to convert, work with a PPC management company like WebFX.
4. Web design
Before someone applies for a job through your website or hires you to find a new employee for their company, they want to know that you're professional and trustworthy.
If your website doesn't have a professional, user-friendly design, they'll have a negative first impression of your agency and will likely look elsewhere.
Every strategy for online marketing for recruiters should include a well-designed, easy-to-use website that looks great on all types of devices, including mobile.
You should also ensure you have professional-looking landing pages, as these are the first pages many new candidates and leads will see.
If you aren't experienced in web design, you don't have to go at it alone. You can and invest in professional web design or landing page design services to help you create the perfect online experience for your audience!
5. Content marketing
Creating high-quality online content can help people find your recruiting company and get to know your brand. This content can include blog posts, videos, infographics, and many other types of content.
For your content marketing to be successful, you need to create content that appeals to the right audiences. Think about who your target audience is and what information they're looking for. For example, if you're recruiting mechanical engineers, you might write an article about how to advance your mechanical engineering career.
Your content should be genuinely useful to your audience, so create resources that provide practical information in a user-friendly way.
For help developing a content marketing strategy and creating content that your audience will love, invest in content marketing services.
Internet marketing for recruitment agencies with WebFX
Digital marketing is critical to the success of today's recruiting agencies. Job candidates increasingly use the Internet to find new career opportunities, and potential clients use it to find recruiting companies to work with.
Having an experienced Internet marketing agency on your side can make all the difference for your recruiting firm. At WebFX, we have more than 20 years of experience and more than 500 testimonials from clients in a vast range of industries.
We're a full-service digital marketing agency, so we offer a wide range of services, including:
Interested in learning more about how our team can help you grow your recruiting company with digital marketing? Request your free quote now!
Earn a 20% greater ROI with WebFX