Today, the web is one of the top places to find the perfect new employee or new job. In 2015, 79% of job seekers said they used online resources in their search – a number that's continued to increase over the past few years.
In order to recruit online though, you first need to get job seekers to your website. That's where SEO becomes extremely valuable. Call 888-601-5359 or contact us online today to speak with one of our experts directly!
What is SEO?
SEO stands for search engine optimization, a term that encompasses a number of strategies aimed at helping your website rank higher in search engine results.
The first place that many Internet users go when they're looking for job opportunities is a search engine like Google. They type a few keywords that describe the type of job they're looking for, as well as a few location-related keywords, then read through a few of the results.

It's important to note, though, that 75% of searchers don't look past the first page of results. This means that if you want job seekers to find your website, it's crucial to rank well for keywords related to your job openings.
Search engines evaluate and rank websites according to constantly-changing algorithms. But although SEO can be complicated, there are a number of strategies that you can use to improve your rankings and increase your online visibility.
SEO tips for recruitment
The majority of job hunters use search engines when in their search, and SEO is essential for helping them find you. The following tips will help you start improving your company's rankings and attracting more qualified applicants.

1. Identify valuable keywords
The backbone of any recruitment SEO plan is keywords. Keywords are the words and phrases that people type into search engines to find content online, and including the right ones on your pages will help them rank well for relevant searches.
In order to determine what keywords to include on your pages, you'll need to do keyword research. Start out by brainstorming potential keywords and analyzing your competitors' job listings and keywords, then use keyword research tools to expand and evaluate your list.
You'll also want to consider the search intent of each keyword, and how well it could help your company achieve its goals.
Your keywords should be specific and can include your industry name, job title, location, and company name.
2. Incorporate your keywords throughout your site
Once you've identified keywords, you'll need to add them to your site where. You can start by including them in your body copy, and you'll also want to add them to HTML elements you're your page title and header tags.
You should also consider elements like alt tags and meta descriptions. That being said, only use keywords where it makes sense. Adding them to a page as many times as possible is considered "keyword stuffing" and can damage your chances of ranking well.
3. Publish original content
Search engines favor sites that regularly publish content that provides value to visitors. Your content should be unique to your site and be helpful to your visitors, so that it encourages them to come back to your site later.
We don't just want to tell you about the beautiful work we do.
WE WANT TO SHOW YOU
We've built over
Websites in industries like yours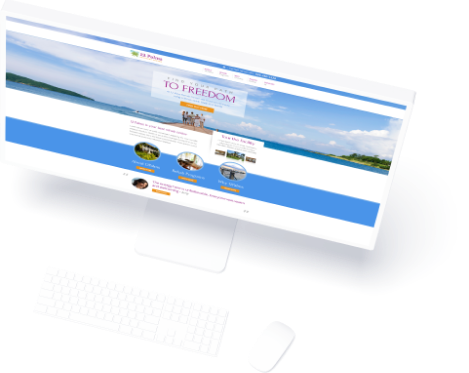 View our past work
Every new piece of content is another opportunity to use keywords that will help boost your site's visibility in search engine results. You can even use your keyword research to help you identify topics that your target audience is interested in.
If you're a recruitment agency, you may even consider starting a blog with advice that's relevant to job seekers. You could post job-hunting advice, interview tips, and general career information. This can help you build your online reputation while simultaneously helping potential applicants.
4. Build links
Search engines like Google view links from other websites as proof of your site's quality and authority. The more you have from trustworthy websites, the higher you'll be able to rank in their results.
However, earning links to your site is often easier said than done. When you create quality content, other sites may link to it naturally. But most of the time, you'll need to reach out to other site owners and let them know about your content.
Make sure to contact news sites, blogs, and other publications that your content is relevant to, and explain to them how sharing it would benefit their readers.
5. Use location-based keywords
Job seekers often look for employment opportunities in specific areas, so be sure to incorporate location-related terms in your keywords. Use the names of cities, states, and regions where your jobs are located as keywords.
If you're a recruiter, you might also consider creating content that deals with a specific region. For example, you could write blog posts about the tech industry in eastern United States, or tips for job searchers in a specific region.
6. Update frequently
Posting regular, frequent updates to your site gives people a reason to come back, and also helps show search engines that your site is "fresh." If you regularly add new job listings to your site, this will help, but you can also get creative with blog posts, articles, and other content.
7. Consider mobile-friendliness
Job seekers don't save all their searching for their laptop or desktop computer. Many research from their smartphones, tablets, and other devices – and they need to be able to access and navigate your site on all of them.
Plus, if your site isn't mobile-friendly, your rankings in search engine results will suffer. The best way to avoid this is by using responsive design.
Websites that utilize responsive design will adjust based on the screen the viewer is using, so that it looks good across all devices. It also ensures that they'll be able to get the same user experience, including filling out forms and using your navigation system.
Recruitment SEO plans from WebFX
Great employees are essential for any company to succeed, but in order to hire them, you need make sure that qualified applicants can easily find your job listings. And because so many job searchers use search engines to find employment, recruitment SEO is a powerful strategy for helping them find you online.
If you're ready to improve your online visibility and get more qualified applicants for your business, WebFX can help.
Contact us today to speak with a strategist about how recruitment SEO can benefit your business!