Social media plays an increasingly important role in recruiting and job searching, so you need to make sure you're using social media effectively. In this guide, we'll provide seven tips for social media for recruiters.
As a team of digital marketing and social media experts, WebFX can create a custom social media strategy for your recruiting agency. We can help you leverage the power of social media to find qualified candidates and grow your business. To learn more and get a custom proposal, contact us today.
74% of people use social media when making a purchasing decision.
Make their decision easy with a stellar social media presence. See how your brand can level up by requesting a no-obligation proposal today.
One of our experts will be in touch within 24 hours!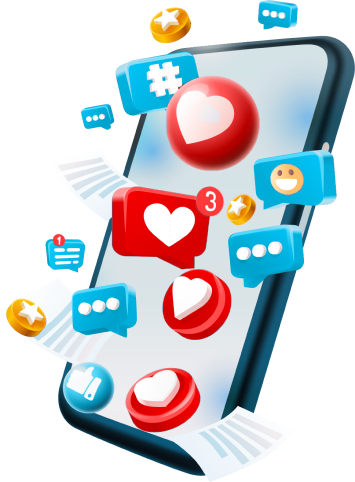 1. Define your goals
Before launching a social media marketing strategy, you need to be clear on your goals. Establishing well-defined goals will help guide your social recruiting strategy.
To maximize your success, make your goals SMART goals, which are:
Specific: Make your goals detailed and avoid leaving room for misinterpretation.
Measurable: Set up processes for tracking your progress.
Attainable: Your goals should be ambitious but realistic and achievable.
Relevant: Ensure your goals align with each other and your overall business objectives.
Time-bound: Set a timeline for achieving your goals to help you prioritize your tasks and motivate you to complete your goals.
Hear What It's Like to Work With WebFX!

"WebFX is the area if not the region or national experts on SEO. Their service is incredible."
Healthcare Recruiter
2. Know your audience
Another important step for creating a social media strategy for recruitment agencies is to define your target audience — the people you want to reach with your social media posts.
To help with this, create marketing personas — semi-fictional descriptions of your ideal followers. Base these profiles on the job candidates and clients you typically work with and include as much detail about them as possible, including the industry they work in, the kinds of roles they're seeking, their salary ranges, and their demographic characteristics.
Here's an example of a marketing persona:
Once you have your personas figured out, you can create a social recruiting strategy and social media content that will appeal to them.
3. Select the right platforms
Carefully consider your options when deciding which social media platforms to use. Choose the networks that will best enable you to meet your goals and reach your target audience.
Here are some of the top social media networks for recruiters to consider:
LinkedIn
Since LinkedIn is a professional social network, it's a great option for social media for recruiters. In fact, according to LinkedIn, over 75% of people who changed jobs recently used LinkedIn during their decision process.
LinkedIn allows you to:
Create company profiles
Post updates
Search for job candidates
Post jobs and sponsored jobs
Message candidates
And much more
Facebook
Facebook is another smart choice for social media for recruiters, as it has the most monthly active users of any social network.
On Facebook, you can:
Post updates
Interact with candidates
Post jobs
Join career-related groups
Search users based on various attributes.
Twitter
Twitter is another useful social media site for recruiters. It's great for posting quick updates about available jobs, sharing career-related content, and more. You can use hashtags, such as #tempjobs or #engineeringjobs, to help candidates find you.
Instagram
Instagram is a highly visual platform that's great for building your brand and reaching candidates, especially those in visually focused fields like graphic design. On Instagram, you can post regular updates, use hashtags, and reach out to candidates.
Other platforms
Other potentially useful social media sites for recruiters include YouTube, Pinterest, Snapchat, and TikTok.
4. Use a consistent brand voice
Social media is an excellent place for increasing brand awareness since you can post regularly and interact with your audience. To create a strong brand, it's crucial that you follow one of the most important social media recruiting best practices — using a consistent brand voice.
Before you start posting on social media, develop a brand identity and determine what kind of voice you'll use. For example, you might want to be business-like and professional or a little more relaxed and fun.
When choosing a brand voice, consider what will resonate with your target audience, what fits with the overall feel of your brand, and your overall business goals.
Whatever voice you choose, be consistent with it. Creating a consistent brand identity will help you establish a brand that people can recognize and get to know.
5. Engage with your audience
Social media is meant to be social, so make sure that you regularly engage with your audience.
You can post job opportunities, but that doesn't have to be the only type of post you make. You can also share news, tips, and ideas related to hiring and careers. These types of posts make your social media presence more interesting and encourage engagement.
If someone engages with you through comments, posts, messages, or other channels, respond in a timely manner. Doing so helps you build relationships with your followers, which encourages them to trust you and work with you.
6. Consider paid posts
Regular, unpaid social media posts are a great way to promote your recruiting business and find job candidates, but paid social media posts can help you reach even more users. Social ads can be a valuable part of a social media strategy for recruitment agencies.
These advertisements, which include paid posts and job listings, provide numerous advantages, including the following.
They allow you to reach users who don't follow you on social media.
They increase your visibility among your followers, as not all of them will see every one of your organic posts.
You can target social media ads to precise audiences based on users' demographic characteristics, interests, recent activity, and other factors.
At WebFX, we can help you with both your organic social posts and your social media ads. Learn more about our results-driven approach to social media advertising.
7. Measure your results
With any digital marketing plan, it's crucial that you measure your results, so you know what tactics and content perform best. You can use the data you collect to continually refine your strategies.
Some metrics you can track include:
The number of likes, comments, and shares on your posts
The traffic coming to your application pages from social media
The number of conversions resulting from social media referrals
You can use tools like Google Analytics to help you track these metrics. With this tool, you can see how many users came to your website from each social media site you're using, how many users converted, and much more.
Here's what the Social Overview report looks like in Google Analytics. You can get to the report under Acquisition > Social > Overview.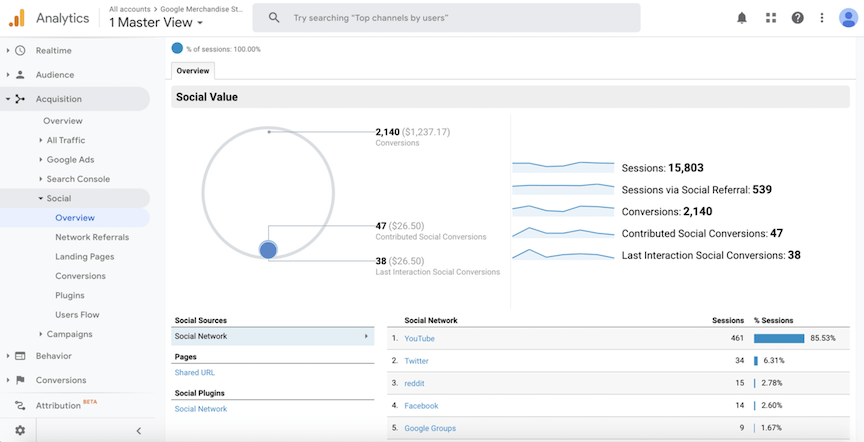 Social media services for recruiters
At WebFX, we've worked on social media campaigns for a wide range of clients and published more than 165,000 client social posts.
We offer a wide range of social media services. Our team can provide:
A custom, data-backed social media strategy
Original social media posts
Custom images
Profile optimization
Social media account audits
Regular reporting
And much more
Ready to find the perfect candidates and grow your recruiting business using social media? Get your free quote today!
Earn a 20% greater ROI with WebFX