Research: Understanding your company, industry, audience, and goals is a critical part of SEO. That's why your dedicated account manager takes the time to learn about your business, as well as conduct an SEO audit of your site and your top competitors' site.
Optimize: Optimizations, like title tag updates and page speed improvements, power SEO. As your partner for Atlanta SEO marketing, we'll take the lead in optimizing your website, focusing on the highest-impact updates first.
Content: From blog posts to online guides to product pages, your site's content plays a pivotal role in moving people from website visitors to paying customers. That's why our Atlanta SEO services include brainstorming content ideas and turning them into a reality.
Keywords: In-depth keyword research by your dedicated Atlanta SEO expert is one reason why WebFX is one of the best SEO companies in Atlanta. Through keyword research, your SEO expert discovers high-value, low-competition keywords to target so you can start driving results.
Earned media and links: Backlinks, which search engines see as an endorsement or "thumbs up" from other sites, are critical to SEO. They're difficult to earn, though. That's why we feature an in-house outreach team that works to promote your content and build your backlink profile.
Testing: Beyond on-page, technical, and off-page optimizations, our Atlanta SEO agency goes a step further. With continuous testing, like of your contact form or calls-to-action (CTAs), we can help your business get more leads and sales from its existing traffic.
You can learn more about our process, as well as ask plenty of questions, by speaking with a seasoned SEO strategist — just contact us online or call us at 888-601-5359 to chat!
Mid-Size Businesses Trust

WebFX

Their focus on ROI and their innate ability to communicate this information in a way that I understand has been the missing link with other digital marketing firms that I have used in the past.
Leah Pickard. ABWE
See The Case Study
Why make WebFX your Atlanta SEO agency?
You want to work with the best SEO company in Atlanta because you want to get results.
That's why it's essential to research your options, to ensure you're partnering with an Atlanta SEO agency that understands your goals and shares your vision of using SEO to drive real results, like leads or sales.
So, why is WebFX one of the best options for your business? A few reasons, including:
Our Atlanta SEO company focuses on real, measurable results
Whether your business works to generate leads or online sales, you can count on WebFX to focus on the metrics that matter to your organization. You can also trust us to track, measure, and monitor your progress, as well as adapt your strategy to help it achieve your goals.
That's because we measure our success by your success.
With our proprietary ROI-tracking software, MarketingCloudFX, it's easy for your Atlanta business to track your success too. In MarketingCloudFX, for instance, you view the number of phone calls, leads, and sales generated from your SEO strategy.
Our Atlanta SEO company builds custom strategies
The success of your SEO depends on the strategy behind it.
That's why our Atlanta SEO agency focuses on creating custom strategies for our clients. As your partner for Atlanta SEO marketing, we'll build a strategy tailored to your business, audience, and goals so you can get the best results from SEO.
With our personal approach to SEO, we've helped our clients earn (in the past five years) more than:
$2.4 billion in revenue
6.3 million leads
4.2 million phone calls
You can learn more about the effectiveness of our custom SEO strategies by browsing our case studies!
We Form

Longterm Partnerships
Over 90% of WebFX clients continue
partnering with us into year 2 of their campaign.
Our Atlanta SEO company provides complete marketing teams
No matter the size of your business, you can struggle with not having the skills and resources you need to get tasks done. With SEO, for example, you could wait weeks to have a developer do some backend work to improve your page speed or mobile-friendliness.
With our Atlanta SEO agency, you don't have to worry about not having what you need.
When you partner with us, you gain an entire marketing team that includes:
SEO specialists
Professional copywriters
Web designers
Web developers
Social media specialists
And more
That means you can count on us, your extended marketing team, to take care of the tasks that impact your overall marketing strategy. Whether that's tasks related to SEO, pay-per-click (PPC) advertising, or web design, you can always rely on your WebFX team.
The commitment of our Atlanta SEO company to your business is why we maintain such a high client retention rate and client recommendation score. Our client recommendation score, for instance, exceeds the nationwide average by more than 485% while our client retention rate is higher than 90%.
Just read some of our testimonials to see what clients say about working with WebFX!
Our Atlanta SEO company empowers SEO strategies with AI
Artificial intelligence is a powerful tool in digital marketing, especially for SEO.
That's why our SEO agency in Atlanta uses AI, specifically IBM Watson, to empower your SEO strategy with data. Instead of guesses, for example, your dedicated account manager uses data to make decisions about your SEO.
This data-backed approach makes all the difference in your strategy's performance and ROI.

Good agencies have more than 50 testimonials.

Great agencies have more than 100 testimonials.

WebFX

has

500+ glowing client testimonials

.

What does that make us? You decide.

SEE WHAT MAKES US STAND OUT
What is SEO?
It's important to understand some SEO basics before investing in SEO for your Atlanta business.
SEO is a combination of smaller tactics that work together to increase traffic to your website. In short, it works to drive your website to the top of search engine results pages, which will increase the number of clicks to your website, and eventually, increase conversions.
It's important to be on top of search results pages because the first five results alone receives over 67% of clicks. That doesn't leave much room to rank anywhere below the fifth position, and even ranking number five is pushing the limit.
But how does SEO work to get your website to the top? There are a few micro tactics within SEO that do the trick.
How does SEO work for my Atlanta business?
Let's take a look at how SEO can work for your Atlanta business.
Content creation
Creating beneficial, informative content is key. After all, content is what ranks in search engines, and without it, you won't have anything to rank.
Google's job is to serve users with the best possible results for any given query. That being said, you should write content about what you know best — your industry and your services.
Before doing so, it's necessary to do keyword research to determine what keywords your audience searches for most often. That way, when they use it as a query in Google, it will be able to show up as one of the results since you've written on that topic.
Google loves fresh content, and creating a blog for your Atlanta business is a great way to ensure that Google trusts and recommends your site.
You could create a blog on pretty much anything that has to do with your products and services. You could have an employee spotlight format, a new product format, or even a day-in-the-life format.
No matter what you choose, creating a lot of new, fresh content is key.
Keyword targeting
As we mentioned, it's super important to do keyword research before writing content.
Why? Because it allows you to target users by the keywords that they're searching.
You can use tools like KeywordsFX to find the most beneficial keywords in your industry, and write pages based on those keywords.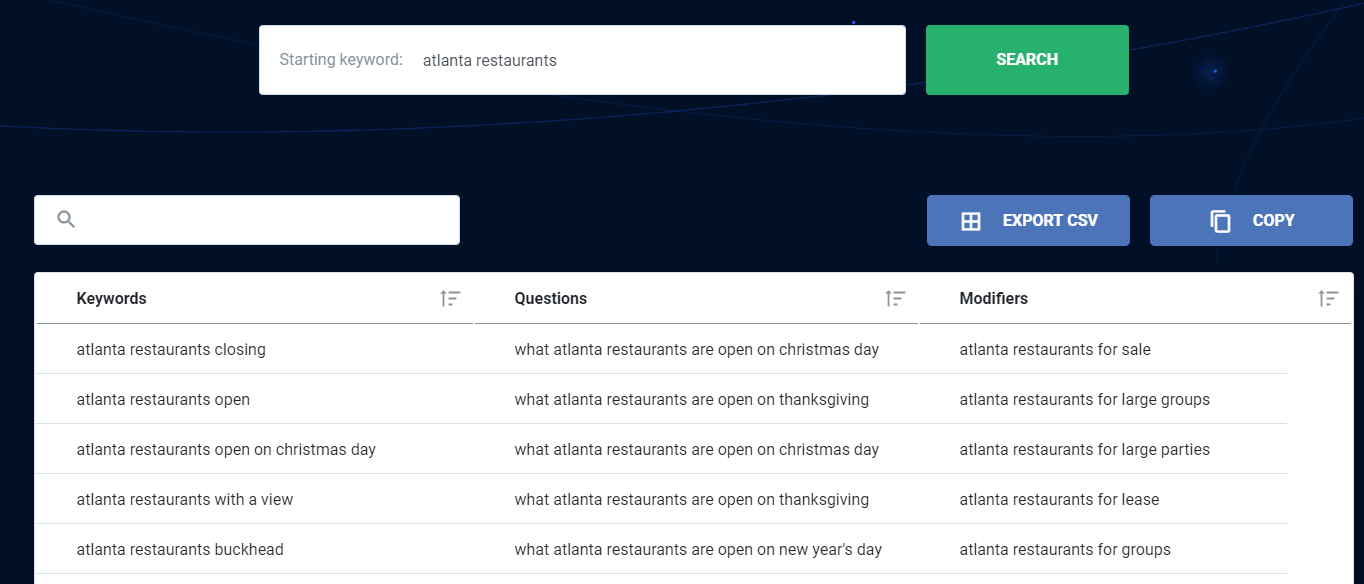 Keep in mind that the more popular a keyword, the harder it'll be to rank for it. That's why it's extremely beneficial to target keywords that are more like phrases. We call these long tail keywords.
They're far more specific than a general keyword, and less people search for them, which makes them easy to rank for in search results. We call these keywords low-hanging fruit.
In order to rank highly in search results, try targeting keywords with "Atlanta" in the phrase. Not only will this help users in your geographical area find you, but it'll set you apart because you're using a long tail keyword.
For example, if you sell prom dresses in Atlanta, you could write a page specifically targeting "Atlanta prom dresses," or to go even further, "tulle prom dresses Atlanta."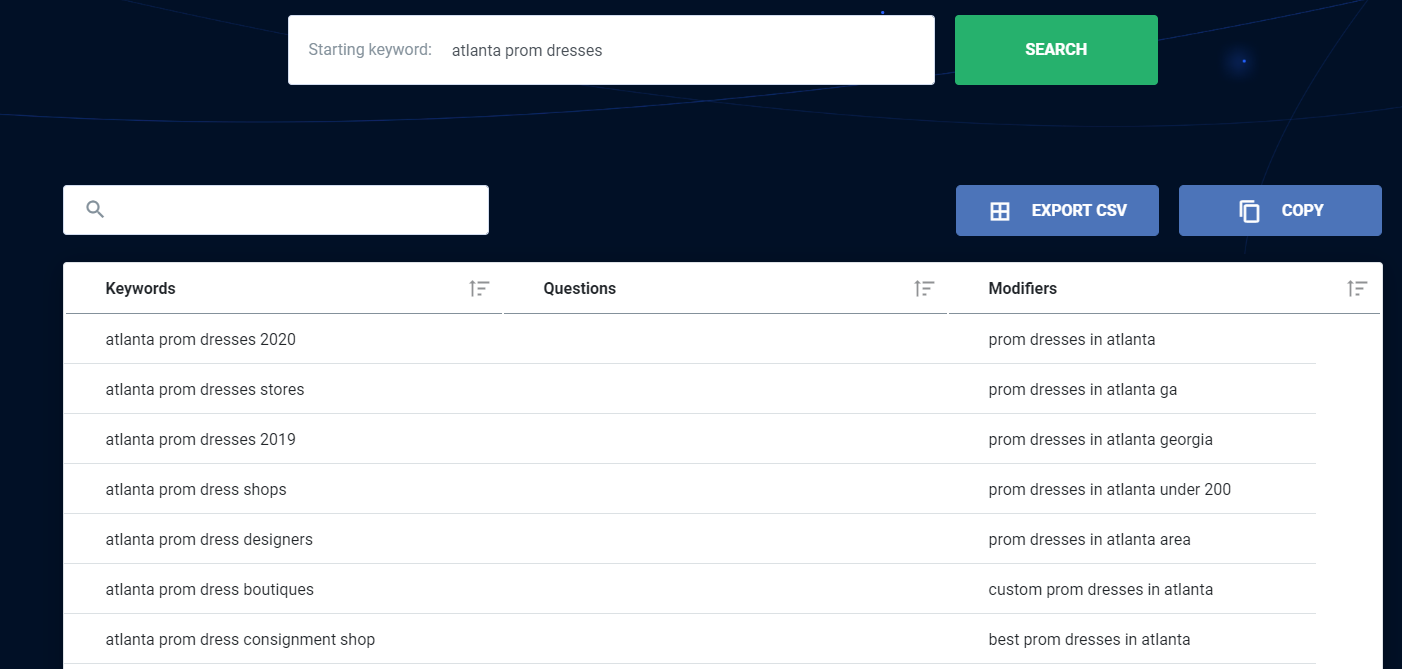 This is a hyper-specific page that targets a unique audience — and chances are, once users land on this page, they're ready to convert. Since they searched something so specific, we know they already know what they want.
User experience
User experience is another micro tactic that helps propel your website to the top of search results.
Google not only wants to serve users with the most informative content, but they also want to make sure that the websites they provide offer a great user experience to site visitors.
This includes things like an effective navigation bar so that users can quickly and efficiently find what they need on your website, images throughout the text, videos, infographics, and more.
When you create a great user experience for site visitors, Google notices, and you'll be rewarded.