FAQs about Orlando SEO
What is SEO?
SEO is the process of boosting your website's rankings in search results for keywords and phrases related to your Orlando business. When users conduct searches, they generate a list of results that match their query. You want to optimize your site to appear at the top of these results so more leads find and contact your Orlando business.
It is crucial that you improve your site's ranking because 75% of people don't look past the first page of results. If you aren't on the first page, you'll miss the opportunity to connect with leads that are interested in your business. SEO helps you boost your rankings and reach those leads.
How long does SEO take?
SEO is a process that takes time. You won't see results with it overnight. It takes time to optimize your site and see the effects of your changes, but the results are well worth it.
Why invest in SEO?
When you invest in SEO, you invest in helping your business reach more valuable leads. You help your business connect to people that want to learn more about your Orlando business. It's a great opportunity for your business to obtain valuable leads that turn into conversions.
What is local SEO?
Local SEO is a specific SEO strategy that focuses on improving your visibility in local search results. For example, if you operate a restaurant in downtown Orlando, then you would use local SEO to reach people in or near Orlando, FL.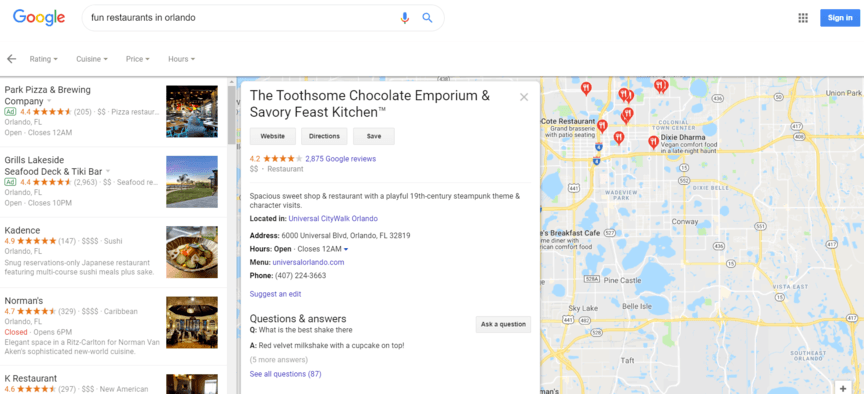 How do I optimize my website for SEO?
The best SEO results come from incorporating these eight steps into your plan:
1. Conduct keyword research
Keyword research is a crucial part of SEO. SEO operates on keywords. When users conduct searches, they use keywords to help generate a list of results that fit their query best.
If you want to reach leads that are interested in your Orlando business, you need to use the right keywords. There are numerous keyword research tools you can use to help your business choose the right keywords. When you conduct keyword research, you want to focus on keywords that will attract the most qualified leads.
That is why it is best to focus on long-tail keywords. These are keywords that contain three or more words. Long-tail keywords will generate better results for your business.
These keywords are more specific than short-tail keywords, which only contain one or two words. Long-tail keywords work better for your campaign because they attract traffic that is the most interested in your business. Someone who searches "Boat rental shop in Orlando, FL" is going to be more interested in your business than someone who just searches "boat."
Long-tail keywords, like "Boat rental shop in Orlando, FL," generate better results for your campaign. You'll obtain more qualified leads that you will nurture towards conversion.
When you conduct keyword research, you produce better results for your campaign. You'll attract more qualified leads and earn more conversions for your Orlando business.
2. Integrate keywords
Once you have your keywords selected, you'll need to integrate them into your site. When Google crawls through your page, it looks for keywords to understand the context of your page. You need to integrate keywords on to your site to help your site rank for those keywords.
There are numerous places you'll want to integrate keywords, including the headings, titles, meta descriptions, and body text of your pages. These are all great places to integrate keywords for Google.
As you integrate keywords, you need to be mindful of how often you use them. If you use them too frequently, this leads to keyword stuffing. Keyword stuffing negatively impacts your SEO ranking, so you'll want to minimize how often you use your keywords.
3. Earn backlinks
If you want to see success with your SEO campaign, you need to earn backlinks. Backlinks are links to your Orlando business's page from other authority sites.
Backlinks are crucial to your business because they help build your trust and authority. When an authority site links to your page, it sends a signal to Google that your website is trustworthy and has valuable information. Google will rank your site higher, so more people can find your site.
The best way to earn backlinks is through content creation. You can create videos, blog, infographics, or other types of content to appeal to your audience. It is important that you keep your content industry-specific, so you attract the right type of leads to your website.
When you create content, you can reach out to authority sites and ask them to check it out. If they like what they see, they may use it as a reference on their own page. This helps you build a relationship with these authority sites and earn more backlinks down the line.
Backlinks are a crucial part of SEO. They help you boost your website's trust and authority, which boosts your SEO ranking. When you improve your SEO ranking, you obtain more valuable leads for your Orlando business.
Why is SEO (and local SEO) important?
SEO, as well as local SEO, matters for several reasons, including:
SEO reaches people at the perfect moment: When you adopt Orlando SEO, you adopt a user-focused approach to reaching potential clients. That's because SEO reaches users at the perfect moment — when they're searching for you. In comparison, other traditional marketing strategies fight for user attention and often fail because they don't consider the user.
People rely on search engines to find businesses: More than 90% of online experiences start with a search engine. Consumers (and business buyers) use search engines like Google and Bing to find their next purchase. That's why 51% of users find a new company after a search. If your business wants to survive and grow, you need SEO.
SEO delivers real and measurable results: Search engine optimization should also matter to Orlando businesses because it works. Compared to traditional marketing, SEO maintains a close rate eight times that of traditional marketing. More than 85% of marketers also consider SEO a success, emphasizing its ability to drive results for marketers and the businesses behind them.
If your company wants to grow and remain competitive, then Orlando search engine optimization is a must. With the right SEO agency, you can launch a smart strategy that positions your business at the top of search results.