What You Need to Know About Enterprise Marketplaces
Online marketplaces are platforms where multiple sellers can offer their products to consumers and businesses for purchase. Enterprise marketplaces are one of the many different types of online marketplaces. These marketplaces have adapted over the years to reach wider audiences than is possible in a traditional retail store.
What is an enterprise marketplace?
An enterprise marketplace is a subset of the popular online marketplace that is mainly run by businesses that started out as just brick-and-mortar stores. These businesses are now exploring selling their products online, but they are also giving other third-party sellers a chance to sell products alongside their own.
Enterprise marketplaces are also a way for suppliers to expand their offerings to existing clients. On the enterprise marketplace, a client can easily purchase multiple products from the same supplier. This helps suppliers grow their businesses and improve the buying experience for their customers.
It is important to note that Amazon is not an enterprise marketplace since it started online and has always been in the digital space. Amazon's purpose has always been to encourage third-party transactions, whereas enterprise marketplaces do not normally start that way.
Benefits of joining an enterprise marketplace
Enterprise marketplaces can provide many benefits to sellers, even if you aren't the one running the marketplace yourself. One of the biggest advantages is that enterprise marketplaces help your business develop a wider pool of customers. Many enterprise marketplaces can pull in customers that wouldn't normally find your business on their own. It also can bring other vendors and service providers together into the supply chain to add more value.
Existing enterprise marketplaces have the advantage of already having a technology platform set up for ecommerce. Third-party sellers joining these marketplaces don't have to worry about creating their own platforms from scratch. They can just sign up and start selling their products. Many marketplaces even offer tools for helping businesses manage their orders, shipments, and customer communications.
With consumers and businesses tending more and more towards online shopping, many businesses are finding that they need to adapt their business model to include online purchasing. By utilizing enterprise online marketplaces, you can ensure that your business has a strong start to its ecommerce ventures.
Partner with a team of ecommerce masters!
WebFX campaigns have delivered more than 12,936,451 ecommerce transactions in the last 5 years
Read the Case Studies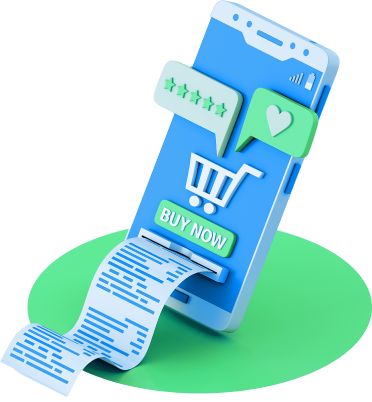 3 best enterprise marketplaces
It will probably come as no surprise that the top enterprise marketplaces are leaders in the traditional retail space as well. By successfully adding an online marketplace to their business models, they have been able to increase their reach and pull in customers from even more demographics. These enterprise marketplaces have expanded their offerings to third-party sellers to create beneficial and easy-to-use platforms.
1. Walmart Marketplace
Walmart is most commonly known as a leading grocery store chain, but it has also expanded into ecommerce. This, coupled with the fact that third-party sellers can add their products to its website, makes it an enterprise marketplace. Walmart.com sees about 100 million unique users every month.
Walmart doesn't charge monthly fees to sell on their website, though there are referral fees based on the product category. You can also pay for product advertisements that will appear in search results and on product or category pages throughout the site. Walmart also gives sellers access to its TwoDay Delivery, which is a great value add for customers.
2. Target Plus
Target Plus is different from many other marketplaces (enterprise and other) in that it is invite-only. To sell on Target Plus, you need to fill out a Supplier Registration form for consideration. While this sounds more complicated, Target offers lots of great benefits for shoppers that third-party businesses can't offer on their own, like free shipping and easy returns.
Target Plus uses the advertising platform Roundel. It allows its sellers to create custom advertisements for products and brands, both on Target's website and select external websites like Pinterest.
3. Sears Marketplace
Sears Marketplace not only offers opportunities for third-party sellers online 一 it also provides an opportunity to sell your products in Sears locations. Sears charges a monthly fee plus a commission fee on each product sold. Like Walmart's referral fees, the commission fee depends on the product category. Sears Marketplace has an easy-to-use order management system that's perfect for beginners who've never sold online before.
Sears allows advertising on its website, and in addition to the traditional display and featured product ads, you can also showcase your brand. Sears sees about 15 million unique visitors each month, so you'll easily be able to increase your brand awareness and exposure.
Join the best enterprise marketplaces and capture more sales
Enterprise marketplaces can add significant value to your business model and increase your sales and your audience. For small to medium-sized businesses, it can sometimes be hard to create your own ecommerce marketplace, so enterprise marketplaces are a great way to offer your products and services online without the upfront costs of development.
Contact WebFX online to get a free quote today and find out how to optimize your online selling through enterprise marketplaces.